Basketball is one of the easiest sports to pick up and play for a kid. It doesn't involve much equipment and most parks or schools will have a hoop, so there is sure to be one nearby. The one thing the child will need, however, is a ball.
Youth basketballs can be similar in design to adult balls; they are often made of the same materials. The big difference is the sizing, as balls can range from 22" to 28.5" (adults use 29.5" balls). However, there are other obvious and subtle differences between different youth basketballs. Here are the youth basketballs we found were the best and the reasons why: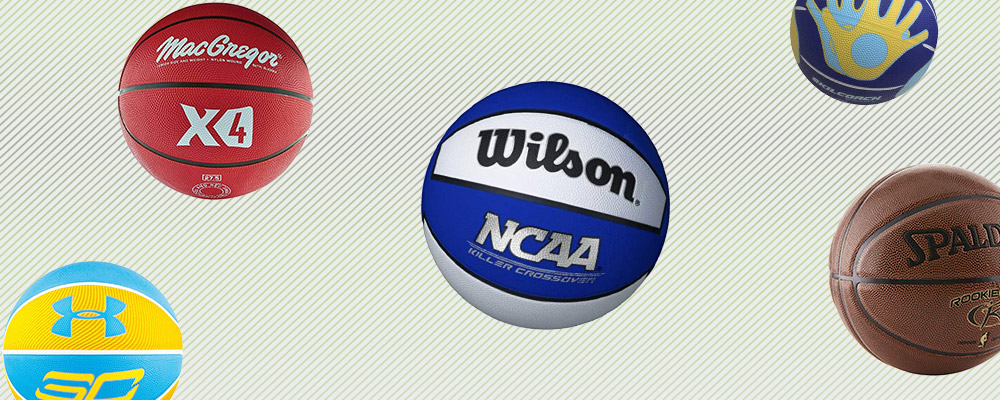 Editor's Choice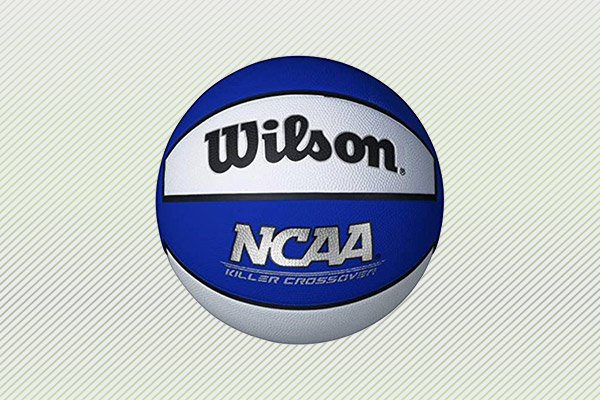 Wilson Killer Crossover Basketball
Pros: 
Deep seems. This basketball has rather deep seems, or channels, across its surface. This both helps with grip when dribbling and to help guide good shooting form.

Color design. These basketballs from Wilson feature a nice aesthetic composition with alternating panels of white and color. There are six total colors to choose from.

Outdoor. While this basketball is appropriate for indoor or outdoor use, the rubber surface is ideal for playing outdoors. It can withstand rain and other elements fairly well.
Cons:
Surface wears out. Players should note that the texture on the ball will wear out over time. Though it will still be usable, this is one of the drawbacks of a rubber ball.

Need to inflate regularly. This ball will need to be inflated more often than indoor balls due to the changes in weather that an outdoor ball experiences.
Wilson Killer Crossover Basketball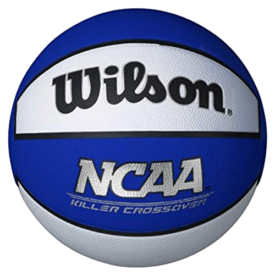 Wilson Killer Crossover Basketball
The Wilson Killer Crossover Basketball is a colorful rubber outdoor/indoor ball available in youth, intermediate, and adult sizes. It is designed with deep seams making for a good grip.
The Contender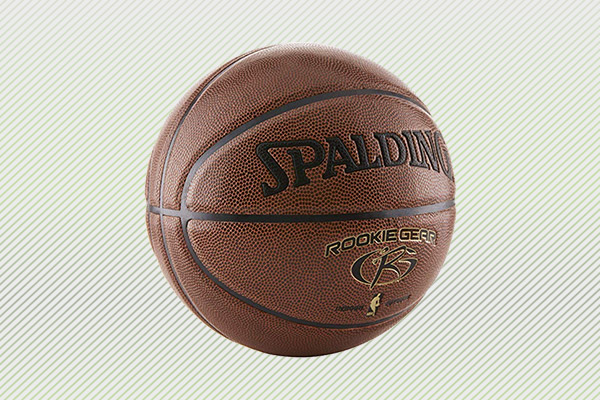 Spalding Rookie Gear Indoor/Outdoor Composite Youth Basketball
Pros:
Brown or multicolor. This indoor/outdoor basketball is available in a dark brown (that is meant to mimic the look of leather) and a fun multicolor ball. Having a colored ball is useful for identification on a crowded court, though we always recommend writing your last name with permanent marker on the ball.

Composite. While leather basketballs are best for indoor and rubber balls are best for outdoor, composite basketballs are equally suitable for either. Composite basketballs use a synthetic microfiber to approximate the feeling of leather but for a much lower cost.

Lightweight. This ball is designed to be especially light, lighter than even other balls with the same circumference. This is great for those focusing on working on technique, especially dribbling and shooting.
Cons:
Less bounce. Perhaps because it is made with less density in the outer surface to make it lighter, it doesn't have as much bounce as other balls. It definitely may need to be inflated more often.

Grip. Though a composite ball is great as a versatile, all-season ball, it won't have the same grip as a leather ball or purely indoor ball.
Spalding Rookie Gear Indoor/Outdoor Composite Youth Basketball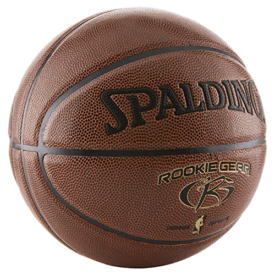 Spalding Rookie Gear Indoor/Outdoor Composite Youth Basketball
This offering from Spalding is a size 5 (27.5") youth composite basketball made out of synthetic materials. It is available in brown or multicolor and is designed to be especially lightweight.
Best Color Variety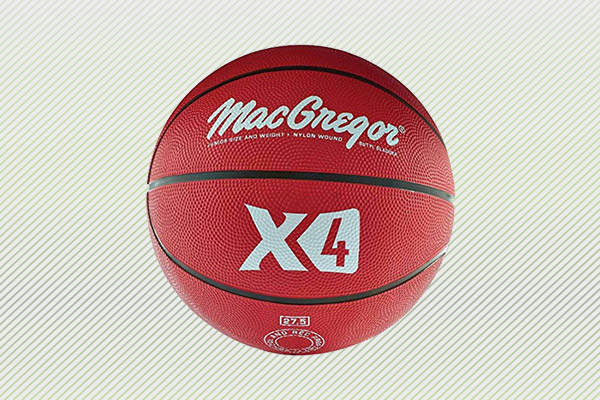 MacGregor Multicolor Basketballs
Pros: 
Color selection. These basketballs from MacGregor are available in a wide variety of colors. They have basketballs of various sizes available in purple, orange, blue, red, yellow, and green.

Pebbling. Rubber basketballs have a textured surface called pebbling, which helps to grip the ball. This ball has especially deep pebbling for better control and making it last longer.

Easy to inflate. With some basketballs, it is often tricky to get the pump needle properly stationed in the valve hole in order to properly inflate the basketball. This one is well designed which makes it easier to quickly inflate the ball.
Cons:
May not be ready after initial inflating. This ball might need to be inflated more than once before using, as it often comes folded up with no air. This can lead to ridges in the ball at first, but these will go away.

Colors are not available in every size. Each size of ball (27.5", 28.5", 29.5") is only produced in a couple of colors, not the full range available. Some colors are only available in one size.
MacGregor Multicolor Basketballs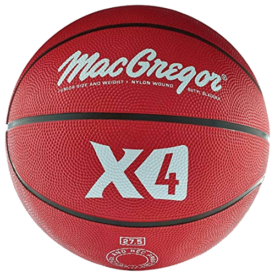 MacGregor Multicolor Basketballs
This line of basketballs from MacGregor is available in three different sizes (youth, intermediate, adult) and in six different colors. They are made of a well-textured rubber material and are easy to inflate.
Best for Training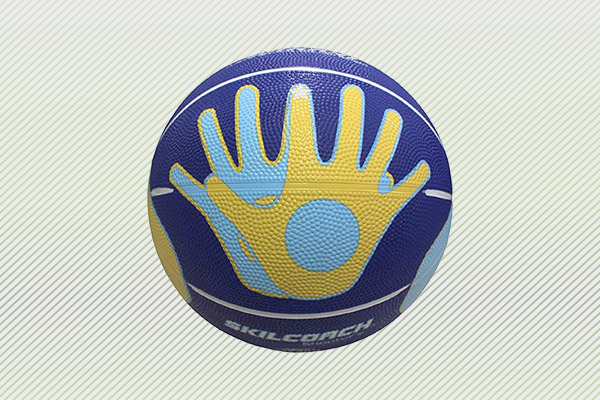 Baden SkilCoach Shooter's Rubber Training Basketball
Pros: 
Hand position guidelines. These basketballs have neat colored silhouettes of hands placed where it is suggested to hold the ball with both hands while shooting. One hand goes right in the middle of the ball, while the other stabilizes the ball by holding it on the side.

Left or right. There are marks for both right and left-handed shooters that are color-coded in bright yellow and blue colors. This is especially helpful for left-handed shooters or ambidextrous shooters.

Wound core. This ball has a tightly wound core that covers the interior rubber bladder. This gives it a good bounce.
Cons: 
Air retention.This ball may need to be inflated more often than other balls, especially if playing outdoors or often.

Might be too bouncy. Some may find that this ball is a bit too bouncy when fully inflated. It may make sense to fill it a bit short of full, but this will all be based on preference.
Baden SkilCoach Shooter's Rubber Training Basketball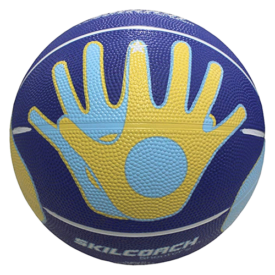 Baden SkilCoach Shooter's Rubber Training Basketball
The Baden SkilCoach ball is an indoor/outdoor rubber ball that has proper hand positioning displayed as graphics on the ball for both left and right-handed shooters. It also bounces well and has fun colors.
Best Design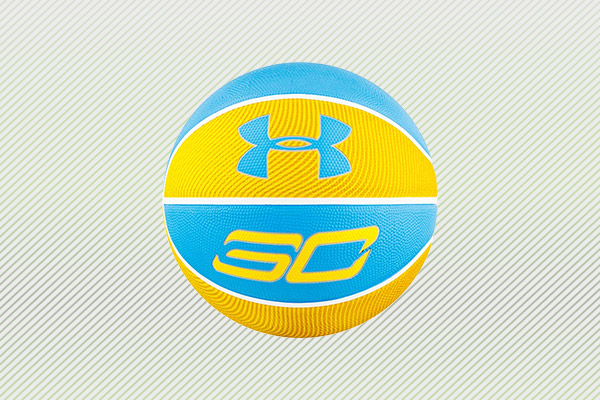 Under Armour Stephen Curry Outdoor Basketball
Pros: 
Size options. This line of basketballs from Under Armour has one of the widest selection of sizes, with four. Aside from adult, intermediate, and youth sizes, there is also a miniature sized ball which can be fun for preschoolers and above.

Design. The colors on this ball are eye-popping and pleasant to look at. The undulating waves in the yellow part of the ball are a particularly nice touch.

Branding. Steph Curry is one of the most popular basketball players on the planet and maybe even all time. Many kids would be excited to get a ball with his name and number on it.
Cons: 
Not available in size 4. Though this basketball is available in sizes 3, 5, 6, and 7, it isn't available in 25.5" (size 4).

Yellow could be brighter. The yellow coloring may not look as bright of a color as advertised. It still looks great though.
Under Armour Stephen Curry Outdoor Basketball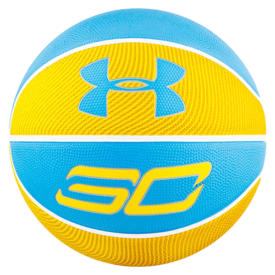 Under Armour Stephen Curry Outdoor Basketball
The Under Armour Steph Curry Outdoor Basketball is beautifully colored and designed, featuring a nice blue and yellow color palette. It is available in four sizes, including "mini" size 3.
How We Picked
Youth basketballs are a great option for kids just learning the sport or for kids below age of 15. Which ball to get will depend on different factors such as the kid's experience, where they will be playing, and how the ball looks. Here are the qualities of a basketball that provided the biggest impact on our evaluations:
Size
There are many different sizes of basketball, ranging from the "mini" 22 inch ball to the adult size of 29.5". To help understand the different options, there are helpful sizing guides that are denoted by number. For example, the mini ball, at 22 inches in circumference, is a size 3.
Size 4 is 25.5", size 5 is 27.5", and size 6 is 28.5". The ball used for boy's high school teams and then on to the pros is size 7. Size 6 is used for middle schoolers and girl's high school/college/pro teams. The smaller sizes are for various levels of youth skill level.
Composition
While no two basketballs will feel the same due to air pressure and how they have been broken in, the material will tell a lot about how the ball will behave. There are a few different types of materials that basketballs can be made out of. While professional players always play with leather balls, college and every level on down may play with balls made of a synthetic material.
Leather balls are almost always used indoors, while synthetic composite balls can be used indoors or outdoors. Rubber balls will have texturized pebbling on the surface to mimic leather or composite grips and are better suited for outdoors. Keep in mind though, when playing outdoors the surface of the ball will deteriorate whatever material it is made out.
Design
Youth basketballs can have a look very similar or even identical to pro balls. The familiar orangish-brown color and black seams are common with any sized basketball and will probably be used for league and team games. However, there is a wide variety of fun colors and designs to choose from otherwise.
Some basketballs will be bright colors such as red, blue, and green; others will have alternating colors in each panel. While also making practicing a bit more fun, this can help kids (and parents) identify which ball is which on the court. It is always advised to write the family name on the ball to avoid any sort of confusion in any case.
Tips
Not sure which youth basketball is the right choice? Take a look at some of the hints we've compiled below:
How old are the kids who will be using this ball?

Younger kids (elementary-school age) should use a 27.5" basketball or smaller. The 27.5" basketball is best for full-sized hoops, however.

A 22" or smaller basketball might be more appropriate for a shorter hoop.

Are girls basketballs and guy basketballs the same?

In elementary school, both boys and girls use the same 27.5" basketball or 25.5" basketball.

In middle school, boys and girls often both use a 28.5" ball. High school boys will start playing with a 29.5" ball while high school, college, and pro girls will continue using a 28.5" ball.