Tennis is a great sport that most young kids can play safely with other children or with their parents. However, kids will need different equipment than adults will. Most kids will find their parents' tennis racket to be too heavy and too cumbersome to maneuver, so it is important to find a youth racket for young prospective tennis players.
Youth tennis rackets tend to be lighter, smaller, and more colorfully decorated than adult rackets. That doesn't mean all youth tennis rackets will have the same dimensions or style, as different offerings may be better for various reasons. We have compiled our list of favorites based on reasons we have outlined below: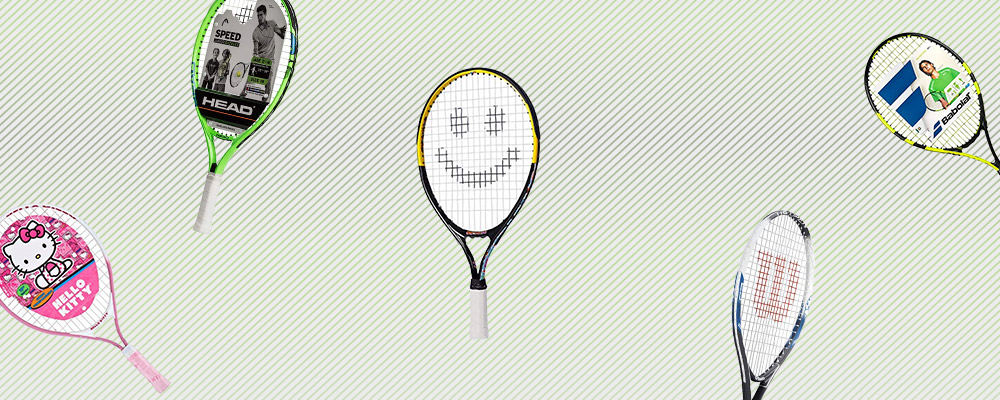 Editor's Choice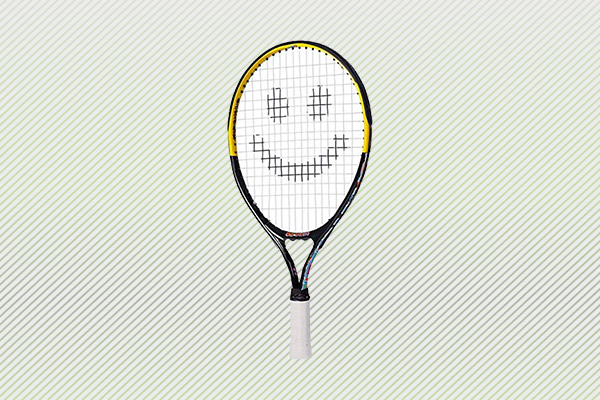 Street Tennis Club Tennis Rackets for Kids
Pros: 
Good weight. This racket has a great weight for beginners. It is not too heavy for a younger child to use, yet has enough power to it that a child can start learning how to play the real game.

Interactive game. This company provides an interactive instructional video that also has games. This is a great way to get acclimated with the game of tennis before hitting a court.

Smiley-face strings. This tennis racket comes not only prestrung, but with a smiley face printed onto the strings. This can make tennis practice a fun thing right off the bat.
Cons:
Heel pad isn't durable. The heel portion of the racket isn't well-reinforced and may not last as long as the racket itself.

Paint design may peel. Depending on how often (and ruggedly) the tennis racket is used, the paint may start to peel with prolonged use.
The Contender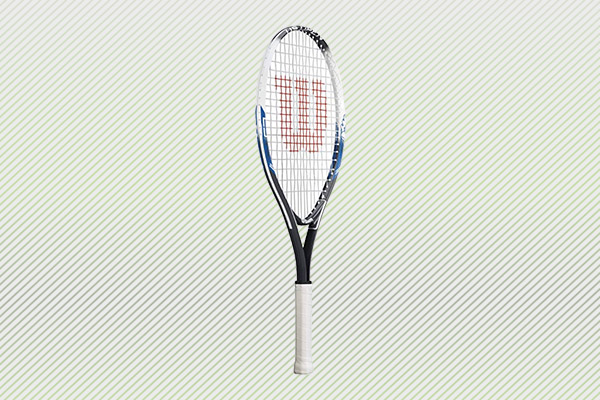 Wilson US Open Junior Tennis Racquet
Pros:
Four sizes available. This line of tennis rackets from Wilson has four different sizes available that are appropriately-sized for kids. They are 19", 21", 23", and 25".

Color-coded. When getting rackets for a few kids of varying ages, it can be difficult to tell which one is which. Helpfully, Wilson has color-coded this line of rackets so each size has a different color.

String strength. Each racket has strings that are prestrung and tightened to a certain weight. These rackets are playable right away and aren't too tight like some prestrung rackets can be.
Cons:
No case. Unfortunately this racket doesn't come with a case. Players will have to be careful with it during transport and in storage.

Lightweight. Though being lightweight is a good thing for a youth racket, it may be too light for adult tennis balls. There are youth tennis balls available that are lighter.
Best Grip for Kids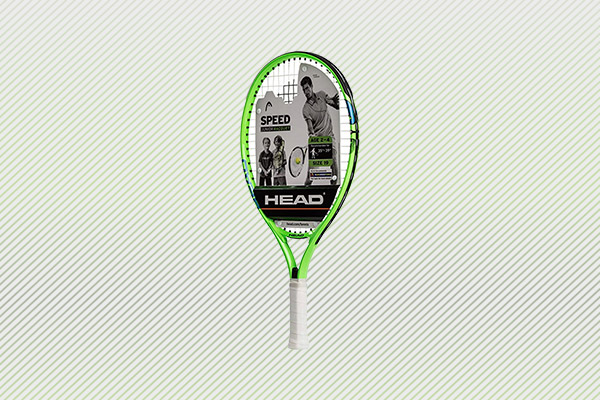 HEAD Speed Kids Tennis Racquet
Pros: 
Grip. The grip included with this racket is a nice thickness, making it comfortable and effective for kids.

Fun colors. These rackets are painted with bright colors, with one featured color and one used for accents. This can make the racket easily identifiable at a lesson and simply more fun for kids.

Durability. This tennis racket has an o-beam composition for the frame, which is commonly used in youth rackets because it can be especially durable with good flexibility for a beginner.
Cons:
Strung too hard. Though it is nice that this racket is prestrung, it is strung rather tightly. This can make the ball bounce too hard upon contact.

Grip isn't durable. The grip is comfortable and has an appropriate thickness for a kid, but may not last as long as the racket or even the strings. It can start to deteriorate with frequent use.
Best Large Racket for Kids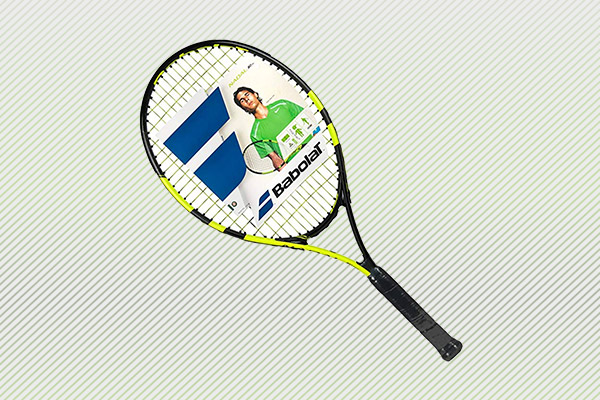 Babolat Nadal 26 Junior Tennis Racquet
Pros: 
26". This tennis racket has a 26" length. This is a bigger size than most youth rackets, making it appropriate for older or larger kids.

Thicker grip. This tennis racket has a 4" grip, which is thicker than other youth rackets. This means a tennis player's hands can grip it a bit tighter and still feel comfortable.

Racket cover. This racket comes with a plastic cover for the racket head. Many youth rackets come with no cover at all.
Cons: 
Heavy. This racket weighs almost 10 oz and is heavier than several similar youth rackets. 

Only one size. This racket is only available in one size, with nothing smaller than 26". If that might be too big, parents may need to look for a different line of rackets.
Cutest Design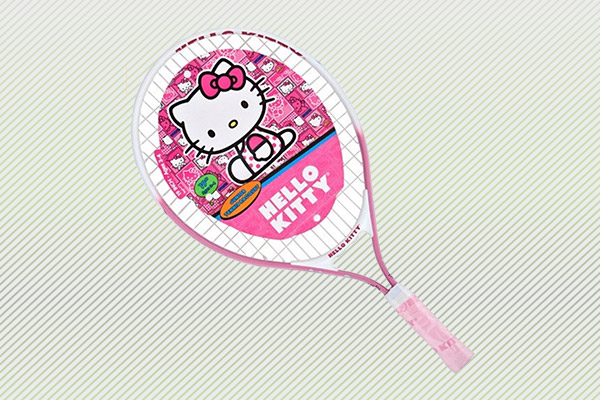 Hello Kitty Sports Junior Tennis Racquet
Pros: 
Hello Kitty branding. This racket is all Hello Kitty-themed. The racket and grip both have a Hello Kitty design printed on them.

Lightweight. This racket weighs just over 6 ounces at its smallest size, making it one of the lighter youth rackets one can find. This is great for kids with slighter frames.

Paint. The branding and color scheme of this racket are both spot on. The paint is pearly white and features a nice gradient from pink to white.
Cons: 
Too light for heavy hitters. Though the light weight of this racket may be great for softer hitters, those hoping to bash the ball may find this racket too light.

Big grip. This tennis racket has a rather large grip. It is a bit bigger than other youth rackets and perhaps harder to get used to.
How We Picked
Deciding which tennis racket to get a new player can be more difficult than buying one for oneself, as tennis players will already have an idea of what works for them. Parents will need to determine how their kid will respond to different aspects of the racket. Here are the aspects we judged most important when finding a youth racket.
Size options
When buying a youth racket, it is very important to find a racket that is appropriately sized. While some youth rackets are only made in one size, several lines of rackets are available in multiple lengths. Most common are rackets sized between 19 and 26".
Often companies will provide guidelines that explain how the height of a child should correspond with the size of the racket. While this is helpful, it should be treated as a suggestion, not an ironclad rule. There are other things to consider that will play an equal role.
Grip
All tennis rackets will have specific grip sizes and youth rackets are no different. Most grips will be at most a few eighths of an inch different from one another, but that seemingly small difference in size may be the key determinant between two rackets. While there is no standard size, most youth grips fall between 3 ¾ and 4".
That grip size is determined by measuring from the middle of the palm (you can use the lower crease as a marker) to the top of the ring finger. If a tennis racket has too big or too small of a grip, it can require more energy to hold and strain hand and arm muscles more easily. Remember though, a racket with too small of a grip can always be supplemented with overgrip tennis tape to add girth.
Strings
Most youth tennis rackets come prestrung with synthetic polyester strings. This is great as it allows kids to start playing right away. There are often fun images printed on youth tennis racket strings, if not the logo of the brand itself.
However, not all prestrung rackets will have strings calibrated for the needs of the player. If a racket has too much bounce or too much give, it may make playing the game frustrating for a new player. Tennis rackets can be restrung with strings of various materials and with different tensions in order to adapt the power, control, and comfort of the racket.
Tips
Not sure which youth tennis racket is the right choice? Here are some tips we've compiled to make the process a bit easier:
Is this for a new tennis player?

New (and younger) tennis players will probably want a tennis racket with moderate power and a lighter size. This will allow the child to have enough power to hit the ball over the net.

Kids who are aging or leveling up to a larger racket may want more control and thus less power in the racket.

How often will the child be playing tennis?

If a child is to play tennis at least weekly at lessons or with friends and family, there is some extra gear that may help out.

At a minimum, tennis covers are helpful in making sure the rackets don't get damaged or damage other things at home. Tennis bags, ball hoppers, and vibration dampeners may also make playing easier.