Zinc is an essential mineral that plays a role in a wide variety of bodily functions. While many get enough zinc by following a well-balanced diet, some folks may benefit from taking zinc supplements due to existing illnesses or specific dietary practices. It's wise to consult a medical professional if you think you may be deficient in zinc.
Although more research is needed to make any definitive claims about zinc, it is a common ingredient in many cold and flu medicines, as zinc may help bolster the immune system. However, it's important to note that the National Institutes of Health sets an upper limit of 40mg of zinc per day and cautions that exceeding that limit regularly could result in long-term health issues (1). There is quite an array of zinc supplements on the market, with options ranging from tablets to liquid drops. We took a look at some of the best zinc supplements according to purity and value.
The Best Zinc Supplements
Editor's note: The content on BarBend is meant to be informative in nature, but it should not be taken as medical advice. The opinions and articles on this site are not intended to diagnose, prevent, and/or treat health problems. It's always a good idea to talk to your doctor before beginning a new fitness, nutritional, and/or supplement routine. Individual needs for vitamins and minerals will vary.
Best Zinc For Recovery
Transparent Labs Strength Series ZMO provides a combination of zinc, magnesium, and oyster meat powder. Every single serving contains 144 milligrams of magnesium, 10 milligrams of zinc, and 500 milligrams of oyster meat powder. One bottle of Strength Series ZMO provides 30 servings.
Transparent Labs Strength Series ZMO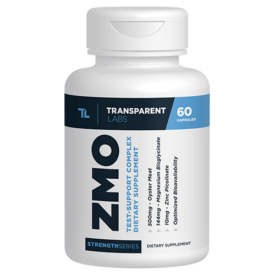 Transparent Labs Strength Series ZMO
Using exact forms of zinc picolinate, magnesium bisglycinate, and oyster meat powder, this product is free from artificial colorings, sweeteners, and GMOs. Each serving packs 10 milligrams of zinc.
Possible benefits of this zinc supplement are improved sleep and a stronger performance in the gym. There are some benefits to the oyster meat powder such as a slight boost in testosterone levels. A study in Veterinary World did find that the zinc "contained oyster meat can improve testosterone levels in humans." (2)
Who Should Buy

Transparent Labs

Strength Series ZMO
Anyone looking for a magnesium boost with this zinc.
Those who want a potential boost in testosterone.
Folks who want to avoid artificial sweeteners and preservatives.
Who Shouldn't Buy

Transparent Labs

Strength Series ZMO
Athletes who want a pure zinc supplement.
Anyone looking to buy their zinc supplements in bulk.
Vegans and vegetarians.
The cost per bottle is a bit higher than many competitors on the market when it comes specifically to the zinc content provided. However, the added benefits of the magnesium and oyster meat powder could offset that for the benefits that potentially offer. For athletes who have the aim of improving their training recovery, it might be hard to find a stronger option.
[Related: Could Baking Soda Be The Best Workout Supplement You've Never Tried?]
Best Multivitamin
Legion Triumph multivitamin packs over 21 vitamins and minerals including Vitamin A, Vitaman C, Vitamin D, Riboflavin, Thiamin, Vitamin B12, biotin, calcium, potassium, selenium, and more. The zinc content in particular is quite high compared to many competitors — 30 milligrams per eight-capsule single serving.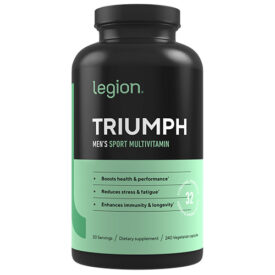 This supplement has separate options for men and women and packs over a dozen vitamins and minerals. Each eight-capsule serving contains 500 milligrams of ashwagandha, 30 milligrams of zinc.
The cost equates to 17 cents per capsule, which means that each single serving is $1.36. While that is on the pricier end of the market, the zinc content provided is quite high.
Who Should Buy Legion Triumph
Those who want the additional vitamins and minerals alongside their zinc supplementation.
Active people who would benefit from a daily multivitamin.
Anyone who needs a particular boost of the vitamins included.
Who Shouldn't BuyLegion Triumph
Those who want a pure zinc supplement.
Anyone on a tighter budget.
It can be difficult for many athletes to get the proper amount of zinc through their diets alone. Legion's Triumph Multivitamin can offer up to 540% of the daily recommended dosage when taking their recommended two servings per day. If you happen to be shopping for a multivitamin, this is a quality pick to add to your cart.
[Related: The Best Types Of Supplements For Performance, Weight Loss, And Health]
Best Zinc Oxide Powder
When it comes to getting a pure zinc supplement at an extremely low cost compared to the rest of the market, Bulk Supplements is the frontrunner. Each 64 milligram serving provides 51 milligrams of zinc oxide and each pouch contains 1,563 servings. There are no added ingredients, nor does it incorporate any dairy, soy, yeast, or gluten.
Bulk Supplements Zinc Oxide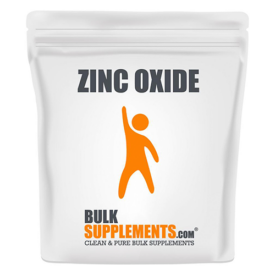 Bulk Supplements Zinc Oxide
Zinc is the only ingredient in this powder. Each 64-milligram single serving provides 51 milligrams of zinc and it is free from sugar, soy, dairy, yeast, and gluten.
Some of the benefits that this particular type of zinc can provide are improvements in oral health, heart health, and immune system support. Each batch is third-party tested and manufactured to current good manufacturing practices (cGMP) standards.
Who Should Buy Bulk Supplements Zinc Oxide
Those who want to get the best bang for their buck.
Anyone who wants to buy their supplements in bulk.
Folks who value third-party testing for purity standards.
Who Shouldn't Buy Bulk Supplements Zinc Oxide
Anyone who doesn't need a large volume of zinc supplement.
Those who need a supplement with a relatively low zinc dose.
The benefit and the downfall are one in the same with Bulk Supplements — buying in bulk can save money and be an easy way to have a lot of supplement on hand. However, it is a lot of supplement compared to the other capsule or softgel zinc supplements on the market. If you need zinc and a lot of it, you found your best bet.
[Related: Intermittent Fasting 101: A Guide To Benefits, Muscle Gain, And More]
Best Zinc Citrate Powder
Free from sugar, soy, dairy, yeast, and gluten, this zinc citrate powder provides 45 milligrams of its namesake in every 150-milligram single serving. It provides 409 percent of the daily recommended dose of zinc that's been lab tested and third-party verified.
Bulk Supplements Zinc Citrate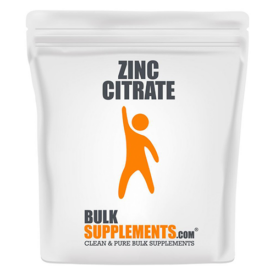 Bulk Supplements Zinc Citrate
Each pouch provides 667 total servings that each provide 45 milligrams of zinc. There are no additional ingredients and this product is free from soy, dairy, gluten, yeast, and sugar.
Although Bulk Supplement's zinc citrate powder has less servings per pounch than their other zinc powders, it is still quite a lot for the price tag. The daily recommended dose being so high might seem imtimidating but not all of it is likely to be effectively absorbed. (3)
Who Should Buy Bulk Supplements Zinc Citrate
Folks who like mixing their supplements into beverages.
Those who want to get the most value out of their money.
Athletes who need third-party testing to ensure the purity of their supplements.
Who Shouldn't Buy Bulk Supplements Zinc Citrate
Anyone who needs a lower dose of zinc per serving.
People who would prefer a capsule or softgel instead of a powder.
If you are specifically interested in zinc citrate rather than the oxide or gluconate variants, then look no further. The cost per dose from Bulk Supplements is a leader in the market and this product should serve you well.
[Related: Best Macros Calculator For Tracking Muscle Gain And Fat Loss]
Best Zinc Gluconate Powder
A mere 1/16 teaspoon serving of this powder contains 225 milligrams of zinc gluconate. That is an extremely high dose when compared to most other options available.
BulkSupplements Zinc Gluconate Powder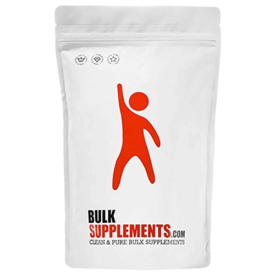 BulkSupplements Zinc Gluconate Powder
If powders are more the speed you're looking for, look no further than BulkSupplements Zinc Gluconate Powder. This simple ingredient contains nothing but powdered zinc and is available at a very affordable price.
For reference, zinc gluconate is one of the more common forms of zinc due to its absorbability. Bulk Supplements Zinc Gluconate Powder gets the nod for best gluconate powder because of its high potency, foil pouch with resealable top, and eminent affordability on a per-serving basis.
Who Should Buy BulkSupplements Zinc Gluconate Powder
Anyone really trying to go hard on the zinc. The per serving size is gigantic.
Those who like mixing their zinc into other beverages rather than taking it via tablet or lozenge.
Who Shouldn't Buy BulkSupplements Zinc Gluconate Powder
Powder carries a naturally sour taste, so if this isn't your flavor profile, you may want to look elsewhere.
Those who have trouble doing calculations to find the proper serving size.
Due to its sour flavor, it may be advantageous to mix it into a sweet juice or other beverage. Measuring out such small amounts of powder may be a bit of an annoyance for some, so be certain that this kind of high dose option is what you're looking for. The biggest knock is that the serving size is difficult to measure, and the powder contains 13 percent of zinc. Taking 450 milligrams of it is effectively taking 60 milligrams of zinc. That's a lot of math to get your nutrients.
[Related: Nutrition For Bulking: 10 Tips For Intelligent Muscle Gain]
How We Decided Our Picks
There are an overwhelming amount of zinc supplements available on the market. With so many to choose from, it can be tough to know how to make an informed decision. Before adding any to your shopping cart, be sure to consider a few key features.
Type of Zinc
Some of the most common forms of zinc are gluconate and citrate, which are found in many over-the-counter cold remedies. Though both are thought to be absorbed fairly well, zinc citrate is known for leaving a rather unpleasant aftertaste behind. Other common types of zinc include acetate, sulfate, picolinate, and orotate. Consult with a medical professional or dietician if you're unsure which type of zinc suits your needs best.
Form
Zinc is available in a variety of shapes and sizes, ranging from powders to liquids. Ultimately, the choice here comes down to personal preference. If you're constantly running out the door and are hard-pressed for time, scarfing down a quick tablet may be a bit easier than measuring out and mixing up a powder.
[Related: 5 Supplements That Might Help With Muscle Soreness]
Purity
When shopping for any supplements, it's wise to consider what's inside the container. Labdoor.com is a great source for independent third-party test results and will help give you a sense of how accurately each brand has labeled its wares.
Dosage
Recommended doses of zinc will vary from person to person, depending on need. However, a typical daily recommended amount is between 15 and 30 milligrams. Consult a medical professional about taking any more than that. Note that the National Institute of Health (NIH) has an upper limit for zinc at 40 milligrams per day. Exceeding that amount regularly may result in long term health issues.
Cost
To figure out each zinc supplement's value, divide the total cost by the number of servings. Take into account the individual dose sizes, as that may have an impact on the overall value.
What to Consider Before Buying
Look at the kind of zinc used. More often than not, products will list the kind of zinc they use. For example, zinc gluconate or zinc citrate. Knowing what is used is important because each type of zinc informs how much zinc is likely to be absorbed.
If you have zinc gluconate or zinc citrate in a product, then the absorbability will be high — around 61 percent. Something like zinc sulfate has a 71 percent absorbability. On the flip side, zinc oxide, the cheapest and most insoluble zinc supplementation compound, is significantly less well absorbed than citrate or gluconate, according to a study in The Journal of Nutrition. (4)
Start slow and eat a meal. Taking a zinc supplement on an empty stomach can result in a quick case of nausea for many folks. If you're new to zinc supplements, it may be wise to start with a half dose to see how your body reacts. It's wise to consult a medical professional or a dietician before adding zinc to a regimen.
For some, zinc may provide just the right bolster to the immune system to get through the sick season unimpeded. Others may need daily boosts of zinc if they're not getting enough in their normal diets. Consult with a medical professional to see if zinc supplementation is right for you.
[Related: The Lifter's Guide To Magnesium: What This Nutrient Does For Strength]
FAQs
Which form of zinc is best absorbed?
Ask five people this question and it's possible to get five answers. Generally, however, zinc citrate and gluconate are thought to be among the most easily absorbed forms of zinc. 
Is zinc good for hair?
Zinc plays a role in a number of bodily functions. Though more research is needed to make any definitive claims about it, zinc may play a role in hair tissue health. But if you're going bald, don't expect a daily dose of zinc to turn that around.
What are signs of zinc deficiency?
Among those who follow a well-balanced diet, zinc deficiency is pretty rare. However, some signs that you may need more zinc include an altered sense of smell and taste and a poor immune system.
References
Zinc. Fact sheet for consumers. National Institutes of Health.
Pudji Astuti, et al. Effect of shell as natural testosterone boosters in Sprague Dawley rats. 2019. Veterinary World. doi: 10.14202/vetworld.2019.1677-1681
S A Barrie, et al. Comparative absorption of zinc picolinate, zinc citrate and zinc gluconate in humans. 1987. Agents and Actions. doi: 10.1007/BF01974946.
Rita Wegmüller, et al. Zinc Absorption by Young Adults from Supplemental Zinc Citrate Is Comparable with That from Zinc Gluconate and Higher than from Zinc Oxide. 2014. The Journal of Nutrition. DOI: 10.3945/jn.113.181487.