When you think of what sort of food is the best fuel for athletes, you don't think of a strip mall in Reno, Nevada. You don't think of frozen food, with a cellophane film and a microwave-safe container. You don't think of chicken tikka masala, chorizo and eggs, and BBQ ribs—all created by a high-end chef. You don't think it could be delivered to your doorstep without spoiling.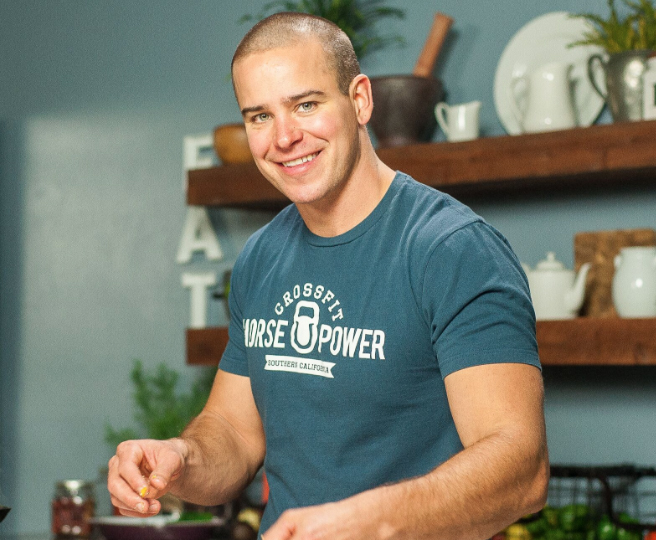 Nick Massie, a.k.a. Paleo Nick, disagrees. With his newest endeavor, Ice Age Meals, Massie and his team of culinary ninjas are churning out frozen, microwavable, Paleo and Zone friendly meals in a Reno strip mall, and he's hoping to challenge your preconceived notions of convenient, delicious, athlete-friendly food.
"In 30 years, we're going to serve 1,000,000 meals a day," Massie says during our afternoon chat in his "office" that doubles as a culinary film set and a weight room.  
Massie established Ice Age Meals in January of 2016, and eight months in, they're producing 5000 meals per week. Though Ice Age Meals is new to the home delivery scene, Massie has been involved with CrossFit and Paleo since 2008 and has over fifteen years of experience in the culinary industry. He's been CrossFit HQ's go to chef for years, and was one of the early pioneers of teaching CrossFitters to cook flavorful, Paleo meals at home. Prior to discovering CrossFit, Massie studied culinary arts and business management at the University of Anchorage, cooked at acclaimed restaurants such as Le Bernardain and The Spotted Pig in New York City, and even worked as Lance Armstrong's private chef.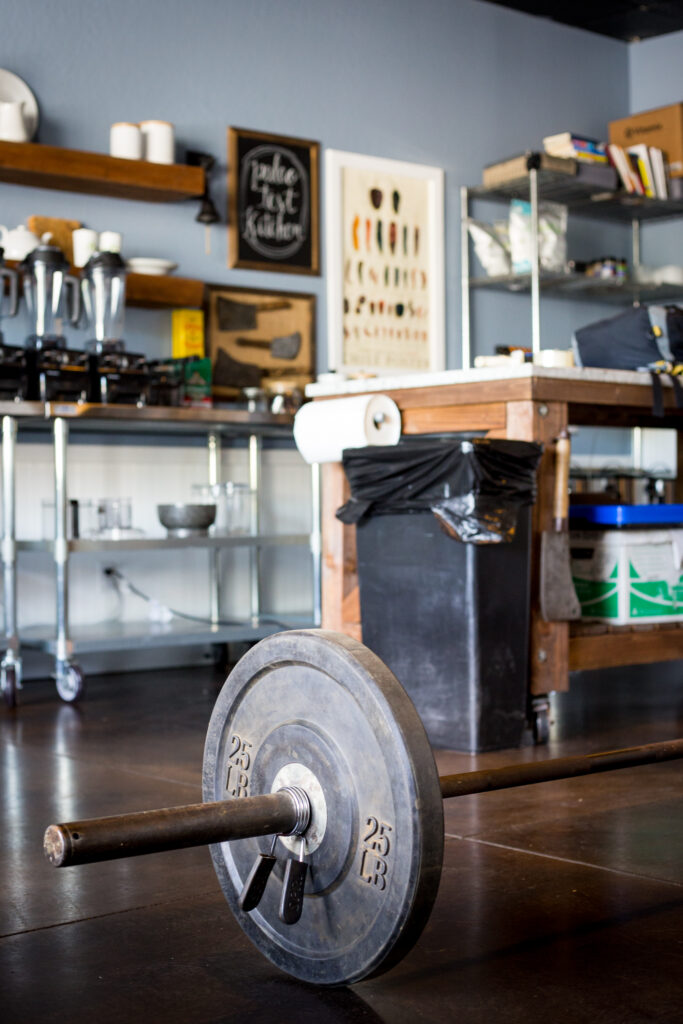 Massie believes it's his wealth of experience that elevates his food from all the rest. Every culinary decision he makes, he says, is rooted in his experience with high end cooking.
"Our food is different. It's not just here's rice, here's broccoli, here's chicken. I call it 'functional food.' We combine all the macros into something attractive, like a lasagna or a shepherd's pie. People on their own can easily make a salad or make rice, chicken, or broccoli. We're going to help them by providing them with something that they'd be willing to pay for, but is still in line with their nutritional goals and tastes good."
All Ice Age Meals are made in small batches, by actual people, and begin with whole cuts of meat and whole vegetables. Meat is butchered to enhance texture and tenderness. Dishes often marinate for days, and spices are toasted — just as they are in high end restaurants. Massie's grass-fed and organic meat is sourced from family businesses including Diestel Farms Turkey Ranch in Sonora, California and Sierra Meat, who created a proprietary 92/8 blend of locally raised grass-fed beef for all Ice Age Meals.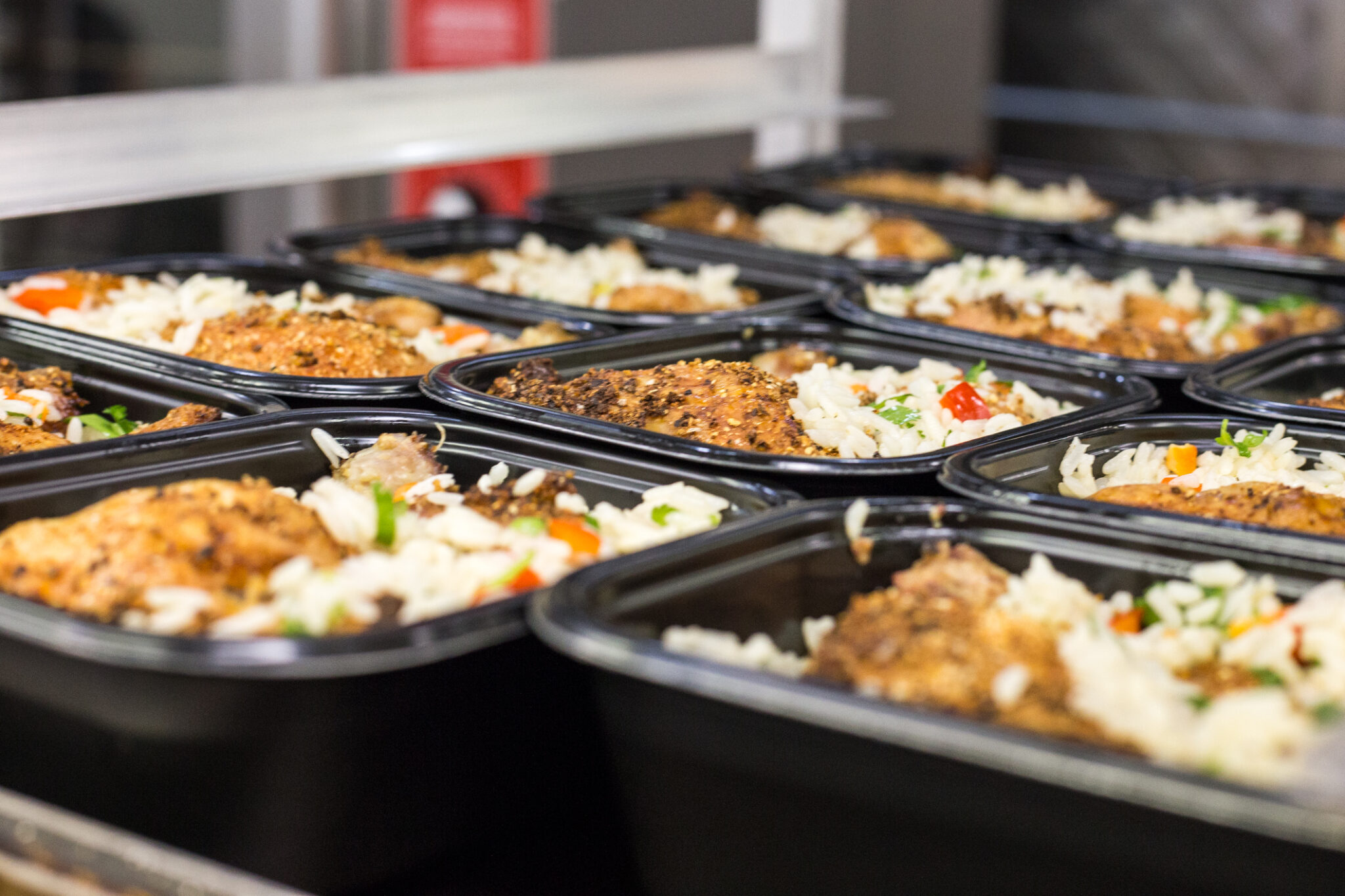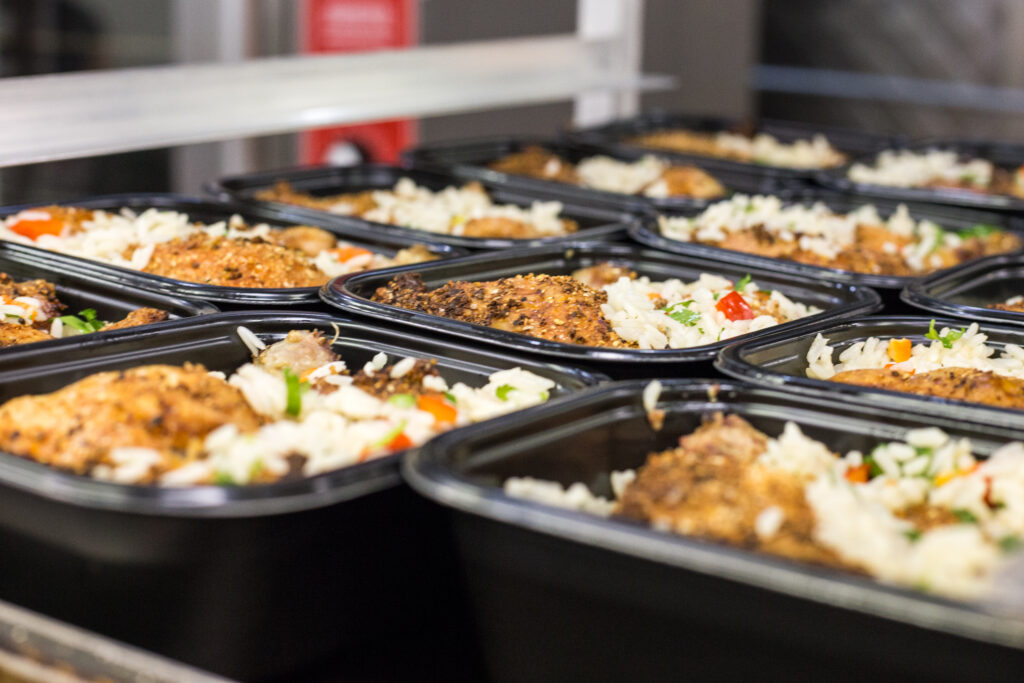 Every recipe begins as something that might feed one or two people. Massie says he cooks the dish like he would if he were making it for his family, and then he and his team adjust the flavors and textures until it's just right. Next, they make a larger batch and adjust again. If all goes well with the larger batch, they freeze the dish and see how it reheats. If it doesn't reheat up to their standard, they scrap the dish or start over. If the dish makes the cut, they count the macros both before and after cooking, and then average the two to create the numbers on the label. Soon, all of the meals will be analyzed by a food science lab to get more accurate nutritional breakdowns.
And the freezing? Frozen meals have a terrible reputation thanks to watery TV dinners and texturally questionable microwave burritos, but creating frozen meals as opposed to fresh is the backbone of Massie's business plan. Frozen meals don't expire after a few days, so the customer never has to throw out food, and the vendor loses less product to waste. Frozen meals can be shipped anywhere, so even customers in "food deserts" can get access to healthy food. Frozen meals also allow Massie's company to create a corporate wellness program. Offices nationwide can provide their employees with Ice Age Meals as an alternative to existing fare.
Massie says, "Look at it like a frozen pizza. You can have it in your freezer for whenever you want it, and you can make it pretty quickly once you're ready to eat it. This is the healthy version of that."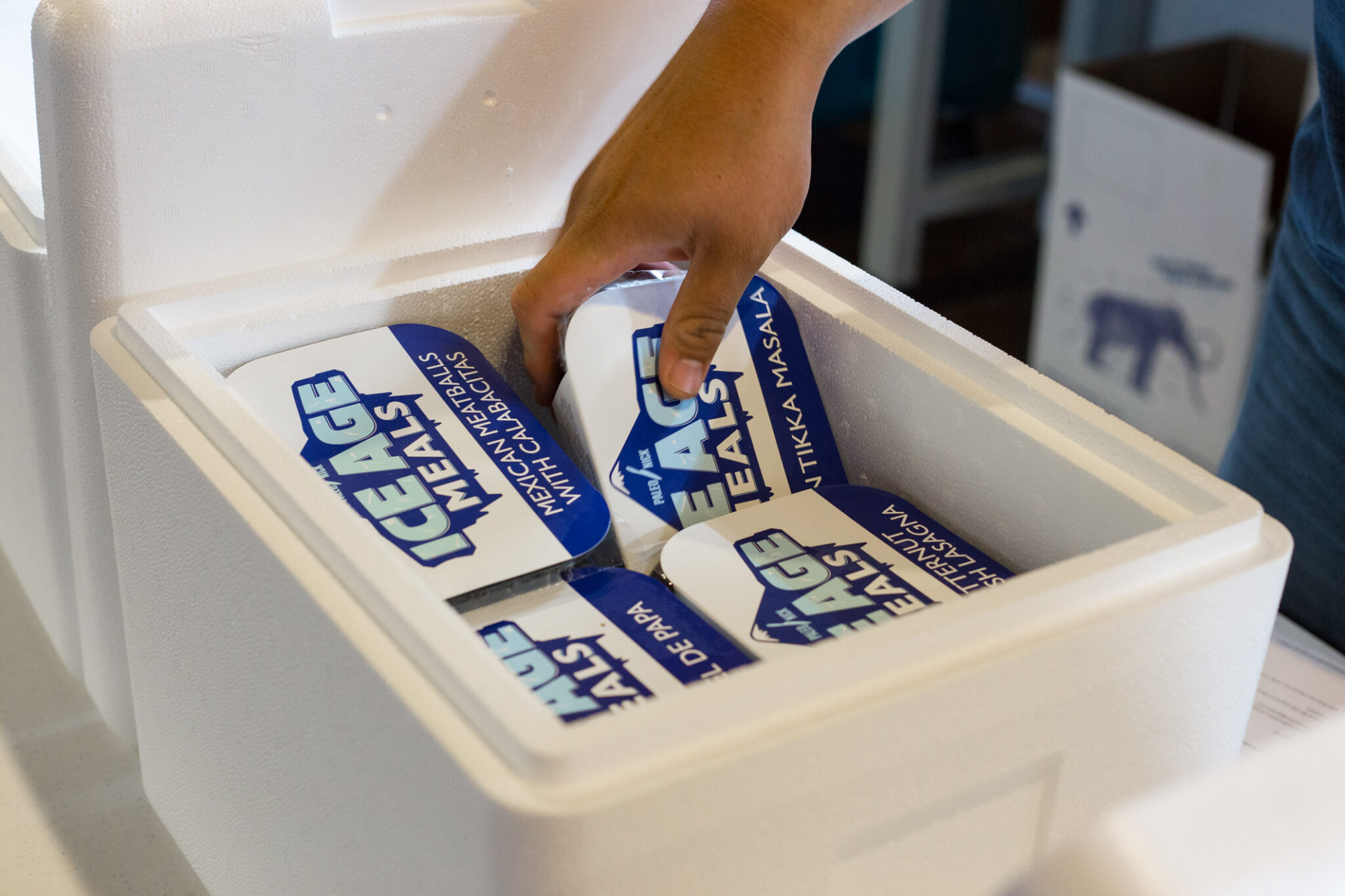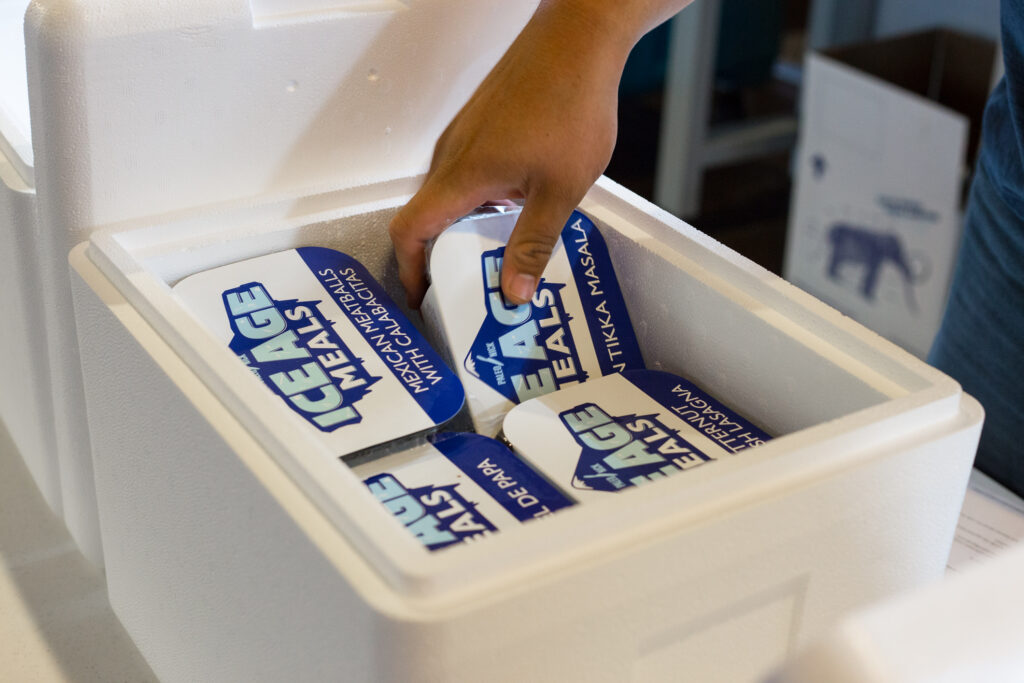 Massie says quality isn't lost during their freezing process. For example, you won't see broccoli in an Ice Age meal because it gets funky when thawed. Fresh greens don't freeze well either. For best results, Massie recommends letting your meals thaw in the fridge overnight before zapping them in the microwave.
When talking about quality, Massie references French chef Jacques Pépin, who early in his career developed frozen meals for the Howard Johnson chain. "Even when [Howard Johnson] had board meetings and all that, they would reheat Jacques' frozen meals. The quality of properly frozen food is amazing. There's no loss."
In the next few months, Ice Age's weekly production is set to skyrocket thanks to a new storage facility that will house an extra large freezer. Ice Age is currently running a campaign called Fund Our Freezer to help pay for the $700,000 freezer that will ultimately allow them to up production to 5000 meals per day.
Mostly, Massie is a foodie at heart and just wants people to eat good food that is also great for them. He's already got some big name sponsored athletes on board. (Brooke Wells and Sam Dancer have their own sampler packs named after them.)
Massie must be doing something right, and it will be interesting to see how Ice Age Meals deals with the hurdles that come with such growth. Based on the trajectory, that 1,000,000 meals per day goal just might become reality.