Editor's Note: Article updated, see bottom of page for details.
On Wednesday of this week, the International Weightlifting Federation (IWF) announced athletes from the 2012 Olympics who have failed a re-analysis of their drug test from that competition. In the past month, the World Anti-Doping Agency (WADA) and the International Olympic Committee (IOC) announced that "reanalysis of the 'A' samples from 23 athletes in five sports who competed at the Olympic Games in London 2012, as well as 31 athletes in six sports who competed at the Olympic Games in Beijing 2008, have returned Adverse Analytical Findings (AAFs)."
In layman's terms: they went back and re-tested urine and/or blood samples of the athletes who were drug tested at two previous iterations of the Olympic Games. Utilizing new technology, they were able to determine that there were Performance Enhancing Drugs (PEDs) in the samples of some athletes that were previously not found.
Most who read this article will probably agree utilizing PEDs to cheat towards victory is wrong. I share that belief, and believe more testing and more stringent testing of athletes from every country is needed to help solve the problem. However, I also believe it is naive to think that if the IOC, WADA, and the IWF are going to have a plethora of failed drug tests less than two months before the opening ceremonies of the 2016 Olympic Games, that is not fixing the problem. At the bare minimum, it is grandstanding, an attempt to make up for years of not being seen as accountable to the equality of all athletes. Without transparency of these organizations and their leadership, we can only take guesses as to what is really happening behind the scenes.
I contacted the IWF, WADA, and the United States Anti-Doping Agency (USADA) for comments about the re-testing. The IWF and WADA never replied to my request, however the IWF did publish a statement on their website regarding the reanalysis. USADA directed me to a story that the Associated Press recently published about the testing system as a whole to gain a better understanding of how it works. However, they said they could not provide commentary about the strategic initiatives behind certain policy and advised me to contact WADA.
At the end of the day, I believe it is the system as a whole that is flawed and needs revamping, not a parade of athletes who are retroactively labeled as cheaters.
What Is the Current System for Testing?
The Associated Press recently released a fairly comprehensive story on how the current drug testing system works. At the end of an Olympics, IOC testers have over 5,000 urine samples for testing. They are divided into A and B samples, where the A sample from an athlete is what is tested. The B sample is used to confirm or deny if the A sample tests positive for a banned substance.
The initial tests occur in the Olympic city. Due to the huge number of samples and tests that need to be conducted, not every sample is tested for all possible drugs. The testers will estimate which athletes are more likely to use certain drugs and run the according tests. The remaining urine tests are placed into a refrigerated cargo container, which will be flown to Lausanne, Switzerland (where the IOC anti-doping laboratory resides). The samples are stored in a large vault, in a locked freezer at either minus 20 or minus 80 Celsius.
Under the updated WADA code of 2015, the IOC can hold the samples for 10 years and can retest them at any time in that decade. The previous statute of limitations was eight years. The rationalization for an extended window is that it gives scientists more time to identify new drugs, then develop new tests to identify these drugs. More time allows the scientists' time to develop more sensitive tests for the residue of known drugs that are found in urine samples.
As per the The Associated Press article, "Chain of custody" is an integral part of the this process:
…every time the bottles change hands, or locations, forms must be filled out to acknowledge who has been in contact with the bottles. A missing link in that process can invalidate a positive test.
I believe it is possible for every change of possession to be documented, however I also believe it would be easy to forge the document, or it would be easy to pay off a scientist or researcher to switch out samples or just accidentally lose one sample in a collection of thousands. In the past, there have been athletes who have failed an A sample, only for there to be an issue with the "chain of custody," and due to a loophole, they were cleared of any doping violation.
Drugs Are Everywhere
There are over 25,000 members of USA Weightlifting and easily millions of people around the world participate in strength training in some capacity. The only person who I can say that is completely free of PEDs, without a doubt, is myself. Everyone else, I have no idea. Even without PEDs, I still took several supplements today including Minoxidil, a multi-vitamin, and a protein shake after I worked out. Forbes Magazine says that the supplement industry globally has revenue of over $30 billion dollars annually. Needless to say, that is big business.
This week I had the chance to talk on the phone about the Olympic Re-testing with Dane Miller, who happens to hold dual roles as the coach of the Garage Strength Weightlifting Team, and as a founder of the Earth Fed Muscle supplement company. I started the conversation by asking him his thoughts on drug testing, specifically as it deals with his daily duties as a supplement maker:
"We are actively involved in every step of the way from creating a recipe to working in the lab, we do an extremely good job at quality control because it is important to us. Our product is clean and we have over 30 athletes who have been tested by WADA or USADA to prove it."
Miller's athletes are incentivized for setting national records, winning championships, and qualifying for world teams. When asked if he felt incentivizing athletes (monetarily or otherwise) added a level of pressure for athletes to cheat, he said, "Our incentivization is nothing compared to what USAW has been able to provide athletes, it has improved over the last three years and will continue to improve. With that, USADA provides a check system for athletes to be tested for drugs. After the Houston competition (2015 World Championships) – WADA has been pressured to rise to the level of USADA with international testing. Today international drug testing is poorly run and has too many inefficiencies for the system to work."
Follow the Money
One of the key discussion points with re-testing today is that the money has not always been present to have the technology needed to keep up with the drugs. The current IWF policy is that if an athlete fails a WADA drug test at an IWF event, that athlete's federation pays a fine of $5,000. If that federation has three or more failed drug tests in a calendar year, then the penalties become more severe — or the federation is suspended from international competition for up to 4 years: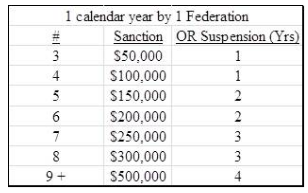 These monetary penalties are in addition to the $5,000 fine per athlete (meaning a federation would owe $65,000 if 3 athletes fail a WADA drug test at an IWF event in 1 calendar year). This does not include drug tests done by the countries themselves, such as USADA in the USA or CCES in Canada.
Drug tests done in-house that catch athletes cheating have to be more cost effective, when you think about some of these penalties. For example, take the United States: When USADA catches an athlete who has tested positive for a banned substance, the only penalty is to the athlete. The athlete will receive a loss or their result from the competition, along with a definitive suspension from competition. However, the federation is not penalized other than they cannot use the athlete in international competition. There is no financial penalty to the federation if they catch their own athletes testing positive for a banned substance. This is money that can be reinvested into the athletes or into the federation as a whole.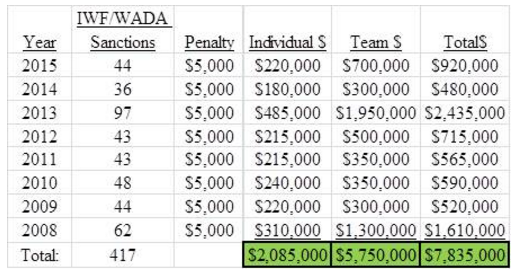 In the eight years between 2008 and 2015, 417 weightlifters were caught and punished by WADA for using a banned substance. That alone is almost $2.1 million dollars in penalty fees. When you add the penalty for 3+ athletes in a calendar year by a federation, that adds another $5.7 million dollars (assuming all fines were paid). Based on my calculations from weightlifting alone, that would mean over $7.8 million dollars were levied by the IWF in fines between 2008 and 2015. (Note: I have updated the article to reflect the publicly available IWF Financials from 2014; see article at the end of this section.
If you are curious how this 8 year history breaks down by country (which countries are the worst offenders), the top 10 may surprise you: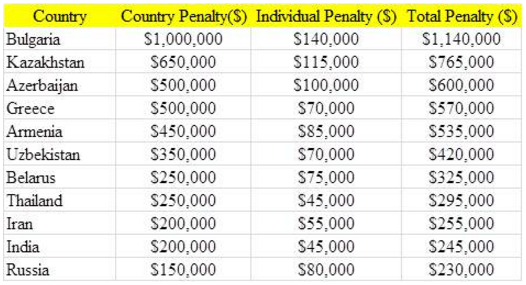 Bulgaria, which had 11 athletes sanctioned in 2015, has been handed the highest amount of penalties since 2008 by almost $400,000. The Bulgarians are instead taking a ban, and the IWF eliminated Bulgaria from the ranking list and recalculated all scores towards the Olympics accordingly, as if Bulgarian athletes had not been present at all in the 2014 World Championships. In 4th place is Greece, which had 11 athletes test positive as well back in 2008. The big difference between Greece and Bulgaria or Kazakhstan is that they have apparently not been able to rebound from this. At the 2015 World Championships (as of June 11th, 2016), Kazakhstan had a champion in the 77KG weight class in Nijat Rahimov. Greece did not even send a team to this event that would help determine 2016 Olympic qualification and spots.
This approach to calculating the money that has been collected may even be a conservative number. In my conversation earlier this month with Dragomir Cioroslan, a Director of International Strategies and Development with the USOC, and former Vice President within the IWF, he estimated numbers are as high as over $13 million dollars in this time period.
This begs the question, where did the money go?
The IWF is in charge of collecting the money on penalties distributed from failed drug tests in international Olympic Weightlifting events. I emailed the IWF for commentary on this process several weeks before finishing this article, and they have not responded. I am guessing part of the money is utilized towards paying the costs associated with the tests themselves, however I do not have a definitive answer.
On the record, this money did not go to WADA. In their 2014 annual report, WADA collected over $26 million in revenue. Half of which came from the IOC, the other half came from governments. Canada, the home of WADA, gave close to $10 million with the requirement they keep jobs in the country.
IWF Financials from the 2014 Fiscal year, the most recent that I could find online, do not directly collaborate with my analysis. However, as per the chart below, the fines from anti-doping penalties seem profitable. Year over the year the costs involved with Doping Control do not significantly change. In 2014, the cash flow from collecting the fines doubled, most likely as a result of collecting on the 2013 fines. This also represented over half of the operating income for the year. At the same time, the IWF reported a net decrease to their cash of over half a million dollars; or they spent more than they earned in revenues and had to dip into their savings. It is surprising that they would not invest prior to now in the latest and greatest technologies to catch instances of doping, because if nothing else, there would be more money coming into the organization. Then again, the availability and advancement of testing technologies can be unpredictable and sporadic. (Note: The chart below is my own.)

How Can the Playing Field Be Leveled?
In my discussions with Coach Miller, we both feel the best way to vet out potential cheating is through greater levels of transparency. All testing should be done by blood, not urine, at significant international events. Blood is harder to hide unapproved substances in.
Finances need to take a back seat to transparency, as I believe the money to improve testing protocols is there. The money needs to be spent on more athletes being tested, the top 10 or 15, and all at the same time. Money should be invested in the personnel who conduct the tests, so the potential for bribery is limited or voided all together. There should be more testing officials present, from multiple countries, to ease out any bias that may exist. And finally, the testing should be done in view of representatives from other countries.
Just like everyone else, I wish to see a day when international weightlifting is based solely on the strongest and fastest athletes. However, until political factors, money, greed, and corruption are neutralized, that is still just a wish. Tougher regulation needs to be set in place to catch cheating, and it needs to be enforced from by the leadership of the sports world — the IOC, WADA, and the IWF. While the United States is pressing the issue and we have had athletes fail drug tests administered by USADA and WADA, this is a world matter, and the world community as a whole needs to step up and say "we have had enough." Until that happens, penalizing athletes eight years after the fact is just a farce.
Editors note: This article is an op-ed. The views expressed herein are the authors and don't necessarily reflect the views of BarBend. Claims, assertions, opinions, and quotes have been sourced exclusively by the author.
Featured image: Ilya Ilyin's Instagram
Note: This article originally stated the IWF yearly financials were not publicly available online. It has been updated to reflect that they are made publicly available.