A new shot of potential patterns and colors for the Metcon 3 has shown up on line thanks to @nikemetconclub on Instagram.
The Nike Metcon 2 caused a stir in the fitness community, and its new features — "zero-friction" heel for handstand push-ups, improved grip for rope climbs, better stability for lifts — have been getting positive reviews from the CrossFit community and beyond. But while people are still fighting to get their hands on Nike's newest fitness shoe in time for Regionals, there are already rumors about the third iteration of the Metcon.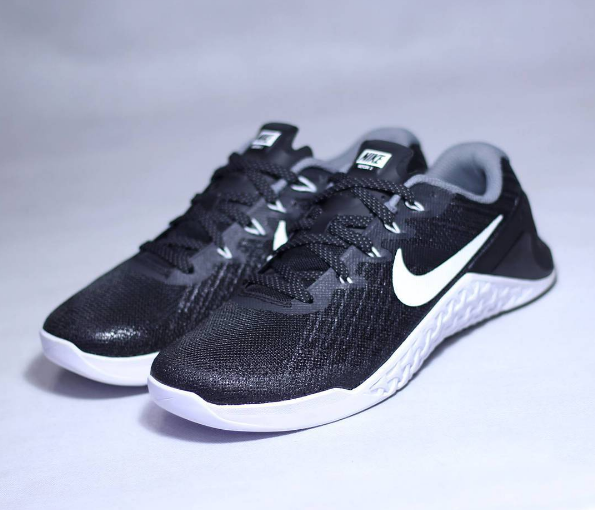 Yep, some people are claiming images of Nike's Metcon 3 shoe are already available online. And from the looks of the tag, it appears the suspicions are basically confirmed.
These images come from Instagram user @boyfanfootball, aka Calvin Nguyen. It seems like Nguyen is quite the sneakerhead, as evidenced by his IG feed and the Klekt link in his bio. We're not 100% sure what we're seeing is the actual Metcon 3; it could be a fan render or modification, an unreleased earlier prototype, or some alternate version of the functional fitness shoe.
However, the tongue tag clearly says "Metcon 3," so it appears these are at least a version of Nike's next fitness shoe, even if they're not quite the final iteration.

The photos certainly show a departure from both the Metcon and Metcon 2 models, with a significantly reimagined upper and side ridges that look like a completely different pattern than the "dimples" on the Metcon 2.
For comparison, here's a shot of different black/white patterns in the Metcon 2:
Nike — like most big apparel and footwear companies — has been known to develop iterations of their popular shoe models months and even years ahead of time, so it's definitely not out of order for them to already be testing out or even manufacturing a shoe that won't hit consumers until next year.
And while we certainly won't see these on the competition floor at the 2016 CrossFit Games (#banned), the Metcon 3s will likely make their first public appearances on the feet of big-name Nike athletes like Mat Fraser, Lauren Fisher, or Kenny Leverich.