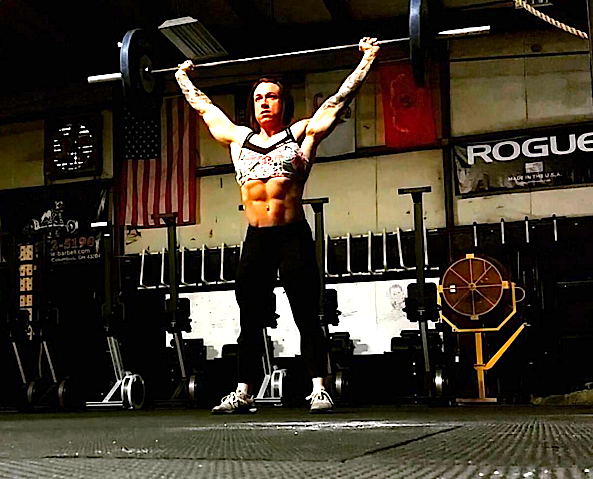 Photo: Laura Phelps-Sweatt
Laura Phelps-Sweatt is one of our favorite powerlifters to follow on Instagram, but calling her just a powerlifter isn't actually fair — she's also an accomplished CrossFit athlete, and at 35, she finished top 40 in the Central East in the CrossFit Open.
Now, she's putting her ridiculous strength on display in one of CrossFit's most famous benchmark workouts, "Isabel." Phelps-Sweatt blasts through the 30 power snatches at 95 pounds (okay, some of them are muscle snatches, but that's still up to code) in 1:07, thus far the fastest time we've seen for a woman. And she does them all unbroken.
From her Instagram page (full video on Facebook):

And if you're questioning her reps, watch again: they look pretty darn legit from start to finish. Plus, she's got the social media approval of both Sam Briggs and Margaux Alvarez, two women who probably know a thing or two about CrossFit competition standards.

We're not 100% sure whether it's the fastest-ever time (on video) for a woman to complete the workout — and we've seen a few men finish in under a minute. Plus, she completes each snatch to very strong standards (and if you disagree, hey, let us know or something).
The weight (95 pounds) is truly pretty light for Phelps-Sweatt, who recently reported a triple touch-n-go power snatch at 165 pounds. Her post of that lift is also giving us serious quad envy.
It's cool to see a cross-discipline strength athlete like Phelps-Sweatt perform feats we can relate to — even if they make us feel weak/slow/winded by comparison. She's still got a few more years before she can compete in a CrossFit Masters division, but in the meantime, we'll have to settle for great powerlifting and the occasional metcon posted on her social media — in addition to waves every time Open workouts involve a heavy barbell.