Welcome to the first 2022 edition of BarBend's newsletter!
It was a busy week for Strongman, with both the 2022 Arnold Strongman Classic events released and also the 2022 Britain's Strongest Man roster released.
Powerlifter Jessica Buettner spent the holiday break closing out the year strong, strong, strong.
And Margaux Alvarez shares what it's like training for multiple sports and balancing her wine company. 
Here's what you should know about strong people as we start 2022.
2022 ARNOLD STRONGMAN CLASSIC EVENTS
Many people who follow the sport of strongman have missed the Arnold Strongman Classic.
Fans weren't permitted to attend the 2020 contest, won by Hafthor Björnsson, while the contest in 2021 was canceled altogether. 
But, the Arnold Strongman Classic will return in 2022, and it's scheduled to take place during the weekend of March 4-5, 2022 in Columbus, OH.
Organizers released the list of individual events that the athletes will compete in and, let's just say, we're already counting down the days. 
JESSICA BUETTNER SLAYS CHRISTMAS
Christmas may be a time of rest for some, but it definitely wasn't a day off for Jessica Buettner. The 76 kg International Powerlifting Federation (IPF) record-holder pulled a solid 183.71 kgs/405 lbs for 12 quick reps to celebrate the holiday.
According to Buettner's Instagram, where she posted the lift, Buettner weighed 77.56 kgs/171 pounds that day.
This impressive set is not surprising for anyone who's followed Buettner's career, which includes three IPF records and a career-best 250-kg/551 lb deadlift.
With a one-rep max that heavy, the Canadian seemed to have little issue moving 405 lbs for 12 reps. We can't wait to see what 2022 holds for her!
CROSSFIT, WINE, AND LONG DRIVE
Margaux Alvarez is a household name amongst longtime CrossFit fans.
Alvarez is a 7-time CrossFit Games athlete, long drive competitor, coach, and wine entrepreneur. She's also one of the most multi-talented personalities in fitness, and her future in CrossFit – and beyond – is something we had to learn more about.
We welcomed Margaux to the BarBend Podcast to talk about training across multiple sports, strength training for golf long drive competitions, her future in athletics, balancing wine with recovery, and more.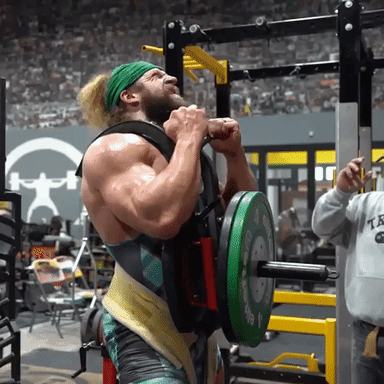 Jon Call on Instagram @jujimufu