There's always one breakout star of the CrossFit Regionals, and this year, it's Chandler Smith. Though we still have one weekend to go in this 2016 Regionals season, we doubt we'll see anyone match the style, swagger, and performance of the 22 year old in his first CrossFit Regionals.  
Smith didn't qualify for the Games, but he came close. With a 605lb deadlift, 345lb clean and jerk, and 61 unbroken pull ups, the kid has the raw goods to compete with the elite. He was in contention for the podium up until the third day, when in Event 6, the weekend started to catch up to him. Whether it was an endurance/recovery issue, nerves, lack of experience, or a combination of factors, by the time he reached the last set of overhead squats in the grueling chipper, we all knew it wasn't going to happen…this year.
While we're sure there's some disappointment, there's one thing Smith did better this past weekend than any of his competitors: he made us all root for him. Even though he's now a verified beast, what fans love most is his genuine charisma, humble nature, and seeing him have a damn good time. Though he looks like a superhero, Smith comes off as a regular dude who just happens to be an extraordinary athlete. We want to get a beer with him just as much as we want to share a squat squat rack with him. 
Even HQ loves the guy, as evidenced by his extensive feature and four posts about him on the CrossFit Games' Instagram over the weekend.
Could he be any more popular? (Note that Noah Ohlsen and Ben Smith each only got three mentions, and one of Ben's featured Chandler.)
Smith may actually have done himself a huge long-term favor by not qualifying for the 2016 CrossFit Games. This year's performance positions him perfectly for endorsements and support in the coming year. His Instagram following has tripled from around 5,000 followers on Friday afternoon to over 15,000 on Monday morning. Compare that to Sean Sweeney, first time Games qualifier out of the South region, whose Instagram following has only grown by about 300 in the week after he qualified.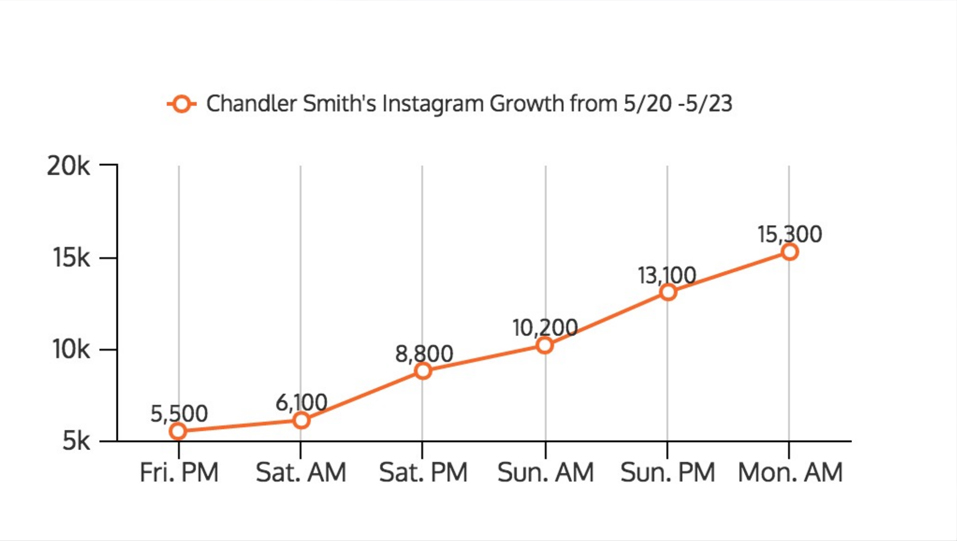 Smith's numbers on the competition floor and on the screen can't be ignored. Anyone in the top 10 at Regionals has the physical talent and athletic potential to contend, but very few have the magnetic personality to become a CrossFit superstar. Another year of experience and a year under the microscope could do wonders for Smith's popularity and his nerves. Come next year, both HQ and his gaggle of fans will be rooting for him to make it all the way to Carson.