"Inflammation-fighting medicinal herbs."
That's the big selling point for Organifi Gold, part of the company's second generation of superfood supplements. After the enormous success of their flagship product Organifi Green Juice, the California-based company released two more colorful powders: Red Juice and the bright yellow supplement we're looking at today, Organifi Gold.
As alluded to, the main focus here is on inflammation, with the label specifying that its effects are in large part because it's "Turmeric and Reishi Infused." Read the label and you'll see benefits like "Healthy Response to Inflammation," "Deep Detoxification & Cleansing," and "Calming & Relaxing" promised.
If inflammation is a concern of yours, you've likely heard of turmeric supplements. Organifi takes an unusual approach to the topic. Let's take a closer look.
Organifi Gold Nutrition
One scoop contains 26 calories: 1 gram of saturated fat, 4 grams of carbs (2 grams of fiber), and under a gram of protein.
Micronutrient-wise there is 160 percent of the recommended daily intake of Vitamin D and 6 percent of your calcium. There's not a lot else, just 2 percent or less of your daily magnesium, sodium, and potassium as well.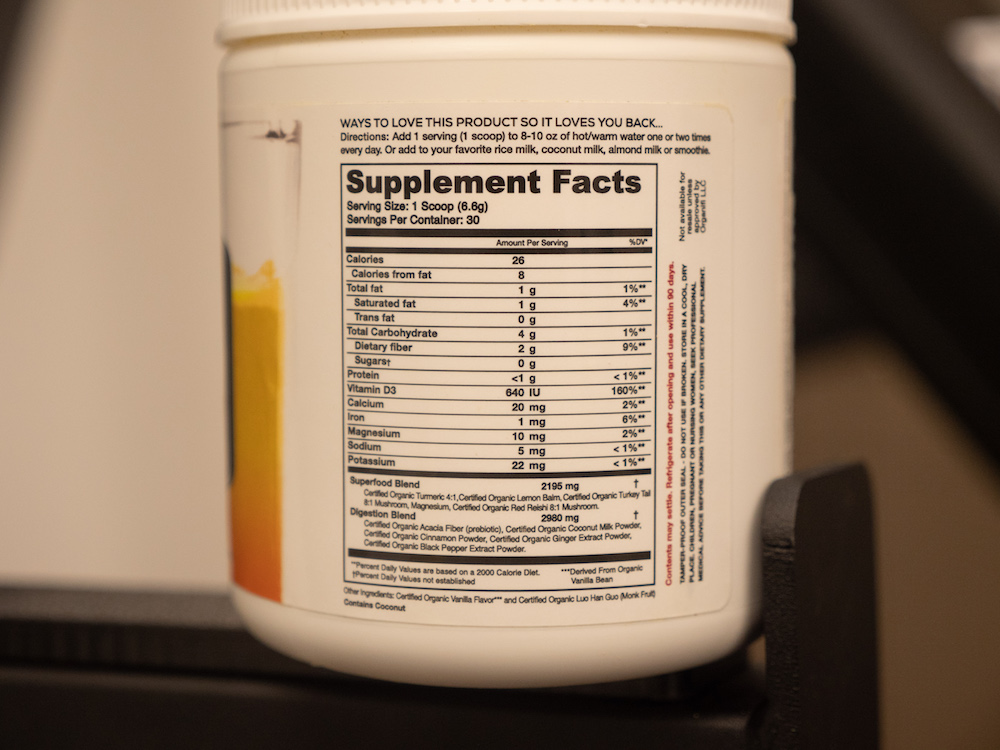 Organifi Gold Ingredients
Everything is split into three blends and it's important to note that they're proprietary, so we don't know the exact weight of any of the ingredients.
Superfood Blend (2,125mg)
Certified organic "turmeric 4:1," certified organic lemon balm, certified organic "turkey tail 8:1" mushroom, certified organic "red reishi 8:1" mushroom.
Digestion Blend (3,050mg)
Certified organic acacia fiber (prebiotic), certified organic coconut milk powder, certified organic cinnamon powder, certified organic ginger extract powder, certified organic black pepper extract powder.
Other Ingredients
Certified organic vanilla flavor, certified organic monk fruit.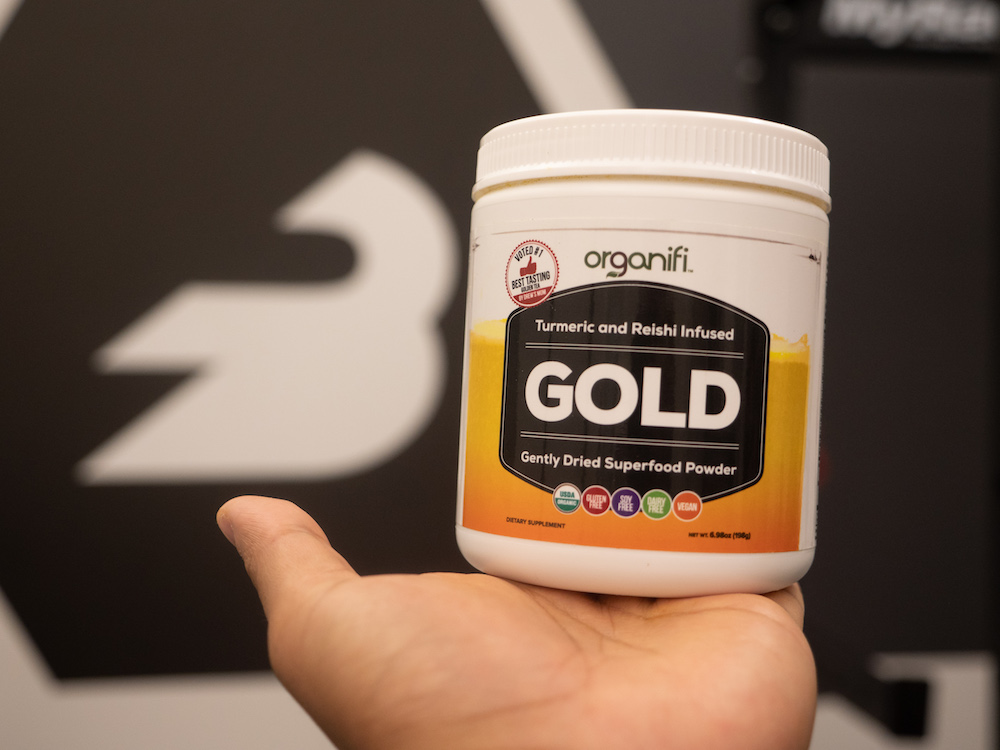 Organifi Gold Benefits
So why does this product promote itself as an "inflammation-fighter"? Well, turmeric is a root that's often used in Indian cuisine and ayurvedic medicine, and it's been linked to some pretty interesting anti-inflammatory effects. This is because turmeric contains curcumin, an anti-inflammatory pigment that's also in ginger (also in this product) though not it's quite as concentrated. About 3 percent of turmeric is curcumin, so 1 gram has about 30 milligrams, sometimes more.
Studies have linked turmeric to a reduction in inflammation and even depression. A big issue with Organifi Gold is that we don't know how much turmeric it contains, but given that it's the first ingredient in a 2.125-gram bend of four ingredients, we could probably assume there's 1 to 1.5 grams of it. That would deliver under 100mg of curcumin. Most turmeric or curcumin supplements, however, contain hundreds of milligrams of curcumin to get the best effect.
With that said, there are still some studies that have found this much turmeric to have benefits. Among them are two randomized studies found that 1.5 grams of turmeric a day helped improve inflammation of the kidneys. (One was lupus nephritis one was diabetes-related kidney inflammation.) But I would have liked to see more turmeric, to be honest. Organifi does claim that their turmeric is 4 times stronger than regular turmeric, but it doesn't give any reasons as to why.
A very positive aspect with this product is that it contains black pepper extract, which is almost always included with turmeric because it boosts absorption — one study suggests by as much as 2000 percent.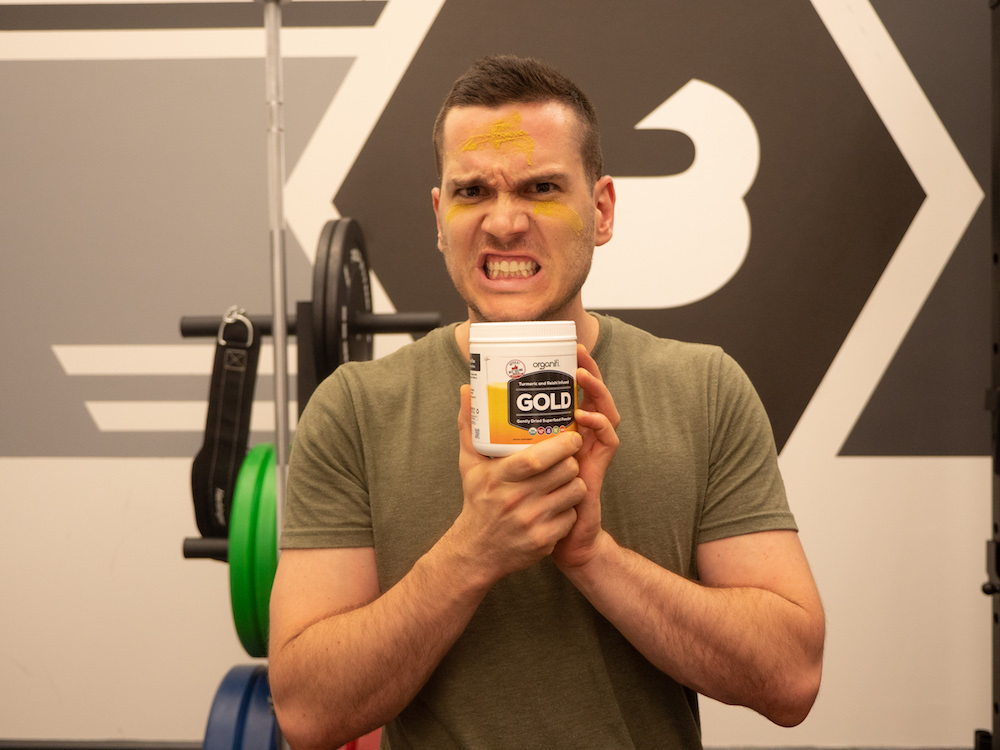 What else is in this? A very nice hit of Vitamin D, which has been linked to a ton of health benefits, and there are a couple of adaptogens, which may help to improve the way the body reacts to stress. 
Reishi mushroom in particular has been linked to improved wellbeing and immunity (things that stress affects), and the turkey tail mushroom is sometimes considered an adaptogen because of links with immunity. But effects are seen with doses of at least a gram each, and there's definitely less than that here.
Otherwise there is cinnamon powder and ginger extract, both of which are linked to some health benefits, ginger mostly to inflammation cinnamon mostly to insulin sensitivity. Cinnamon and ginger are the third and fourth ingredients in a 3-gram 'digestion blend'. The normal doses are usually about a gram each, so there might be enough of them here.
Maybe.
Gold falls into the trap of overhyping itself. It could have said "This contains curcumin, which may reduce the severity of inflammation" but instead if says, "Inflammation-fighting medicinal herbs can cut (aches) out of your life!" Instead of saying the product may help to support immunity, it says it will "slash your sick days in half." You'll also "slice 20 years off the way you feel in the morning!"
It's not that there are no kernels of truth in these statements at all but I think their marketing materials could have been worded more responsibly.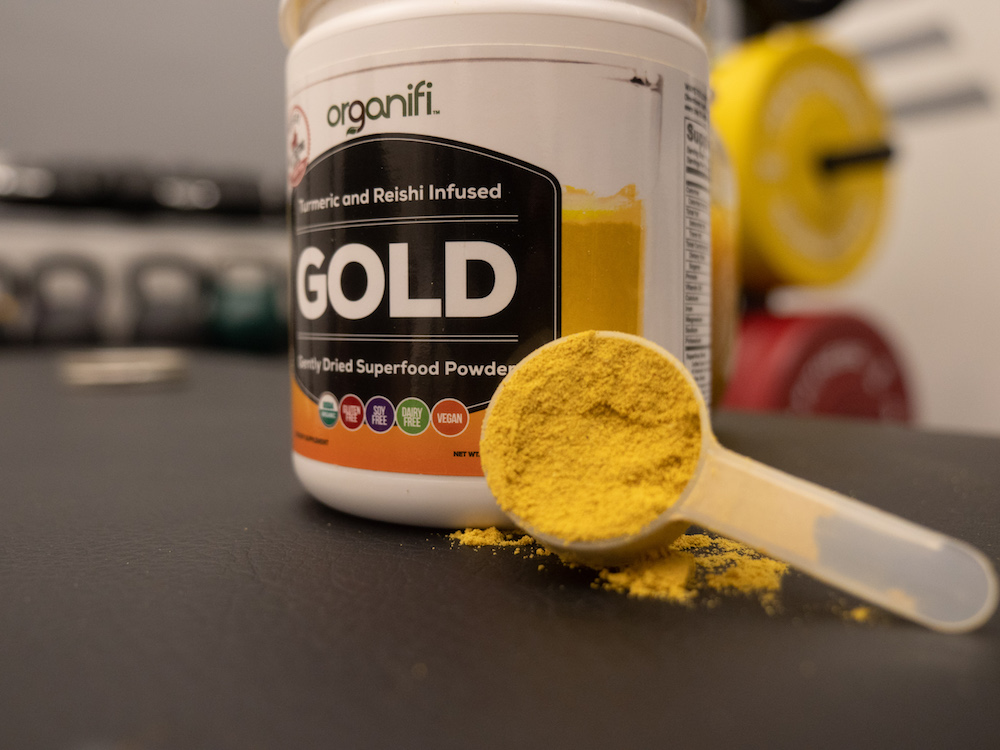 Organifi Gold Price
The price can change at any time but right now this costs as much as the other offerings from Organifi: between $60 and $80 for a tub of 30 servings, evening out to roughly $2.30 per scoop.
Most superfood powders cost somewhere between $1.50 and $2 per scoop so this is a little bit pricy, but not alarmingly so.
Organifi Gold Taste
For my money, this is the best tasting of Organifi's products. While I was expecting a turmeric flavor, as mentioned above there's not that much turmeric in this. Instead the ginger, cinnamon, vanilla, and coconut flavors came to the fore, making for a warming, flavorful, slightly spicy drink that's great cold but even better in hot water.
The packaging suggests that this goes down best as a tea, which I'd agree with. The only downer is that it doesn't mix particularly well at all.
The Takeaway
I'm confident that this product has enough turmeric and ginger to have a mild effect on inflammation, though it seems like if that's your main reason for taking the product it's better to take something that's cheaper and has more curcumin in it. You don't even know how much curcumin Organifi Gold has, but it seems certain that it's less than a dedicated supplement. The same goes for the mushrooms, which don't seem to be dosed all that high.
But it's very tasty, has a good hit of curcumin, cinnamon, and ginger, and isn't a bad addition to your routine if you want to fight inflammation.