Some people say opposites attract, and maybe that's true in some place where I've never been. In my experience, I've seen more relationships than I can count develop through the sport of Olympic Weightlifting. By no means am I saying that weightlifting is the next eHarmony, but the sport attracts a hard working, passionate, and — for a lack of a better word — different group of people that seem to be attracted to the same type of individual. My best guess is that we have an understanding of each other. The time commitment, scheduling conflicts, and sacrifices we make for this sport probably seem strange to an outsider. I've been around the sport 13 years, I met my husband in the sport, but I've also watched other weightlifters develop significant other relationships through weightlifting.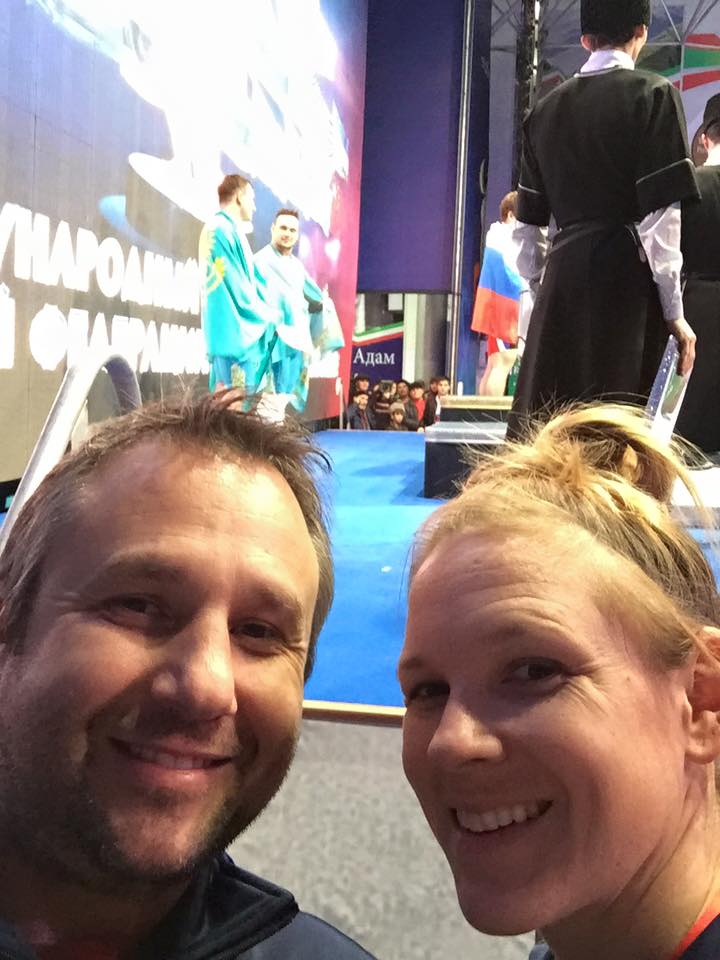 The author and her husband/coach
I met my husband, Jason, through a local gym in Mobile, AL. He was the first person to say, "Hey. You may have a talent for this weightlifting thing", and we developed a strong relationship through the hours spent training for the sport. I really do believe there is a special bond that develops between coaches and athletes in individual sports, such as weightlifting. The two sides work elaborately with each other to perfect this frustrating and complicated craft, and you learn a lot about each other the longer you spend training together. Not all of those coach/athlete relationships end in marriage, but in many cases, they develop a friendship that lasts for a lifetime.
Jason has been my personal coach for the entire extent of my lifting career. I spent a year training under Coach Gayle Hatch, the 2000 Men's Olympic Head Coach, and a few months under Coach Zygmunt Smalcerz, 1972 Olympic Gold Medalist. Even during that time I would communicate back and forth with Jason about training and the things we were doing. He's been to almost every competition of my career. When he couldn't be there, it was generally work related and he would always help me find an event coach to fill in.
In addition to my personal programming, Jason helps me when I write programs for my athletes as well. We have fairly similar coaching styles, because I've spent most of my career watching him coach, but I take things I've learned from working with or talking to other coaches, and he does the same. Before working with Zygmunt we never used blocks to train positional work. It was all done from the hang, but after building a relationship with him, Jason felt comfortable talking to him about how to incorporate them.
If I have an athlete with a consistent error that I can't seem to fix, I'll ask him for advice. Often times we will be telling the athlete the same thing but worded slightly different works for the athlete. Other times he reminds me of an exercise and helps me make adjustments to the program. It's always great to have a sounding board to throw my ideas off of and I love that he doesn't see a difference when training a male versus a female. His expectations are the same for both sides and I think it's molded the mindset I have today.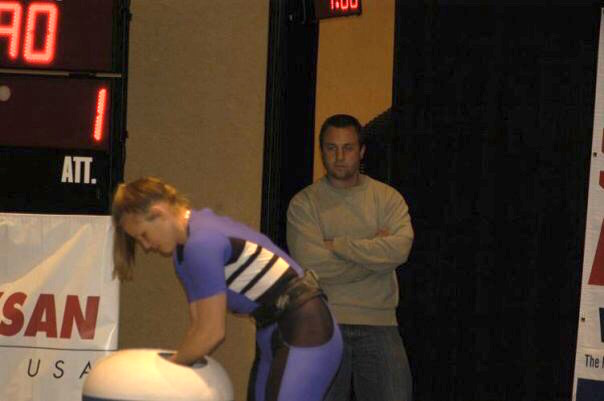 The author's husband looks on before a competition lift
The same way a new relationship begins, weightlifting in the beginning was easy. Everything was fresh and new so progress came easy. As it developed, you get to understand the sport more, the same way you gain a better understanding of each other and you decide it's something you can both live with so you sign on the dotted line. Then all hell breaks loose.
(Ha-Ha, just kidding.)
But it does get harder. Four years ago, Jason took a job as a strength and conditioning coach for the University of Alabama, and lately, our work schedules haven't matched up. In the mornings, I volunteer as an intern for the University and help him train the track and field athletes, then I go to the Rec Center to train clients or spend some time working on BarBend articles while he continues working with other sports teams. My personal training sessions are done in the afternoons, and when he can, Jason attends every lifting session of mine. Some days he will train with me so I have a partner. Those times when he can't, he always has his phone with him to answer my questions, make adjustments or read my explicit words of frustration through text message. (Maybe I need to invest in Aimee Everett's new coloring book.) Nothing in life is ever a perfect scenario, but we do our best to make it work.
Weightlifting has given us so many travel opportunities that would not have otherwise happened. Together we have visited almost every state in the US. We've been to Puerto Rico twice for the Criollo Cup. (The second trip I met my 75kg hero, Lydia Valentin.) Then Thailand together while he was the women's head coach of the World University Team. We have also been to Russia for the Russian Grand Prix. It wasn't a great competition for me, however, we did get to see Ilya Ilyin clean & jerk the world record as we stood next to the stage, after filming his warm up attempts. The record may be erased, but amazing nonetheless. A few others such as China, Taiwan, and Brazil we either couldn't afford for him to travel, or he couldn't take the time off of work, but he was completely selfless with my training and giving me the opportunity to compete.
It's a constant balancing act, and for me, it's always been instinct to look at him for answers. Sometimes it's great, because Jason knows I respect his opinion so we can work together to fix it. I feel like we have worked together long enough that I can tell him what I am feeling and he can make adjustments for it. We also know each other's schedules, so we can plan training around family holidays (and maybe sometimes use it as an excuse to leave family holidays for a few hours).
It's also very easy to get frustrated in a sport like weightlifting. Just when you get one lift right, another one goes wrong, or when I have one of those weeks in the gym where I can't make anything work and begin to boil over. Those days are a struggle for the both of us. (Well, mainly just me, but everyone knows when the wife is upset, you're both upset.)
Those days, the gym comes home with us. We talk about it during training, in the car, at the dinner table, and as we fall asleep at night. (It's a bit much I know.) As much as possible, we try to separate gym life for home life. There is always some crossover, but keeping it to a minimum helps us to remember that there's more to life than what goes on in the gym. (Mainly me, because let's be honest here; Weightlifting is Life.) Filling time with other hobbies like tutoring, art, my dogs, and Netflix helps minimize the gym insanity.
I am a woman though, so sometimes it's "uncontrollable." These times, I'm positive that I make life pretty terrible for him. What he doesn't know? Those are the times when I am most thankful he's around (even though I know I don't show it). I know he's sent emails to Coach Zygmunt, called 2016 Olympic Coach, Tim Swords, and spent time looking at drills posted by Greg Everett of Catalyst Athletics all to help find ways to tweak my training to get past that sticking point. Most of all, he's my biggest fan, my cheerleader, my support system, and my best friend. Every goal and dream I have, he supports it. (If he thinks it's dumb, he keeps his mouth shut. Ha!)
Regardless of what he has going on, Jason has always been there to support, encourage, and sometimes cry and booze with me. Every personal record is memorable to him (sometimes the misses also), every competition is another one for our story books, and I wouldn't have it any other way.
Editors note: This article is an op-ed. The views expressed herein are the authors and don't necessarily reflect the views of BarBend. Claims, assertions, opinions, and quotes have been sourced exclusively by the author.