On Saturday, September 3rd I had the chance to catch up with Anthony Pomponio at the Hassle Free Invitational in Sacramento, CA before he won the grand prize of $3,000. Since leaving the US Olympic Training Center a few months ago, he has been training at Juggernaut Headquarters in Southern California. Two of the best in the business, Chad Wesley Smith and Max Aita, have been working with him to get his leg strength up, and it showed as he went 6 for 6 and set a competition PR total of 342KG (752lbs).
Anthony Pomponio (Team Juggernaut, 85KG)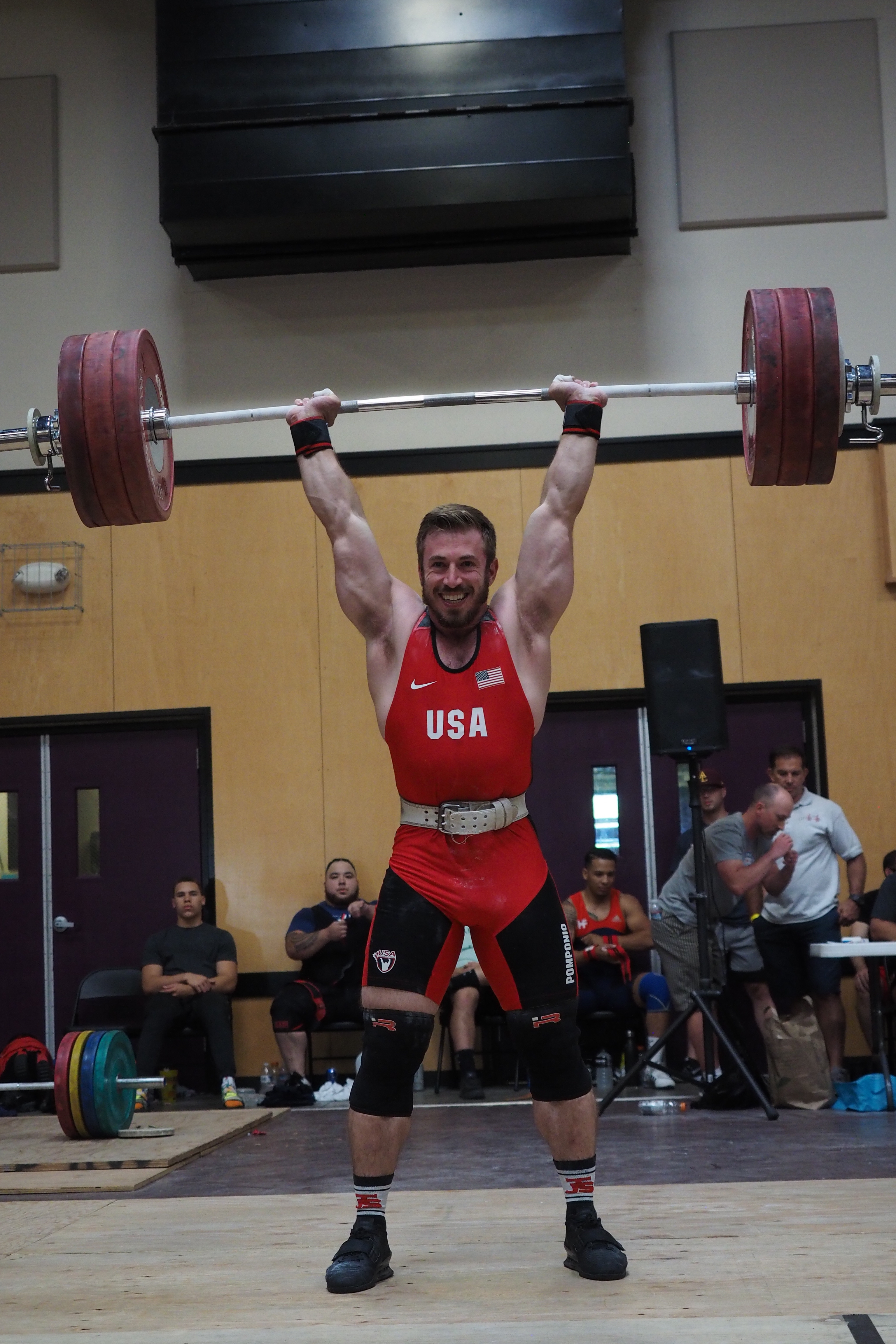 Instagram: @arpomponio
Hometown: Palm Desert, CA
Education: BS in Kinesiology from Whittier College
Athletic Accomplishments:
2016 US National Championships silver medalist (85KG)
2016 US Olympic Trials Participant
2015 IWF Grand Prix (Fuzhou, China) – 6th Place
2015 US National Champion
2015 & 2014 American Open Champion
2014-2016 US Olympic Training Center Resident Athlete
2013 American Open Bronze Medalist
4 year (American) Football player at Whittier College
Played Professional (American) Football for the Basel Gladiators in Switzerland (2010)
Competitive Bodybuilder (2009-2010)
How long have you been lifting? How did you get started?
"In 2010, I came back to Southern California after a year of playing football in Europe. I was a bodybuilder for a while, but then my brother introduced me to the sport [Olympic Weightlifting] and I liked the quantifiable aspect of it. Whoever puts up the most weight on the bar and completes it is going to win."
In 2010, Pomponio started training in Olympic Weightlifting with Coach Nick Frasca at the Yard Authentic Strength & Condition Center, along with 3X US National Champion and World Team Member Kevin Winter.
What are your hobbies/activities outside of weightlifting?
"Most of my time is spent at the gym; coaching, online programming or personal training. However, I am really into craft beer. I have visited over 250 breweries in the USA."
Goals for Hassle Free Invitational and the rest of 2016?
"I just want to have a good competition, this is my first time competing since the [Olympic] trials [in May]. I hope to compete well at the American Open, but no specific goals."
Goals for 2017 and beyond?
"I plan to take it year by year. I want to make the Pan Am Team and the World Team, and as long as I feel good I will continue to train for that."
Who in the USA is your Biggest Competition?
"[James] Tatum is such a great weightlifter. When he decided to go up to 85KGs [weight class] it was not ideal for me, but great for him. He is such a nice guy too, it's hard to hate a guy like him."
Who is your favorite weightlifter to watch?
"There are so many, however my two boys – Alex [Lee] and Norik [Vardanian] are up there."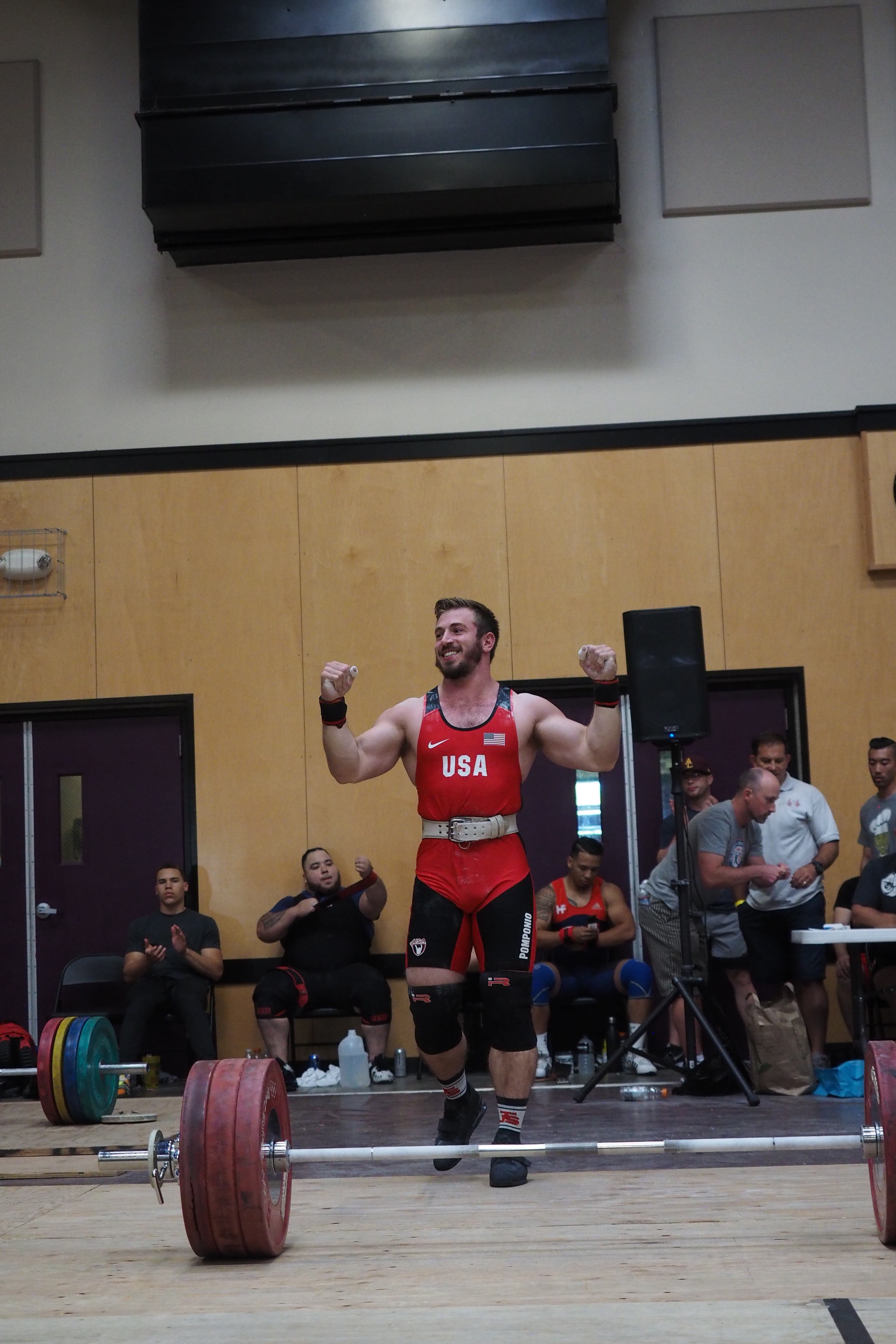 Training PRs?
SN: 156KG (343lbs)
CJ: 190KG (418lbs)
Jerk: 200KG (440lbs)
Back Squat: 233KG (513lbs)
Front Squat: 210KG (462lb)
Number of training sessions/week (how often do you go heavy (90% +)?
"I train 7-9 sessions per week. I go heavy in the lifts every other day, and I will alternate squatting heavy one day then lifting heavy the next day."
What does your diet consist of (special foods, nutritional plans, etc)?
"I have been on the RP [Renaissance Periodization] program. I generally have a good idea of how to eat well, but they have helped me a lot with timing and nutrition. Little things like this can really make a big difference."
Featured images courtesy of Sam Viglienzone (@samwisethestrong on the Instagram)