In sports, when you see an elite athlete, generally they excel at one athletic endeavor of their choice. Not to say the potential to be great in multiple sports is not there, but rather the time and effort needed to have success across two or three sports can double or triple with the workload.
On Saturday, November 5th, I had the chance to catch up with Lacey Rhodes (née Van Der Marel) at the Ontario Fall Classic in Mississauga, Ontario, right after she set new Ontario Provincial Records in the 63KG category. To my amazement, I found out that Lacey is an athlete who has had great success in three sports.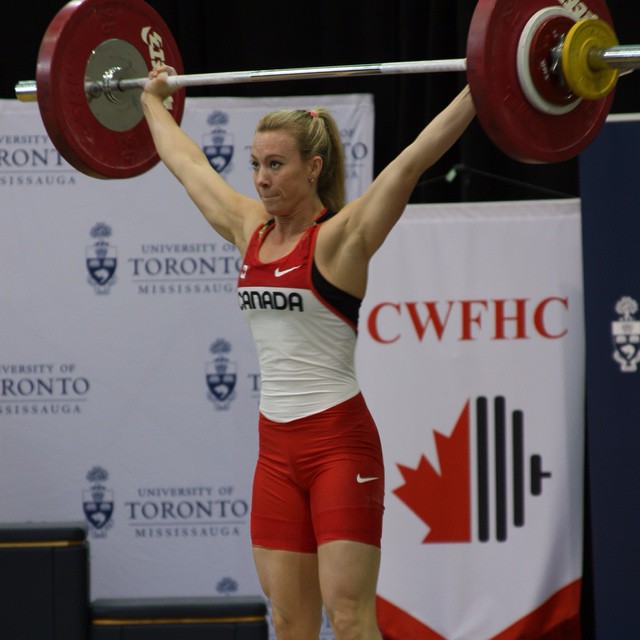 I had known of her Olympic Weightlifting success, including holding a Senior Canadian Record in the snatch and being on multiple international teams. She also qualified and competed in the 2012 Canadian Olympic Trials, where she finished in the top 10 competitors overall in the long jump and 100 meter sprint.
What I did not know is that Lacey competed at the 2011 CrossFit Games on the Altitude Cross Fit affiliate's team — they finished in the top 30 teams overall. To top that off, she proceeded to qualify and competed in 2012, 2013, and 2014 in a very competitive Canada East Regional an individual athlete. This is a region that has produced athletes such as Camille Leblanc-Bazinet and Michele Letendre; needless to say – I was impressed.
Lacey Rhodes (Canadian National Team / Creek Barbell Club, 63KG)
Instagram: @lace_rhodes
Hometown: Stoney Creek, Ontario, Canada
Education: Degree is History and Geography from University of Western in London, ON.
Graduated from Teacher's College, is certified to educate in Ontario
Athletic Accomplishments:
Canadian Senior Record Holder in Snatch 91KG (200lb) at 58KG category
2016 Pan American Team Member (58KG) – 9th Place
2015 Senior World Championships (58KG)
2015 National Champion
Ontario Provincial Record Holder
Competed at 2011 Cross Fit Games Team Competition
3X CrossFit Regional Qualifier – Canada East (2012-14)
Competed at 2012 Canadian Olympic Trials – Long Jump & 100m
How long have you been lifting? How did you get started?
I've been weightlifting for 6 years, I got into lifting through CrossFit. My husband and I own CrossFit Outlaw North in Stoney Creek, Ontario – that's where we train. In high school I was an accomplished track athlete, I won the Ontario High School Championships; and because of all the training I did through CrossFit – I was able to do well at the 2012 Olympic Trials in track.
Hobbies / Activities outside of Weightlifting: I am a High School substitute teacher, which allows me to have a flexible schedule for training. I also coach two night classes at out facility on most days.
Goals for Fall Classic and the rest of 2016? This was my first competition as a true 63KG athlete, I wanted to set PRs and make all my lifts.
Authors Note: Lacey's total of 195KG (429lb) was not a PR – however she looks very strong and has more big lifts in her as she becomes used to a higher body weight.
Goals for 2017 and beyond? I want to keep working to get better. I want to keep my spot on the National team. I want to earn an opportunity to compete at the Pan Ams and Worlds, and I really want to break the 200KG mark in my total.
Who is your Biggest Competition? Maude Charron – she's a top 63KG lifter in Canada from Quebec. She regularly totals over 200KG.
Author's Note: Maude Charron just placed 3rd in the 63KG category at the 2016 World University Championships with a 213KG (469lb) total.
Who is your favorite weightlifter to watch? I am so impressed by Mattie Rodgers, I loved watching her compete at the World Championships and Pan Am Championships. Also our Canadian Olympian Marie-Eve Beauchemin-Nadeau is awesome, she's a great competitor.
Training PRs?
Snatch: 93KG (205lbs)
Clean & Jerk: 105KG (231lbs)
Jerk: 115KG (253lbs)
Back Squat: * Secret
Front Squat: * Secret
Number of training sessions per week (and how often do you go heavy)?
I train 6 times per week, and I go heavy 2 times per week.
What does your diet consist of? (Special foods, nutritional plans, etc.)
I track everything, when I was a 58KG athlete, I was a lot more diligent, however I have the "My Fitness Pal" app on my phone, and it's very easy.
How has the culture of weightlifting changed in Canada over the last several years?
The sport has grown so much over the last six years. A lot of people come from other sports as well as CrossFit. Social Media has made it a lot more popular as well.
Featured images: Rob Macklem Photography (@robolifter) and Lacey Rhodes