On Saturday, September 3rd I had the chance to chat with Mary Peck at the Hassle Free Invitational in Sacramento, CA after she won the grand prize of $3,000. She told me training has been going well for her. She does have high expectations for herself as she goes into the next four year quad/Olympic cycle that will begin in a few short months.
Her snatch from the competition is within 12KG (26lb) of the American Record set in 2005 by Natalie Burgener (Woofolk), and her clean and jerk is within 13 KG (28lb) of the American Record set in 2013 by Geralee Vega. I am excited to see how Peck progresses in the near future.
Mary Peck (Hassle Free Barbell Club, 63KG)
Instagram: @mmarypeck
Hometown: Napa, CA
Education: BS in Health Science from California State University at Sacramento
Athletic Accomplishments:
2016 US National Champion (63KG)

2016 US Olympic Trials Participant

2015 IWF Grand Prix (Fuzhou, China) – 4

th

Place

2014 US National Championships Bronze Medalist

NCAA Division 1 Gymnast

at Sacramento State University

Competed in the USA Gymnastics Junior Olympics from 1994-2008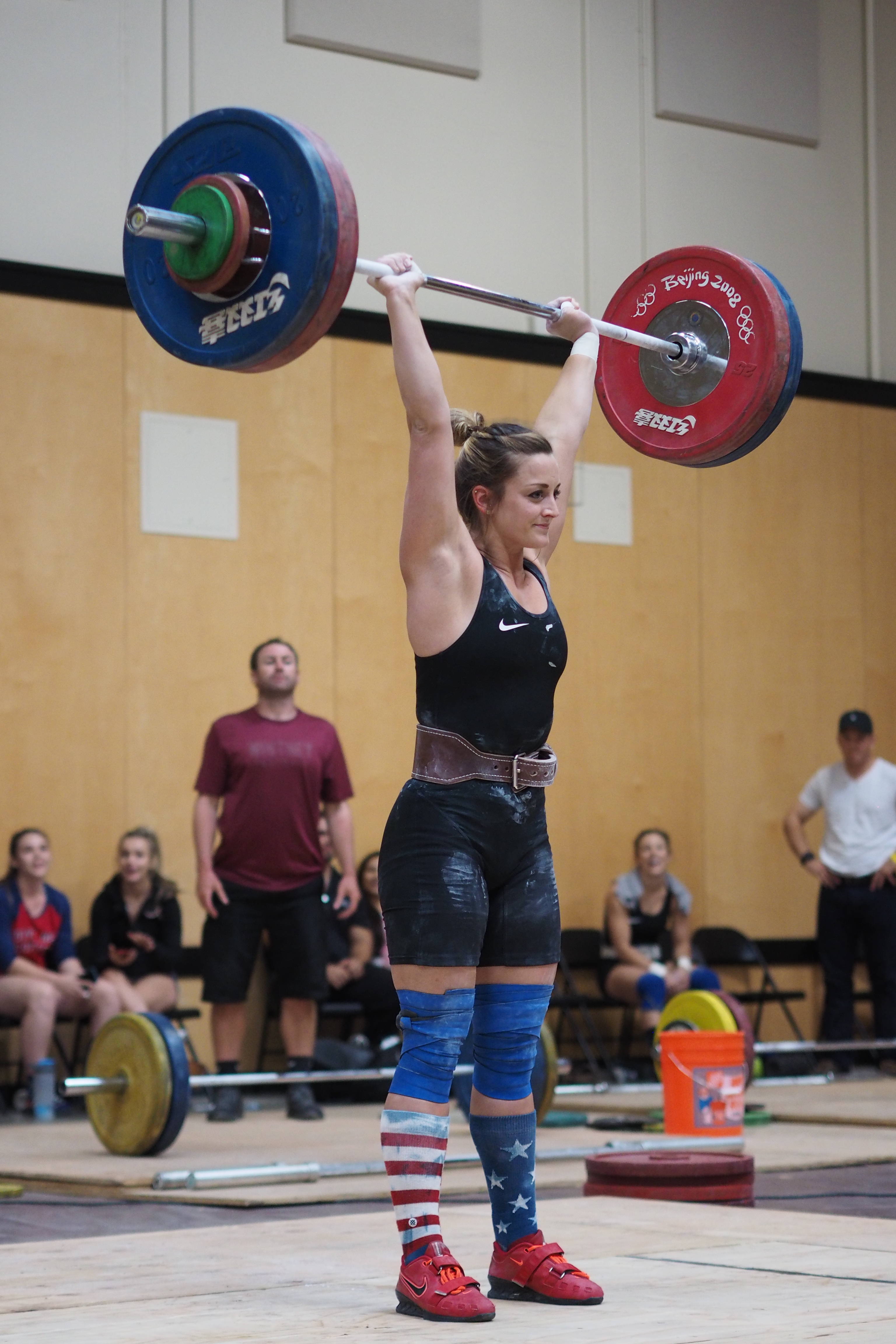 Image: Sam Viglienzone
How long have you been lifting? How did you get started
"I've been lifting for four and a half years. I competed in gymnastics in college and the Strength and Conditioning coach had us practice the lifts for training. He [Tom DiStasio] started coaching me after college and I have been competing ever since."
What are your hobbies/favorite activities outside of weightlifting?:
"I spend a lot of my time in the gym, and I manage a gym [Fitness Rangers] when I am not training. However, I do like outdoor activities such as hiking, going on jet skis and wakeboarding."
Goals for the Hassle FreeInvitational and the rest of 2016?
"Coming into the competition I was expecting to go 6/6 and snatch 95KG, clean and jerk 115KG. [She totaled 200KG with a snatch of 88KG and CJ of 112KG.] At the American Open I want to total 210KG or more."
Goals for 2017 and beyond?
"I want to make the Pan Am Team and the World Team."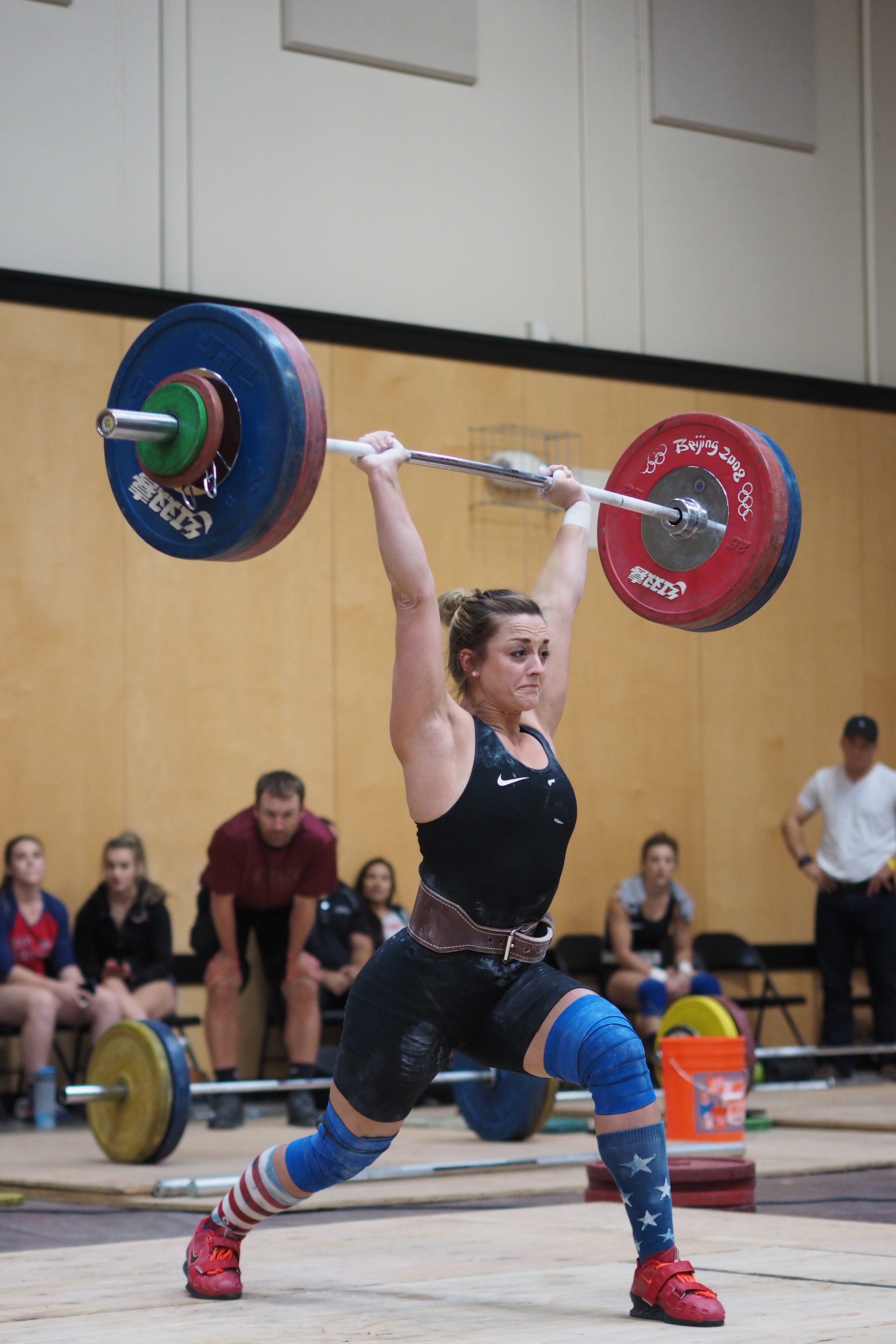 Who in the USA is your biggest competition?
"All of the other top 63KG athletes, it is a very competitive weight class."
Who is your favorite weightlifter to watch?
Training PRs? SN: 96KG (211lbs)
CJ: 116KG (255lbs)
Jerk: 127KG (279lbs)
Back Squat: 150KG (330lbs)
Front Squat: 125KG (275lb)
Number of training sessions/week (how often do you go heavy (90% +)?
"I have 5-7 training sessions per week. Further away from competition I will do a lot more reps that are moderately heavy. We will increase the intensity as we get closer to a competition."
What does your diet consist of (special foods, nutritional plans, etc)?
"I have been working with a nutrition company [Barbell Medicine] to gain muscle mass and fill out the weight class [63KG] with more muscle."
Featured images courtesy of Sam Viglienzone (@samwisethestrong on the Instagram)