Very strong YouTube personality Jon "Jujimufu" Call met up with strongman Martins Licis — currently ranked as the fourth strongest man on Earth by the World's Strongest Man contest — to experiment with some of the more unusual grip exercises in strongman.
Licis, who called grip strength "the golf of strength sports," first introduced Call to the Thomas Inch dumbbell, a 172-pound dumbbell with a handle as thick as a Coke can. He could budge it off the ground, but he couldn't lift it. (Licis' coach, Odd Haugen, lifted it 63 times in ten minutes at age 67.)
[Want to know how guys like this train? Read our interview with Licis' coach, the legendary Odd Haugen.]
Then came the grip gauntlet. First came the Rolling Thunder®, which is a little like a revolving deadlift handle for one-handed deadlifts. Then came the hubcap, which requires the athlete to lift with their fingers in a "tiger claw" position. Then things got harder. Check out the video below.
This is the second video that Call has put out this week. Just two days ago, he put up a 12-minute video of the two of them exploring Licis' gym, the same place he prepares for the World's Strongest Man. The clip starts with the Latvian pulling off a 600-pound, one-handed deadlift and follows with even more unusual strongman equipment like Wagon wheels, fat grip dumbbells, spherical weight handles, Viking press, loadable Atlas stones, and more.
If you've ever wanted to know what's so different about strongman training, you'll be interested in this clip. And if you're a fan of strongman, this will feel a little like watching Willy Wonka giving a tour of his chocolate factory.
The gym is also the headquarters of Mas Wrestling USA, an event that Haugen considers a perfect combination of strongman and combat. Licis is the 2017 world champion of the sport and he even coached Call through his first matches — make sure you read our full article on its origins.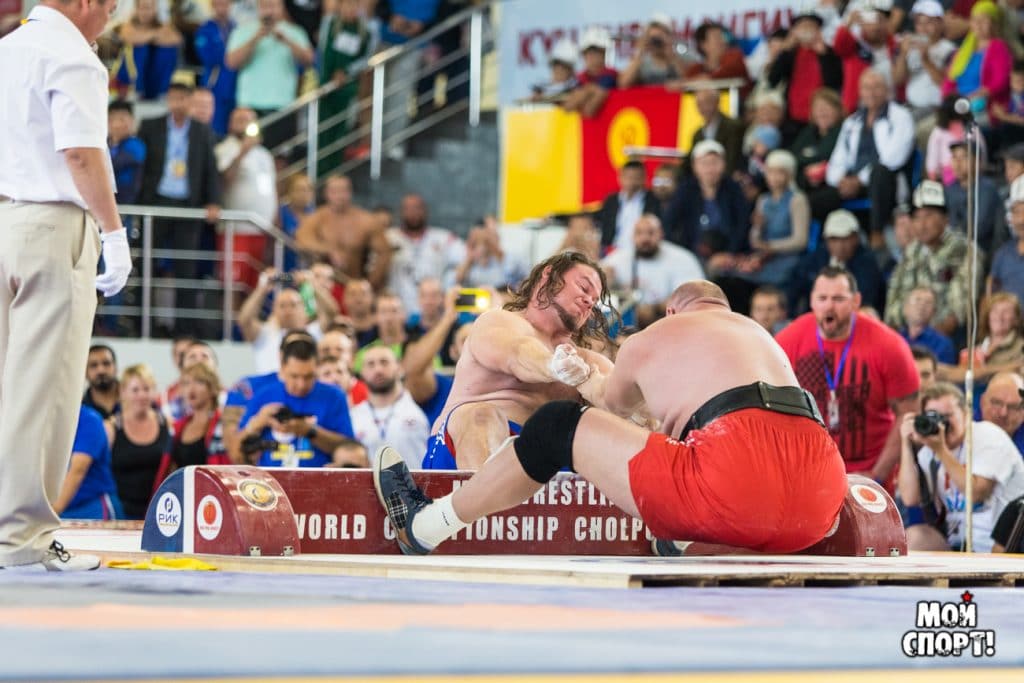 Licis during a Mas Wrestling match. Image courtesy of Odd Haugen.
Licis is a truly impressive athlete — check out his insane 500-pound Steinborn squat for more proof — and we can't wait to see how he performs at this year's World's Strongest Man contest.
Featured image via Jujimufu on YouTube.