Sometimes getting to the gym can just be a hassle. Whether the weather is cold, the gym is closed, or there is just too much stuff to do around the house, sometimes it is prudent to have a home gym set up that can help satisfy any exercise needs. Adjustable dumbbells are a very versatile and affordable way to fill out a home gymnasium without taking up too much of a footprint. Adjustable dumbbells are fashioned each in their own unique way, meaning they all have benefits and quirks that may make one a better fit than another. Since this purchase might be a pivotal piece of equipment in a person's workout regimen, it is important to get one that is comfortable and convenient to use. We've taken a look at what the leading brands are offering.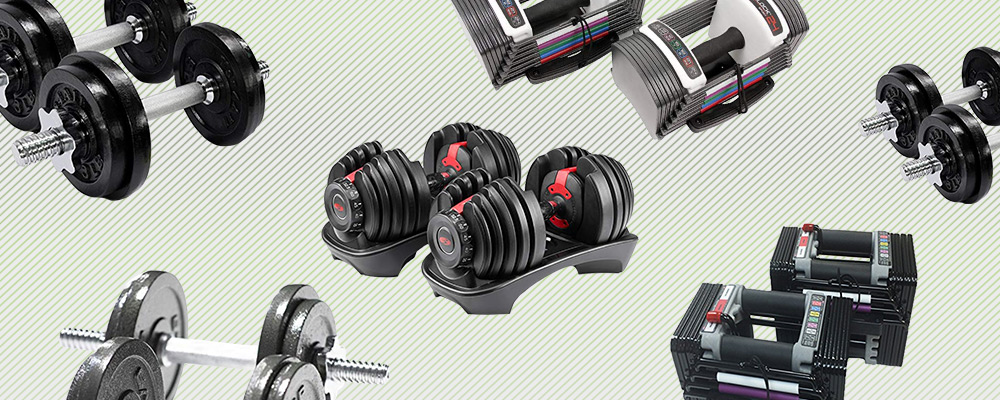 Editor's Choice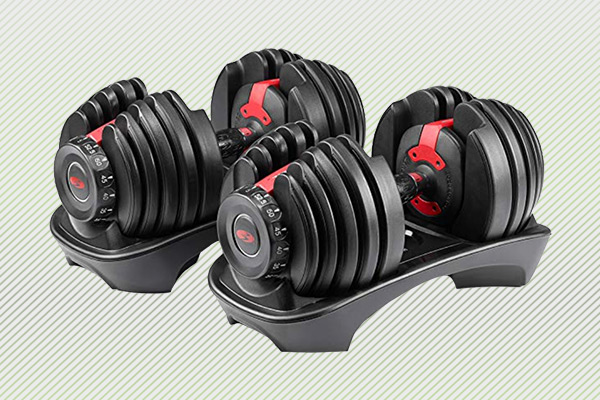 Bowflex SelectTech 552 Adjustable Dumbbells
Pros: 
Weight increments. This set of dumbbells has one of the smallest weight increments available for adjustable free weights. Users can add 2.5 pounds per side (up to 25 pounds). This is perfect for those who like ramping up their exercises during the session.

Design. Bowflex makes a futuristic and handsome piece of equipment. The red flashes in the black base color make the weights look professional yet subdued. 

Minimal footprint. These dumbbells, unlike some sets of adjustable free weights, do not take up any more space than the length, width, and height of the weights themselves. With the base included, no additional storage space is needed for extra weight plates, connector bars, or other attachments.
Cons: 
Plastic handle. A drawback of this weight set is the plastic handle. Though some may find it more comfortable than a steel or iron handle, the grip is less steady than a traditional knurled handle, especially when used by sweaty hands.

Base gets stuck. Depending on how many weight plates are being used on either side of the dumbbell, the frame can get stuck in between two adjacent weights when being picked up, due to the pressure and force of the lift. This is a slight inconvenience but can happen repeatedly.
The Contender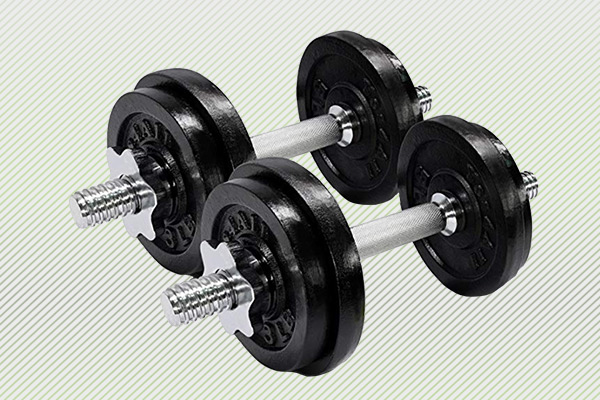 Yes4All Adjustable Dumbbells
Pros:
Connector bar. Included with some of the different weight options is a steel connector bar that helps turn the pair dumbbells into a barbell. This is available with the 40, 50, and 60 pound set.

Standard size weight plates. These dumbbells have weight plates that are designed with a 1" or 1.5" wide diameter, meaning they will fit on most standard bars. This is perfect for those who already have a weight bar and want to be able to use the weight plates interchangeably. The 40, 50, and 60 pound sets have a 1" diameter, the rest have 1.5".

Chrome handle. This offering from Yes4All has chrome handles on each pair of dumbbells. The handles have a diamond-shaped knurl lathed onto them to aid in gripping the weights. This makes them much more durable than plastic as well, especially with extended use of heavier weights.
Cons:
Weights can clatter. If the star-lock isn't tightened enough the weight plates can clatter during exercise. Not going to affect the efficiency or safety of the equipment, but could just be annoying to hear over and over again while doing a routine.

Paint on weight plates can chip. Depending on how much and how rigorously these weights are used, the black paint on the weights may start chipping and flaking off. More of a hassle to clean than a cosmetic concern, but something to be aware of none-the-less.
Best Bargain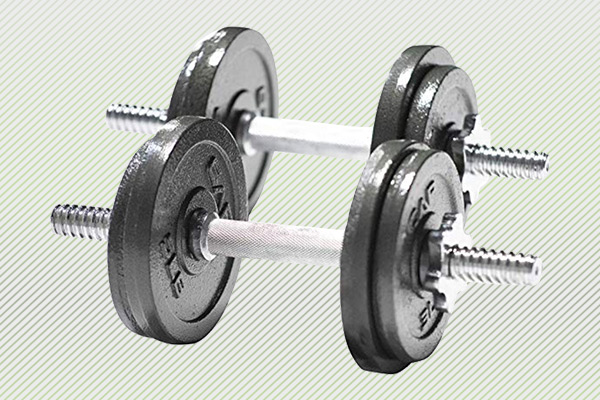 CAP Barbell Adjustable Dumbbell Set
Pros: 
Easy to travel with. The forty pound set (meaning a pair of two twenty-pound dumbbells) includes a carrying case, which is not found with many competitors. This is perfect for those who exercise on the road or at work, or for storage at home when not working out.

Rubber lining. The locks have a rubber collar that helps secure the weight plates. At the junction where the locks are tightly threaded to the handle, this rubber lining provides a flexible but sturdy hold on the weights. This increases the ability to avoid any clattering.

Value. CAP Barbell traditionally makes affordable weight-lifting equipment – and this product is no different. The lighter sets of dumbbells in particular are some of the best values that can be found on the market.
Cons: 
Metal flakes. Some users may experience some tiny flakes coming off of the handle that perhaps weren't properly cleaned after the steel handles were lathed with a knurled pattern. May require washing of hands after use.

Smell. This product definitely has a distinct scent that is strongest when first opening. Users may want to air out the set, especially the optional carrying case, in case the smell is distracting.
Best Design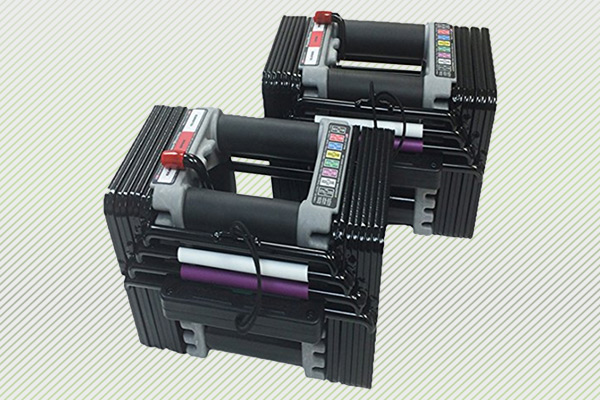 PowerBlock Elite Dumbbells
Pros: 
Cube shape. One of the reasons people buy adjustable weights is to save on storage space. Having lots of different pairs of dumbbells takes up a big footprint. This cube-shaped dumbbell can easily be stored, virtually being sixteen different dumbbells in the space of one.

Color-coding. PowerBlock provides a different color for each weight size for easy reference. This is perfect for people who frequently switch between different weight sizes for each new exercise in their routine.

Expansion kits. The normal set has a range of five to fifty pounds per dumbbell, putting it right at the average spectrum. However, additional seventy to ninety pound extensions can be purchased separately or together with the standard kit. This gives the PowerBlock Elite one of the heaviest ranges of weights available.
Cons: 
Weight plates can warp. These weights need to be lined up perfectly in a stack for the equipment to function properly. Overtime, these weights' structure can warp or bend a tad, meaning the inner cavity's walls won't be flushed properly and the weights might get stuck and require some fidgeting.

Clanking. Due to the unique design of the dumbbells, there will often be a clanking noise and sensation as all the differing weights move in concert back and forth as you exercise. Won't affect your workout, but may be a noticeable sound and feeling.
Best Light-Weight Option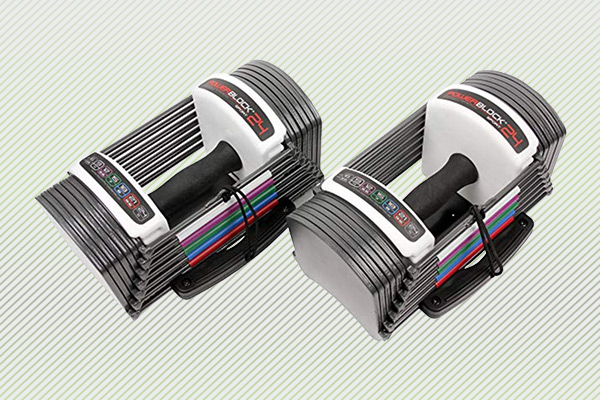 PowerBlock Sport 24 Adjustable Dumbbell
Pros: 
Pin system. A great thing about PowerBlock adjustable weights is the turn-key simplicity of switching between different weights. Users will insert a selector pin in the weight category of choice, and upon lifting the equipment, only the selected weights will accompany the dumbbells, the rest staying put on the frame.

Cushioned handles. This set of dumbbells has a cushioned grip on each handle, making long exercise sessions less strenuous on lifter's palms. This cushioning is great for lighter weights, as a tight grip is less necessary than when trying to muscle through heavier lifts.

Price. PowerBlock makes a range of equipment for the varying needs of people looking to use dumbbells. This set is lighter weight, but can be found for almost half as much money as dumbbells sets that have a higher range of weight sizes. Perfect for those hoping to do light-weight exercises, physical therapy, or barre.
Cons:
Not great for big hands

. Due to the shape of the PowerBlock dumbbells, people with big hands may not have ample room to maneuver with a fist grip. The dumbbells will still be able to be used for workouts, but there may be constant contact with the plastic interior walls of the inner cavity.

Not ideal for exercises not using the grip. There are many popular exercises that instruct the lifter to hold the "bell" part of the dumbbell, meaning the ends and not the central grip. The PowerBlock dumbbells aren't as well suited for those exercises due to their unconventional design.
How We Picked
Adjustable dumbbells can satisfy a wide range of different goals and work out methods. Some adjustable dumbbells are well-suited for exercises that require a light load of weights, while others satisfy those looking for heavy-lifting routines. Since these adjustable free weights have different forms and functions, there are several key factors to examine when making a purchase. Here are the things we considered:
Ease of use
Adjustable dumbbells can be prone to some user-based difficulty. These pieces of equipment tend to have several component parts, some of which, if jammed or stuck or out of line, can disrupt the whole workout. Additionally, some of these adjustable dumbbells have rather cumbersome manners in which the weight plates are designed to be exchanged. For those hoping to ramp up their weights as they train, or toggle between several different exercises that require varying weight levels, this process can be tedious and make working out with this equipment discouraging.
Manufacture
Adjustable dumbbells come in many shapes and sizes. Many brands try to mimic standard dumbbells when designing their adjustable version. This means knurled steel handles and iron plates coated in black paint. While this may delight some traditionalists who want their home gym experience to imitate what one might find at a public gym, others may opt for a more unique set of adjustable dumbbells. Some brands are making adjustable dumbbells that have padded handles which make gripping easier, while others have designs that make switching between different weights more convenient. Remember though, the offerings that are plastic or rubber may be more comfortable but not be as durable.
Weight range
One of the key qualifications of any adjustable free weight is the range of weights available with each set. Some lifters may use a 5 pound weight to tone their forearms and use a 50 pound weight to work on chest and shoulders. There are probably quite a few shoppers who don't plan on ever using a heavier weight option, so for them a set with a range of 2 pounds to 15 pounds or 5 to 25 pounds may perfectly suffice. There are some brands that offer weight expansion sets that allow users to add on additional weight if needed. This is perfect for those who later find they need more resistance than originally offered in their adjustable dumbbell sets.
Increments
Some adjustable dumbbells have tiny increments between each subsequent weight while others have quite a large gaps between different weight options. If a dumbbell set doesn't have a big range, or many increments available, customers may need to purchase two separate sets of adjustable dumbbells just to cover the full range needed to exercise and to give enough variety during workouts. Having smaller increments, such as a 2.5 pound or 3 pound weight difference between each weight plate, will help with those who like ramping up or ramping down during a set. It is also helpful for those pursuing physical therapy, as users can add resistance as they recover.
Tips
Not sure which adjustable dumbbell is right for you? Here are some thoughts that may help make your purchasing decision.
How much are you willing to spend? Some of the leading adjustable dumbbells aren't cheap. These are well-made and durable pieces of equipment that should last years, and the prices reflect that. Some people may not be expecting professional quality dumbbells or simply aren't sure if they will use these free weights very often, so for them it would be prudent to opt for a more affordable option. Durability won't be an issue if seldom used.

What is your workout routine? These adjustable dumbbells vary in shape and weight size, enough so that one set may not be useful at all just some lifters. If you are trying to tone individual muscles with many repetitions at a low weight, intend to use the dumbbells only for cardio or barre, or are rehabbing from an injury, then a heavier dumbbell won't really help. There are lower-cost options that have the right range for you. Some people may really need all 50,70, or 90 pounds available in their adjustable dumbbell set. These people should opt for an adjustable dumbbell set that has the heaviest range. The shape of the dumbbell may also determine which exercises you may be able to do.

Are you a traditionalist? There are adjustable dumbbells that mimic traditional free weights, all the way down to the diamond knurled pattern lathed into the handle, and the black paint on the iron bell portion of the dumbbell. These are the easiest dumbbells to use and offer the widest possibility of being able to do typical exercises found in a weight routine. Exercises like overhead extension and tricep extension that require holding the weight portion of the dumbbell are quite difficult to achieve with non-traditional adjustable dumbbells. If you are just simply trying to use the dumbbells for curls and flies and other resistance exercises, then most adjustable dumbbells will fit the bill.