Ah, the dip. The ever reliable exercise that works your chest, shoulders, and triceps. For those that don't know the exercise, it is usually done by holding oneself upright on parallel bars with arms aligned with the body, hands on the bars. The motion involves lowering until elbows just about break ninety degrees before pressing back up to the starting position; that's one rep. Once bodyweight alone is easy to lift, you may be in the market for a dip belt.
Dip belts wrap around your lower torso, resting against your lower back, and have a chain or strap around the front that attach to various weights. The array of dip belts available on the market is pretty expansive so lets slowly lower ourselves into our top picks and rise up with the best one for you.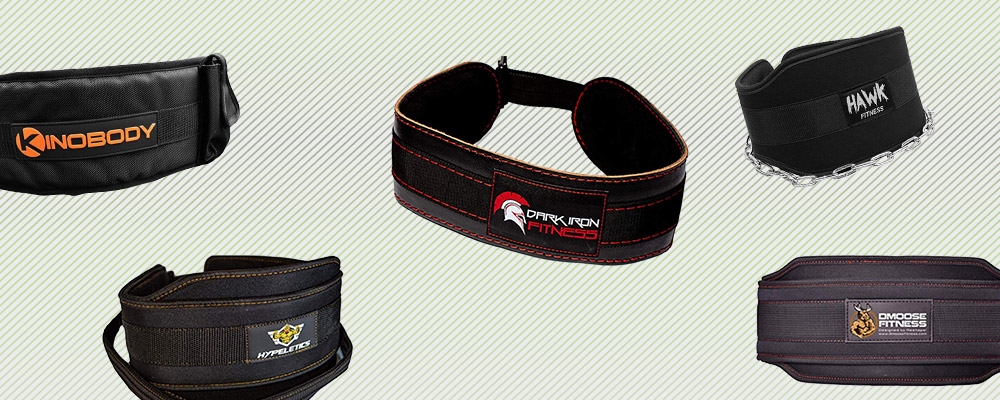 Editor's Pick:
Dark Iron Fitness Leather Weight Lifting Dip Belt
Pros:
Durability. Several customers came back after a year or two and followed up with additional praise.

Many customers were pleased with the strap's texture keeping weights from sliding around during movement.

On the affordable side compared to other leather options.
Cons:
Won't fit waists under 30 inches.
Dark Iron Fitness Leather Weight Lifting Dip Belt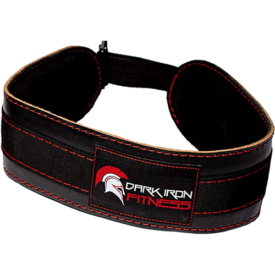 Dark Iron Fitness Leather Weight Lifting Dip Belt
This 100% genuine leather belt has pillow-like padding is accompanied by two carabiners and a 40inch strap that looks like it's straight out of a rock climber's arsenal. A metal buckle and adjustment strap aims to get a snug fit while maintaining full comfort.
Contender: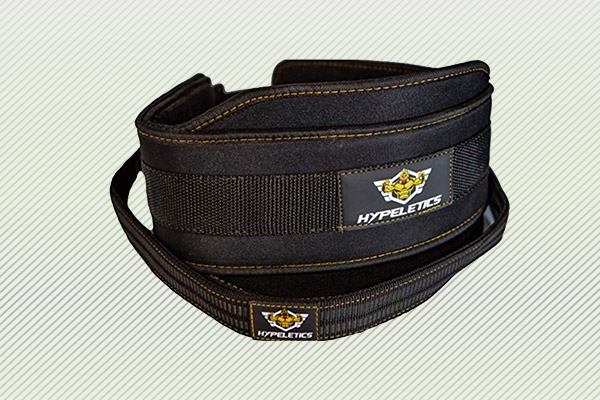 Hypeletics Weighted Dip Belt
Pros:
Can fit larger waists; 38 inches.

Can double as a squat belt by using a carabiner to cinch the waist clips together. 
Cons:
The strap may be long for people with smaller waists.
Hypeletics Weighted Dip Belt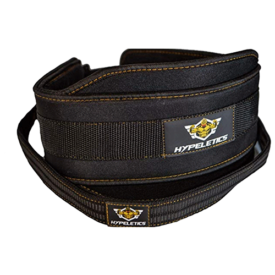 Hypeletics Weighted Dip Belt
A reinforced high-grade neoprene belt with a 40 inch strap capable of supporting six Olympic sized plates. The soft padding is positioned intentionally to prevent the belt from digging into your sides.
Best Belt with Chain: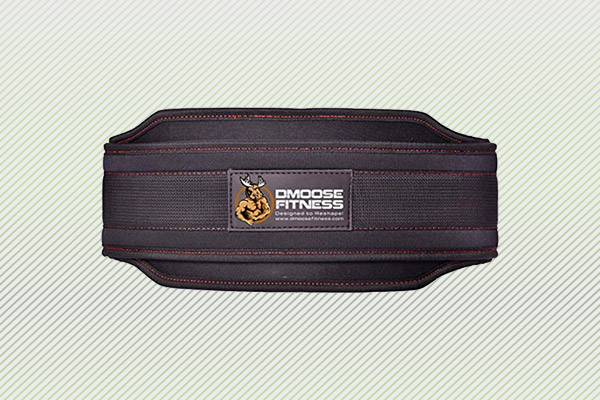 DMoose Fitness Dip Belt with Chain
Pros:
Large D-rings at the ends of the belt allow for interchanging larger chains or straps.

More affordable than other wide belt options.

One of the few dip belts on the market with multiple color/design options.
Cons:
Some customers mentioned the rings tearing away from the belt when applying heavier loads.
DMoose Fitness Dip Belt with Chain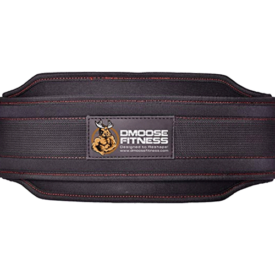 DMoose Fitness Dip Belt with Chain
This wide double-stitched heavy-duty neoprene belt touts a 3 foot steel chain and comes in five different colors; black, blue, gray, gray camouflage, and an American flag design.
Best Budget Option: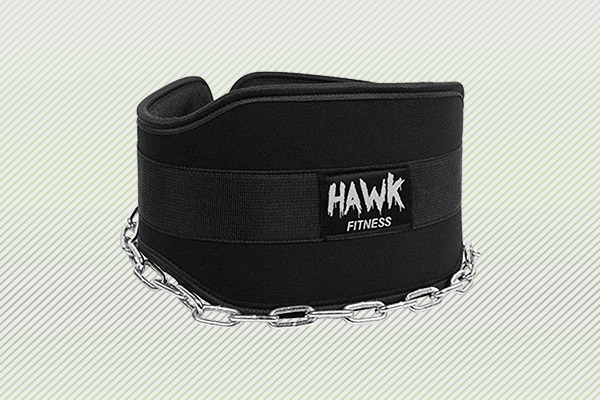 Hawk Fitness Dip Belt With Chain
Pros:
One of the most affordable options available.

The chain is removable for easy replacement or transition to rope or bungee.

This might be a good dip belt for beginners.
Cons:
The chain may have burrs to be cautious of when lifting so as not to cut or clip skin.

The fit may be looser for athletes with waists under 29 inches.
Hawk Fitness Dip Belt With Chain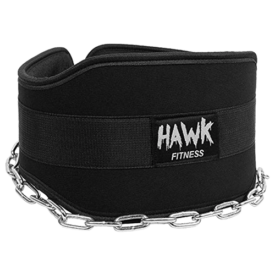 Hawk Fitness Dip Belt With Chain
This lightweight extra thick neoprene dip belt equipped with an adjustable 36 inch steel chain can sustain upwards of 300lbs. Its 6 inch width and foam padding help it sit comfortably on your lower back and its rounded edges make it skin friendly.
Best Utility Option: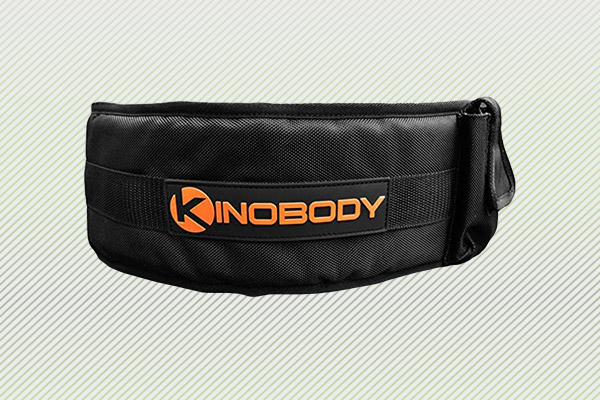 Kinobody – Best in Class Dip Belt and Pull-up Belt
Pros:
The front hooking rings can help with weight distribution so the belt sits comfortably and balanced during a lift.

The adjustable waist makes it so the fit is not dependent on the weight.

The length of the band allows for the weight to hang at a safe and comfortable distance from the body. 
Cons:
One of the more expensive options.

Multiple customers with larger waists, 38 inches and up, may struggle with the fit.
Kinobody - Best in Class Dip Belt and Pull-up Belt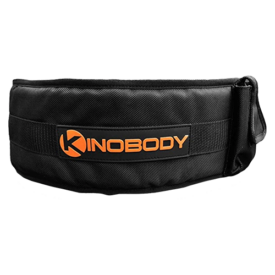 Kinobody - Best in Class Dip Belt and Pull-up Belt
The Kino Belt is made of military grade nylon, has three additional hooking rings on each side, and a side pouch to hold a phone or device while lifting. Capable of sustaining up to 240lbs.
Methodology
The differences between dip belts and their attributes can influence their durability and comfort while lifting. Ultimately, the best dip belt should relieve any strain on your back while supporting the increase in weight. So here are some of the key features to look for when investing in your next dip belt.
Material
There are many different materials that can make a good dip belt. Neoprene is breathable, which can be more comfortable depending on what you workout in. Leather is likely not to tear and withstand the test of time, but doesn't breathe. Nylon is durable and may be more flexible under pressure.
Chains vs. Straps
Most dip belts will be sold with either a chain or a strap, although there are other options like rope, bungees, or bands. Both chains and straps are serviceable and can bear similarly large amounts of weight. The main differences between the two is how they feel while lifting, which comes down to personal taste, and their length in regard to the dip belts they accompany. The length is important for maintaining proper weight distribution during a lift to ensure you feel comfortable and can maintain proper form.
BarBend Tips
Ensure you are completing dips with proper form using supported weight or bodyweight before adding weight with a dip belt.

Try out different weights on your dip belt before you perform the exercise to get a feel for how each weight amount stresses the dip belt and the pressure it exerts on your back, which should not be painful. If you experience pain with the dip belt on, remove the weight immediately and reassess.

Dip belts are made to support additional weight, but the form of that weight is something you can change depending on the dip belt and your preferences. For example, if the weight distribution of a weight plate is less than desirable, you could try using a kettlebell or dumbbell instead. Just be sure that any weight is safely harnessed to the chain or strap before performing any exercises.