A speed sled can be a very valuable piece of equipment for improving acceleration, which can boost performance in both team sports, such as soccer, football, and baseball, and individual sports, such as sprinting, tennis, or cross training.
There are many sleds on the market and their designs have certain exercises in mind for different athletes. Pull or drag sleds are often smaller and/or lighter and are usually used in tandem with a bungee and a harness. Weight or push sleds usually have two removable poles, that look like straight bars, with interchangeable slots for them on the sled's corners. Weighted resistance bungees can do a speed sled impersonation without the sled or need for weight plates. Here's a breakdown of the best potential speed sleds for you.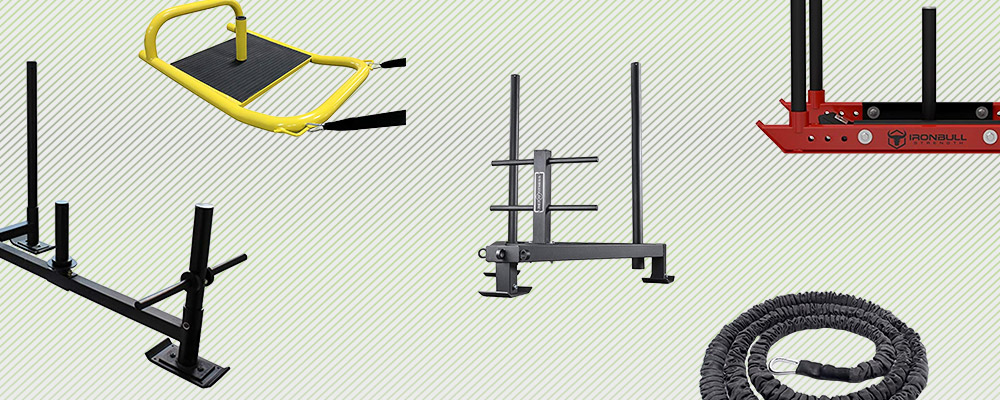 Editor's Pick: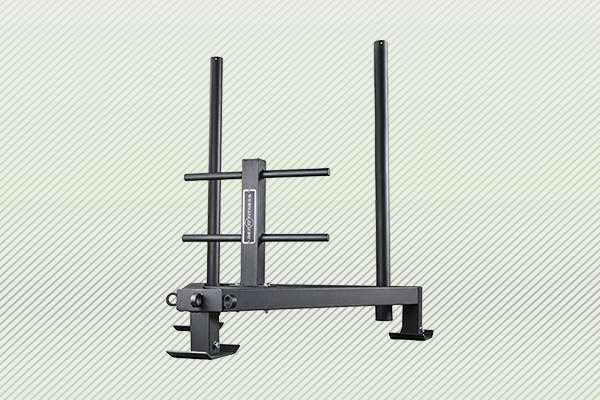 Titan Fitness HD Weight Sled
Pros:
Multiple weight posts on the sled allow for easier weight distribution to improve balance.

The T-Bar design allows for tension when pulling with a harness to come from one center point rather than from multiple corners, potentially preventing imbalances.

The skids are replaceable potentially making this better for the long term.
Cons:
Only comes with a wrench. You may need additional tools for assembly.

The caps on top of the poles can wear faster than expected.
Contender: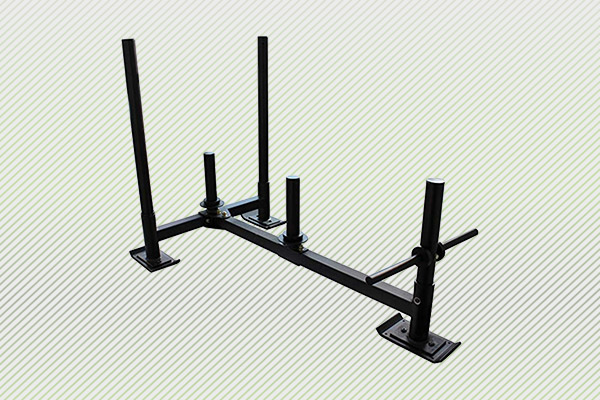 REP FITNESS Weight Sled
Pros:
Smaller skids may lead to less traction during training, which is potentially useful for more accurately assessing the weight being moved.

The skid pads are replaceable.

Simple and easy assembly.
Cons:
Harness not included, but there is a more expensive option that includes one with the sled.

With smaller skids, the sled moves better on hard surfaces like concrete than on softer surfaces like grass.
Best High End Option: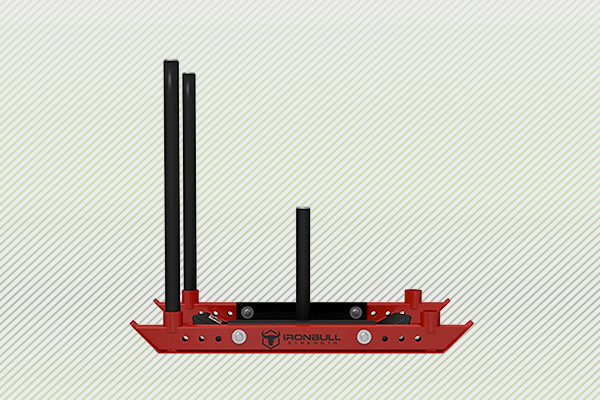 Iron Bull Strength Power Sled
Pros:
Sled skids made of iron rather than plastic, potentially making it a stronger choice for tougher surfaces like asphalt, concrete, or dirt road.

10ft shoulder strap included.
Cons:
More expensive than other options.

Weight capacity of 500lbs is lower than comparable options.
Best for Travel: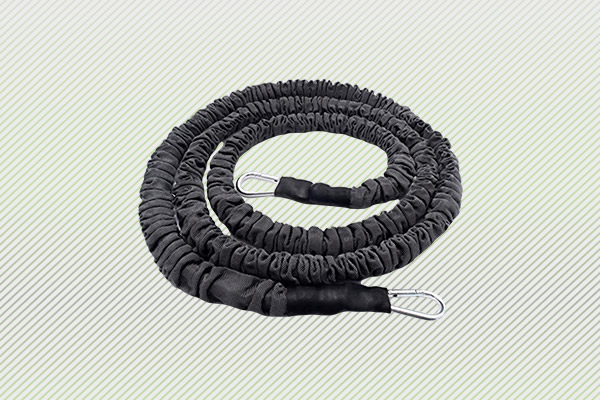 Victorem Strength 80 Lb Resistance Running Training Bungee Band
Pros:
Athletes can perform pulling or dragging exercises without the need for a physical sled.

At only 2½lbs, its potentially easier to pack and carry on the go.

Includes a loop strap that can tether to a pole, post, tree, etc. to train in a variety of environments.
Cons:
Cannot perform push movements without the sled.

The resistance isn't adjustable.
Best Drag Sled: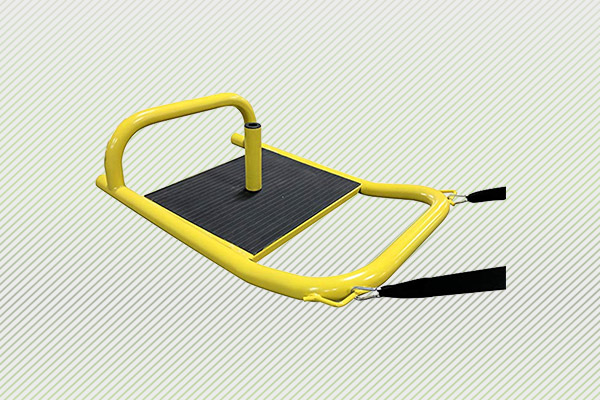 Titan Low Bar Push Pull Drag Sled
 Pros:
The low bar on the back of the sled opens the option for push exercises.

With the harness included, this is a more affordable drag sled option.

Compact size may make storage easier. Can hang well on a garage wall.
Cons: 
Only comes in bright yellow.

The strap harness that loops over the shoulders doesn't have any padding.
Methodology
Shape:
Sled shapes vary in fairly meaningful ways. Each shape has pros and cons depending on the style of training you intend to do and the surface that you intend to do it on. The more common sleds are either on or attached to skids and the weight sits on a post in the middle of the sled for a balanced weight distribution regardless of whether you are pushing or pulling. Sleds that have triangle frames, T-bar frames, or diamond frames allow for more control over the weight distribution which can increase or decrease the resistance as desired for push or pull movements.
Attachments:
Sleds, more often than not, will come equipped with removable poles that slot into their corners. Some additional attachments to be aware of are high bar and low bar, which are normally used for a forward lean pushing or "prowler" movement, a combination of high and low bars known as a double or dual handle, and wheelbarrow. Before investing in a sled, knowing which attachments, if any, will be beneficial to your training will help narrow your search.
Surface:
Not all sleds are built for all surfaces. Skids vary in size, as does the material they are made of or covered with. For athletes that intend to train on uneven surfaces, like dirt road or light gravel, a fully iron sled with longer skids will likely be the better option. Conversely, if training primarily on turf or short grass, a lighter sled with plastic covered skids might help reduce traction and enable more efficient movement.
Weight/Weight Capacity:
The base weight of a sled should be calculated into the weight needed for certain training goals. If a sled has a higher base weight, it's important to note for those whose training requires lighter loads, and vice versa for lighter sleds and training that requires heavier loads. Most sleds usually hover around a weight capacity of 500lbs to 750lbs.
BarBend Tips
Practice the exercises with just the sled by itself before adding any weight. This might give you a better feel for the weight of the sled in action and how to properly scale up in weight.

Make sure you've mastered proper form before pushing or pulling a speed sled. Try to be aware of what happens to your form when the weight is too heavy. When form starts to falter in order to compensate for the increase in weight, it is likely too heavy.

Some sleds' poles can double as weight posts. Although you would have to remove the weights before moving the poles, it might be worthwhile to see if a sled's poles are made with this in mind as it can open up the options available to you in training.

When using a resistance bungee in lieu of a weight sled, understand that proper form remains the same despite the difference in equipment.
Wrapping Up
Whether pushing, pulling, dragging, or hauling, speed sleds are great potential additions to your training program to improve your rate of acceleration, thereby improving your in game performance.