We receive free products and receive commissions through our links. See
disclosures page
.
Many people get their exercise by walking because it's an activity that they don't have to put much thought into. It's a great way for people of all ages and fitness levels to get outdoors and stay active. But for people looking for extra motivation or accurate tracking of their daily step count, pedometers offer a simple solution. Many pedometers on the market are easy to set-up or have no set-up and can be used right out of the box.
Some argue that pedometers offer more accurate tracking than smart devices, and not everyone wants to wear a watch or fitness tracker on their wrist. Pedometers can typically be clipped onto clothing or worn with a lanyard, though some brands have more novel approaches. Depending on one's preferences, there are a lot of great options out there.
Best Pedometers
Editor's note: The content on BarBend is meant to be informative in nature, but it should not be taken as medical advice. The opinions and articles on this site are not intended to diagnose, prevent, and/or treat health problems. It's always a good idea to talk to your doctor before beginning a new fitness, nutritional, and/or supplement routine. Individual needs for vitamins and minerals will vary.
Best Pedometer
The way Realalt's device works is quite accurate for counting steps. It registers movements across all three axes (longitudinal, lateral, and vertical) and translates steps. Smartphones and other devices without 3D motion sensors may only use GPS data or location tracking to approximate how many steps have been taken.
This pedometer is available in five different colors — black, white, blue, grey, and magenta. It has enough memory to store up to 30 days' worth of activity.
Realalt 3DTriSport Walking 3D Pedometer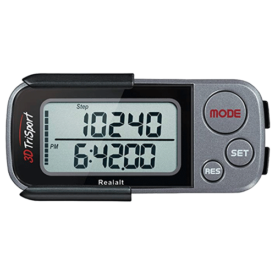 Realalt 3DTriSport Walking 3D Pedometer
This walking pedometer is slim, has a large typeface, and offers 30 days of data storage for long-term tracking of steps, calories, distance, and time. It is available in five colors and comes with a clip and lanyard for carrying optionality.
Who Should Buy

Realalt 3DTriSport Walking 3D Pedometer
Anyone who wants an accurate pedometer that can count steps along three axes.
Those who value have a choice of aesthetic options.
People who appreciate their fitness data being stored for up to 30 days storage.
Who Shouldn't Buy

Realalt 3DTriSport Walking 3D Pedometer
Folks who intend to wear their pedometer where buttons could get pressed inadvertently (clipped onto their waistband or pocket, etc.).
Those who want to wear their pedometer vertically on their waistband (it may feel uncomfortable due to the pedometer's length).
[Related: The Lifter's Guide To Magnesium: What This Nutrient Does For Strength]
Best Smartwatch Pedometer
A pedometer is one aspect of this watch. It can also measure blood oxygen via a sensor, check heart rate, call or text people, and access directions. The display, which measures 40 millimeters, is always on and automatically adjusts its brightness based on whether it is indoors or outdoors. It is available in 10 different color options and can provide data regarding elevation and sleep.
In addition to tracking steps, this pedometer can also track the data of more different workouts. Using the Apple Watch means having access to the Apple Fitness+ application should the user want it.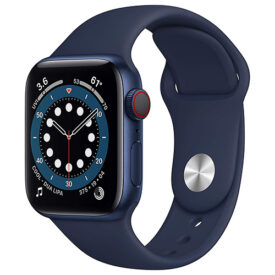 This watch comes in either 40 or 44 millimeters and can function as a fitness tracker, a sleep monitor, an elevation tracker, and a heart rate monitor. It is available in 10 different colors and is water resistant.
Who Should Buy

Apple Watch Series 6
Anyone who values all the additional advantages offered by an Apple Watch.
Folks who want their pedometer to double as a watch or means of communication to others.
People who want to monitor their sleep, heart rate, and elevation metrics in addition to tracking their steps.
Who Shouldn't Buy

Apple Watch Series 6
Those looking for a more basic pedometer to count steps.
People trying to keep their budget a bit tighter.
[Related: The Real Pros And Cons Of The Bodybuilding Lifestyle]
Best Pedometer Watch
This pedometer, available in three colors, utilizes a built-in GPS to measure the pace and distance traveled. During a workout, the screen can monitor the training session and display heart rate — it will even buzz to inform the user when a target heart rate is achieved. This watch allows access to Fitbit Premium, which can measure sleep and stress levels.
It is compatible with other smart devices and can relay data for resting heart rate and calories burned. A fully charged battery can last over a week, and the display screen is the same width as the wristband it is attached to.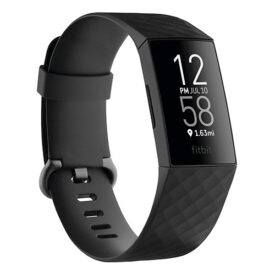 This pedometer comes in three different colors and uses a built-in GPS to track pace and distance on screen. It includes 20-plus goal-based exercise modes, is swim-proof, and water-resistant up to 50 meters.
Who Should Buy

Fitbit Charge 4
Anyone who enjoys hiking or training outdoors where access to navigation is beneficial.
Those who are aiming to hit and/or sustain specific heart rates during workouts.
People who want a pedometer that doesn't feel too intrusive when worn on the wrist.
Who Shouldn't Buy

Fitbit Charge 4
People who would prefer a pedometer that clips to a pocket or to clothing rather than wearing a watch.
Anyone who doesn't want to spend too much on a pedometer.
[Related: 3 Ways To Find Your 1-Rep Max (Beginner, Intermediate, and Advanced)]
Best Pedometer Display
This pedometer has one of the biggest displays among comparable devices on the market. This is helpful for glances and/or for people without the strongest eyesight. Those that are not the most tech-savvy or want a no-hassle device will likely enjoy that this product requires no set-up — it is pretty much ready to go out of the packaging.
There is a button on the back of the pedometer that allows for a quick one-press reset. This can be helpful when trying to measure specific activities and exercises.
3DActive 3DFitBud Simple Step Pedometer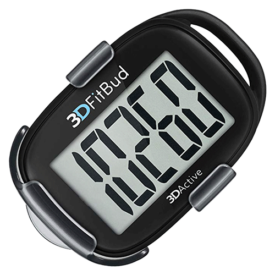 3DActive 3DFitBud Simple Step Pedometer
This pedometer has a large display that spans the width of the pedometer. It doesn't require any set-up and includes a battery designed to last up to a full year.
Who Should Buy

3DActive 3DFitBud Simple Step Pedometer
Anyone who prefers having a large display.
People who don't want to spend time setting up their pedometer.
Folks who value a pedometer with a quick one-press reset option to measure more specific exercises or training times.
Who Shouldn't Buy

3DActive 3DFitBud Simple Step Pedometer
Those who need a tracker that can track steps that are taken on an inconsistent basis.
People who want to track distance, time, and/or calories in addition to steps.
[Related: Nutrition For Bulking: 10 Tips For Intelligent Muscle Gain]
Most Discrete Pedometer
This pedometer does not look like a device at all. It more resembles a pendant than a fitness tracker. It has no buttons or screen, as it provides its data to a synced smartphone. This piece of "smart jewelry" features a rose gold leaf outline over a wood base, comes with a necklace chain, a dress clip, and a stylish double-wrap bracelet.
This device not only tracks steps, distance, and calories but can also provide data on reproductive health, sleep condition, and menstrual cycles. This is all available to track using popular apps like Apple Health and Google Fit.
Bellabeat Leaf Nature Smart Jewelry Health Tracker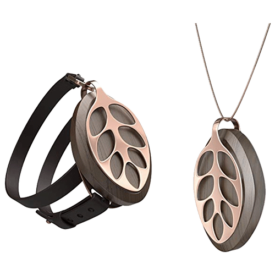 Bellabeat Leaf Nature Smart Jewelry Health Tracker
This smart jewelry from Bellabeat offers a stylish way to keep track of steps and other important personal health data. Because it syncs to smart devices, it has no buttons or screen and can be used discreetly.
Who Should Buy

Bellabeat Leaf Nature Smart Jewelry Health Tracker
Those who want to keep their use of a pedometer discrete.
Anyone who wants their pedometer to appear like jewelry to match their outfits or aesthetics.
People who could take advantage of the data provided about reproductive health and menstrual cycles.
Who Shouldn't Buy

Bellabeat Leaf Nature Smart Jewelry Health Tracker
Those who want a pedometer that can track data while playing sports.
Anyone who would prefer their pedometer to track their steps or data automatically.
[Related: Hypertrophy Training Sets And Reps]
Most Customizable Pedometer
This pedometer automatically resets at midnight, which can provide more accurate day-to-day step tracking. While most pedometers track all steps equally, this one also tracks "aerobic" steps, which are defined as any steps done at a rate of over 60 steps per minute. This can be useful for acquiring more specific data by separating intentional steps (like those accumulated via exercise) versus those acquired incidentally (walking where one needs to go).
This tracker asks each walker to calibrate the pedometer to their specific stride. This is yet another means of making the data tracking more specific, although the setup might be too tedious for those who don't need such specific data.
Omron HJ-321 Tri-Axis Alvita Pedometer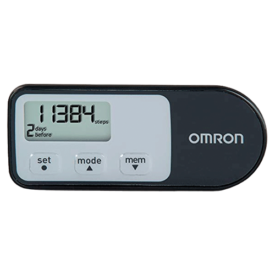 Omron HJ-321 Tri-Axis Alvita Pedometer
This pedometer tracks both normal steps and aerobic steps to better translate the effectiveness of a day's fitness activity. It automatically resets every day for simpler data tracking.
Who Should Buy

Omron HJ-321 Tri-Axis Alvita Pedometer
Those who want the convenience of a daily reset.
Folks who are happy to have their steps performed during exercise be counted separately from their incidental daily steps.
People who value their steps being tracked more accurately to their stride.
Who Shouldn't Buy

Omron HJ-321 Tri-Axis Alvita Pedometer
Those who want to track their steps for more than just a single day at a time.
Anyone who would be concerned about their pedometer not sitting securely to their waistband.
[Related: Could Baking Soda Be The Best Workout Supplement You've Never Tried?]
How We Decided Our Picks
Pedometers offer a simple way of getting accurate step counts daily and over time. Some devices track additional data like calories, distance, time, and speed. To help differentiate between not only the range of functionalities but how efficient each device is, we used the following criteria:
Functions
At their most basic level, pedometers count the steps taken during a certain time period, usually per day. Some devices track the number of steps per activity, while others also provide cumulative step data. This is typically achieved using electro-magnetic sensors that translate a person's body motions into a step count.
Some devices take it a step further (pun intended) and provide additional information, such as distance traveled, speed, the time elapsed, and even an estimate of the calories that have been burned. Not everyone will need these features, though. For some, a simple step count is all that is needed. Smart pedometers can open up another data tracking level by connecting to smart devices and syncing with various apps.
Display
Almost as important as the data tracking is the way that data is displayed. While most pedometers employ an LCD screen to show step count, there are some subtle differences between competing products that are important to point out. Often the manner data is displayed mirrors the functionality of the device.
Simple pedometers without many extra features often have the largest displays; they are dedicated solely to indicating the step count. The more complex pedometers tend to have more to show on the screen at once, so the font is smaller; for those with vision problems, this can be a problem. However, some of the extra data shown on the screen can be super helpful, such as knowing the time of day or the amount of time elapsed exercising can help keep you on track.
How It's Worn
Pedometers are a great option for those who don't like the feeling of a watch or fitness tracker on their wrists. Most pedometers come with a clip so that they can be worn on a waistband, belt, pocket, or shirt collar; some women will clip them discreetly to their bras. While this feature is pretty ubiquitous, it may not be the best option for everyone.
Those who are more active and move around a lot may have a propensity to dislodge the pedometer from the clip. For those individuals, it may be wise to look out for a pedometer that has a loop for a lanyard attachment or, better yet, includes one. Some brands make pedometers that double as jewelry; these are more discrete but won't benefit from having any data displayed.
[Related: The 3 Most Common Types Of Training Periodization (And When To Use Them)]
What To Consider Before Buying
Not sure which pedometer is right for you? Before taking the next steps, have a look at some of these tips that may help make the decision a bit easier:
Activity Level
For those who already go on frequent walks and would like to know more about fitness levels, it is wise to look for a pedometer that tracks exactly the data tracking that matters to you, whether speed, calories, or time. Those aspiring to exercise more may look for a product that motivates them. Some pedometers have alarms that can notify you when you have been idle for too long.
Vision
Those who have a hard time seeing digital displays or need glasses to read may want to get a product with the biggest possible screen. Some options don't have screens at all. However, a smartphone or other device will need to be synced to the pedometer to see any data.
Wrapping Up
There are many benefits to having a pedometer. The biggest is arguably having more accurate data about your daily activity, so you can have a better sense of where your fitness journey currently is. There are many options on the market, from watches to discrete jewelry, to a more standard clip-on. Whatever option you prefer, suit it up and get to steppin'.