Agility ladders, like the shopping process for them, is rarely just one step. On the internet there are so many agility ladders that it can often feel overwhelming to even get started, but luckily we're here to speed up and ease up the entire process. We've included some of our absolute favorites in this list. We considered different designs from straight ladders to curved ones, looked at packaging and efficiency, as well as various measurements and sizings.
Check out five of our favorites below, and please keep in mind that based on performance needs what we have selected may not be perfectly designed for you. But, with all that being said, here are five affordable, functional, and strategically designed agility ladders!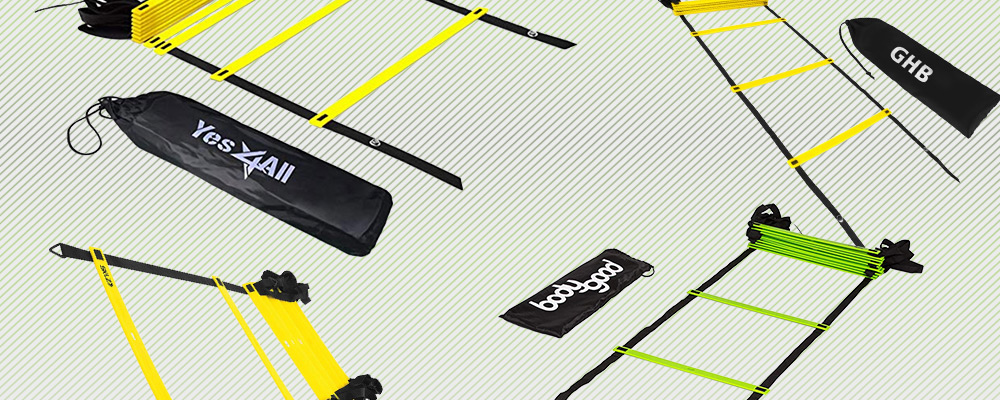 Great All-Around Option
A reliable standard.
Pros:
Stackable rungs might make traveling simpler.
Includes clips that can attach to additional ladders.
On the more affordable end of the market.
Cons:
The straps are thinner than comparable options.
May not be as durable for athletes training in cleats.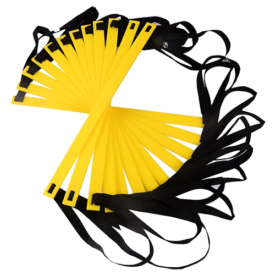 This agility ladder is designed with 12 yellow rungs that are adjustable up to 15 inches for a total length of 19 feet. It is made of high quality polypropylene and includes a carrying bag with a drawstring. The rungs can be stacked for easier storage.
Best Bundle
Great for multi-purpose training.
Pros:
The rungs are thick for easier visibility.
Ground anchors better ensure the ladder will remain in position during training.
Tangle-free straps.
Cons:
The rungs are not adjustable.
May not include agility e-books.
Profect Sports Pro Agility Ladder and Cones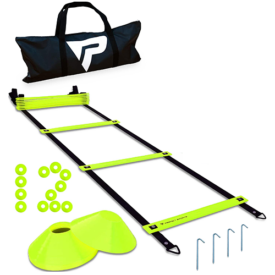 Profect Sports Pro Agility Ladder and Cones
This agility ladder bundle includes a 15 foot ladder, 12 disc cones, 4 metal ground anchors, and a heavy duty zipper bag. There are four different color options available.
Editor's Pick
Customizable to your goals.
Pros:
Design. The ladder is adjustable, designed with nylon straps and plastic rungs which can handle all types of weather conditions and surfaces. 

Price. This ladder is affordable and one of the best values we've seen of its kind. 

Packaging. It even comes with a bag which helps make this an easy on-the-go performance accessory. 
Cons:
Variety. While there are other color options and designs listed with this agility ladder, the prices do significantly vary depending on color and style.

Distance. This ladder comes with 12 rungs so if a further distance is wanted, it is suggested to purchase another ladder to attach on. 
Yes4All Speed Agility Ladder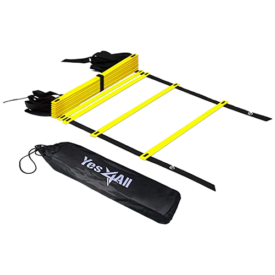 Yes4All Speed Agility Ladder
This agility ladder is 15 feet and is made with plastic rungs designed for optimal speed training. The ladder is fully adjustable allowing the user to change up the straps and rung distance as desired. It can cater to all levels of athleticism and performance goals through its simple yet customizable design.
Best Performance
The durable pick.
Pros: 
Design. This is a standard agility ladder in terms of design and includes all the parts and adjustable options necessary for a personalized workout.

Purpose. This ladder is designed quite transparently for quickness, and has other ladders on the market produced for other specific performance goals. 

Material. The nylon straps and plastic rungs are dependable and durable.
Cons:
Price. The price also goes up significantly depending on which ladder type is selected. 

Type. Since there are three agility ladders offered from SKLZ, be aware that they offer very different things so this is something to keep in mind when shopping online.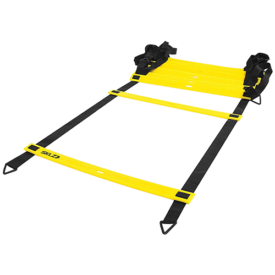 This ladder is designed for optimal speed training. It is great for performance because it is simple, made with 11 durable plastic rungs that measure 15 inches long, and it is sturdy enough to last through long and strenuous workouts. 
Best Value
For the traveler.
Pros:
Portable. This agility ladder fits snug and efficiently into the carrying bag it comes with. This makes for a great ladder to take on the go anywhere. 

Price. This is one of the most affordable products on the market, and the price doesn't vary depending on the two color options which are blue and yellow.

Design. This ladder is equipped with 12 plastic rungs and runs a distance of 20 feet long with the rungs distance at 15 inches wide and 17 inches long. 
Cons:
Variety. This ladder is only available in two different color options, yellow and blue and both are the same design/distance.

Weight. One thing to keep in mind with the plastic and nylon material used to make a lot of these ladders is that if it is a windy day outside be aware that some staking may need to be done to make sure the ladder doesn't blow out of position. This ladder is very much on the lighter side weighing 4.8 ounces, and in the packaging just 1.41 pounds. 
GHB Pro Agility Ladder Agility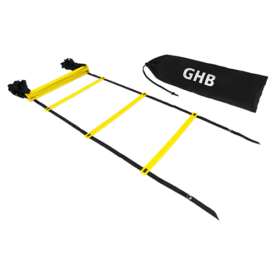 GHB Pro Agility Ladder Agility
One of the most affordable agility ladders on the market, this ladder is designed to be easy to transport, efficient to use, and durable. It also comes with a carrying bag which makes it effortless to pack up and grab on the go.
How We Picked
When shopping for the best agility ladders on the market there were multiple factors to consider. In general we looked for agility ladders that had 11 or more rungs to guarantee the best possible performance. We also carefully paid attention to how durable the ladders were, what the material used was, and how the packaging and unpacking of the ladder went. Most of the time agility ladders need to be easy to pack up and bring on the go. Also the process of displaying them out on the turf or court should be easy and quick. Check out the methodology we used when selecting five of our favorite agility ladders on the web.
Design. An agility ladder needs to be equipped with enough rungs to actually make the agility work worthwhile. The agility ladders that come with adjustable rungs are particularly efficient because they allow personalization to the workout. Also a good measurement between rungs is somewhere between 15-17 inches and can also be adjusted based on preference.
Functionality. Since an agility ladder is often an added tool to a workout session, it needs to be easy to unpack and then pack back up. It should be easy to fold, stack, and the best we've seen often include a bag.
Durability. Agility ladders should be built in a material that can handle all weather conditions and the wear and tear of serious athletic performance. It's easy for a shoe to occasionally get caught during an agility ladder workout, so it needs to be durable to withstand a lot of use and all types of weather and surfaces. All of the ones we selected were made with plastic rungs which have proved to be the most sturdy and efficient options.
Presentation. We looked at ladders that came in various colors because the yellow and bright greens are great for workouts later in the night or the dark, early mornings. While we wouldn't recommend working out in the pitch black without proper lighting, most of these ladders were designed with colorful rungs to maximize foot-eye coordination.
Price. All of the agility ladders we found on the market were durable, designed for maximum performance, and also won't break the bank. Often times these ladders come equipped with other performance tools like cones, rings, mini hurdles, and more, but we opted for selecting brands that sold agility ladders exclusively.
BarBend Tips
At BarBend we are always looking for tools to help maximize our performance. In the world of agility and conditioning tools, an agility ladder is a staple. Our priority when shopping for an agility ladder would first be to look at how the design of the ladder can actually maximize performance, and secondly, how versatile it is. There are a few tips we would suggest when shopping for agility ladders.
Test. Like most sports products and equipment, there is no one size fits all. With agility ladders there are so many different sizes on the market, so it really comes down to how long you want yours to be. Other things to consider is how much space do you want between rungs, because this is also a personal preference since not all of our steps or feet are the same size.
Design. Some agility ladders are designed to be laid out straight, while there are others that have a curved design. Think about what design you prefer, then help gauge the right pick from there. Most designs are adjustable and can even allow to remove or add rungs as wanted.
Packaging. Look for agility ladders that are easy to pack up and just as easy to lay out. Often there isn't much time or desire to be setting up an agility ladder, so look for ones that have simple packaging and won't collapse on you adding more work to your already challenging agility workout.
Wrapping Up
Now that we've gone over five of our favorite agility ladders on the web, we hope that you are feeling inspired to get moving. It can feel overwhelming with so many designs, distances, and sport specific agility ladders on the market, so hopefully our picks have made taking that first step easier.