A cold plunge entails quite literally plunging yourself into water that's somewhere between 45 and 55 degrees Fahrenheit. But this isn't a new concept — people have been using cold water immersion for centuries, as it's been said to promote speedy muscle recoveries, mental health benefits, and increased energy, thanks to the waves of norepinephrine your body can release with each plunge. (1) While you can DIY an ice bath with as little as a garbage bag, some ice, and water, many prefer a more concrete pool or tub for their cold water immersion.
Cold water therapy no longer requires a nearly-frozen body of water, as many modern gyms pair this icy dip with dry saunas. But now, more than ever, there are a ton of at-home options available to buy, from large self-cooling, spa-like plunge pools to pop-up plastic ice baths you can use in your shower. And after running some sweaty miles on your treadmill, completing several heavy sets with your dumbbells, or finishing a heavy session in your power rack, a cold plunge sounds ideal. Here are some of the best cold plunges and ice baths you'll find on the market.
Our Picks for the Best Cold Plunges of 2023
Best Cold Plunges Video Review
Follow along with our reviews writer and tester, Jake Herod, as he dives into all of the details of our top-rated cold plunges — and decide for yourself which is the best for you.
How We Tested and Chose the Best Cold Plunges
There are a lot of cold plunge tubs and ice baths on the market, which means there are also a lot of statements claiming each one is the absolute best. That's why we put a ton of tubs to the test, getting first-hand experience to truly narrow the list.
We know that the best products vary from person to person, so we considered factors like size, durability, price, and features, among others, to create a comprehensive list that appeals to a wide range of consumers with different lifestyles and needs.
Size
Some tubs are bigger than others, and some people may have more room than others for these tubs in their home or yard. We also took body size into consideration — a tub that may work great for our 5'10" tester may not be the best for a 6'4" athlete. We included cold plunge and ice bath sizes to suit all individuals, ranging from products smaller than a barrel all the way up to sizes like a jacuzzi.
Material Durability
In general, the bigger options tend to be more expensive and more durable, but the smaller options hold up well with proper care. We've included both lasting builds with customizable base and deck options, as well as plastic ice baths that may cost less and are more portable but probably won't last as long.
Features
Depending on how much money you're willing to spend, you can find products with additional accessories, technologies, and features, as well as more basic options. Some may want a plunge pool that matches a specific backyard or weight room aesthetic, while others might prefer an ice bath that they can pop open in the shower for a quick dip. Either way, we've tried them all and found the best.
While there are those who may be looking for a fully customizable, automated cooling system, others customers may want a simple ice bath that keeps electricity costs low — we've tested and included both high-tech and no-tech options on this list. If you have the space, consider large tubs that can function as both hot and cold baths, clean themselves, and maintain your preferred water temp. If you're working with a smaller space, we also have foldable plastic options, as well as barrel styles that feature drains and require manual sanitization.
Customer Satisfaction
As mentioned above, everyone has different preferences and needs. But nevertheless, we made sure to test and promote products that seem to satisfy most customers. All of the products we pick have pretty glowing reviews and, after trying different plunges for themselves, our testers agree.
Price
We know money can be a major deciding factor in many situations, especially when making a large equipment purchase. So we were dedicated to finding plunge tubs that had the best bang for your buck without compromising effectiveness. Those who need the extra legroom may love a higher-end option that offers room to accommodate taller heights, while others may be happy testing a less costly Amazon product to see how they like the overall experience. No matter your price point, there's a cold plunge option for you on this list.
Best Cold Plunge Overall: The Plunge Cold Plunge
Our top cold plunge pick is easy to use and feature-rich enough to satisfy anyone from first-time plungers to experienced enthusiasts. If you are on the hunt to find the best cold plunge on the market, look no further than our top pick, The Plunge.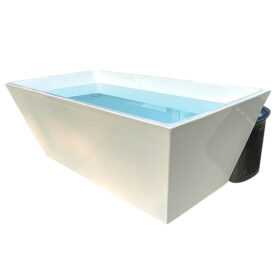 This ergonomic tub design sits at 24 inches tall, 67 inches long, and 43 inches wide giving users ample room to lie down and relax in a soak. The Plug-and-Plunge design makes setting up and filling up simple — its water hookup works with a standard garden hose.
Specs
Dimensions: 43 inches wide, 67 inches long, and 24 inches tall
Coldest Temperature: 39 Degrees Fahrenheit
Standout Features: Modern chic aesthetics, excellent filtration and sanitation
Electrical Requirements: Standard 110v outlet
Price: Starting at $4,990
This tub design gives you ample room to lay down, soak, and relax on your days off from the gym, and the ergonomic design helps keep you comfortable (or as comfy as you can be when sitting in near-freezing water). Our tester especially liked the Plug-and-Plunge design that uses an added water hookup for an easier time setting up and filling the tub. The Pro model cools quickly, too, at around 10 degrees per hour.
The simple twist-and-turn valve located on the outside of the tub helps drain the water quickly when you're done plunging. It works with a standard garden hose for both filling and draining, helping you avoid a mess when you empty the tub. This advanced plunge pool can cool all the way down to 39 degrees Fahrenheit, and it features circular filtration in addition to UV sanitation. Combined, these features provide a versatile and accessible plunge pool to help you potentially kickstart your recovery. The one downside: This price may be more of a shock to your system than the near-freezing temp.
Despite the higher price tag, customers seem to be absolutely loving their Plunge tubs. With more than 400 five-star reviews on the website, the product may be with the price. Some customers even use it daily, so they're definitely getting their money's worth.
"Obsessed. [I] was hesitant to pull the trigger because of the price but you can't put a price on a good morning routine," one reviewer writes on the Plunge website.
Pros
A cell phone holder, skimmer net, and insulated cover options are included with the Plunge tub.
This product features an upgraded chiller that cools water quickly.
UV sanitation and circular filtration keep your water and tub clean.
Cons
The Plunge needs to be plugged into a power source for proper use.
The tub weighs over 165 pounds empty and over 1,000 pounds filled with water.
The Plunge hits temperatures all the way down to 39 degrees Fahrenheit, making it great for athletes hoping to hit specific temperatures. If you're willing to dish out a little extra cash for a plunge with an easy setup and a lasting build, this could be the perfect one.
Read our full The Plunge Cold Plunge Review.
Best Cold Plunge for Small Spaces: Redwood Alaskan Cold Plunge Kit
If you're living in a small home but still want a cold plunge under your own roof, this pick's ability to squeeze into narrow spaces will come in handy.
Redwood Alaskan Cold Plunge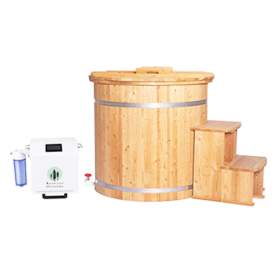 Redwood Alaskan Cold Plunge
This cold plunge is a great option for people who want a kit that has everything you need to start plunging. The chiller can drop the water to 37 degrees Fahrenheit and uses a standard outlet plug so you don't need special wiring. You can even control the settings from your phone and pre-cool your water.
Specs
Dimensions: 37 inches around and 40.5 inches tall
Coldest Temperature: 37 Degrees Fahrenheit
Standout Features: Beautiful wooden construction, can work as a hot tub with an upgrade purchase
Electrical Requirements: Standard 110v outlet
Price: Starting at $4,699
The Redwood Alaskan Cold Plunge Kit includes everything you need to start plunging in a compact barrel-shaped package. Even with the steps added on, it still fits on a small patio with ease, thanks to its 40.5in (3.75ft) height and 37in (3ft) circumference. Other tubs (like the Plunge pick above), can be more than 5ft long and 3ft wide, taking up quite a bit more surface area.
There's no need for special components here either; this plunge conveniently uses a standard home outlet. Note: It may trip the breaker if you're cooling aggressively or have other devices plugged into the same outlet. The Scandinavian Thermowood exterior acts as a great insulator to keep water cold at temperatures as low as 37 degrees Fahrenheit, helping you save on energy usage. Or, turn up the heat and use it as a hot tub.
"Great price for a great product," says one reviewer on the Redwood Outdoor website. "Love our new tub and look forward to using it more and more over the winter."
You can personally control the temperature with an easy-to-read touchscreen display or remotely via your smartphone to have it ready right after your gym sesh. This compact, yet powerful plunge does have a higher retail cost than similar models, and that's before you consider upgrading to a stronger chiller/heater combo. We should note that this plunge requires self-assembly, though. Our tester's tub came pre-assembled but after watching the video instructions, we can confirm it's pretty easy to follow for a DIY.
Pros
This tub has a compact design, that's perfect for saving space.
Remote smartphone compatibility, so you don't to wait around for the water to cool.
The Scandinavian Thermowood makes for a rustic aesthetic and insulates well to keep water temperatures where you want them.
Cons
The space-saving design may be challenging for people with bigger or taller bodies.
There are cheaper options available, but they may lack some of these key features.
You have to assemble the cold plunge yourself.
The compact design is a great way to save space if you want a cold plunge but don't have a ton of free room. Features like smartphone compatibility and wood insulation make this a solid, convenient option.
Best Hot and Cold Plunge: The Hot and Cold Plunge Pro
If you want the option of turning your plunge pool into a hot tub, this pick is your best bet — temperatures range from 103 degrees Fahrenheit down to 39 degrees Fahrenheit.
The Hot and Cold Plunge Pro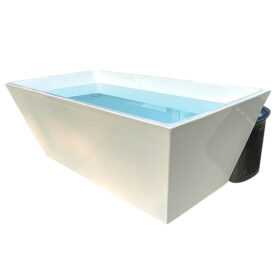 The Hot and Cold Plunge Pro
This ergonomic tub design sits at 24 inches tall, 67 inches long, and 43 inches wide giving users ample room to lie down and relax in a soak. The Plug-and-Plunge design makes setting up and filling up simple — its water hookup works with a standard garden hose.
Specs
Dimensions: 43 inches wide, 24 inches tall, and 67 inches long
Coldest Temperature: 39 Degrees Fahrenheit
Standout Features: A rubber ducky is included (seriously), can work as a hot tub, great filtration and sanitation
Electrical Requirements: Standard 110v outlet with dedicated 20 amp breaker
Price: Starting at $6,490
Most plunge pools shouldn't be used outside in the winter, as their pipes can freeze up. But this product's ability to heat up, combined with the durable acrylic construction, means it can stay outside all year long. The Hot and Cold Plunge Pro can heat up to 103 degrees and chill to 39 degrees, so you get a hot tub and cold plunge in one.
The four-by-six-foot footprint means two things: You need ample room to house the tub, and larger humans have plenty of space. In fact, one of the designers is 6'6", so we're confident it will fit tall folks. The Hot and Cold Plunge Pro comes with an insulated cover, a filtration system, underwater lighting, a skimmer net, and even a cell phone holder, so you can stream while you plunge.
This one is pretty easy to set up, with most customers rating the installation ease as 'excellent,' according to reviews on the Plunge website. Buyers also love the brand's high-quality equipment.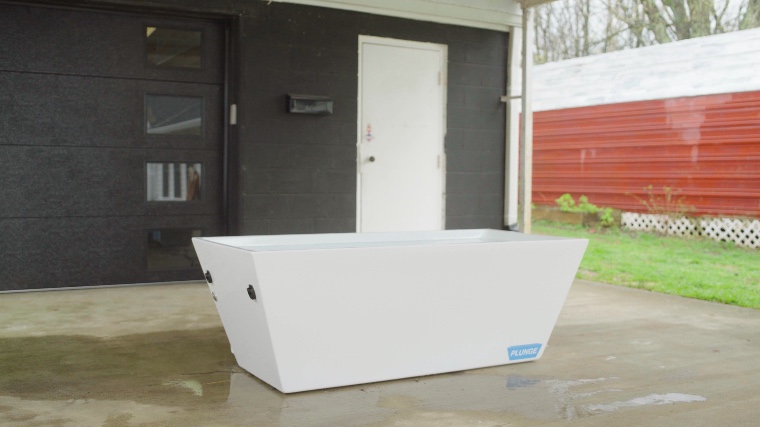 We really like how this one product can go from a cold plunge for recovery in the morning to a hot tub for relaxation in the evening. For all of these cool features, you will have to spend a good bit of money, though — this product costs almost $6,500.
Pros
This plunge pool doubles as a hot tub, reaching up to 103 degrees Fahrenheit.
The Plunge Pro tub has its own temperature control and filtration system. Less maintenance and cleaning? Yes, please.
The Hot and Cold Plunge Pro can fit tall users.
Cons
Buyers on a budget may find this high-tech hot and cold plunge a bit pricey.
This pick is ideal for anyone looking to mix their cold plunges with relaxing nights in the jacuzzi. However, you will have to dish out a pretty penny for it, so if hot water isn't on your priority list, you may be better off snagging a more basic tub.
Best Affordable Cold Plunge: Redwood Yukon Cold Plunge Tub
The Yukon Cold Plunge Tub is a great option for anyone looking to cold plunge without plunging their bank account. The base unit for this cold plunge is cost-effective, comes with a convenient way to transport, and has upgrade options that you can add over time.
Redwood Yukon Cold Plunge Tub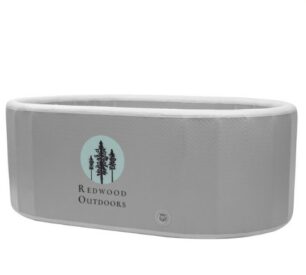 Redwood Yukon Cold Plunge Tub
If you want a cold plunge on a budget, then this is the way to go. You receive an insulated tub, air pump, and cover to keep the cool water cold. All you have to do is provide the ice. You can alternatively purchase the chiller for a portable true cold plunge experience for a fraction of the cost of some other plunges.
Specs
Dimensions: 23.75 inches tall, 31.5 inches wide, and 59 inches long
Coldest Temperature: Not established with ice; 37 degrees Fahrenheit with chiller
Standout Features: Easily portable; there's no need to wait for the water to cool, just add ice
Electrical Requirements: None
Price: Starting at $899
Affordability is certainly relative, but even the most simple cold plunge will likely run you at least a grand. The Yukon is a little more wallet-friendly, starting out at only about $899 for a fully-functioning tub. To use it as an ice bath, all you have to do is add ice and water, and you're ready to jump in (though you have to track the temperature yourself with a thermometer). If you do want to add an automatic chiller, you can select either the basic chiller or the more advanced deluxe chiller and heater for an added cost.
Taking this cold plunge on the go is easy, too. It only weighs 30 pounds and comes with a backpack carrying bag, air pump, and cover to keep it insulated. This means you can plunge easily on the road. The Yukon doesn't take up much space either, so it's a great option to take camping or on a getaway. Though adding a chiller makes this tub pricier, the base option is a solid deal if you don't need a lot of bells and whistles. If you decide you do want a chiller and might not be taking the plunge on the go too often, you might be better off with a different option that offers more features.
Pros
With its basic design, this cold plunge is an affordable and mobile option.
You can easily transport this lightweight cold plunge with the backpack carrying bag.
Without a chiller, this cold plunge is one of the most cost-effective options.
Cons
If you're looking for a more high-tech product, you can find higher-end options out there.
If you don't buy the chiller, you have to cool and track the temperature manually by adding ice and using a thermometer.
The lack of a filter means you'll have to regularly drain and clean this plunge.
In terms of cost-effectiveness and sturdy construction, this cold plunge is a solid choice. It transports easily, doesn't require electricity, and is quick to set up, making this tub an excellent plunge for the price.
Best Ice Bath Cold Plunge: Redwood Alaskan Cold Plunge
Sometimes getting back to basics is the best way to go. An ice bath — like the ones in the good ol' days where you would simply fill a tub up with water, add ice, and hop in — can help kickstart your post-workout recovery. The Redwood Alaskan Cold Plunge pairs modern technology with tradition, thanks to its combination of classic aesthetics and modern design.
Redwood Alaskan Cold Plunge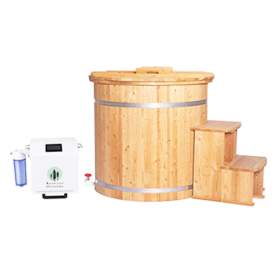 Redwood Alaskan Cold Plunge
This cold plunge is a great option for people who want a kit that has everything you need to start plunging. The chiller can drop the water to 37 degrees Fahrenheit and uses a standard outlet plug so you don't need special wiring. You can even control the settings from your phone and pre-cool your water.
Specs
Dimensions: 37 inches around and 40.5 inches tall
Coldest Temperature: Depends on ice added
Standout Features: Can stand alone or work with a chiller
Electrical Requirements: Standard 110v outlet
Price: Starting at $1,999 with chiller
The Alaskan Cold Plunge design harkens back to the origins of cold plunges with its simple-yet-elegant barrel shape connoting a fun rustic vibe. If you want a look for yourself, browse the Redwood webpage to scope other customers' enviable cold plunge set-ups.
Its configuration isn't just for looks, though — the design also has a small footprint, which is great for tight spaces. The steps do add some size to one side, though they can be moved if you want to stow them away when you're not using the tub.
The included chiller can take the water down to a frigid 37 degrees Fahrenheit and only needs a common 110V house outlet, no special wiring or high-voltage receptacle necessary. You can even start the chiller and cool your water remotely with the plunge's smartphone compatibility. This plunge is constructed of Scandinavian Thermowood to keep water colder for longer and is resistant to rot and fungus, making it ideal for outdoor use. Redwood's plunge requires assembly, which can be tricky, but comes with simple instructions and a video. We recommend enlisting a buddy when putting this plunge together, as some of the pieces are large.
Pros
The Scandinavian Thermwood looks good, resists rot and fungus, and provides insulation to keep your ice-filled water cold.
Compatible with a regular house plug, so you don't need any special outlets.
Anyone working with limited space will enjoy the compact design.
Cons
There are cheaper options out there, but they may not have the same features.
Anyone looking to plunge horizontally may want to look elsewhere. You can only sit or crouch in this one.
You have to assemble this cold plunge yourself.
This cold plunge's barrel shape is aesthetically pleasing and functional, with a space-saving design that can fit in most spaces. Its material is resistant to rot and fungus, provides insulation, and pairs the look of classic homemade cold plunges with modern amenities.
Best Cold Plunge for Taller People: The Plunge XL
Cold plunges work best when you can submerge your entire body — a plunge that works for a 5'1" gymnast might not fit a 6'4" strongman competitor. The Plunge XL is our pick for the best cold plunge for taller people.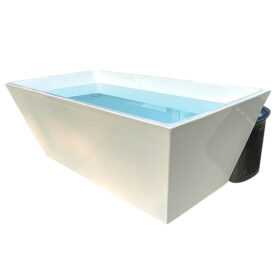 This ergonomic tub design sits at 27 inches tall, 73 inches long, and 32.5 inches wide giving taller and larger users ample room to lie down and relax in a soak. The Plug-and-Plunge design makes setting up and filling up simple — its water hookup works with a standard garden hose.
Specs
Dimensions: 47 inches wide, 27 inches tall, and 73 inches long
Coldest Temperature: 39 Degrees Fahrenheit
Standout Features: Larger athletes can fit more easily, underwater lighting sets the mood well
Electrical Requirements: Standard 110v outlet (dedicated breaker recommended)
Price: Starting at $6,990
One of the creators of The Plunge is 6'6″, and they wanted a plunge that fit athletes of all sizes — enter, The Plunge XL. This plunge is 73 inches long (about 6 feet), so traditionally taller athletes, like swimmers, strongman competitors, and basketball players, can fit into it. For anyone who is six feet or taller, the website and customer reviews recommend going with the XL.
Now, it may be big, but is it good? Emphatically, yes. The Plunge's chiller cools down to 39 degrees Fahrenheit, can be used indoors and outdoors, has active filtration and ozone sanitization, and is fully insulated. We particularly like the use of acrylic to construct the tub, which will likely last a lifetime and feels better on your skin compared to metal or rough plastic.
You can take a plunge at dusk with the underwater lighting or hop in at dawn as an invigorating way to start your day. While it's recommended that you use a dedicated 20 amp breaker, you can still use a standard 110v outlet — just make sure nothing else is drawing power from the same outlet. You don't need special plumbing either, saving you time and money. It comes with a variety of accessories, including an insulated cover, a cell phone holder, and even a rubber ducky, so you never have to plunge alone. All of these features do come at a price, though — this is one of the more expensive plunges on this list.
Pros
This plunge is completely self-sustained with a sanitization system, circular filtration, and a powerful chiller.
People six feet tall and above won't feel cramped in this larger tub.
This package includes hundreds of dollars worth of accessories.
Cons
The smaller, comparable option is significantly cheaper, so save your money if you don't need the space.
The Plunge XL is pricey, even compared to other similarly sized plunges, but those may not come with similar features.
Even with the added room, folks over 6'6″ may feel cramped (sorry, Shaq).
Having a larger cold plunge allows even taller people to completely submerge themselves to potentially reap the maximum potential benefits cold water immersion has to offer. The Plunge XL is loaded with features to make your plunging experience as relaxing and enjoyable as possible, along with reducing the maintenance you have to perform.
Best Vertical Cold Plunge: Nordic Wave Viking
Cold plunges have come a long way from garbage cans filled with ice and water in your driveway. The Nordic Wave is aesthetically pleasing, allows for deep immersion, and offers all the amenities of a cold plunge tub without taking up much space.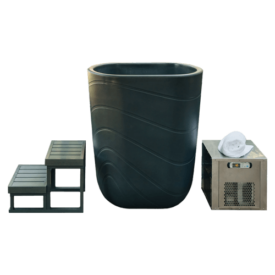 This might be a barrel plunge, but it's more elevated and comes with a host of premium features. Nordic Wave includes a high-end chiller, multi-stage sanitation, thick insulation to keep your water cool.
Specs
Dimensions: 36 inches wide, 30 inches deep, and 41 inches tall
Coldest Temperature: 38 degrees Fahrenheit
Standout Features: Convenient drainage system, Thick foam-insulated walls, Multi-stage filtration and ozone sanitization
Electrical Requirements: 120v
Price: $5,999
This cold plunge's barrel shape makes it ideal for smaller spaces, but that's where the similarities to the cold plunges of old end. The Viking comes with all the luxuries of a more elaborate system, like an integrated chiller, multi-stage sanitization, and filtration systems, so your water stays clean and cold. The sloped floor design makes cleaning and draining the Viking easy, though we should mention that there is no ledge to sit on inside of the cold plunge.
That vertical design certainly doesn't bother Vikings' customers, though. "It's the best way to plunge, trust me, trying to lay down in a cold plunge is NOT the way to go," says one reviewer on the Viking website. "This design is the best: crouching, dunking, sitting — they all work."
We like the efficient, two-inch insulated foam walls that minimize "sweating" and help keep the water cold. Couple that with the stay-cold™ insulated lid and Nordic Wave states that the average electricity cost for operation is only around $15 to $20 per month. Those savings come in handy, because the price of this plunge is considerably higher than some other basic cold plunges, though they may not have the same high-end features. Also, it only weighs 60 pounds when empty, making it easy to move around if you need to relocate the plunge.
Pros
The vertical design saves space and the tub comes in three colors — Charcoal Gray, Arctic White, and Nordic Blue.
The warranties are solid with two years on the chiller and five years on the tub itself.
Everything you need is included with the purchase, so the only maintenance items you'll need to buy are replacement filters.
Cons
At this price, we'd like to see a chiller and heater combination unit.
You have to crouch to fully submerge your body.
If you decide to add steps and a chiller to the tub, it will take up more floor space.
A far cry from DIY cold plunges, the Viking's sleek, modern design looks great in any space. The powerful chiller is combined with an energy-efficient, well-insulated tub, and a multi-stage sanitation system for a premium plunging experience. If you don't mind the price, this is the best vertical cold plunge you can get.
Best Portable Cold Plunge: Inergize Cold Plunge Tub
Your workouts don't always happen in the same place, but you still need to recover all the same. One day you may be crushing it in your home gym, the next, you could be at a friend's place checking out their sweet new power rack. If you're always on the move, the Inergize Cold Plunge Tub may be just what you're looking for.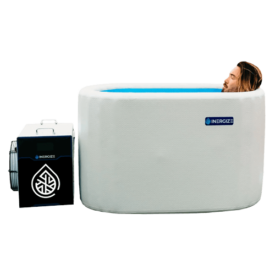 This cold plunge works just as well as a portable plunge as it does an at-home one. It comes with a high-quality chiller and only takes 15 minutes to inflate with the included hand pump. When you're finished, pack it up in the duffle bag and go.
Specs
Dimensions: 28 inches wide, 51 inches long, and 30 inches tall
Coldest Temperature: 37 Degrees Fahrenheit
Standout Features: Portable backpack carrier, Powerful chiller, Quick setup
Electrical Requirements: Grounded 120v outlet
Price: $5,190
This 25-pound tub and included duffle bag lets you take your cold water therapy on the road. This sturdy tub has a 30-inch depth, so even taller people can sit comfortably, and it only takes about 15 minutes to inflate with the included hand pump. Once it's inflated, it fills quickly with the quick-fit attachments, compatible with any garden hose. One thing to note is that this tub requires a chiller (included) and electricity to run optimally. That means you'll be transporting that too, unless you add ice.
The water takes some time to cool — the three-quarter horsepower chiller can drop water temps from 65 degrees to 37 degrees in about four hours. If you choose to leave the tub set up, you can use Inergize's app to remotely control the temperature and schedule cooling so the water is always ready for you. Plus, the 24/7 active filtration system makes it easy to keep the tub clean. People on a tight budget should know that this tub is much more expensive than some other inflatable models, but those often don't come with a chiller.
Despite the high price tag, all of the reviewers on Inergize's website gave the product five stars, many claiming the tub is totally worth the investment.
"If you're looking to invest in a cold plunge, look no further," says one customer. "This was easily one of the best decisions I've made all year. As someone who is very physically active — yoga, weight training, running — having this at home is true therapy."
Pros
This portable tub includes a chiller, something many inflatables don't come with.
The quick-fit hose attachments make it easy to set up and fill.
You receive a bunch of extras with your purchase, including a carry bag, multiple covers and sanitation solution.
Cons
Maintenance requires monthly filter replacement.
This is pretty pricey, so if you don't plan on moving it often, you might be better off buying a non-inflatable product.
The inflatable walls aren't too insulated, so if you leave it up and running, it may draw more power.
If you want to plunge on the go or don't have the space for a dedicated cold plunge area, the Inergize Cold Plunge Tub is likely a good choice for you. It's easy to lug around, has a solid one-micron filter, and cools down to a frosty 37 degrees Fahrenheit.
Best Luxury Cold Plunge: Sun Home Cold Plunge Pro
If you're looking for a cold plunge, you can get by with a big plastic tub and a lot of ice water. But if you're looking for a top-tier cold plunge experience, you're going to want some extra frills, and the Sun Home Cold Plunge Pro has got you covered.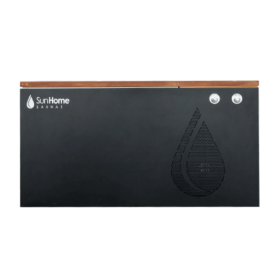 This plunge has the fastest chiller on the market that can cool the water in minutes, as well as a top-tier filtration system and a gorgeous exterior. 
Specs
Dimensions: 64 inches long, 33 inches wide, and 34 inches tall
Coldest Temperature: 37.5 Degrees Fahrenheit
Standout Features: Fastest chiller on the market, comprehensive sanitation system, indoor/outdoor operation
Electrical Requirements: Standard 110v outlet
Price: Starting at $7,199
One look at the Cold Plunge Pro's matte metal exterior and beautiful wood lid and you know it's a high-end piece of equipment. But as we all know, true beauty is on the inside, and this plunge is gorgeous internally as well. Thanks to a smart chiller that's double the power of its closest competitor and can chill the tub to 37.5 degrees F in minutes, the Sun Home Cold Plunge Pro already stands out from the competition. But it's not only the most powerful chiller, you'll find, this 1.5HP beast is also one of the most energy-efficient, so it won't take a huge bite out of your electric bill.
On top of that, the interior LED lights provide a spa-like feel, and the grade A eco-certified wood top keeps the water cool and looks great to boot. And keeping the tub clean is simple, thanks to the circulation pump, 20-micron filter, and built-in UV disinfection and ozone sanitization system. Plus, it's easy to install — you just plug it in, fill it up, and hop in. No electrical or plumbing work is needed. Plus, it's backed by a five-year limited warranty, so your investment is protected from any manufacturing defect.
"Although we explored other brands, this one, despite being on the higher end, is absolutely perfect," says one customer, among dozens of other five-star reviews on the company website. "The size surpassed our expectations, providing ample space. The filters have been incredibly effective, delivering amazing results. We couldn't be happier! It has become a part of our daily routine, and we couldn't imagine our lives without it."
Pros
It has the most powerful chiller on the market.
The matte black and hardwood exterior make it look more like high-end decor than a recovery tool.
This cold plunge cools down to 37.5 degrees F in a matter of minutes.
Cons
This cold plunge is close to double the price of some other comparable plunges.
Broader users may want to opt for the (more expensive) large version.
The speedy chiller on this cold plunge makes it stand out from the crowd. Plus, having cleanliness and convenience features like ozone water purification and advanced filtration systems make this plunge well worth the luxe investment.
Best Cold Plunge on Amazon: WEY&FLY Portable Bathtub
For online shoppers, our favorite Amazon pick is mainly for beginners wanting to test out the benefits of an ice bath or those who just don't want to spend a lot of money on a tub. It's basic, but it can totally still get the job done. And the hundreds of 5-star reviews certainly agree.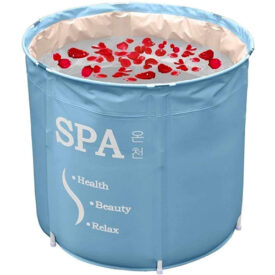 This round, freestanding design can fit inside any standard shower or room since it stands only two and a half feet tall. It is made with durable, safe, and non-toxic PVC materials, and includes 6mm of insulation for use in cool or heated waters.
Specs
Dimensions: 29.7 inches around and 25.6 inches tall
Coldest Temperature: Not established
Standout Features: Doesn't need to be inflated, very cost-effective
Electrical Requirements: None
Price: $61.99
This Amazon best-seller is not only portable and foldable, but you can set it up in only a few minutes since it doesn't require inflation. The ice bath itself comes in one color — blue — and might not be the largest, but it does pack in some other key selling points. The round, freestanding design can fit inside any standard shower or bathtub since it stands only two and a half feet tall. That also makes filling it easy — simply place it in the shower and let cold water run to fill it up, then throw in some ice for extra chill, and you're ready to go.
"Before you buy this Amazon tub, be sure to measure your own shower or tub and compare it to the product specs to make sure it fits properly," Herod recommends.
This ice bath is made with durable, safe, and non-toxic PVC materials and has alloy steel rings for a secure structure. We like that it also includes 6mm of insulation for use in cold or hot water, allowing you to soak in soothing hot water even if you only have a standing shower. It comes with padded sides and a cushioned bottom for extra comfort during use, though it may not be quite as comfy as the other options on this list. This tub includes both an exterior drain valve and a bottom drain hole to help empty the tub quickly and completely after each use.
Pros
You can buy this product right on Amazon and it's ready to go once out of the box, no tools needed.
The compact design enables you to use this ice bath indoors in a shower or bathtub.
This product is less than $100, so you can dip your toes in without taking a huge financial plunge (pun intended).
Cons
This option may not be ideal for those who want a cold plunge pool ready to go at all times.
The size is notably smaller than a lot of the other plunges on this list.
While this is great for a budget buy, it's not going to provide as much comfort or last as long as some of the more expensive products on our list.
As a best seller on Amazon, this product offers ease of use, portability, and simple accessibility for most people. It's also the least expensive pick on this list, so it's great if you want to try cold plunging but don't want to drop thousands of dollars quite yet.
Benefits of Cold Plunges and Ice Baths
Cold plunges and ice baths have been around for years in different varieties. They've been used in ancient rituals but more recently, the focus is athletic recovery. The cold plunge process has been shown to benefit mood, immunity, recovery, and weight loss.
Mood Enhancement and Mental Clarity
The research and benefits behind taking a cold plunge begin on a small scale. Even though you may not see results after one plunge, they can come with consistent use. Cold water immersion can trigger stimulation of the dopaminergic transmission in the mesocorticolimbic and nigrostriatal pathways in your brain. Translation: As you sit and soak, your body starts working to bring on a rush of mood-boosting dopamine to your brain that can produce a calming effect on your body and mind. (1)
Improved Immunity
Research on bodily health post cold water immersion have shown major potential immune benefits. According to a relatively recent study, cold showers and baths can help improve your immune and lymphatic systems. Cold water can boost white blood cell count over time — the more plunges you take, the more your body can adapt to the conditions and changes, potentially producing more infection-fighting cells. As a result, there are claims that suggest those who consistently plunge may have a higher chance of avoiding sickness. (1)
Physical Recovery
Not only can cold plunges and ice baths help internally, but the process may benefit your muscles and joints, too. When you train, your body undergoes inevitable wear and tear. Typically, your muscles develop microtears, which your body then heals, promoting muscle growth (aka hypertrophy).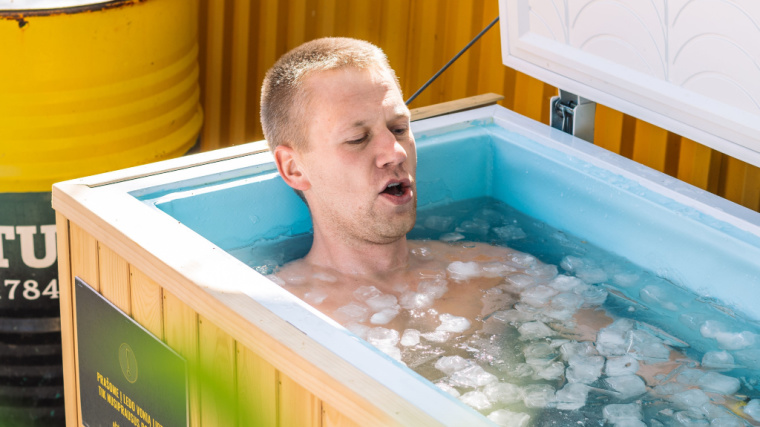 But beforehand, you may experience the muscle fatigue that comes along with muscle breakdown. Studies indicate that jumping into an ice bath for a few minutes can help improve blood circulation, which is how your body repairs damage and promotes muscle recovery. (1)
Ice baths or cold plunges can even enhance recovery speed, especially when recovering from contact sports, like rugby or football. (2) Another useful application is for those partaking in repeated competitions in a short period of time, like soccer or wrestling tournaments. Cold water immersion also seems to help decrease the muscle damage that can happen during grueling competitions. (3)
That said, the biochemical and physiological pathways by which the recovery process is enhanced still remain somewhat unclear. More research is needed to study what exactly is going on in the body when an athlete undergoes a cold plunge. (4)
Weight Loss
Many studies on cold plunges and ice baths show that cold exposure may help increase brown fat tissue activity, causing you to burn more calories and encouraging your body to begin the fat-burning process. (5) Other studies have shown that subjects exposed to "cold stress" underwater had an 80 percent increase in their metabolism (that means they burned more calories). (6) While cold plunging doesn't promise weight loss, combined with a healthy diet and regular exercise, it may speed up the process.
Risks and Side Effects of Cold Plunging
Since we're talking about all the potential benefits, we should mention that everything has a bit of risk, and cold plunges are no exception. Some of the potential side effects that you may notice, aside from the obvious shivering and chattering of teeth, include a sudden, rapid increase in breathing, heart rate, and blood pressure, according to the American Heart Association (AHA). Extended plunges can trigger cold shock responses and hypothermia, as well as a loss of coordination due to blood leaving your arms and legs, per the AHA. It's usually only advised to plunge for anywhere from 15 seconds to a maximum of three minutes.
How Much Do Cold Plunges Cost?
Cold plunges, which use chillers to cool down the water (like a reverse hot tub), are generally quite pricey and considered a luxury recovery tool. That said, most companies offer some sort of financing, so the price can be broken up over installments, depending on your credit.
Ice baths, which usually consists of an inflatable or pop-up style tub that you fill with ice and water, can be purchased for under $100, but these don't usually hold their temperature as well as higher-end models. If you just want to test cold plunging for the first time, then these are a good starting point. Once you decide to invest in a high-quality tub, you can expect to spend somewhere between $1,200 to over $5,000.
How to Pick the Best Cold Plunge Tub or Ice Bath for You
Cold plunges come in many shapes and sizes. It's important to weigh your individual needs — like space, features, and price — before diving into the buying process.
Space
Everyone is working with different-sized spaces for their cold plunge. Some may be cold plunging within the confines of their shower, while others may have a large outdoor space. Before you decide which plunge pool is right for you, consider the amount of space you are working with, make your measurements, and weigh them against the different options available on the market before buying a pool you just "think" will fit in your space.
Features
The many tubs, tanks, and pools also come with varying features. If you only have the time to plunge when the sun goes down, you might want a tub with extra underwater lighting. Early birds who prefer to plunge in the AM may love an automated cooling system to get things moving quickly.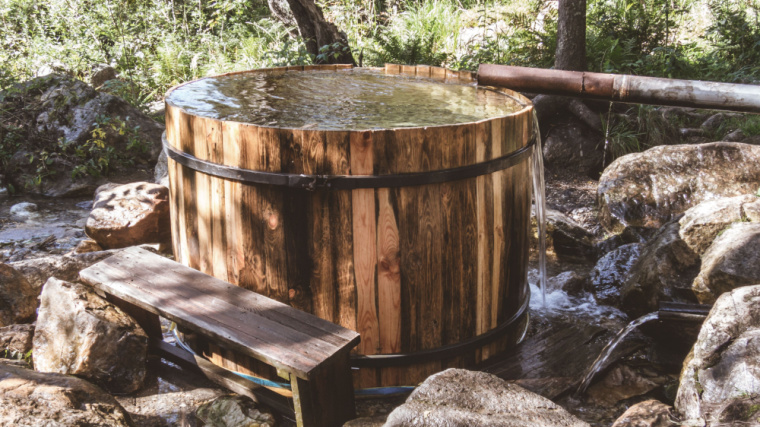 Others may not want to deal with something high-tech, preferring to just have a barrel for an ice bath for muscle recovery. Consider the features you want to prioritize before hitting the market to make sure you're able to find a pool that will suit all of your tech needs (or lack thereof).
Price
Price is often a huge deciding factor for many customers. You may be able to dish out thousands of dollars, or you might find solitude in more affordable options — we're talking price tags less than $100. Before purchasing your first plunge tub, determine what budget works for you, and find out what types of cold plunges fall into that price range before biting off more than you can chew.
Final Word
While there are many ways to adhere to the standard cold plunge or ice bath, we suggest a full body immersion method, at least neck down, to potentially see the best long-term results. Cold plunges can expose your musculoskeletal system to numerous benefits, like improved recovery, mental clarity, and weight loss, to name a few. No matter if you are a beginner, an avid plunger, an athlete, or even someone who just loves an occasional cold shower, we have a pick on this list that can bring the cold plunge experience to your home.
Before buying your own product, consider the space you're working with, the features you want, and your ideal price point. Whether you want the most advanced, customizable, self-sanitizing cold plunge on the market or just a foldable tub you can fill with water and ice, we have you covered. When you're ready to tackle your options, go ahead and dive in.
FAQs
Is taking a cold plunge better than taking a cold shower?
Both options are close in process and have strikingly similar outcomes on both physical and mental health. Cold water immersion is simply that, immersing yourself into cold or icy water for a short period of time. Cold showers, however, are more likely universally accessible. Those with access to a shower can experience a quicker, less daunting idea of submerging your body under water while still reaping the benefits that a cold plunge could offer.
How much do cold plunges cost?
Cold plunges vary in price from the inflatable ones you can pick up for under $100 to the high-end permanent fixtures that can cost upwards of $5,000 and come with all kinds of bells and whistles. Ensure you do your homework to select the right cold plunge for your needs and budget.
What is the best cold plunge?
That depends on your budget, available space, and individual needs. Right now, our favorite cold plunge is The Plunge Cold Plunge thanks to its ergonomic design, comfort and convenience details, and self-sanitizing features.
What should the temperature be for each immersion?
Depending on experience, most cold plunges take place around at least 59 degrees Fahrenheit or below to trigger your body into a state of readiness. Remember: You can always make the water colder. Go at a comfortable pace, adjust, then work down from there.
Do I need to consult with professionals before using a cold plunge?
For first time users and those with any medical red-flags, consulting with your doctor beforehand is always a good choice. Cold plunges may seem like a harmless practice, but exposing your body to extreme temperatures, whether hot or cold, can take a toll on key organ systems and their functions if not cautious.
Does a cold plunge really burn fat?
Cold plunges may help burn fat by increasing the metabolism of brown fat as well as increasing thermogenesis, or the amount of energy you burn while at rest, for a period of time after you come out the cold plunge. (5)(6)
How long should you cold plunge?
If you're new to plunging, starting off slow and gradually increasing your exposure is the best route. A 30-second dip is usually long enough at cold temperatures for most people who aren't experienced. Once you become more used to the cold sensation, you can target up to three minutes. Of course, you should consult with your doctor first before undertaking any cold plunges.
How often should you cold plunge?
There isn't really a set answer to this and the guidelines you'll find are likely all over the place. If you want to plunge every day for a couple of minutes and you seem to handle it well then go for it. You can try starting out only on workout days or only on heavy lifting days and go from there. Some people do it every other day too. It's entirely up to you.
How do cold plunge tubs work?
There are two types of cold plunge tubs; self-cooling and externally cooled. The self-cooling tubs come with a chiller that makes the water cold and often cleans it too. Externally cooled tubs are heavily insulated and meant to stay cold once you add ice or cold water to them. They also don't require electricity to function like self-cooled tubs do and are usually less expensive.
Are ice baths good for you?
As long as you have consulted with your doctor and are in good health, then ice baths may have a bunch of potential benefits. They might help with burning fat, improving cognition, enhancing muscle recovery, and more.
References
Baijze, G. A. (2016, Sept.). The Effects of Cold Showering on Health and Work: A Randomized Controlled Trial. Plos One. Retrieved Dec. 7 2021, from https://journals.plos.org/plosone/article?id=10.1371/journal.pone.0161749
Pointon, M., & Duffield, R. (2012). Cold water immersion recovery after simulated collision sport exercise. Medicine and science in sports and exercise, 44(2), 206–216. https://doi.org/10.1249/MSS.0b013e31822b0977
Daniel Rojas-Valverde, Carlos D. Gómez-Carmona, Jose M. Oliva-Lozano, Sergio J. Ibáñez, Jose Pino-Ortega. (2020) uarter's external workload demands of basketball referees during a European youth congested-fixture tournament. International Journal of Performance Analysis in Sport 20:3, pages 432-444.
Bleakley, C. M., & Davison, G. W. (2010). What is the biochemical and physiological rationale for using cold-water immersion in sports recovery? A systematic review. British journal of sports medicine, 44(3), 179–187. https://doi.org/10.1136/bjsm.2009.065565
van der Lans, A. A. J. J., Hoeks, J., Brans, B., Vijgen, G. H. E. J., Visser, M. G. W., Vosselman, M. J., Hanseon, J., Jörgensen, J. A., Wun, J., Mottaghy, F. M., Schrauwen, P., & van Marken Lichtenbelt, W. D. (2013, July). Cold acclimation recruits human brown fat and increases nonshivering thermogenesis. The Journal of Clinical Investigation. Retrieved Dec. 7 2021, from https://www.ncbi.nlm.nih.gov/pmc/articles/PMC3726172/
Ouellet, V., Labbé, S. M., Blondin, D. P., Phoenix, S., Guérin, B., Haman, F., Turcotte, E. E., Richard, D., & Carpentier, A. C. (2012, Winter). Brown adipose tissue oxidative metabolism contributes to energy expenditure during acute cold exposure in humans. The Journal of Clinical Investigation. Retrieved Dec. 7 2021, from https://www.jci.org/articles/view/60433