A good stopwatch tracks an exact measurement of time. Often stopwatches are used in athletics where every second counts, however they can also be used by anyone who is looking for more accurate and advanced tracking of time. 
In a situation where being precise is the goal, a stopwatch can offer what a trendy wrist watch or cellphone can't. Stopwatches come in all different shapes, sizes, and colors, and also include various options for tracking. We've taken the time to start and stop a wide range of stopwatches on the web, and selected some of the best on the internet in terms of price, accuracy, design, and functionality. 
Ready, set, go!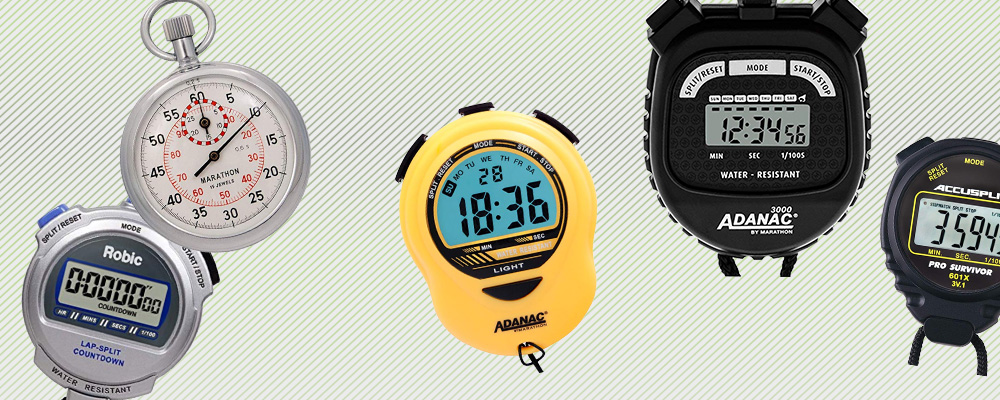 Editor's Choice
The Robic Silver 2.0 Twin Stopwatch w/ Countdown Timer
The Robic Silver 2.0 Twin Stopwatch w/ Countdown Timer has a simple design which makes it easy to use and clear to read. It is equipped with 1/100 second precision for up to 10 hours and offers various timing options depending on the activity being tracked. This stopwatch is simple enough for any basic timekeeping, but also can be used as an official reference for any speed tests or athletic performances. 
Pros:
Readability.

The screen display is easy to read, clear, and big enough where even if the stopwatch is hanging from a lanyard the numbers can be visible. 

Water resistant.

This stopwatch can be used in any weather conditions, which is crucial if buying a stopwatch is for pool sessions or any tracking outside where weather isn't always predictable. 

Comfort.

This stopwatch is a good size where it's not difficult to hold onto, but it also comes with a lanyard for another holding option. 
Cons:
Shipping.

This stopwatch is only available for shipping in the United States and select countries. Depending on location, this stopwatch may not be accessible.

Functionality.

This stopwatch doesn't just have a countdown tracker, but also can be set to on a lap or split function. This could be too many options or information for some. 
Best Sport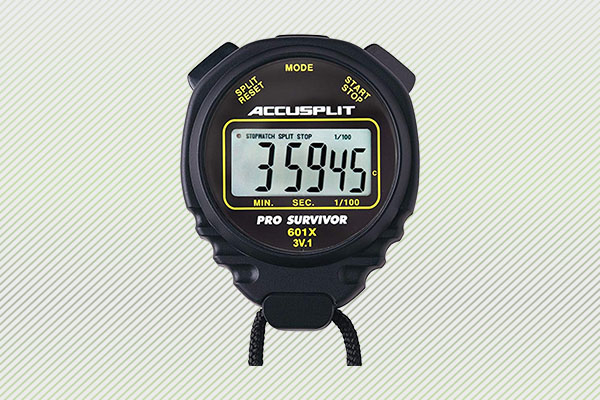 ACCUSPLIT Pro Survivor – A601x Stopwatch
While almost every stopwatch can be used to measure athletic performances, the ACCUSPLIT Pro Survivor stands out because of its special feature for cumulative-split timing. It also is easy to use because it has just one-button to track splits. This stopwatch is ideal for using outside because it's water resistant and shock resistant.
Pros:
Variety.

This stopwatch is offered in five colors and five translucent colors. The solid color options are black, blue, red, yellow, and green, and the translucent ones are titled smoke, aqua, cherry, lemon, and lime. 

Measurement.

This stopwatch takes cumulative splits only, and that is tracked using a single start/stop button. This is useful for athletes who are looking for all of their split times from the beginning of the workout until the end.

Resistance.

This stopwatch is well equipped for all weather conditions. It is water resistant and shock resistant.
Cons:
Sound

. This stopwatch doesn't make the typical beeping sound, rather it makes more of a snapping sound for each of the switches. Depending on sound preference, this is something to consider. 

Instructions.

The manual is not included with the stopwatch, however if looking for instructions, they are available online.
Best Value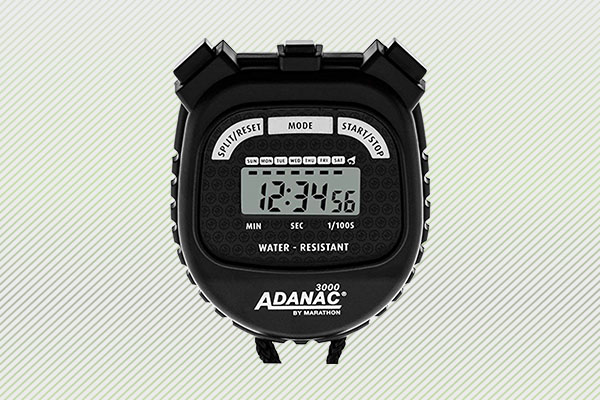 Marathon Adanac 3000 Digital Stopwatch Timer
The Marathon Adanac 3000 Digital Stopwatch includes a calendar feature, a split mode, and top accuracy at 1/100th of a second. The value is one of the best we've seen for the price.This watch can take the place of a cell phone calendar and wristwatch time, all for an affordable price. 
Pros:
Quality.

This stopwatch can handle being tossed around in a bag, and getting splashed on. It's water and dust resistant. 

Display.

Not being able to see the exact minute, second, or 1/100th of a second will never be an issue with this big display and clear font. 

Price.

This stopwatch includes all of the necessary functions for time tracking, all for an affordable price that is unlike any other stopwatch we've come across on the web.
Cons:
Design.

This stopwatch has a separate button for start and stop functions, which is different than a lot of the designs we've seen on the market that often have just one button to press to start and stop.

Battery.

When this stopwatch needs a new battery, the screen will begin to dim. Although this watch does come with one battery, it will eventually require purchasing a new one after a lot of use. 
Best Design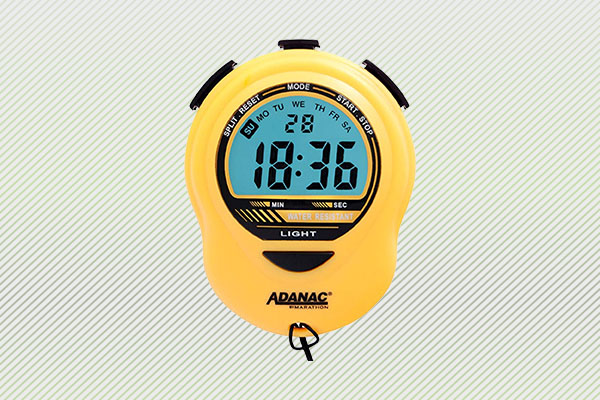 Marathon ST083913YE Adanac Digital Glow Stopwatch Timer
The Marathon ST083913YE Adanac Digital Glow Stopwatch is easy to read with it's massive display and light feature. The design is simple and includes the time, calendar, and all the split mode options. The shape of this stopwatch makes it easy to hold, and it is incredibly lightweight.
Pros:
Visibility.

Not only is this stopwatch a bright yellow, which makes it hard to miss, it also is easy to read with its big display and light feature. There is also a blue backlight which is effective for darker situations.

Reliability.

This stopwatch includes an alarm feature which can be a great feature for sticking to a schedule during a workout or just throughout the day. 

Weight.

This stopwatch weighs just 1.6 ounces which is much lighter than the other stopwatches we've reviewed. This makes it easy to hold, and not uncomfortable to wear on a lanyard. 
Cons:
Function.

This stopwatch sticks to a schedule with its calendar feature, so unless the alarm is turned off, it will repeat daily.

Color.The yellow is bright and impossible to miss. This stopwatch doesn't come in any other colors.
Also Consider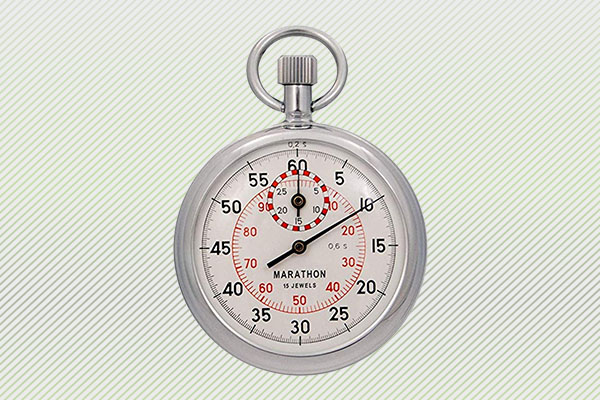 Marathon ST211003 Mechanical Stopwatch
The Marathon ST211003 Mechanical Stopwatch is the kind of accessory that has a more old-fashioned model, but is advanced in its one-button function start and stop feature. It has a simple design, is durable, and also anti-magnetic and shock protected.
Pros:
Durability.

This stopwatch can handle the most challenging conditions. It is water, dust, shock and corrosion resistant. It is also anti-magnetic and shock protected.

Simplicity.

This stopwatch has just one-button to start and stop, which makes it easy to understand and no-fuss. 

Design.

This stopwatch stands out because the design is industrial looking, as opposed to the more advanced and modern makes on the market. It is also wind-up, which means there is no battery included which again is like a blast from the past, without the function and accuracy being compromised. 
Cons:
Cost.

This stopwatch is among the most expensive our list. This stopwatch won't die and is accurate, but is more of an investment than some others. 

Function.

It is a mechanical and manual wind-up stopwatch which means it takes a little more effort than just pressing a start and stop button. 
How We Picked
There's a lot that goes into selecting the best stopwatch, however we did our best to select products that are affordable, accurate, and long-lasting. Now that I've gone through our five favorite picks, I am going to over the methodology we used to make these selections.
Use.

The most important function of a stopwatch is its ability to track time in the most efficient way possible. We examined how each of these stopwatches function, how easy it is to use them, and how time is tracked. 

Features.

Stopwatches vary in features, some have splits, some track laps, and others may include everything plus calendars and alarms. We looked at all the various offerings and picked stopwatches that have the basic functions, along with some designed for maximum sports performance. 

Design.

A good stopwatch shouldn't be too heavy, and should be comfortable to hold or have hanging from a lanyard. We looked at different sizing, weight, and also display screen design. It is crucial to be able to quickly and easily read the time on the stopwatch, so a clear and big screen with proper lighting is key.

Price.

We looked at stopwatches that are quality and affordable. For under $20 we found quite a few options that were not missing or lacking special features like backlighting, a calendar, and alarm settings. 
BarBend Tips 
In strength sports, having a proper accessory to measure time during training is important. We're always looking for the next best product to help keep track of time during sets, and hold us accountable for training. We considered the following things when looking to buy a stopwatch:
Quality

. The stopwatch needs to have enough features to track time in different ways (splits, laps, intervals, cycles), set reminders, and plan ahead. To maximize performance a good stopwatch should help do the job of a coach by setting standards, holding 

Effectiveness.

A stopwatch needs to work and offer what a regular timer or clock can't. It should be able to track intervals of 1/100 seconds, and should be effective for hours.

Design.

The design of the screen needs to be clear and easily readable during all different types of activities. It shouldn't take more than a second to see the time. Being able to access the start and stop buttons should be the most clear, since that is the most basic and most important function of this accessory
Wrapping Up 
We've made it! Although it's not entirely time to shut off the stopwatch just yet. It's probably clear at this point that there are a lot of factors that go into selecting the perfect stopwatch. But, hopefully by laying out a few of my favorites, offering some tips, and facts, I have helped make your shopping process a little bit easier.