We receive free products and receive commissions through our links. See
disclosures page
.
Saunas date back over 2,000 years to modern-day Finland and the Baltic region, where people viewed these as sacred places for healing the body and mind. (1) Originally modest huts with heated stones that generated steam, saunas have evolved over the years with advancements in technology, and there are now two main types to choose from — traditional steam saunas and dry heat infrared saunas. Some contemporary saunas still use traditional materials like wood and stone, but many fuse present-day luxuries (like connected control panels) with time-honored tradition for an authentic but upscale user experience.
From their modest beginnings in Finnish culture, saunas have become popular worldwide for people seeking reflection, rejuvenation, and other health benefits. They have been linked to improved cardiovascular health, reductions in inflammation, more energy, and better sleep. (2) You can bring that experience to your home from a variety of companies that make high-quality saunas. We sought out the best home saunas on the market to curate a list that marries age-old custom with current technology, so you have an array of excellent options to choose from, no matter your particular needs.
Best Home Saunas of 2023
Best Home Sauna Overall
The best home sauna needs to have a blend of comfort and effectiveness without ignoring aesthetics. This one from Sun Home hits all the marks — plus, it has a chic and modern appeal, so it'll fit beautifully in your home.
Sun Home Equinox
Sun Home designed this sauna with a 100 percent solid eucalyptus wood framework that's non-toxic and third-party verified to ensure safety. The sauna can heat up to 165 degrees, supplying near, mid, and far infrared wavelengths, so you get benefits from all three.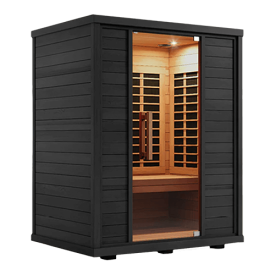 This at-home sauna has a modern design and can comfortably fit two people. This sauna has built-in surround sound that's bluetooth compatible, so you can stream your favorite music and podcasts.
You can control the climate of your sauna using the digital control panel, which also has a 25-hour programmable timer. You can't operate this sauna from your phone, though, so you'll have to be at home to get it started. However, this pick does have a built-in bluetooth surround sound speaker system, so you can stream your favorite music or podcasts while you sweat.
This sauna is easy to assemble with zero power tools required and it has a seven-year warranty on the cabinetry/heaters and a three-year warranty on controls. Sun Home promises at least 30,000 hours of operational life and at least 100 years of daily use. Plus, the wood is kiln dried and air dried, which helps prevent the wood from warping or cracking after years of use.
This product costs about $6,399, which is pretty standard pricing for an at-home sauna. However, it can only fit two people, whereas other options can accommodate multiple athletes at once.
The Equinox II is made with only non-toxic materials and has been used by professional athletes and health practitioners across the globe. And the minimal, black-painted exterior can blend beautifully into your home or backyard.
Specs
Dimensions: 77.7 inches tall by 45.9 inches deep by 50.9 inches wide.
Occupancy: Two people
Warranty: 7-year warranty
Price: $6,399
Pros
The modern dark wood is visually appealing and can blend well into your home.
You get a seven-year warranty, which is more than most competitors offer.
This sauna has built-in bluetooth speakers, so you can stream music or podcasts.
Cons
You can't control the sauna remotely on your phone.
Other options can go to higher temperatures.
Only two people can fit in the sauna at a time.
Sun Home made this spa for people who are serious about their sauna experience. You can have the feeling of a traditional wooden sauna with all of the conveniences of modern technology like bluetooth integration, electric heat, and heat-treated wood. All you need is the space and the funds.
Best Home Sauna (Runner-Up)
It's much more convenient to have a sauna on your property rather than traveling across town for a sweat session. Sunlighten's mPulse Believe is spatially efficient, but provides a wide variety of features and has enough power to heat up quickly.
Sunlighten mPulse Believe Infrared Sauna
This two-person sauna allows you to configure the system based on your specific needs to match your decor and health goals. The 3-in-1 system utilizes near, mid, and far infrared wavelengths to adapt as your health and wellness focuses change over the years. Each wavelength penetrates to a different depth in your body, so a full spectrum sauna potentially reaches all of your tissues, not just one region. You can customize the sauna's lighting and sound using the integrated tablet to tailor the session to detoxification, relaxation, and pain relief, among other settings. You're also able to select from six pre-programmed cycles.
Sunlighten mPulse Believe Infrared Sauna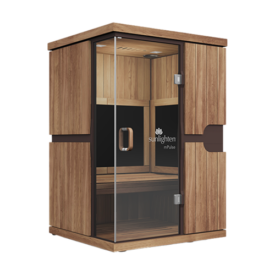 Sunlighten mPulse Believe Infrared Sauna
Sunlighten made this sauna with full spectrum infrared heating to reach all three levels of depth. The design is more contemporary and sleek looking to fit into a modern aesthetic inside your home. It's also customizable so you can configure it however you like.
The advanced infrared technology utilizes solo carbon heaters to deliver heat in a gentle and soothing way that can penetrate deep into your skin and target muscles, joints, and other tissues. Also, Sunlighten only uses non-toxic and hypoallergenic materials to ensure a clean environment. There are a few things that some people may not love, though. If you want pricing, you'll have to inquire and submit a request so that a member of their team can go over options with you, which suggests that this sauna may be one of the more expensive options out there. This sauna is also strictly a dry heat with no wet option for steam.
Specs
Dimensions: 51.7 inches wide by 47.6 inches long by 78.5 inches tall
Occupancy: Two people
Warranty: Seven years on cabinetry and heater, three years on the control panel, and one year on the stereo
Price: Contact for pricing
Pros
This sauna has customizable heat settings to potentially target different tissues in the body for varied health reasons.
Sunlighten allows you to configure the mPulse Believe to tailor it for your needs with near, mid, and far infrared waves.
The materials are hypoallergenic, non-toxic, and low-VOC.
Cons
This only supports dry heat, so you can't utilize steam or wet heat.
No prices are displayed openly online, so you'll have to inquire to get a quote.
The Sunlighten mPulse Believe is a great choice whether you want to relax or take advantage of the potential therapeutic benefits of an infrared sauna. The cabin is spacious and makes good use of the room it requires for those who may not have a lot of space to dedicate to their sauna.
Best Infrared Home Sauna
Infrared saunas create heat using light rather than more traditional methods of steam or flames. These can often heat up more quickly and provide a dry heat experience. Our favorite is the Sun Home Solstice 2-Person Infrared Sauna, thanks to the patented far infrared heating technology.
Sun Home Solstice 2-Person Infrared Sauna
This sauna uses far-spectrum infrared waves to provide a gentle but effective infrared heat that's designed to improve circulation in the skin and organs, potentially promoting detoxification, relaxation, healing, and overall wellness. Multiple 500W infrared heaters are placed strategically to ensure maximum exposure and envelop you in rejuvenating heat. An integrated chromotherapy lighting and sound system provide a serene ambiance during your sessions.
Sun Home Solstice 2-Person Infrared Sauna
Sun Home Solstice 2-Person Infrared Sauna
This two-person sauna offers far infrared lights, chromotherapy, and an attractive pinewood and glass exterior. Plus, the Bluetooth sound system lets you mellow out to the music of your choice. 
This sauna is aesthetically pleasing, with a sleek, modern design that blends well with almost any space without taking up the whole area. The simple assembly doesn't require any tools, and the EMF/ELF shielding offers the lowest levels in the industry.
Specs
Dimensions: 50.9 inches wide by 45.9 inches long and 7.77 inches tall
Occupancy: Two people
Warranty: Seven-year limited warranty
Price: Starting at $6,299
Pros
The far infrared heat provides a gentle heat.
This sauna looks great and is as at home in a health club as it is in your home, thanks to the pine and glass exterior and contemporary design.
The integrated chromotherapy and sound system can help create a spa-like atmosphere.
Cons
Larger options that can accommodate more people are available at lower price points..
If you like the steam aspect of saunas, you may want to look for an option that works with wet heat rather than only dry.
Folks who prefer a more rustic look should look elsewhere.
A far cry from the smoke-filled huts of centuries ago, this sauna uses present-day technology to offer an invigorating experience with many of the same potential benefits. The addition of chromotherapy and thoughtful placement of the infrared lights help to ensure your entire body feels the sauna experience.
Best Outdoor Home Sauna
One of the most relaxing things you can do is to sit in nature and take in its beauty. Pair the serene calm of natural scenery with the soothing warmth of a high-quality sauna, and you've got the recipe for ultimate relaxation. Redwood designed the Thermowood Panorama Sauna, so you can see the views and enjoy natural scenery while taking your sauna.
Redwood Thermowood Panorama Sauna
Redwood's six-person Panorama Sauna stands out from the rest thanks to the use of panoramic, heat-resistance glass panels that provide a remarkable view of the surrounding area while you enjoy the comforting warm sauna air. The opposite side of the panorama panels has a large door and two windows to help create an airy and open feeling to potentially enhance your stress relief and relaxation. To construct the sauna, Redwood utilizes Thermowood, which is specially treated timber designed to be durable, stable, and resist moisture and other forms of decay, so your sauna will last for many years, even outdoors.
Redwood Thermowood Panorama Sauna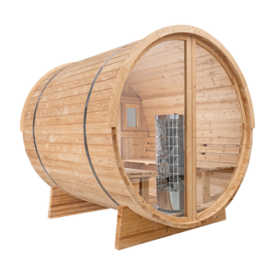 Redwood Thermowood Panorama Sauna
The panoramic panels of this sauna allow you to take in the views while you relax in the Thermowood-constructed sauna capable of heating up to 190 degrees Fahrenheit. You can select between three high-end heater options, even a wood-burning heater that offer different benefits.
Redwood prioritizes safety, too, and the heater comes with built-in sensors and a timer, so all you have to worry about is enjoying yourself. You can select from three different heater options — two electric and one wood-burning. The basic electric heater mounts on the sauna wall and can generate temperatures of up to 190 degrees Fahrenheit with relatively dry heat. The Cilandro electric heater holds four times as many sauna rocks as the basic heater for higher humidity at lower temperatures of up to 165 degrees Fahrenheit. There's also an optional wood stove and chimney kit if you prefer a more classic heating source.
Specs
Dimensions: 71 inches long by 72.75 inches wide by 76.5 inches tall
Occupancy: Four to six people
Warranty: One-year limited warranty
Price: Starting at $6,499
Pros
There are a variety of heater options to choose from to customize your sauna experience to your liking.
The large panoramic glass panes allow you to take in the calm serenity of nature while enjoying the therapeutic atmosphere of a sauna.
Safety features give peace of mind that you can truly relax rather than worrying about heating and timers.
Cons
If you don't live in an area with great views, the panoramic panes may not be wanted or needed.
This sauna is large and can accommodate up to six people, which may be too big for some people with limited space.
If you want an indoor sauna, other options would be better suited to your needs.
Redwood combines internal and external aesthetics to produce a sauna that allows you to enjoy the view rather than staring out a small window or door. The spacious design, safety features, and durable construction make this sauna an easy choice for outdoor use.
Best Small Home Sauna
Not everyone has a ton of space for a massive multi-person sauna, but that doesn't mean you need to forego having one or enjoying the potential benefits. This excellent sauna from Sunlighten is portable, takes up little space, and is designed for a single person.
Sunlighten Solo System Portable Sauna
Sunlighen developed this sauna system with functionality and convenience in mind. The compact and lightweight sauna is easy to assemble and disassemble when you're limited on space, so you can set it up wherever you want to. The flexible design doesn't compromise on performance, though, with advanced infrared heating technology that delivers deep penetrating heat from far infrared wavelengths to your muscles and joints.
Sunlighten Solo System Portable Sauna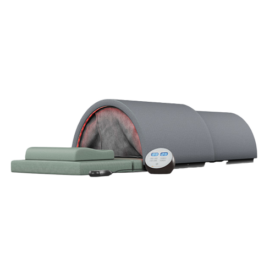 Sunlighten Solo System Portable Sauna
Functionality and convenience are the aim with this single-person portable sauna system. It has infrared heating technology to provide the benefits of a sauna without taking up a ton of room in your house. You can even fold the Solo System up for easy storage.
When in use, this sauna measures 69 inches long, 18 inches tall, and 28 inches wide, though you can fold it down to 24 inches wide, 24 inches deep, and 36 inches tall for easy storage. The included user-friendly control panel allows you to adjust the heat and set timers in case you relax a bit too much and doze off. The infrared coverage is limited, though, to 69 inches, and taller users may not be able to cover their entire body, and you also have to lie down when using this sauna. There are also fewer peripheral features than larger saunas since this is a more compact option.
Specs
Dimensions: 69 inches long by 18 inches tall by 28 inches wide
Occupancy: One person
Warranty: Seven years on heaters, three years on the controller, one year on fabric and memory foam
Price: Contact for pricing
Pros
This sauna is efficient with the space it needs to provide a sauna experience. While most need a full room, this can work with just a few square feet.
Though Sunlighten does not provide pricing on their website, and you have to submit a request for it, this is likely much cheaper than full-sized saunas.
The control panel allows for easy adjustments, and you can set timers so you don't need to keep track of time while relaxing.
Cons
This is made for only one person to use at a time. If you prefer the social aspect of saunas, you may want to invest in a larger option.
Taller people won't be able to fit their entire body into the dome since it is only 69 inches.
The additional features are lacking compared to many modern full-sized saunas.
There's no reason that you should be deprived of the potential benefits of using a sauna simply because you don't have the space for a full-sized one. Sunlighten is trying to bring the sauna experience to everyone, and this portable system allows you to indulge with very little room.
Best Home Sauna Blanket
Sometimes, you might not want or need to sit with your entire body in the sauna. Perhaps you only want to expose your lower body or up to your neck. That's where a sauna blanket comes in, and the best of the best is this one from Sun Home.
Sun Home Infrared Sauna Blanket
This sauna blanket takes the concept of a heated blanket and brings some oomph to it with infrared heating technology to deliver deep-penetrating heat to your body. The strategically placed heat panels work to promote detoxification and relaxation no matter where you are. You can use the blanket to target specific areas or for a full-body sauna experience — simply zip in, and you're ready to go.
Sun Home Infrared Sauna Blanket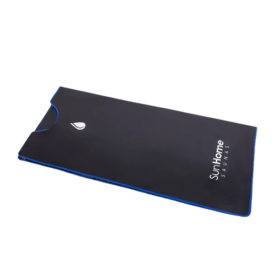 Sun Home Infrared Sauna Blanket
This one-person sauna from Sun Home can heat up to a whopping 167 degrees F, offers a zero- to 60-minute timer, and can travel with you wherever you go. 
The blanket offers temperatures up to a whopping 167 degrees F (newbies should work up to that level) and timer settings from zero to 60 minutes. Taller and larger people may be disappointed that the interior circumference is 65 inches, and the length maxes out at 71 inches, though. It's also important to keep in mind that you need to have a layer of material between you and the blanket, such as clothing or a towel, to prevent burns.
Specs
Dimensions: 71 inches long, 65-inch interior diameter
Occupancy: One person
Warranty: One-year limited warranty
Price: $499
Pros
You don't need much space at all to use this blanket, and it can even be used while lying in bed.
The blanket is easily portable for people who want to take a sauna on the go or people who don't have the space for a full-sized sauna.
This is considerably less expensive than full-fledged sauna cabins or rooms.
Cons
Taller and larger people may not be able to heat their entire bodies with this blanket due to its size.
Many people prefer the au-natural approach to taking a sauna, and the need to wear clothing or a towel may feel inhibitory.
This uses only far infrared heat, which is designed for deep muscle relaxation. Some blankets utilize full-spectrum infrared, which might offer benefits like skin rejuvenation.
Sun Home offers the potential therapeutic benefits of a sauna in a convenient and portable product with the Infrared Sauna Blanket. The infrared technology, timer, blazing top temperature, and budget-friendly price make this a great investment for people who are on the go or have limited space.
Best Multi-Person Home Sauna
Traditionally, saunas were not only places of relaxation and healing for the body and mind but opportunities for socializing as well. Redwood harkens back to saunas' social origins with the six- to eight-person Thermowood Garden Sauna.
Redwood Thermowood Garden Sauna
You can create a tranquil and therapeutic environment in your own backyard with the high-end Redwood Garden Sauna. Constructed from resilient Thermowood, this sauna is resistant to rot, warping, and decay. This sauna can accommodate up to eight people, so you can all enjoy the relaxation together and bond. The dual bench design allows for bi-level heat zones, so you don't have to adjust the heater to keep everyone comfortable.
Redwood Thermowood Garden Sauna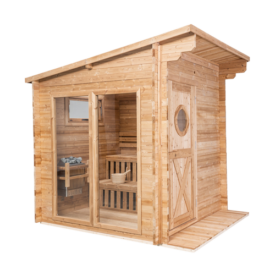 Redwood Thermowood Garden Sauna
This sauna is great for relaxing with friends since it can host up to eight people. The bi-level bench design produces dual heating zones so you won't need to adjust the heater to keep everyone comfortable and happy.
The design of the spa itself is inspired by the classic "lean-to" style for a traditional look. Redwood appointed the Garden Spa well with WiFi heater capabilities and tempered glass windows for both visibility and safety. This sauna is quite large and doesn't come pre-assembled, so that may be something to consider before purchasing the Garden Sauna. It also requires a base space of at least 103 inches long and 89 inches wide with a height requirement of 100 inches, so make sure you have enough room for it.
Specs
Dimensions: 105.5 inches long by 90.5 inches wide by 102.75 inches tall
Occupancy: Up to eight people
Warranty: One-year limited warranty
Price: Starting at $7,999
Pros
You can fit up to eight people in the Garden Sauna.
The Thermowood is likely to last for many years and not rot, warp, or suffer decay from the elements.
Bi-level seating allows you to easily move to an area that isn't as hot for a while without having to leave the sauna or adjust the heater settings.
Cons
You'll have to assemble this large sauna yourself or pay someone to put it together.
The Garden Sauna requires a larger amount of space than many other saunas.
This is one of the more expensive saunas on the market, and there are certainly cheaper ones out there, though they may not be able to accommodate as many people.
The Redwood Thermowood Garden Sauna offers a balance of space, performance, and aesthetics that sets it apart from just about any other sauna. A spacious interior with room for up to eight people allows you to bring your closest friends and family together around a reinvigorating ancient tradition.
Most Affordable Home Sauna
It's no secret that saunas can be quite costly, and even cost-effective models can be surprisingly expensive. This spa is, first and foremost, affordable, but it isn't cheap in terms of quality and features. SereneLife made this sauna so you can have the full experience even if you don't have a ton of cash to burn or a lot of room to work with.
SereneLife Portable Full Size Infrared Home Spa
SereneLife offers a highly affordable solution for people who want the potential benefits of a sauna without spending thousands of dollars. This spa is priced at about $381, and unlike many other home saunas, it allows you to have your entire body inside rather than only a portion of it. Utilizing infrared heating, the spa can reach a temperature of 140 degrees Fahrenheit in as little as ten minutes, and it has a foot heating pad, so all areas of your body receive the warmth.
SereneLife Portable Full Size Infrared Home Spa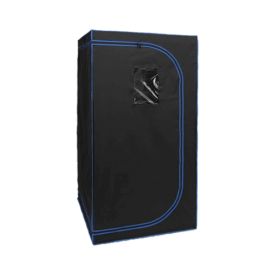 SereneLife Portable Full Size Infrared Home Spa
If you want to fully immerse yourself in a sauna and not just most of your body, but don't have enough room or funds for a full-sized sauna, then this is the way to go. It's affordable, can heat up to 140 degrees Fahrenheit, and only takes up a footprint of 35 square inches.
Use the handheld controller to set a timer for up to 60 minutes, or adjust the heat settings as you sit on the included folding sauna chair. Safety is a priority, too, with the durable and heat-resistant materials and built-in safety features like an automatic shut-off to prevent overheating. We should note that you may want to ensure you'll fit comfortably inside since this sauna is somewhat small compared to full-sized saunas with an assembled size of around 35 inches long, 35 inches wide, and 71 inches tall.
Specs
Dimensions: 35 inches long by 35 inches wide by 71 inches tall
Occupancy: One person
Warranty: Return or exchange within 30 days of purchase
Price: $381.22
Pros
This sauna allows you to have your entire body inside rather than just part of it like most other small, portable saunas.
Full-sized saunas are often much more expensive, and this offers a similar experience for a fraction of the price.
You can easily transport this sauna since it folds away with ease.
Cons
Larger and taller users may not fit comfortably in the smaller dimensions this sauna offers.
The maximum temperature is only 140 degrees Fahrenheit, whereas full-fledged saunas can reach nearly 200 degrees in some cases.
Only one person can use this sauna at a time, so you lose out on the social aspect of taking a sauna.
The price makes this sauna an incredible deal. Even sauna options that cost hundreds of dollars more may not offer what this one does. It folds up for easy storage, allows a fully immersive experience, and has convenience features for ease of use. If you want the potential benefits of a sauna without breaking the bank, this is a great option.
Benefits of Saunas
Saunas have been around for over 2,000 years and date back to what is now modern-day Finland as a way of promoting vitality and improving health. (1) They have seen a resurgence since the 20th century as people have started to appreciate all the potential benefits they hold, such as enhancing mood, improving immunity and recovery from exercise, and even aiding in weight loss.
Mood Enhancement and Mental Clarity
Saunas may be helpful in improving mood and mental well-being. The heat and relaxation that you can experience when sitting in a sauna may help to reduce stress as well as promote clarity, and saunas may even alleviate a host of mental health issues, like depression. (3) The sweat and heat of saunas might also promote the release of "feel-good" chemicals in the brain, like endorphins and serotonin, which may lead to improved mood and mental clarity. (4)
Improved Immunity
Saunas may also help improve the function of your immune system due to the increase in body temperature when sauna bathing, leading to an "artificial fever." (5) The heat may help stimulate white blood cells and has even been studied as a potential way to combat infections like COVID-19. (6) The evidence for long-term effects on immune function is still somewhat unclear, and more research is needed to definitively say anything on that subject.
Physical Recovery
Athletes and gymgoers are always looking for a way to gain a competitive edge or recover more efficiently, and saunas may offer just that. The heat and sweating may help relax muscles, reduce soreness, improve circulation, and improve subsequent performance. (7) It's not just traditional Finnish-style saunas either — infrared sauna bathing may aid in the same ways. (8)
Weight Loss
Many people turn to saunas as a way to potentially aid in their weight loss journey. Professional athletes, especially those in combat sports, often use saunas as a way to cut water weight under the supervision of medical professionals. Saunas may have more lasting and tangible effects, though, such as decreasing appetite and making sugary sweet food less appetizing. (9) The other and possibly more roundabout way that saunas might influence weight loss is through aiding in recovery. If you recover quicker and don't feel as sore, then you might be more likely to exercise more and burn more calories. (7)
Types of Saunas
There are generally two major types of saunas you'll find on the market today — wet heat and dry heat saunas. Some offer a combination of the two, but those are few and far between, especially in the prices we're considering for this list.
Infrared Saunas
Infrared saunas (dry heat) can make use of full spectrum infrared heating or one of the three wavelengths of infrared light — far, mid, and near — which all penetrate the skin to different depths to potentially provide therapeutic benefits.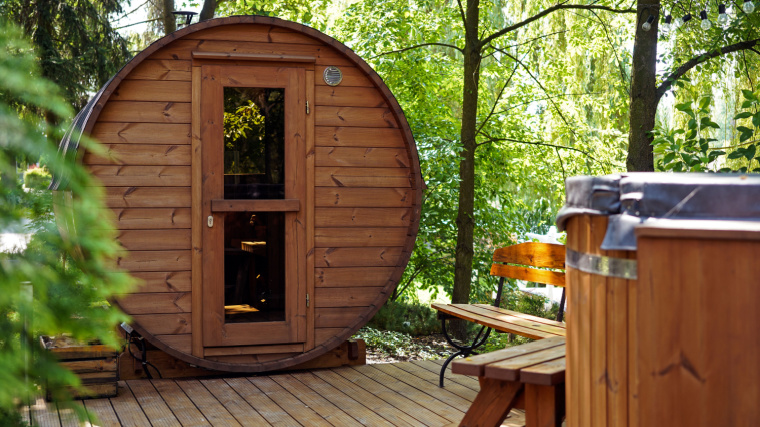 Near-infrared are the shortest infrared wavelengths and penetrate the shallowest (to the dermis) to potentially remove toxins, promote skin renewal, and stimulate collagen. Mid-infrared penetrates deeper into the subcutaneous layer of skin and may stimulate the cardiovascular system and improve circulation. Mid-infrared saunas may also have a role in helping to support weight loss. Far-infrared are the longest wavelengths of infrared light and reach deeper into the body to potentially stimulate a deep and detoxifying sweat. (10)
Wet or Steam Saunas
Wet saunas make use of either electric heat or a fire to produce heat. They contain sauna rocks designed to have water ladled over them to produce steam and increase the sauna's temperature. The hot and humid air in these saunas may be beneficial for those who are looking to sweat out a cold, alleviate congestion, or improve respiratory function.
How We Chose the Best Home Saunas
When selecting the best home saunas, we considered several key factors to ensure that we had a comprehensive list of the top saunas available. We also wanted to have a variety of high-quality options to choose from. To make the list, a sauna had to impress us in a few different ways, including durability, features included, and value.
Size and Durability
Saunas are expensive additions to any home or fitness center, and even the more cost-effective alternatives like sauna blankets can still be hundreds of dollars. You want to ensure that your investment will stand the test of time with daily use or be able to weather the elements for outdoor saunas. That's why we only included options that have a solid reputation for durability and offer long-term warranties that show they have confidence in their products.
The size of the sauna is also important to consider. We tried to provide a variety of saunas that range from portable in a backpack to ones that you could use to host a party and everywhere in between. Everyone has different wants, needs, and space requirements, so even though a few of the saunas are quite large, there are a few that are space-conscious and even fold away for easy storage.
Features
Blowing hot air and not providing much of anything else is best left to politicians. We like our saunas to include a variety of features that can enhance our sauna bathing experience. Amenities such as heating options, control panels, WiFi capabilities, sound and light systems, aromatherapy, and customization options were ranked highly on our list. Not only do they help to make your sauna experience more enjoyable and comfortable, but they also provide more value for your money.
Price
While it's true that many saunas can cost thousands of dollars, that doesn't mean that they're not worth the cost if you can spare the cash. Options that are constructed using specialized materials for durability, offer superior craftsmanship, and have lots of features can justify their price. That said, there are some cost-effective options on this list, and while they may lack some of the features and aesthetics of other saunas, they serve their purpose well.
How Much Do Saunas Cost?
The cost of saunas can vary greatly depending on a variety of factors, such as the materials used to construct the sauna, the type of heat it utilizes, size, features, and brand reputation. Larger and more traditional steam saunas often cost more than infrared saunas. There are portable options, which are usually the most cost-effective, though they may provide the fewest features and utility.
| | | |
| --- | --- | --- |
| Best Home Sauna Overall | Sun Home Equinox | $6,399 |
| Best Home Sauna (Runner-Up) | Sunlighten mPulse Believe Infrared Sauna | Contact for pricing |
| Best Infrared Home Sauna | Sun Home 2-Person Infrared Sauna | Starting at $6,299 |
| Best Outdoor Home Sauna | Redwood Thermowood Panorama Sauna | Starting at $7,499 |
| Best Small Home Sauna | Sunlighten Solo System Portable Sauna | Contact for pricing |
| Best Home Sauna Blanket | Sun Home Infrared Sauna Blanked | $499 |
| Best Multi-Person Home Sauna | Redwood Thermowood Garden Sauna | Starting at $7,999 |
| Most Affordable Home Sauna | SereneLife Portable Full Size Infrared Home Spa | $381 |
Most high-quality, full-fledged residential saunas start around the $5,000 mark and go up from there with large, high-end options topping out around $12,000 though some can be even more expensive. Portable saunas and sauna blankets are usually cheaper and can range from about $350 to $700. Regardless of what you're looking for, a sauna is an investment that can potentially pay dividends in many areas of your life.
What to Consider Before Buying a Sauna
In order to make an informed decision about such a large purchase, it's often a good idea to take stock and consider a few important factors before moving forward with the buying process. We'd recommend you think about the space you have available, the type of sauna you want and the features that come with it, and the price you're prepared to pay for a sauna.
Space
Before buying anything for your home, it's advisable to at least consider the space you'll have to dedicate to it. Saunas can be large and take up a lot of room, so you'll want to ensure that it can fit comfortably in the area you want it to be. Measure the floor space and ceiling height and make sure that any possible ventilation needs are met. It may help to block off the area for a few days before making the purchase to see how having the sauna there will affect how you move around it.
Types of Saunas
It's important to think about the sauna experience and benefits you're looking for when purchasing a sauna. That will lead you to lean more toward either a wet or dry sauna. Wet saunas use the steam generated from ladling water over heated rocks to create humidity and raise the temperature of a sauna. Dry saunas use light in the infrared spectrum to generate heat that penetrates the body.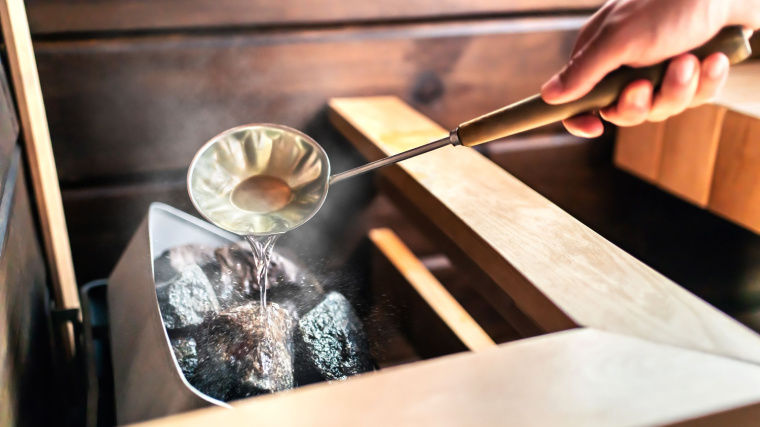 They both have their advantages and drawbacks. Infrared saunas are generally considered to be better for deep cleansing. Far infrared or full spectrum infrared saunas especially have heat that penetrates deep into the body and may promote detoxification, blood circulation, and skin rejuvenation. Wet or steam saunas use hot and humid air as their way to possibly espouse potential health benefits like decongestion, sweating out toxins, and improved cardiovascular function. You'll want to decide your main goals before choosing the specific type of sauna you want to purchase.
Features
Saunas can have a variety of features included. Some higher-end models may have heaters with WiFi connectivity and timers to heat up so they're ready for when you arrive home. Other models may include chromotherapy lights or integrated sound systems for an especially relaxing ambiance. Even more budget-friendly options can have timers and remote temperature controls, so figure out which features are must-haves and which you can live without to make your shopping experience easier.
Price
The elephant in the room is that saunas are generally pricey — some can cost tens of thousands of dollars. They aren't all that expensive, though; there are many budget options available. But if you can afford one of the top-tier options, let us know when we can stop by for a visit. Setting a price that you're willing to pay for a sauna that meets your needs is an important step in purchasing one since it will inform a lot of the other factors. If you set your budget early, it can help you stay more focused on choosing the right sauna for you.
Final Word
Adding a sauna to your home can transform the way you spend your time. It may also have a profound impact on your overall health and wellness, not to mention your mental health. Considering the key factors of each product, like its size, durability, features, price, and aesthetics, will help lead you to the sauna that best fits your needs and your lifestyle.
There are an ever-growing number of brands and products to select from, but this list has the best of the best on it, and you can be sure that all of the saunas on it are high-quality products that will serve you well. No matter which one you choose to become your new oasis, you can use this list as your guide to relaxation and rejuvenation.
FAQs
What is the best home sauna?
As is often the case, there is no single right or wrong answer to this question. It depends on your preferences, available space, and budget. That said, we're huge fans of the Sun Home Equinox. 
How much do home saunas cost?
Saunas might have one of the biggest price ranges of anything we've ever reviewed. Sauna blankets and personal portable sauna tents can be priced as low as around $350, which is still not cheap by any means, but certainly is cheaper than the top range of prices. On the higher end, saunas with custom features and large sizes to accommodate many people can cost well over $10,000.
What is the difference between infrared and steam saunas?
The main difference between these two is fundamentally how they produce heat. Infrared saunas use light (usually red) in the infrared spectrum of different wavelengths to excite the air molecules, penetrate body tissue, and produce heat. Steam saunas, as the name suggests, produce heat in the air by adding steam to it. Either an electric heater or fire warms sauna rocks, and water is carefully ladled over them to produce steam and warm the sauna.
References
Roy, R. L. (2004). The Sauna. Chelsea Green Publishing.
Laukkanen, J. A., Laukkanen, T., & Kunutsor, S. K. (2018, August). Cardiovascular and other health benefits of sauna bathing: a review of the evidence. In Mayo clinic proceedings (Vol. 93, No. 8, pp. 1111-1121). Elsevier.
Hussain, J. N., Greaves, R. F., & Cohen, M. M. (2019). A hot topic for health: Results of the Global Sauna Survey. Complementary therapies in medicine, 44, 223-234.
Laatikainen, T., Salminen, K., Kohvakka, A., & Pettersson, J. (1988). Response of plasma endorphins, prolactin and catecholamines in women to intense heat in a sauna. European journal of applied physiology and occupational physiology, 57, 98-102.
Tomiyama, C., Watanabe, M., Honma, T., Inada, A., Hayakawa, T., Ryufuku, M., & Abo, T. (2015). The effect of repetitive mild hyperthermia on body temperature, the autonomic nervous system, and innate and adaptive immunity. Biomedical Research, 36(2), 135-142.
Kunutsor, S. K., Lavie, C. J., & Laukkanen, J. A. (2021). Finnish sauna and COVID-19. Infez Med, 29(1), 160-162.
McGorm, H., Roberts, L. A., Coombes, J. S., & Peake, J. M. (2018). Turning up the heat: an evaluation of the evidence for heating to promote exercise recovery, muscle rehabilitation and adaptation. Sports medicine, 48(6), 1311-1328.
Mero, A., Tornberg, J., Mäntykoski, M., & Puurtinen, R. (2015). Effects of far-infrared sauna bathing on recovery from strength and endurance training sessions in men. Springerplus, 4, 1-7.
Westerterp-Plantenga, M. S., Verwegen, C. R., IJedema, M. J., Wijckmans, N. E., & Saris, W. H. (1997). Acute effects of exercise or sauna on appetite in obese and nonobese men. Physiology & behavior, 62(6), 1345-1354.
Crinnion, W. J. (2011). Sauna as a valuable clinical tool for cardiovascular, autoimmune, toxicant-induced and other chronic health problems. Alternative Medicine Review, 16(3).