We receive free products and receive commissions through our links. See
disclosures page
.
Massage therapy is a great way to recover from exercise and relieve stress. You don't have to book a regular massage appointment thanks to vibrating massage rollers. The pressure of your body going into the roller combined with the vibrating means you can perform an intense massage session for yourself anytime and anywhere.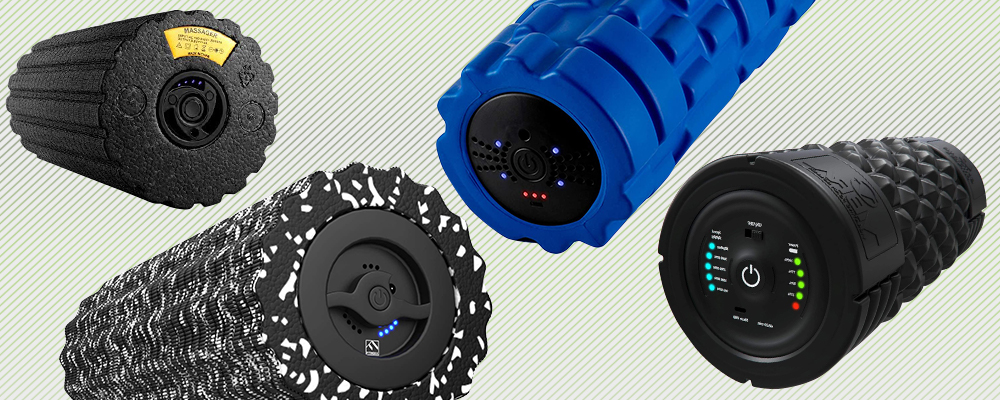 Having the right roller matters. If you're not comfortable on it or if it doesn't offer the right intensity level, then it's less effective and can potentially cause more stress. These four rollers will help you see and feel the benefits sooner rather than later.
Most Intense Roller
Powerful and Durable
Pros:
There are five vibration settings for you to choose from based on what you need.
There is a lifetime guarantee that comes with this so you can have it replaced if necessary.
The roller comes pre-charged so you can use it immediately.
The design of the roller simulates the fingers of a person.
Cons:
While it comes with a carrying case, it's length and size means it may not fit in some gym bags.
Smaller athletes may prefer a softer and smaller roller that isn't as round.
Epitomie Fitness VIBRA Vibrating Foam Roller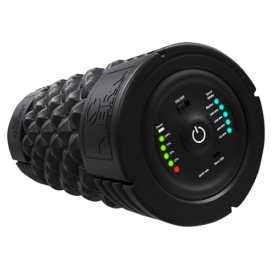 Epitomie Fitness VIBRA Vibrating Foam Roller
With a top level of 3,600 RPM, this roller will provide an intense session which can be beneficial after longer training sessions. It also works with iPhone chargers which offers more options for you when the battery runs low.
Best Battery Saver
Keeps and Saves Charges
Pros:
The roller's design offers comfort for when you put pressure on it with your back or hips.
It only takes three hours to charge and lasts up to four hours before recharging is necessary.
There is an automatic shut-off after 10 minutes.
Cons:
There is no carrying case that comes with it so you will have to find your own way to store it.
There is no way to buy extra chargers if that is a preference.
There is no signal or light that shows it is fully charged.
FITINDEX Electric Foam Roller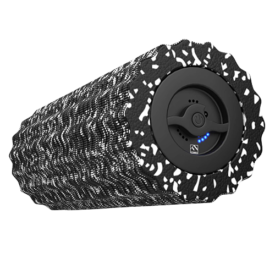 FITINDEX Electric Foam Roller
This roller has four different settings so you can vary the vibration based on what you need and where on your body you'll use it. Thanks to the automatic shut-off, you're less likely to run the battery down.
Most Customizable
Choices and Convenient
Pros:
There are five colors which may be a preference for athletes or teams that prefer to use color schemes.
There are lights to show how charged the roller is so you know when it's time to plug it in.
At a length of 12 inches and weight of less than 2 pounds, storing it is simple.
Cons:
A more narrow roller may not be as effective for larger athletes.
Extra care is required to prevent potential damage to the battery.
The length of the full charge is 90 minutes which means it will have to be charged more often.
SUVIUS Electric Vibrating Rechargeable Foam Roller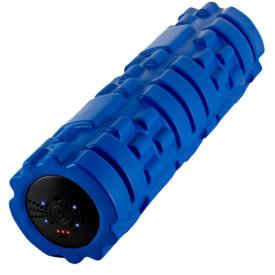 SUVIUS Electric Vibrating Rechargeable Foam Roller
You get a choice of five different colors with this roller. It's also smaller which makes storage and carrying easier. This is a good choice for travelers or anyone that wants access at any time.
Beginner's Choice
Best for Basics
Pros:
It's shape makes it easy to carry or store as well as easy to handle when using it.
Charges last up to three hours and it only takes 3.5 hours to recharge.
The buttons and settings make it easy to use.
Cons:
Stronger and athletes with greater muscular development may not benefit much from this.
This roller may not be optimal to isolate a certain area of the body.
The top speed isn't as high as other rollers in this category.
Cotsoco Electric Foam Roller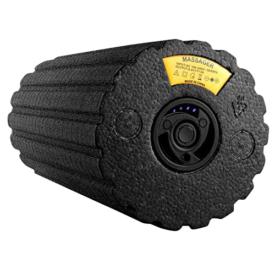 Cotsoco Electric Foam Roller
If you're needing something simple but effective, consider this one. The shape of this roller distributes the vibration yet offers more comfort than more intense rollers which can be uncomfortable if you're not used to rolling.
Methodology
Anyone that is looking for a vibrating massage roller wants something that will last, provide the ability that can effectively target the muscles, and is easy to charge. The ability to customize the vibration also gives them a leg up on traditional foam rollers, and most vibrating rollers can be used effectively even without their vibration functions. If someone has to worry about it being easily damaged, constantly recharging it, and working harder to reach a certain point, then they will be less likely to use it or consider this form of recovery.
Aside from recovery, vibrating massage rollers are an effective way to warm-up or relieve general tightness at any time. So it can be more than a fitness tool, it can benefit your everyday life.
[Related: Check out our list of the top Foam Rollers on the market!]
Things to Consider
Vibrating massage rollers can offer several benefits but the person using it needs to determine what benefits are necessary for that individual. There are several factors to consider when you're looking to add a roller to your own program.
Experience
If you're someone that has little to no experience with this type of massaging, do you really need something that is designed for someone who would be using this for recovery from intense training?
Intensity
If it takes a roller with a top speed of over 3,000 RPM to serve the purpose, then buying a roller that doesn't have that capability doesn't make much sense. Conversely, if that level of speed is more painful than beneficial, then there's no point in looking at a roller that offers that.
Value
Budgets are always a factor but there's no point in saving money by purchasing something less expensive if you have to replace it or if it doesn't completely satisfy your needs. Would it be better to invest into something once and have it last longer?
Charging
Are you ok with plugging something into the charger regularly or do you want to have a roller that maintains a long charge? For some people, having one less thing to take with you can be worth it.
Conclusion
Having a tool like a vibrating massage roller offers several advantages to help you improve your fitness levels, enhance recovery, or relieve stress that is taking a toll on your body. It can be more than another purchase, these rollers can be an investment that enhances your overall life. So choosing the right roller for your individual needs can make all the difference between an average experience and an enhanced benefit.