Music is arguably one of the best motivators when on runs and in the gym, which makes it no surprise that earbuds and headphones are highly sought out by active individuals. Over the last decade, earbuds have continually innovated to match every type of workout need, and the bluetooth earbud and headphone market is becoming increasingly more competitive.
The highly competitive market is great because earbuds and headphones continue to evolve, however, for the average consumer the vast amount of products can be very overwhelming. At BarBend, one of our main missions is breaking down overwhelming wall for the consumer by objectively analyzing which earbuds and headphones are best for certain active individuals.
Best for Sweat Resistance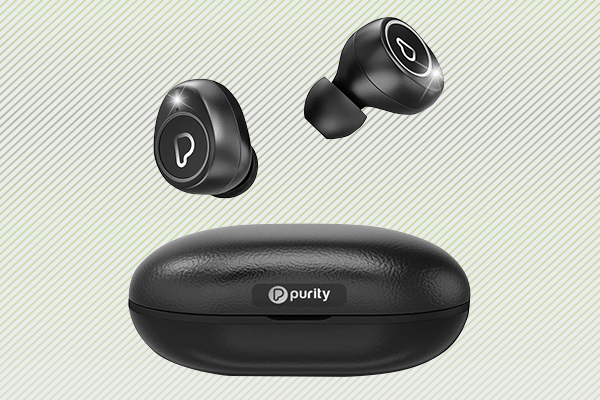 Sweat Resistant In Every Setting
These Wireless Earbuds come with a Bluetooth 5.0 chip and have 4 hours of playback time. They're great for lifters and athletes that want to work out outside and sweat!
Warranty: One year
Bluetooth 5.0 chip
Sweat resistant with an IPX5 rating
Portable case allows for seamless transport
Best Value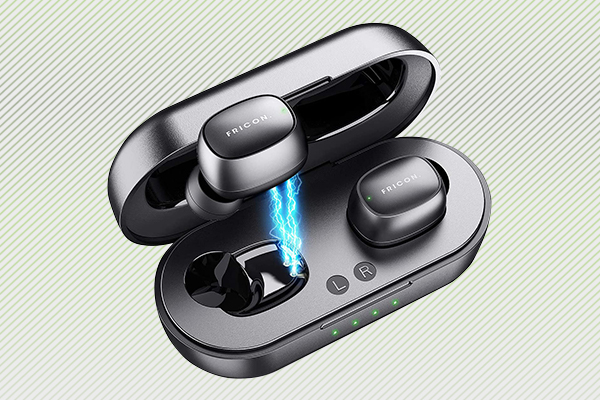 A Lot for the Cost!
These Wireless Earbuds come with a bluetooth 5.0 chip and have 5 hours of playback time before needing a recharge. The case provides an additional 20 hours of charge time.
Warranty: N/A
Bluetooth 5.0 chip
Limit sound from environment
Decent for preventing sound leak
Best for Newer Lifters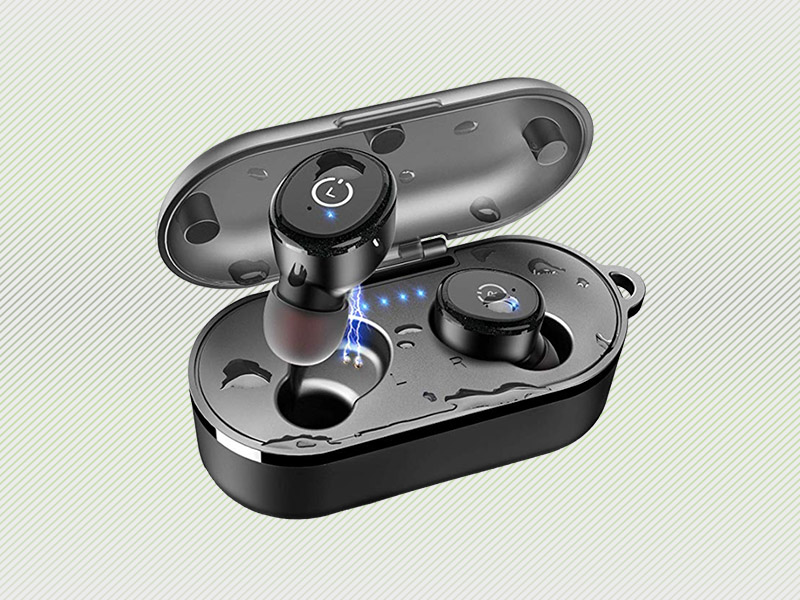 Great for Newer Bluetooth Users
These Wireless Earbuds are tough to beat when it comes to performance at a cost efficient price. These earbuds can support daily use, the toughest workouts, and even light water submersion. The earbuds themselves have around 3.5 hours of playback time and the case contains an extra 9 hours of charge.
Warranty: 1-Year With Activation
Around 12.5 hours of total playback time with pocket-sized waterproof travel case.
Hi-fi stereo sound quality to deliver a clean sound no matter the music playing.
IP8 rating, which makes these earbuds waterproof in up to 1-meter of water submersion for 30-minutes.
Best for Running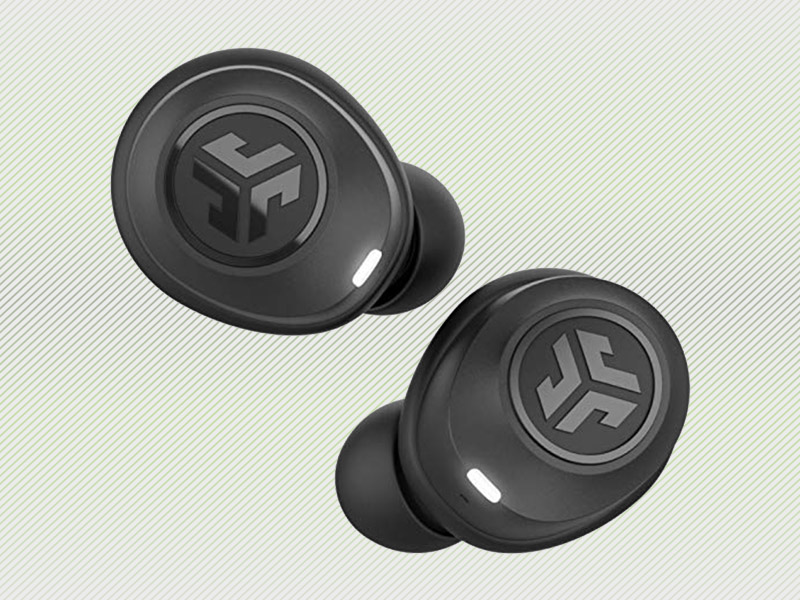 A Strong Performing, Simple Earbud
These Earbuds are a great option for the active individual who wants quality, performance, and cost efficiency. These true wireless earbuds provide up to 3-4 hours of playback and have a charging case that holds around 10 hours of charge time. In addition to a strong playback time, they have Bluetooth 5.0 to deliver a secure connection and never feel as though they're falling out of the ears. 
Warranty: 2-Years
Around 13-14 hours of total playback time with pocket-sized travel charging case.
IP55 rating to resist moisture (sweat) when working out, along with everyday dust and dirt.
Custom sound settings to deliver the best sound quality for your music choice.
Best Sound Quality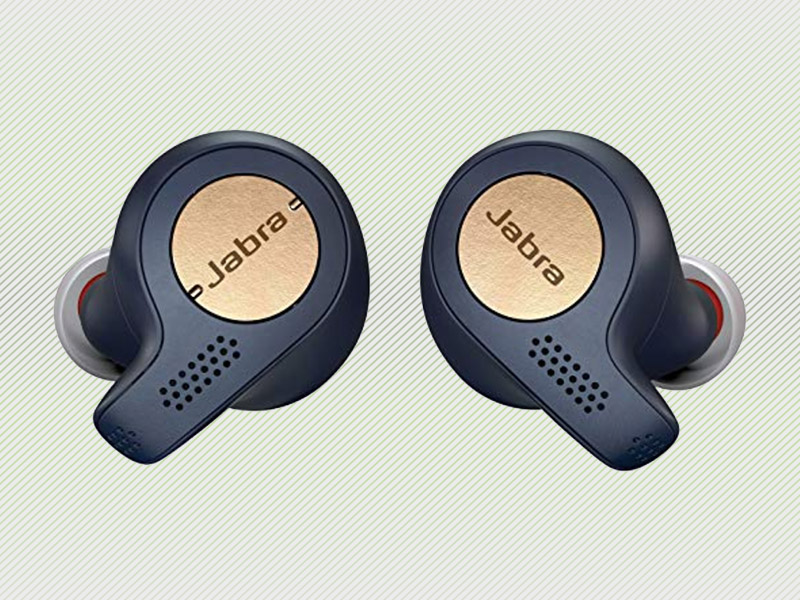 4 Microphones for Great Call Quality
These earbuds are a great option for the active individual that cares about sound and call quality. These earbuds are designed to provide a higher sound quality and provide one of the best call qualities on the market with Jabra's proprietary 4-microphone technology. On top of their sound quality, these earbuds provide up to 5-hours of playback time and have a fast charge feature, which provides up to 1.5 hours of battery life with only a 15-minute charge.
Warranty: 2-Years
Custom Jabra app allows you to customize your sound quality and experience.
Four microphones to deliver the best call quality when making and taking phone calls.
IP56 rating to resist sweat and dust and promote long-term durability.
Best Battery Life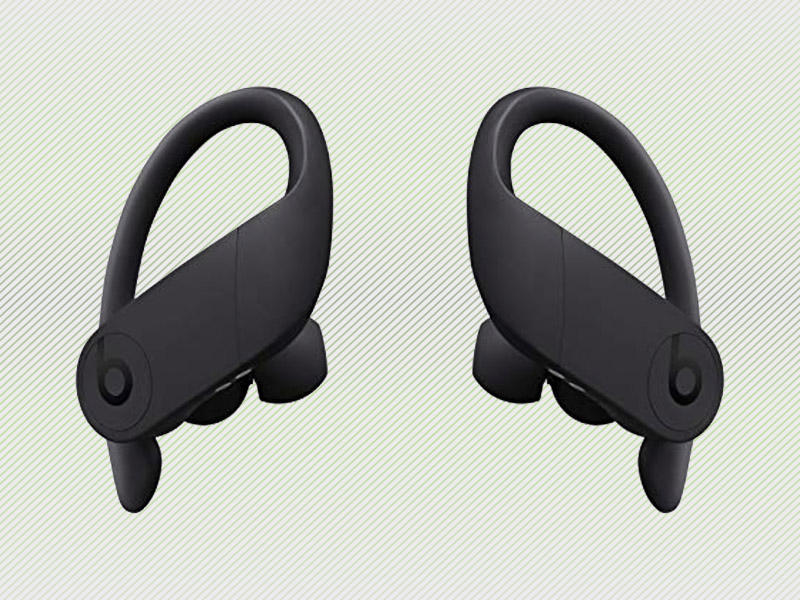 A lot of Bass and Battery Life
These earbuds are one of the best options on the market when it comes to providing a long battery lift. Often times, true wireless earbuds can fall short with their playback time, but the Powerbeats Pro deliver a strong 9-hours and up to 24-hours of total playback time with the charging case. Perhaps the biggest pro to these earbuds' and their battery life is the fast charge provides up to 1.5 hours of playback time for a 5-minute charging session.
Warranty: Apple One Year Limited Warranty
9-Hours of playback time and 5-minute fast charge feature provides up to 1.5 hours of playback time.
Apple H1 Chip provides seamless and automatic connection to Apple products.
Decent sound quality and ability to get loud for those who love loud music when working out.
Best Security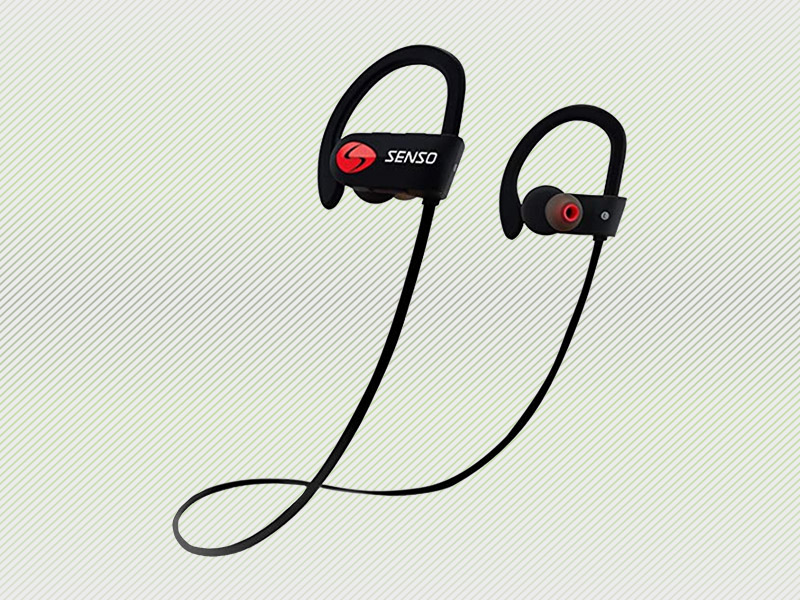 Secure In Every Setting
The Senso Bluetooth Headphones are one of the absolute best options on the market when you want quality matched with a very cost efficient price. These headphones have a lot going for them and for a very cost efficient price you really can't go wrong. A few of the bigger callouts include a strong 8-hour battery life, IPX-7 waterproof rating, and decently strong Bluetooth connection.
Warranty: 1-Year
8-hours of playback time and fast charge feature provides up to 1.5 hours of playback time.
IPX-7 waterproof rating promotes durability and ability to workout in a variety of settings.
Bluetooth 4 is relatively strong and provides overall decent sound quality.
How We Picked
To come up with our tip picks, we put every pair of earbuds and earphones through the same protocol of tests. These tests allow us to remain consistent with our judgement, but also provide the best feedback for fitness enthusiasts, like us.
Performance Test
Once the earbuds are paired to our phones, the first test we perform is the workout protocol. This protocol consists of functional fitness workouts consisting of dynamic movements, powerlifting workouts with heavy compounds, and running. The wide variety of these tests help us ask three important question about every pair of Bluetooth earbuds including,
Do they remain secure in every workout?
Is there connection strong and stable?
Is there battery life adequate to support varying length of workouts?
If an earbud is listed above, then they performed well in all three of our assessments above.
Features Assessment
Outside of our performance tests, we then move into analyzing all of the features that come with the earbuds. Features can be a make or break for the serious and recreational fitness enthusiast. In our reviews, we look for three defining features that we feel separate earbuds from one another, and these include:
Be Aware/Ambient Sound Technology
Sound Quality and Preferences
Fast Charge Features
These three features are generally some of the biggest to consider when looking for workout earbuds. For the general population, these are the features that are used most often, so we always make sure to analyze them the heaviest.
Battery Life
We understand that most workouts don't go longer than 2-3 hours, but battery life is incredibly important to assess. If you're a cardio athlete, then battery life becomes increasingly more important, so we always make it a big point to consider the playback time that comes with each pair of earbuds.
Price
The last main assessment we use is the overall scope of the price based on the quality and performance of the earbuds. Is the price worth the sound quality, battery life, and performance you're getting? At the end of the day, we're just like you. We want our money to go the distance, so price for us ranks highly in our tests.
FAQ
Q: How do I know if the earbuds will last?
BarBend: The best way to assess an earbuds overall construction is by scaling how the company presents the product. Look for things like IPX-7 and IP55 ratings and warranties. These two factors are usually great indicators at suggesting the longevity for a pair bluetooth earbuds.
Q: I'm worried about the Bluetooth connection dropping when working out, any tips?
BarBend: There's really not a one-size-fits-all answer here, however, if you look for Bluetooth 5 options, then these will generally be the best bet for a strong connection. Bluetooth 5 has an overall stronger connection and longer range compared to previous iterations.
Wrapping Up
Bluetooth earbuds can be a make or break when it comes to successful workouts. With so many models on the market, it can be a little overwhelming at times finding the perfect pair. We broke our favorites into five specific workout-focused sections to help you choose the best bluetooth earbuds for your goals!