One of the most objective ways to measure one's health and fitness achievements against personal goals is by calculating weight. Having a personal scale can be an incredibly useful aid in making sure one's health is in order or that certain fitness goals are being reached. Regardless if users are trying to add muscle or slim down, digital scales can provide accurate measurements. Some smart scales can provide many more metrics that can prove helpful to measuring one's fitness level. With so many scales that offer similar functions, it may be difficult to decide which one to opt for. We have examined some of the leading offerings from several different brands and compared them side by side. Here is what we found: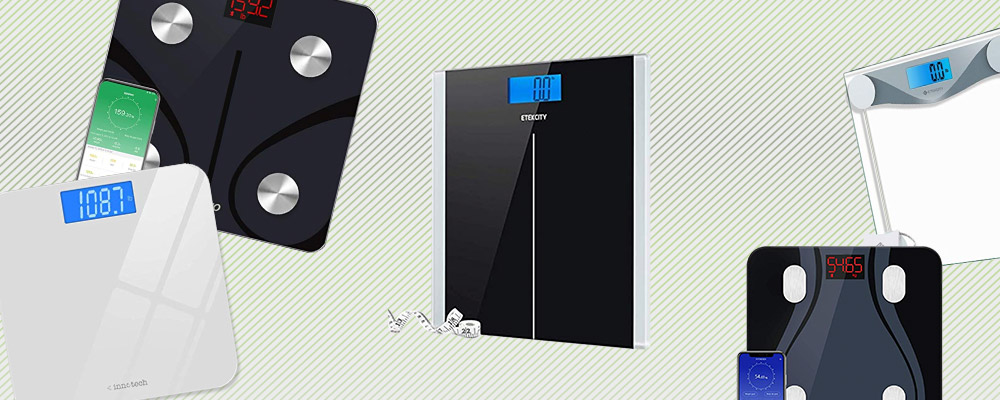 Editor's Choice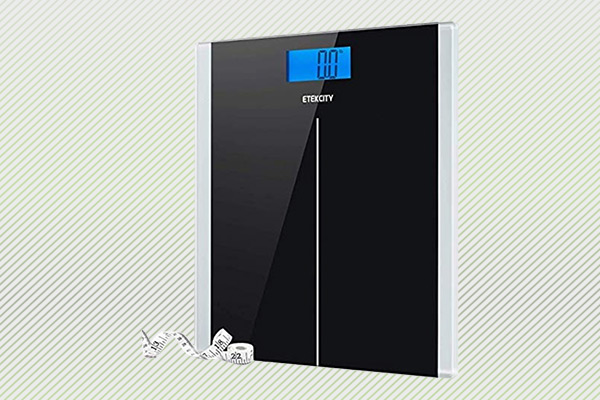 Top of the Line
Pros: 
Sleek design. This scale from Etekcity sports a futuristic black and silver design that can match the aesthetic of personal and professional settings alike. It can blend in while not being an eyesore like more traditional scales.

Free body tape measure. To help users with their fitness and weight loss goals, the product includes a free body tape measure. This will give users another key point of data when figuring out how goals are being met.

Anti-skid padding. A safety measure has been built into the design of these scales. To prevent any tumbles when putting full body weight on the scale, The company has included anti-skid "feet" on all four corners that may help prevent the scale from slipping and sliding when being used. This also helps users balance properly, helping ensure a more accurate reading.
Cons: 
Not large enough for big feet. This digital scale has somewhat common dimensions, but those with feet over twelve inches may need to find a larger scale. It is more difficult to get accurate weight readings when feet extend past the scale.

Can't photograph display. Though this will only affect those who are hoping to photograph their scales for doctors or record-keeping, the digits on LED display can't be photographed. The photos end up showing the LED screen as a blue blur.
Etekcity Black Digital Bathroom Scale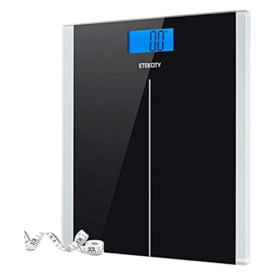 Etekcity Black Digital Bathroom Scale
This is a machine that utilizes four sensors spread through the base of the scale to deliver accurate readings within 0.2 pounds. With a sleek design and slim shape this scale has the means to be useful for many people.
The Contender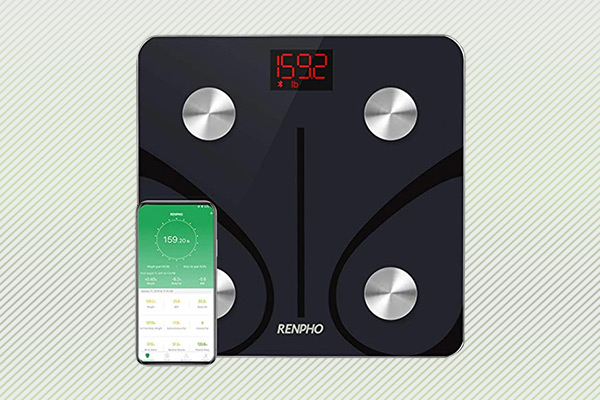 Tracks Over a Dozen Metrics
Pros:
Tracks 13 metrics. This scale can help users measure more than just weight. This scale measures weight, BMI, body fat percentage, bone mass, protein, basal metabolism, subcutaneous fat, visceral fat, body age, water percentage, skeletal muscle, fat-free body weight, and muscle mass.

Multiple users. A great benefit of using this scale is that it allows multiple users to track data. By simply creating a profile, body measurements can be tracked and synced for each person who is using the scale.

Don't need phone when weighing. RENPHO is not the only scale manufacturer who uses a proprietary app to provide body metrics. Something that is somewhat unique to this scale however is that users don't need to be using the app in order to update measurements. The metrics will be synced next time the user logs into the app.
Cons:
Needs GPS to sync. This app requires users to provide information, including GPS tracking, to sync to the machine. While this won't be an issue for most people, those who hesitate to give out personal data may need to consider this aspect.

5mm glass. This scale has one of the thinner layers of tempered glass as a platform that will feature on a digital scale, at only 5mm. Most competitors have between 6 and 8mm. This may make it more susceptible to damage.
RENPHO Smart Digital Scale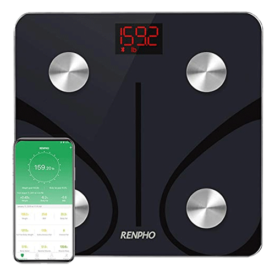 RENPHO Smart Digital Scale
This scale uses the RENPHO app to supply not only accurate weight readings but tracks twelve other metrics, including BMI and body fat percentage. The data will sync to your phone even if you weigh yourself without having the app active.
Best Bargain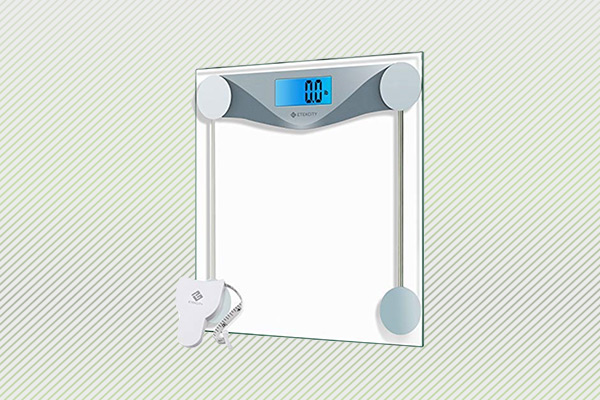 Great Value and Very Durable
Pros: 
8 mm glass platform. The platform is comprised of a clear tempered glass layer. This scale has glass that is 8mm thick, one of the thicker platforms one can find. This thickness makes it more durable and less likely to crack overtime or when hit with a sudden incident of a blunt force.

Low battery warning. The LED screen communicates not only the user's weight, but will inform when batteries are running low. This allows users to plan ahead and always have fresh batteries available for use.

Value. This scale is one of the most cost-efficient on the market in comparison to similarly profiled scales. It's modern design and reliability belie its affordability.
Cons: 
Heavy. At 4.3 pounds, this is one of the heavier digital scales of the leading brands. This may make shuffling it back and forth from storage to use more of a hassle. This one might be better suited to be used in a permanent location.

No memory. This scale does not record and display previous weight readings. Some competitors offer this feature, which aids in tracking fitness goals.
Etekcity Clear Digital Bathroom Scale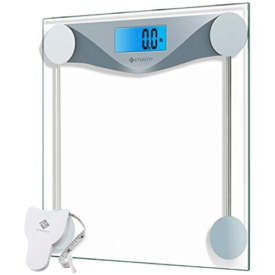 Etekcity Clear Digital Bathroom Scale
This is another reliable and easy-to-use bathroom scale from Etekcity. This version of their digital scale features the same anti-skid padding, and auto-on & off functionality as their other offerings. This clear scale has thicker glass for more durability and is a bit less expensive as well.
Best for Quick Diagnostics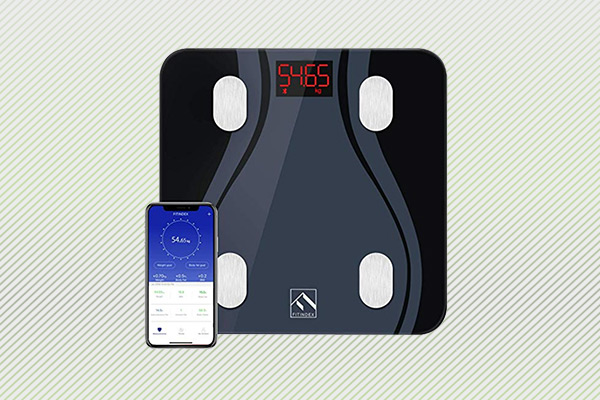 Lightweight and Informative
Pros: 
FITINDEX app. This app can measure thirteen different body metrics after being weighed on the scale. This allows users to get a more nuanced understanding of their health and how far along they are in achieving personal fitness goals.

Sync all metrics within 10 seconds. Due to the Bluetooth compatibility, this scale can relay metric data within ten seconds of use. This technology allows users to get almost on-demand readings of different bodily measures, a convenience that would previously have taken much more time and used many more pieces of equipment.

2.43 pounds.

This is one of the lightest digital scales to be found on the market. This lightness is especially helpful for daily users who keep the scale in storage.
Cons: 
No metrics without app. Users without the app will unfortunately not get any of the metric readings. Those without a smartphone might want to look elsewhere.

Don't use with a pacemaker or ECG device

. People who have a pacemaker or ECG device should take heed that the manufacturer recommends they do not use this device. The measurements the scale makes rely on a low-level electric signal being sent through the users body.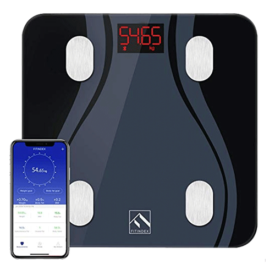 This scale is lightweight, works quickly, and syncs to a proprietary app through Bluetooth to provide not just weight readings but several other metrics as well. The app allows multiple users to track their health and fitness goals with each user having a unique profile.
Best for Storage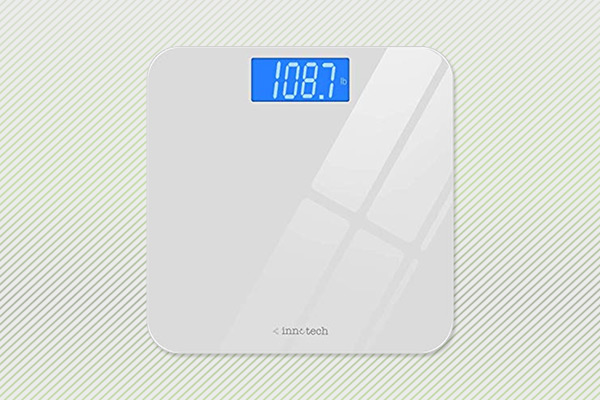 Ultra Thin and Easy to Store
Pros: 
Thin dimensions. This scale has similar dimensions width and length-wise as many near competitors. However, Innotech's scale measures only .7" tall, making it ideal for sliding under most bathroom furniture.

White or black options. People can opt for either a white or black scale. Aside from purely aesthetic preference, some may opt for a black scale simply because it hides dirt and dust better than a white unit.

Large LED display. The LED display on this scale is a bit larger than many similar offerings from competing brands. The backlit display measures 3.6 inches.
Cons:
Illumination on screen goes away quickly. Some users might be frustrated by the speed with which the LED display will stop its illumination. Users only have a few seconds to read their weight after stepping off the scale.

Weight only metric. This scale does not sync to any proprietary apps and does not include any information other than weight. Users looking for more metrics will need to opt for a smart scale.
Innotech Digital Bathroom Scale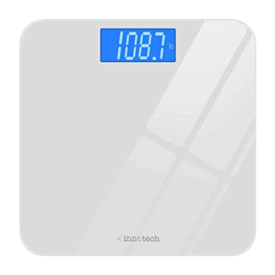 Innotech Digital Bathroom Scale
This scale measures weight up to around 400 pounds, promises to be accurate within 0.2 pounds, and has a large LED display screen to display the results. This thin scale can be purchased in both white and black versions.
Best Bluetooth
Inexpensive and Smartphone-Friendly
Pros
This high-tech scale reads your weight, BMI, body fat, body water, skeletal muscle, BMR, Ffat-free body weight, subcutaneous fat, visceral fat, muscle mass, bone mass, protein, metabolic age.
The app is supported on IOS 8.0 and Android 4.8 or higher.
Unlimited users can sync their own phones to the device.
Cons
The app can't be used on a computer.
The measurements for body fat percentage aren't the most accurate you can find.
REDOVER-Bluetooth Body Fat Scale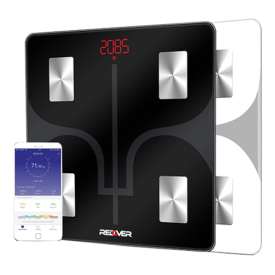 REDOVER-Bluetooth Body Fat Scale
A bluetooth-friendly scale that tracks body fat, muscle mass, and more.
How We Picked
Digital scales from competing brands utilize many of the same technologies to provide accurate and dependable measurements. However, there are other distinguishing factors that may make one digital scale more appropriate than another for a specific set of people. With Bluetooth compatibility more prevalent, some brands are even manufacturing digital scales that can provide extra metrics beyond weight that may be of extreme utility to certain users. We have considered several of the varying physical and technological features found amongst the leading digital scales when making our evaluations. Here is what we looked at.
App compatibility
Digital scales can sometimes provide more information that simply the weight of the user standing on the scale. Digital scales from some manufacturers are considered "smart", meaning they can connect through Bluetooth to smart phones and smart tablets. These scales can report more detailed measurements to the user through proprietary apps that are created by the manufacturers.
These smart apps can give users information on their weight, BMI, body fat percentage, bone mass, protein, basal metabolism, subcutaneous fat, visceral fat, body age, water percentage, skeletal muscle, fat-free body weight, and muscle mass. These additional metrics can help users get more nuanced snapshots of their health, allowing more data regarding how certain goals are or aren't being achieved. These apps also allow multiple users to use the same scale and get custom metrics.
Dimensions
While most scales are certainly similar in size, the difference of a few millimeters might make a difference for some users. Scales that have a wider or longer platform may be more apt to break, as there is more surface area that is susceptible to damage. However, these larger scales can be befitting of those with large feet. If feet are hanging off of the side of a scale, then it might prove difficult to get accurate readings.
Further, scales that are taller may be more difficult to store under sinks or other bathroom furniture. Most manufacturers recommend scales to be stored prone in the same position they will be used in to keep the calibration steady. Shorter scales that can slide under furniture provide more ability to easily access and store while keeping calibrated. Heavier scales may prove more cumbersome to transport as well. Unless the user has a permanent home for a scale, it may be prudent to get one that is easier to store and access.
Style
Digital scales tend to be designed to match their technological stature. These are commonly designed with tempered glass platforms, backlit LED screens, and square shapes. Some scales have clear glass that allows the user to see the locations of the sensors underneath the platform. This can be helpful in ensuring that the user is standing centered on the scale, but some may not want to see these electronic weight sensors.
Users who prefer a clean black look will have no shortage of digital scales to choose from. Some may prefer a white or clear scale, but these may show dirt and dust more visibly. Many will choose their scales simply based on matching the aesthetic of the room in which it is being placed.
Cost
Digital scales can be a great purchase for people looking for accurate readings of their weight. They tend to be affordable enough that users can purchase one even if it won't be for everyday use. Some of the more expensive units have more functions and features, usually through an app designed by the manufacturer. These allow measurements on key metrics like BMI and bone mass.
If people aren't necessarily interested in anything beyond an accurate weight reading, then they can probably pass on the more expensive units with the extra features. Those hoping to outfit an environment with several scales or to give them as gifts will find that the more affordable digital scales that only measure weight will ultimately provide similar levels of effectiveness as the ones with app compatibility.
Tips
Not sure which digital scale is right for you? Here are some things to consider before making your purchase:
Where will this scale be stored? Scales can sometimes have plenty of room in a bathroom or bedroom for users to keep them permanently out. Other situations may have less space on the ground and necessitate users to keep the scales in a closet. Scales are sometimes just not considered something that users will want to have out and visible for guests to see. If this digital scale will be placed in storage between uses, look for a lighter scale and a scale that has a smaller height. These will be easier to store.

Are you looking for more data? Some of the leading digital scales have the ability to read more info from you simply standing on its platform than just weight. These scales will send electric signals that can provide a bevy of information. If you are determined to reach a certain fitness goal and need some supplemental data to help guide the process, or if you are stuck on a weight but want to see if your other metrics are improving, the digital scales with app compatibility may be the recommended route. These apps can not only give up-to-date readings but will keep an active history of your health and fitness levels.