Looking to increase your aerobic exercise while avoiding the treadmill? Consider an elliptical. Long a mainstay of gyms and hotel fitness centers alike, the elliptical can be an excellent tool to get in a cardio workout while taking it easy on your joints. Often equipped with handles that get your arms pumping, ellipticals can offer a full-body workout. Some research even points to them being just as effective as treadmills as far as aerobic exercise is concerned (1). 
Regular cardio exercise can boost stamina and cardio capacity while helping to burn some calories. The U.S. Surgeon General recommends 150 minutes of weekly cardio exercise to increase heart health and keep off excess weight. If hitting the elliptical at the gym isn't your vibe, you may consider getting one to use at home. However, with so many types on the market, how can you know which model best fits your specific needs?
Editor's Choice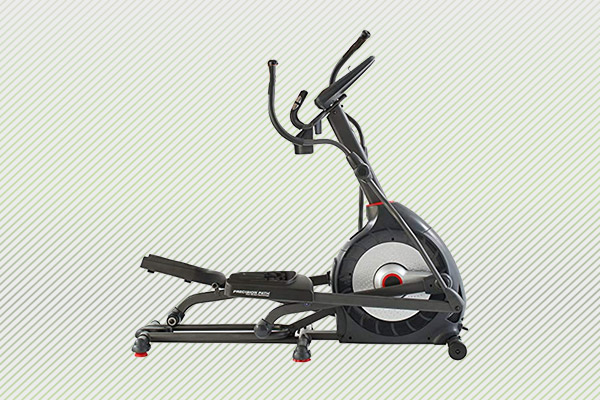 Schwinn Elliptical Machine
Pros: 
In-console speakers. A great feature of this elliptical is that there are speakers built into the machine. This can be used to play music or audio from a training app.

Bluetooth connectivity. This elliptical has Bluetooth connectivity, which allows users to access apps for training. The free app from Schwinn has 27 routes in 19 different mixed-reality locations that users can travel through while racing friends on the same route.

29 workout programs. Schwinn offers 29 different training programs all on the same machine. There are quick start options, heart rate workouts, and customizable workouts available for training.
Cons: 
High intensity resistance. Even at the lower levels of resistance, some users might find the intensity too high. 

May need to lean. Because the handlebars are placed so far forward, some users may need to lean forward quite a bit. Some customers may be looking for a machine they can perform on while upright.
Schwinn Elliptical Machine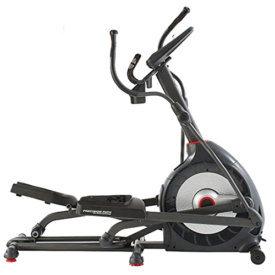 Schwinn Elliptical Machine
The Schwinn Elliptical Machine is a technologically advanced piece of equipment that promises to be engaging and challenging all at the same time. With its dual-track LCD display and in-console speakers, users can utilize the mixed reality and social components provided with the free associated app. It has a small footprint of only 22" by 34.5", so it can be added seamlessly to most home environments.
The Contender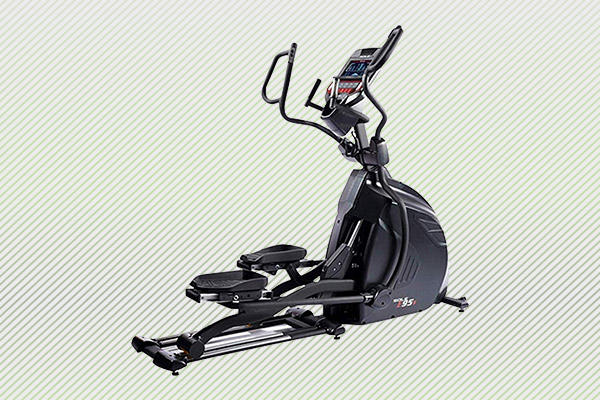 Sole E95S Elliptical
Pros:
400 pound weight limit. This machine has a maximum weight limit of 400. This is literally hundreds of pounds heavier than some other near competitors. Great for larger-sized people hoping for a home elliptical set-up and for gyms with all sizes of customers.

USB charging. Often times people working out on an elliptical may be using their phones for listening to music or as a platform for reading materials. This can drain the battery quickly, especially if working out for a while. Thankfully, this device has a USB charging portal.

10 pedal positions. This elliptical machine allows users to adjust the pedals to ten different positions. This can allow people of all sorts of shapes and sizes to find the most comfortable or challenging position to train with.
Cons:
Incline not adjustable. While some devices have adjustable inclines, this machine has a static level of incline that can't be increased for more challenging training.

Price. This elliptical machine is big; it has a load of capabilities, takes up a lot of space, and  has a hefty price tag. It will cost a paycheck or two for most customers.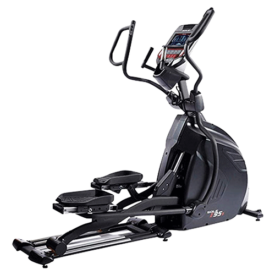 Sole's E95S Elliptical machine is Bluetooth enabled while sporting twenty resistance levels and ten training programs. This machine can handle users weighing up to 400 pounds and offers ten different pedal positions to accommodate all sizes of users.
Best Bargain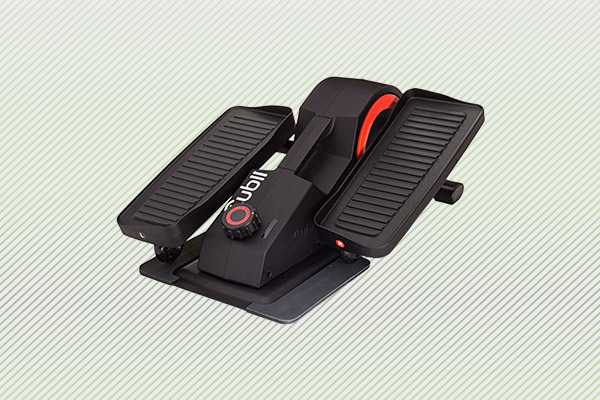 Cubii Pro Under-Desk Elliptical
Pros: 
Syncs with smart devices and fitness trackers. Users can have their Cubii Pro Elliptical sync with apps and fitness trackers to count steps, calories, and distance as a way to set and track goals.

Use while seated. This unit fits under most desks, allowing users to quietly and subtly train while working. It is optimized for seated use.

Price. This machine can help people achieve their fitness goals for a fragment of what most full-sized ellipticals cost.
Cons: 
Only 8 resistance levels. This machine has eight resistance levels, the highest of which isn't nearly as powerful as some other machines' top levels.

Rather heavy. Weighing in at around 27 pounds, this device may be cumbersome to move for some customers, even though it is advertised as being portable. For example, those who are using it to rehabilitate an injury may need it placed in a permanent space.
Cubii Pro Under-Desk Elliptical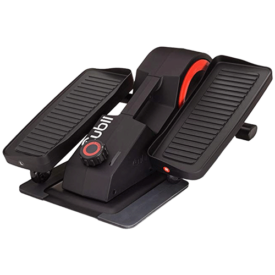 Cubii Pro Under-Desk Elliptical
The Cubii Pro Under-Desk Elliptical is a savvy and utilitarian machine that can help people train from the comfort of their work or home, even while performing other tasks. With a quiet motor and Bluetooth connectivity and app compatibility, this compact machine can help users effectively train on the down-low.
Best for Space Conservation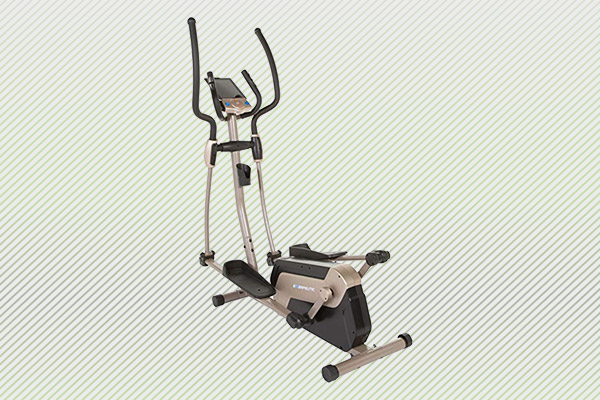 Exerpeutic 5000 Magnetic Elliptical Trainer
Pros: 
Hand pulse sensors. The Exerpeutic 5000 has sensors on the arm handles that can monitor heart rate. The heart rate zones are then relayed to the display screen.

4 profiles. This machine is great for environments that will have multiple users. Up to four people can program customized settings.

Transportation wheels. This elliptical has wheels at the front base that allow users to move it à la a wheel barrel. Perfect for those not wanting their elliptical to have a permanent home in their living space.
Cons: 
Weight limit is 270. As the weight limit for this machine is lower than some competitors, a range of customers may need to look elsewhere. Users approaching anywhere near the max weight may have pause before purchasing this machine.

18" stride

. This machine has an unadjustable 18 inch stride length. That will probably be adequate for most users, but taller customers may feel the stride to be a bit awkward.
Exerpeutic 5000 Magnetic Elliptical Trainer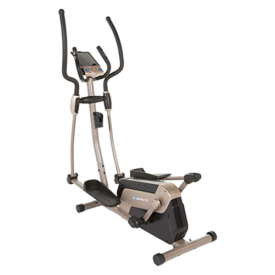 Exerpeutic 5000 Magnetic Elliptical Trainer
Exerpeutic's 5000 Magnetic Elliptical Trainer is a product that closely resembles what is usually found at a public gym. This easily-transportable device can store customizable settings for up to four users and has hand pulse sensors to monitor heart rate.
Best for Low Impact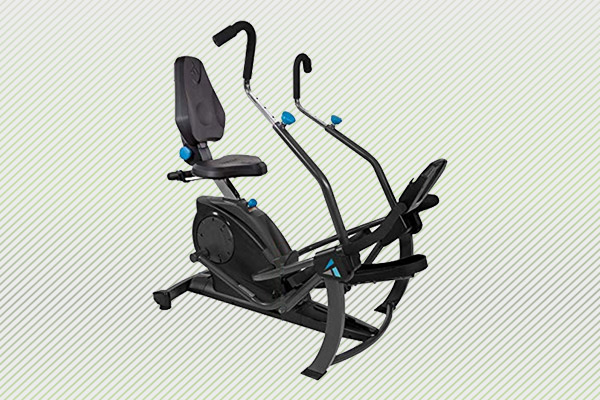 Teeter FreeStep Recumbent Cross Trainer and Elliptical
Pros: 
Low impact seated position. The Teeter FreeStep machine allows users to recline on a seat, helping to avoid putting tension on joints and letting users train for longer due to lower levels of fatigue.

Muscle targeting. This device allows users to adjust the positioning of key components, such as the handlebars and the leg pedals. This can help target different muscle groups while training.

Adjustable seat. This seat has three different positions from which users can recline. This is beneficial for finding a comfortable position for different body types.
Cons:
No heart rate monitor. This machine unfortunately does not have a heart rate monitor. It measures calories, time, speed, and distance only.

Hard to assemble. Assembling this device can be troublesome, as the parts aren't individually labeled. Several look very similar so it can be hard to discern between them. 
Teeter FreeStep Recumbent Cross Trainer and Elliptical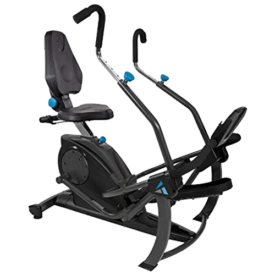 Teeter FreeStep Recumbent Cross Trainer and Elliptical
The Teeter Freestep Recumbent Cross Trainer and Elliptical allows users a low-impact exercise experience with the ability to target certain muscle groups. The seat, handlebars, and leg pedals can all be adjusted to engage different muscles during training.
Methodology
Ellipticals are a very popular and effective means of cardio exercise. As such, there is a proliferation of them on the market. When deciding which piece of equipment is best for you, it's important to keep in mind a few key features. 
Stride Length
Defined as the length between the two pedals when extended, stride length is very important in determining which machine to purchase. Most ellipticals you'll find in gyms have stride lengths set at 20 inches. A shorter length may not be as comfortable for some folks. If possible, try to test out a few different lengths before buying an elliptical. 
Space
How much space do you have in your home fitness area can go a long way toward determining what kind of equipment you purchase. If you're short on square footage, you'll probably want to opt for something with a smaller footprint, or the ability to be folded up and stored away. 
Display
Pay attention to what information is counted and displayed on the screen. If you have very specific fitness goals that require keeping track of your pulse while exercising, you may opt for a machine with a built-in heart rate monitor. 
Weight Capacity
Different ellipticals can support different weights. Double check the specs on a specific model before clicking purchase. 
Price
As with any piece of fitness equipment, you'll want to consider how much you intend on using it and weigh that against the price. If 30 minutes on the elliptical is going to be part of your daily regimen, it's probably worth paying a little more for a higher quality machine. 
Programmed Workouts
If you're the type of person who needs a preset workout to get the most out of a cardio machine, it may be worth investing in an elliptical that comes with a variety or programmed routines. 
BarBend Buying Tips
Consider your fitness goals before purchasing an elliptical. If you're simply looking to work up a sweat a few times a week, a simpler model may do the trick. 

Before investing in an elliptical for your home gym, try to test one out a local gym or sporting goods store. 
Regular cardio exercise can have many benefits, including improved heart health and reduced health risks. If running or hitting the treadmill is not your cup of tea, using an elliptical may be a great way to increase your aerobic output while keeping some stress off your joints.
References
Brown GA, Cook CM, Krueger RD, Heelan KA. Comparison of Energy Expenditure on a Treadmill vs. an Elliptical Device at a Self-Selected Exercise Intensity.

Journal of Strength and Conditioning Research

. 2010;24(6):1643-1649.