Looking to increase your aerobic exercise while avoiding the treadmill? Consider an elliptical. Long a mainstay of gyms and hotel fitness centers alike, the elliptical can be an excellent tool to get in a cardio workout while taking it easy on your joints. Often equipped with handles that get your arms pumping, ellipticals can offer a full-body workout. Some research even points to them being just as effective as treadmills as far as aerobic exercise is concerned (1). 
Regular cardio exercise can boost stamina and cardio capacity while helping to burn some calories. The U.S. Surgeon General recommends 150 minutes of weekly cardio exercise to increase heart health and keep off excess weight. If hitting the elliptical at the gym isn't your vibe, you may consider getting one to use at home. However, with so many types on the market, how can you know which model best fits your specific needs?
Best Value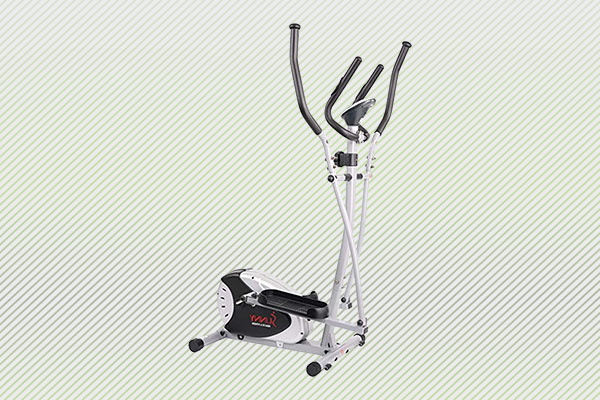 Sunny Magnetic Elliptical E905
Pros:
Equipped with a display unit that displays time, speed, distance, calories burned, and pulse. 

The E905 comes with heart-rate monitors built into the handles, allowing you to keep track of your heart rate during your workout, a nice functionality for those looking to stay within a targeted range. 

The 8 levels of adjustable resistance give you the opportunity to vary your workload, or keep track of your ability. 

At less than 2.5 ft long and 1.5 ft wide, this is a relatively compact piece of gym equipment.
Cons:
Measuring at 11", the stride length on this elliptical is a bit on the low end for most comparable machines. 

Its 220 lb weight capacity may be a limiting factor for a lot of folks. 
Best For Office Workouts
Stamina In-Motion Elliptical Trainer
Pros:
Weighing in at 24 pounds and measuring less than 11.5" tall, this is a relatively portable device that should fit under most desks. 

Its versatile design allows you to use it while sitting or standing.

Equipped with a dial that allows you to adjust the tension while working out and a monitor that displays the number of strides per minute, total strides, exercise time, and calories burned. 

This can be ordered in silver, green, or orange, giving you some style options. 
Cons:
A lot of folks have complained that this device became squeaky or louder than expected after a few months of use. 

As this elliptical trainer only offers a leg workout, it does not offer the full body benefits of a traditional elliptical.
Best For Small Spaces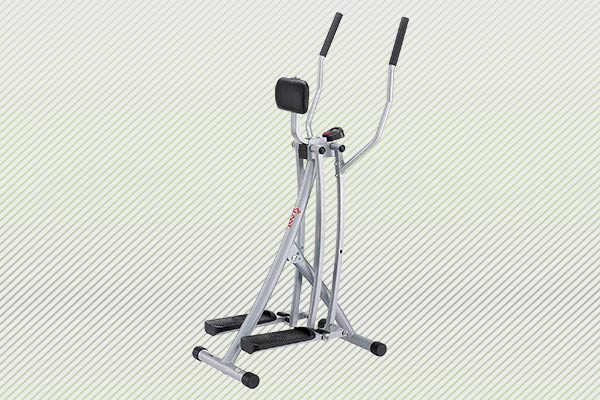 Sunny Air Walk
Pros:
A very affordable as far as ellipticals are concerned.

Includes an LCD monitor that displays time, stride count, and calories burned. 

The Air Walk also comes equipped with an abdominal pad intended to help you maintain consistent posture and positioning while working out.

A 30" inch stride and non-slip pedals are designed to allow you to exercise with a very wide range of motion. 

When folded up, the Air Walk only measures 15" by 19", making it particularly suitable for folks with limited space in their home gyms (or living rooms, as the case may be!).
Cons:
The Air Walk has no resistance levels or tension settings, which may not make it ideal for folks looking for a more intense workout.

Only designed to accommodate folks up to 220 lbs.
Most Versatile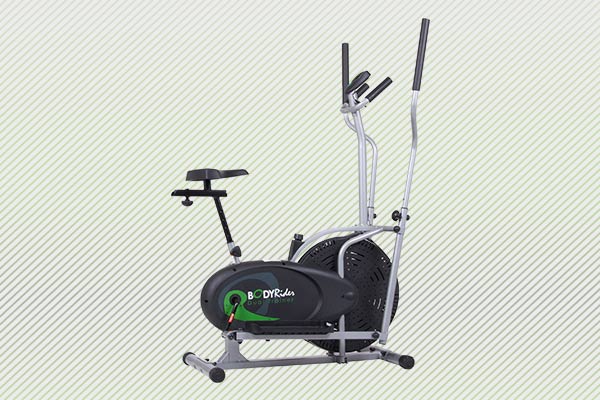 Body Rider Elliptical Trainer
Pros:
The 2 in 1 functionality of exercise bike and elliptical offers unique versatility. 

Equipped with wheels on the front end, this trainer can be rolled from place to place fairly easily. 

A simple display screen keeps track of time, speed, calories burned, and distance during your workout.

An adjustable dial allows you to set the tension as you see fit.

Arm handles give you the opportunity to get your upper body involved and make for a full body workout
Cons:
The seat on the Body Rider is a bit firm, with many folks resorting to purchasing an additional seat cushion for added comfort.

The stride length on this elliptical is between 12 and 16 inches, a bit on the low end.
Best For Home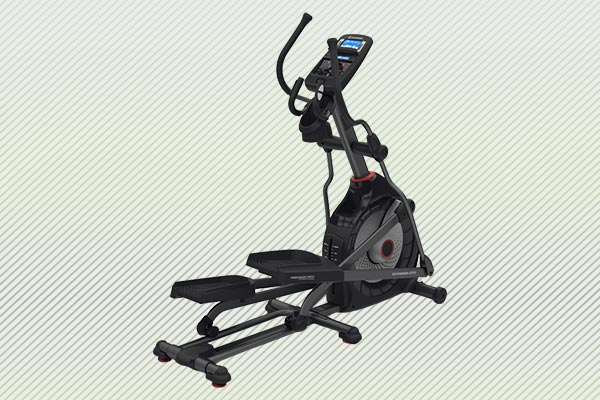 Schwinn Elliptical Trainer
Pros:
Schwinn's Elliptical Trainer comes equipped with bluetooth connectivity, giving you the ability to sync up with Schwinn's training app, or another fitness app. 

25 levels of resistance allow you to really vary the intensity of your workouts, while a 20" stride length should accommodate most users. 

Equipped with a display screen that includes 29 preset workout programs and a stand to prop up a tablet. 

A motorized adjustable ramp is designed to let you move the elliptical up to a 10° incline.
Con:
Buyers are spending a bit more for all of the added bells and whistles. 
Methodology
Ellipticals are a very popular and effective means of cardio exercise. As such, there is a proliferation of them on the market. When deciding which piece of equipment is best for you, it's important to keep in mind a few key features. 
Stride Length
Defined as the length between the two pedals when extended, stride length is very important in determining which machine to purchase. Most ellipticals you'll find in gyms have stride lengths set at 20 inches. A shorter length may not be as comfortable for some folks. If possible, try to test out a few different lengths before buying an elliptical. 
Space
How much space do you have in your home fitness area can go a long way toward determining what kind of equipment you purchase. If you're short on square footage, you'll probably want to opt for something with a smaller footprint, or the ability to be folded up and stored away. 
Display
Pay attention to what information is counted and displayed on the screen. If you have very specific fitness goals that require keeping track of your pulse while exercising, you may opt for a machine with a built-in heart rate monitor. 
Weight Capacity
Different ellipticals can support different weights. Double check the specs on a specific model before clicking purchase. 
Price
As with any piece of fitness equipment, you'll want to consider how much you intend on using it and weigh that against the price. If 30 minutes on the elliptical is going to be part of your daily regimen, it's probably worth paying a little more for a higher quality machine. 
Programmed Workouts
If you're the type of person who needs a preset workout to get the most out of a cardio machine, it may be worth investing in an elliptical that comes with a variety or programmed routines. 
BarBend Buying Tips
Consider your fitness goals before purchasing an elliptical. If you're simply looking to work up a sweat a few times a week, a simpler model may do the trick. 

Before investing in an elliptical for your home gym, try to test one out a local gym or sporting goods store. 
Regular cardio exercise can have many benefits, including improved heart health and reduced health risks. If running or hitting the treadmill is not your cup of tea, using an elliptical may be a great way to increase your aerobic output while keeping some stress off your joints.
References
Brown GA, Cook CM, Krueger RD, Heelan KA. Comparison of Energy Expenditure on a Treadmill vs. an Elliptical Device at a Self-Selected Exercise Intensity.

Journal of Strength and Conditioning Research

. 2010;24(6):1643-1649.