There are a lot of perks to working out at home. You'll save time and gas for one. Not to mention you'll never have to wait for the curl-bro to surrender the squat rack. That said, you'll need space to work out — you know, a home gym. Of you course, you can train with a pair of dumbbells or kettlebells but you want options, right?
That's why you're on this page, scouring for more complete home gyms. The right home gym for you may be a power rack with a pull-up bar. Or, maybe you want a gym that replaces eight machines. There are also smart home gyms that track your sets, reps, and calories burned through trainer-led classes. It's up to you to choose your ideal setup, but we're happy to offer you a spot.
Best Home Gyms
Best All-in-One Home Gym
The one downside to a home gym is you sometimes feel like you have to compromise. Cables or dumbbells? Bench press or leg press? Well, the Force USA G9 trainer offers up a crazy-equipped set-up that replaces eight vital pieces of gym equipment.
Force USA G9 All-in-One Trainer
You can replace, essentially, your entire big box gym with this machine that measures 89-inches tall, 59-inches deep, and 79-inches wide. Force USA's G trainer replace eight separate strength training machines — a power rack, functional trainer, Smith machine, vertical leg press, chin-up station, dip station, core trainer, and a low row. It also comes armed to the teeth with accessories: weight plate holders, Olympic spring clips, a lat-pulldown bar, safety spotter arms, J-hooks, and a handy exercise chart. So, yeah, buy this, and you're pretty much set. That said, you will need to buy extra weight plates and a barbell (which Force USA can include for an extra charge.)
Who Should Buy the Force USA G9 All-in-One Trainer
Gym-goers who want to replicate the spoils of a fully equipped commercial gym as best as possible.
Bodybuilders who want to target multiple body parts with one machine.
Multi-sport athletes who follow a varied workout program.
Who Shouldn't Buy the Force USA G9 All-in-One Trainer
Folks who have a more specific training interest. If you like kettlebell sport, for example, then you need quality kettlebells, not this machine.
Anyone on a budget. This is an expensive piece of machinery. (Though you are getting a lot.)
Folks who don't have a lot of space. This isn't ideal for anyone who lives in an apartment.
Bring the complete gym home with this all-in-one trainer. Just make sure you have the space for it.
Best Home Gym for Bodybuilding
Bodybuilders need a gym that allows them to hit all of their muscles from multiple angles, with plenty of cables and attachment options.
Force USA G3 All-In-One Trainer
When Force USA says All-In-One, they mean it. The G3 is about as close to a complete gym as one can get. It's equipped with a power rack, smith machine, cable pulley system, pull-up bar, weight plate storage, and even bands pegs for accommodating resistance. Force USA also offers an additional leg press, stability bar, straight chin-up bar, and lat pulldown seat. Whether it's leg day, chest day, or a total body day, the equipment is there to satisfy any workout regimen.
Who Should Buy the Force USA G3 All-In-One Trainer
People who want all of the options that they can find at the gym in one total package.
Bodybuilders who want a machine that offers cable pulleys with plenty of angle options.
Folks who want a power rack and stack weights.
Who Shouldn't Buy the Force USA G3 All-In-One Trainer
Those who are just beginning their fitness journey and don't know where to start.
People who don't have a lot of space in their homes for a big and serious piece of equipment.
It's hard not to like the Force USA G3. It provides all of the options that the gym does — to help your muscles grow — without the wait for someone else to finish using the machine.
Best Home Gym Squat Rack
If you're not looking for a pulley machine or a home gym machine, you might find a squat rack that you can use for barbell focused training and accessory work a better fit for your home gym.
Eleiko XF 80 Light Rack
Eleiko's XF 80 line of products is a great place to start if you're looking to build out a barbell-focused home gym. What we like about the XF 80 Light Rack is that it has a smaller profile than other squat racks, while still sporting the customization and toughness we'd expect to see from products in this category. It has Westside Hole spacing, and is only 6 feet in height, so people with low ceilings can still easily fit this rack in their garage gym or exercise room. Shoppers will be pleased to know that the rack comes with a pair of j-cups, as well as a slew of other attachments available at checkout.
Who Should Buy the Eleiko XF 80 Light Rack
Lifters who want a minimalist squat rack that they can still build a home gym around.
Shoppers and athletes on a budget. This rack comes is priced below $700, which we think is a great value for the quality Eleiko is known for.
Athletes who prioritize barbell training and want a piece of equipment specifically for squatting and pressing.
Who Shouldn't Buy the Eleiko XF 80 Light Rack
Athletes who need a bigger rack that can accommodate a pull up bar and other add-ons.
Home gym owners looking for a rack with weight storage built in.
The Eleiko XF 80 Light Rack is a compromise between a truly minimalist setup and the more complex power racks you may see in a collegiate weight room or commercial gym. For home gym owners, we think it offers the perfect balance at an enticing price point.
Best Smart Home Gym
If you're looking to upgrade your home gym with modern tech, there are more smart gym options than ever before. Here's our top pick.
Tempo Studio
This sleek-looking studio gym contains everything you need for a kick-ass workout — 75-pounds worth of weight plates, a 25-pound barbell, dumbbell handles, a heart rate monitor, a yoga mat, foam roller, and barbell collars. Get set, and then let the AI trainer of your choice guide you through a workout in real-time. This three-square-foot studio offers hundreds of classes and flashes metrics on the screen so you can monitor your performance. Tempo — which is available in either white or black — requires you to purchase a yearly membership that will cost you $39 per month.
Who Should Buy Tempo Studio
Folks who prioritize convenience. Tempo provides everything you need — from warm-up to cool down — to get a quality workout in.
Those who want don't program for themselves. Tempo offers hundreds of classes taught by AI trainers.
People who want to record their metrics, such as calories burned and heart rate.
Who Shouldn't Buy Tempo Studio
Powerlifters, strongmen, and bodybuilders who need more weight and more equipment to compete in their respective sports.
Budget-conscious buyers. In addition to being a lot upfront, Tempo also requires a yearly membership fee.
It may be expensive, but Tempo offers in-home personal training and equipment all bundled into a stylish piece of hardware.
Best Portable Squat Stand
For home gym owners looking to prioritize squatting and posterior strength (without sucking up all the space in their garage), a squat stand could be the perfect addition to your iron paradise.
Eleiko Light Squat Stand
The Eleiko Light Squat Stand is designed for lifters who want to dial in their squat training. This stand has a very modest footprint at just under 52 inches wide and 30 inches deep. It also only weighs about 50lbs, which means one person can easily move it around whenever they need space. Don't let a low profile fool you though; this squat stand is made with Swedish steel and can support up to 770lbs of weight on the rack. Users can fine tune the height in 60mm increments, and the width can be adjusted by any amount with the sliding legs.
True to form, Eleiko put some nice finishing touches into this squat stand, like knurled adjustment knobs and j-cups with rollers to help find lifters find the perfect position before un-racking, while also protecting the barbell when it's racked on the stand.
Who Should Buy the Eleiko Light Squat Stand
Athletes who squat regularly and need a rack that will help them fine tune their squat form.
Home gym owners who want a movable squat stand that's well built, but doesn't take up too much space.
People who appreciate a quality piece of equipment with small details that make it more enjoyable and helpful to use.
Who Shouldn't Buy the Eleiko Light Squat Stand
Athletes who want a piece of equipment that functions more like a power rack, with options to add-on more accessories over time.
People who won't prioritize squatting as part of their weekly training regimen.
Affordable, light, and with specific design details to help lifters perfect their squat, the Eleiko Light Squat Stand is an admirable piece of equipment.
Best Folding Squat Rack
A foldable power rack allows you to get your lift on without sacrificing space in your garage. It also affords you more space for other home gym purchases.
Rogue Monster Lite RML-3WC Power Rack
Perfect for garage gyms, Rogue's power rack folds flat up against your wall to save space for your car or general storage needs. We like the RML-3WC because it's equipped for pull-ups, bench presses, cleans — and is easy to fold away when you're done with your sweat session. This is a quality squat rack, forged from steel, that comes with the pull-up bar. You bolt it into your wall, fold it out, adjust the included J-hooks, and then get to squatting and pressing. The rack is available in three different depths (9″, 21.5″, and 41.5″), stands 90″ high, and comes in 11 unique colors.
Who Should Buy the Rogue Monster Lite RML-3WC Power Rack
Serious strength athletes who want a power rack for all their squatting, benching, and pressing needs.
Anyone who is building a home gym in their garage and wants to save space while still owning a power rack.
Who Shouldn't Buy the Rogue Monster Lite RML-3WC Power Rack
Non-strength athletes who don't need a power rack for heavy lifting.
Anyone who doesn't have access to a sturdy wall. This rack needs to be bolted into the wall and then support hundreds of pounds of weight.
Level up your home gym setup with a quality power rack that won't cost you much space.
Best Portable Home Gym
You shouldn't have to choose between a life on the go and staying fit — and you don't have to. There are plenty of portable gym options out there, and this one is among the best.
Hyfit
Hyfit combines the convenience of resistance bands with the modern tech found in today's home gym setups. You press, row, squat, and curl these bands to your heart's content. Or, you can opt to take one of Hyfit's classes with their roster of trainers. Either way, the adjustable bands will track metrics such as calorie burn, weight used, sets and reps, and your pace all to the Hyfit app in real-time. With a database of over 500 exercises, Hyfit is about as close as you can get to a full gym in your hotel room.
Who Should Buy Hyfit
People on the go who need a multi-use piece of gym equipment.
Folks who prefer to have trainers lead the workout (through an app).
Individuals who want to track key workout metrics in real-time.
Who Shouldn't Buy Hyfit
People who want more than bands to get a workout in.
Or, folks who are cool with bands but don't want the extra tech.
If you're looking to keep up with your workout routine while on the go, then you won't do much better than the Hyfit band set.
Best Interactive Cable Machine
If Tony Stark were to buy a cable machine, he'd pick this one. That's because to call NordicTrack's Fusion trainer just a cable machine is a disservice to what this tower of power brings to the table.
NordicTrack Fusion CST
The CST trainer is equipped with high and low cable pulleys, adjusted to 20 different resistance levels. The user selects which workout they want on the machine's separate touchscreen. Then, they strap in and get to work. You can perform all the standard cable movements that probably come to mind — curls, face pulls, and rows — but also more dynamic exercise, such as mountain climbers, lateral hops, and burpees. The trainers can actually up the magnetic resistance of your session to ensure you're really pushing it.
Who Should Buy the NordicTrack Fusion CST
Folks who like the unique resistance a cable provides — that is constant tension throughout a move's entire range of motion.
People who want to follow trainer-led workouts instead of programming for themselves.
Who Shouldn't Buy the NordicTrack Fusion CST
Strength-focused athletes. You can get in great shape with this machine, but don't expect to set a new deadlift PR.
People who want to work out with more than a cable pulley system.
This unique piece of equipment levels up the cable machine as you know it with magnetic resistance, trainer-led classes, and a sleek, minimal design.
Best Home Gym for the Money
You may save money in the long run, but a quality home gym will cost you a lot upfront. If you want to both save a little money (relatively speaking) and stretch your dollar, go for the Marcy Smith Machine Cage System.
Marcy Smith Machine Cage System
This nifty power rack-like device features a mixed-grip pull-up bar, a Smith machine, a power rack, weight plate and barbell storage, a bench that doubles as a preacher curl bench, and two cable pulleys. Like the Force USA G9 rack, Marcy's version allows you to get a lot done in a small space. And for folks who prefer the fixed bar path of a smith machine, this is the only pick on our list with this feature. There are a lot of great Smith machine exercises that you can do).
Who Should Buy the Marcy Smith Machine Cage System
Gym rats who want to get a lot of equipment but are budget conscious.
Folks who like the Smith machine. Though this functions as a normal power rack, too.
Arm day lovers. It's not every day that a home gym comes equipped with a preacher curl bench.
Who Shouldn't Buy the Marcy Smith Machine Cage System
Specialized strength sports athletes.
People who don't care for Smith machines. (It's a controversial piece of equipment!
Your money will go far with this trainer that offers up a variety of tried-and-true pieces of equipment.
Best Bowflex Gym
Bowflex built its brand on the idea that gym-goers would trade in the gym membership for a home gym that was affordable and space-saving. Here's which one we think is the best of the best.
Bowflex Xtreme 2 SE Home Gym
The Bowflex Xtreme 2 SE is a tank. It comes with 210-pounds of resistance but can be upgraded to 310 pounds. You can perform 70-plus exercises on it — including leg extensions, squats, crunches, and pulldowns. A really neat feature is that they've implemented a "No-Change" cable pulley system, so you can work your back and legs all on the same cable pulley without having to adjust anything. For an extra charge, you can add a preacher curl and "Gym Style Ab Crunch."
Who Should Buy the Bowflex Xtreme 2 SE Home Gym
Fans of Bowflex. The brand has stood the test of time for a reason. They make quality, space-friendly products.
Folks who like full-body workouts. You can hit every muscle, head to toe, on this machine easily.
Current Bowflex owners who are maybe looking for an upgrade.
Who Shouldn't Buy the Bowflex Xtreme 2 SE Home Gym
People who prefer more traditional workout equipment.
Anybody who wants another brand of training equipment.
Athletes who need and want to perform more dynamic and explosive movements.
Bowflex makes effective, space-friendly gym equipment that offers up more than 70 potential exercises. If you're looking to get in better shape (and stay there) simply, this is a solid buy.
Best Home Gym for Powerlifters
Luckily for powerlifters, the amount of equipment needed to deadlift, squat, and bench press is relatively low-profile when it comes to space. However, stability, durability, and quality should be top of mind, which is how we decided on our top home gym for powerlifters.
Eleiko IPF Competition Combo Rack
This squat rack and bench assembly from Eleiko is durable, solid, and masterfully designed, offering plenty of adjustability for serious powerlifters who want to lift and train in their homes. It's certified by the IPF for competition, so if you do compete, you're able to mimic a powerlifting competition more closely in training. The level of detail worked into this rack is (for lack of a better word) insane. From an injection-molded polyurethane bench cushion — with knurling for added grip — to the 12 rubber feet which keep it stoically in place, this might just be the best-designed powerlifting rack on the market right now.
Who Should Buy the Eleiko IPF Competition Combo Rack
Lifters who want a set up specifically designed to take their bench press and squat to the next level.
Athletes (powerlifters specifically) who lift heavy and need a reliable rack that can support heavy loads — this rack supports up to 1,212 pounds of weight.
Shoppers who want a quality piece of equipment that offers great function and durability.
Who Shouldn't Buy the Eleiko IPF Competition Combo Rack
People who want more options in their home gym equipment, like crossover cables and pull-up bars.
Folks who don't compete. You can opt for a different and possibly more affordable rack to train on.
While this home gym setup from Eleiko landed our top pick for powerlifters, it's also a great rack for any athlete who consistently prioritizes barbell training in their home gym.
The Benefits of Home Gyms
Not sold on shelling out for your own iron paradise? Here are some benefits of owning your very own home gym.
Home Gyms Are Convenient
Above all else, convenience is probably one of the major benefits of owning a home gym. You wake up in the morning, have your pre-workout, and then walk 15 steps to your garage so you can start clanging and banging. You'll never have to wait for the curl bro to get out of the squat rack, nor will you have to wipe another person's flop sweat off the rower. And because of this convenience factor, it's safe to assume that you'll be more dedicated to your workout program. Maybe not, but when you don't have a 20-minute drive ahead of you, it's a lot easier to get under the barbell for 45 minutes.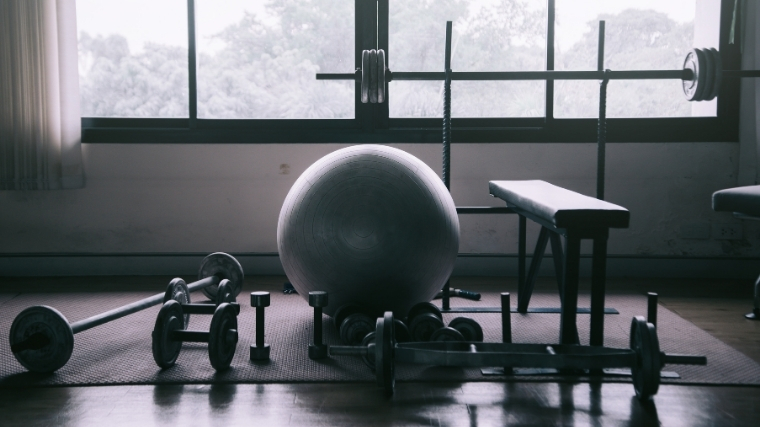 You Can Customize it
The beauty of owning your own home gym is that it's yours. All yours. Into CrossFit? Buy a simple squat stand, a plyo box, some rings, and a few kettlebells. More into powerlifting? Then opt for a more robust power rack, a quality barbell, and lots of plates. See where we're going with this? Or, maybe you want a piece of equipment that can do everything you want (with the option to add more to it).
Your home gym can be as minimal or equipped as you'd like — and you won't have to answer to anyone.
It's Cheaper in the Long Run
The final major home gym benefit is long-term savings. Home gym equipment's price can be high, but it's an investment. Over a long period of time, owning your own equipment can save you money in two ways. First, more than likely, you can drop your gym membership fee, and over time that can add up. Second, it saves you the time you'd be driving to and from the gym, along with the time you have to wait for equipment. For most, this extra time can turn into energy and time invested in other areas of their life.
Is a Home Gym Right for You?
The questions below will help you decide if investing in home gym equipment or building your own gym is a wise, financially savvy choice.
What are your strength goals?
If you're looking to be the next Brian Shaw, then you need to really think about what that takes. You'll need to invest in Atlas stones, logs, hundreds of pounds of weights (eventually), farmer's handles — all sorts of strongman tools. You may be better off just finding a local gym with the myriad of equipment you need in this instance. That's not to say you can't be elite and have your own home gym — but building that set up will take time and money.
How much space do you have?
This question should help guide you to what equipment will be best for not only your goals but your lifestyle, too. If you're living in a one-bedroom, then maybe an option like Tempo or resistance bands are better for now. On the other hand, a two-car garage affords you a lot more space to build a complete set-up.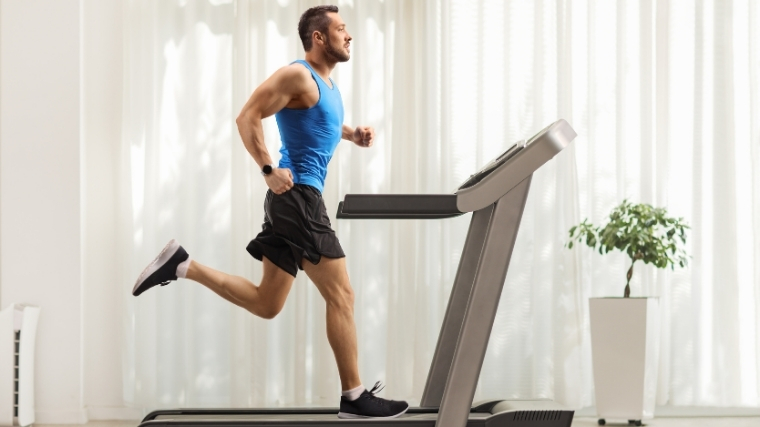 What's your budget?
This question is simple and will vary from person to person. Before investing in home gyms, we recommend realistically calculating your current gym expenses, consider the price of equipment, and how much you're willing to put into a home gym. Of course, you don't need to buy everything at once. You can start with a squat stand, barbell, some weights, and a bench, and then go from there.
FAQs