There are a lot of perks to working out at home. You'll save time and gas for one. Not to mention you'll never have to wait for the curl-bro to surrender the squat rack. That said, you'll need space to work out — you know, a home gym. Of course, you can train with a pair of dumbbells or kettlebells, but you want options, right?
That's why you're on this page, scouring for more complete home gyms. The right home gym for you may be a power rack with a pull-up bar. Or, maybe you want a gym that replaces eight machines. There are also smart home gyms that track your sets, reps, and calories burned through trainer-led classes. It's up to you to choose your ideal setup, but we're happy to offer you a spot.
Best Home Gyms
Best Home Gym Overall
Our top pick is a true all-in-one gym designed to build strength and keep workouts fresh. A fully functional cable machine with weight plates? Check. Is there a squat rack included? Check. How about a pull-up bar? Yup, it's got one, in addition to a slew of other add-ons available to build out a complete home-gym
Force USA G6 All-In-One Trainer
To call Force USA's G6 just a cable machine or a squat rack is a disservice to what this tower of power brings to the table. With a really wide range of cable positions, a squat rack, a pull-up bar, and even an integrated smith machine, this home gym is the total package.
The G6 has two 220lb weight stacks (440lbs total), so you can perform cable movements like curls, face pulls, and rows, while space-saving enough to allow for more dynamic exercises such as mountain climbers, lateral hops, and burpees in the same area. When you do want to dial up your workout and focus on heavy strength training, you can use the squat rack to get some good old-fashioned barbell workouts in. So whether you have a powerlifting session planned, or a light accessory day with cables, the Force USA G6 Pro fits just about every bill.
Who Should Buy the Force USA G6 All-In-One Trainer
Folks who want a versatile, complete home gym at a reasonable price. To get a cable machine with 440lbs of weight stacks, a squat rack, a smith machine, and a ton of attachments for this price is a great deal.
Amateur strength athletes who don't have the funds to build out a massive home gym will find everything they need and more with this one piece of equipment.
Despite a stacked spec sheet, the G6 is a relatively low profile at just 72" wide, 63" deep, and 91" tall. Those who want to save on space, but want a full home gym should find this product fits right in.
Who Shouldn't Buy the Force USA G6 All-In-One Trainer
People who just want a pulley machine, or people who just want a squat rack, there are other options for you. Keep reading for more specific picks in those categories.
Advanced athletes may need more heavy-duty equipment to support more weight or offer more resistance.
Those who don't already own a barbell and some weight plates will need to buy one if they want to get the most out of this home gym.
This unique piece of equipment levels up the cable machine and squat rack as we know it, but it also features an insane amount of attachments and add-ons, making it one of our favorite all-around picks.
Best Home Gym for Small Spaces
Trying to get the same functionality as a commercial gym in your tiny one-car garage might seem like an overwhelming prospect. But we found this home gym to be a big hitter while maintaining an impressively small footprint.
Tonal
The Tonal offers up to 200 pounds of resistance training using two compact pulleys. If you were trying to build out a home gym with this amount of weight using free weights, it could end up taking up a ton of space. Tonal's two maneuverable pulleys and their handle attachments take up only 7' by 7' 10" by 7', which makes it great for apartments or even gyms you're trying to squeeze into a corner of a garage. With the two pulleys and accessories, you can perform 200 different exercises, and the Tonal will adjust your weight automatically as you progress. And if you start to struggle, Tonal can also drop your weight, making it a great virtual "spotter."
You can take strength, yoga, pilates, HIIT, meditation, barre, and mobility workouts with a virtual trainer all on the 24" touchscreen display. Though the Tonal does cost a pretty penny, when you consider all of the fitness, training tools, and coaching you're receiving with this one purchase, we think the price is worth it.
Tonal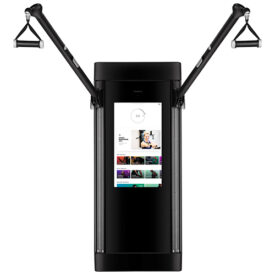 The Tonal is an interactive home gym that delivers up to 200 lbs of total electromagnetic resistance with the use of two maneuverable pulleys. What's most impressive is that it adapts as you progresses, which means you'll always be pushing closer to your fitness goals. 
Who Should Buy the Tonal
Apartment dwellers who need a compact home gym will appreciate this machine's pulley system that can save them many feet of space.
Athletes who like to be challenged will like that the Tonal automatically adjusts your weight to help you progress.
Anyone who already likes to track all of their stats. You will be able to ditch the notepad or whiteboard. The Tonal does it for you.
Who Shouldn't Buy the Tonal
Powerlifters or weightlifters who may need heavier or more specific weights — the Tonal caps out at 200 pounds of weighted resistance.
Though this product will last you a long time and nix the need for a lot of separate equipment, it is a little pricey. If you're not able to fork over a few thousand bucks on one piece of equipment, the Tonal may not be your best option.
Tonal's 7' by 7' footprint can save you a ton of space if you're trying to build your home gym in an apartment or a section of a room or garage. Plus, you can use its two pulleys to reach up to 200 pounds of weighted electromagnetic resistance.
Read our full review of Tonal here.
Best Bodybuilding Home Gym
If you're looking to build muscle and tone your body (recreationally or professionally), having a home gym that enables you to train heavy while also dialing in on specific muscle groups is absolutely essential. This home gym allows bodybuilders to do just that.
REP Fitness FT-3000
Be it arm day, back day, leg day — when you're training with bodybuilding in mind, having the ability to isolate muscle groups to achieve targeted hypertrophy is incredibly important, and the REP Fitness FT-3000 enables you to do exactly that. Though it's conveniently low-profile, the FT-3000 is loaded with a pair of 180-pound weight stacks (360 pounds total). Its pulleys are designed for incredibly smooth operating without catching or sticking, and the station also comes complete with a pull-up bar. Plus, this compact home gym brings commercial gym vibes to just a 78″ x 53″ x 34″ (height x width x depth) space, making it one of our smaller options on this list.
REP Fitness FT 3000 Compact Trainer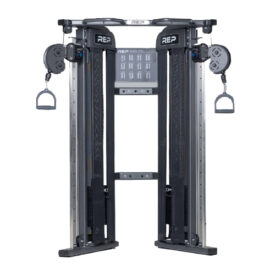 REP Fitness FT 3000 Compact Trainer
The Rep Fitness FT 300 Compact Functional Trainer is true to its name. It's incredibly compact and highly functional with 15 cable positions to choose from and twin 180lb weight stacks — pull up bar included.
Who Should Buy the REP Fitness FT-3000
Bodybuilders, this pick was made with you in mind. The FT-3000 gym has a pair of 180lb weight stacks, even within its smaller footprint.
People who like to incorporate cable movements into their workouts. This is a solid cable machine that offers a lot of movement variety.
Those who value a solidly built piece of equipment. The frame has a lifetime warranty, and is built as if it were going to be used in a commercial gym setting.
Who Shouldn't Buy the REP Fitness FT-3000
Barbell enthusiasts as this home gym does not come with a squat rack. If you're prioritizing barbell exercises in your workouts, opt for one of the racks on this list.
If you're a heavy lifter and can get away with a slightly bigger home gym, there are similar machines that offer heavier weight stacks at a very similar price point.
With building muscle top of mind, we think this home gym is ideal for bodybuilders. It's loaded with a pair of 180-pound weight stacks, and can bring the commercial gym experience to any corner of your home.
Best All-In-One Home Gym
For those who want every option under the sun (and moon), this home gym is truly the complete package. Cables, smith machine, weight plates, racks, and more, this machine has it all.
Force USA G20 All-In-One Trainer
Ok, we'll admit that the mere sight of this trainer may be overwhelming, but that's only because it's absolutely loaded with 29 attachments to help you gain strength and muscle. Perform squats with the monolift attachment, vertical leg presses, Smith machine movements, cable exercises, and so much more. It can even facilitate more than one person training at once. One person can perform cable pushdowns or landmine exercises while the other does pull-ups (each side is equipped with a pull-up bar).
Who Should Buy the Force USA G20 All-In-One Trainer
Bodybuilders who want access to over 29 attachments and the ability to perform over 400 different exercises.
Anyone tight on space. At 75-inches wide, 67-inches deep, and 91-inches wide, this allows you to do so much for a modest space requirement.
Who Shouldn't Buy the Force USA G20 All-In-One Trainer
Folks who are more casual gym-goers and don't need so many workout options.
People who already own some equipment and are looking for more of a gym addition.
People on a budget looking for a low-cost home gym (keep reading, we've got you covered there).
The G20 trainer replaces 11 workout machines, can support up to three people training at once, and is equipped with over 29 workout attachments. Anyone looking to build a lot of muscle won't need to look much further than this pick.
Best Smart Home Gym
If you're looking to build a home gym with modern tech, there are more smart gym options than ever before. Here's our top pick.
Tonal Home Gym
This sleek-looking studio gym is ideal for those looking to get a trainer-led session in at home. And despite its minimalist profile, it offers 200lbs of resistance, which we found to be plenty of weight to achieve a rigorous workout.
Once you've set up your profile and entered your fitness goals, let the AI trainer guide you through a workout in real-time. This all-in-one studio offers a wealth of programming, and what's most impressive to us as fitness enthusiasts is how well it tracks your progress through workouts.
Who Should Buy the Tonal Home Gym
If you're short on space and only want to purchase one piece of equipment to start working out, Tonal is a great choice. It's one of the smallest home gyms out there, and, once installed, can get you breaking a sweat ASAP.
Folks who prioritize convenience. Tonal is easy to set up, and comes with the weight (in the form of magnetic resistance) included.
Those who want don't program for themselves. Tonal offers hundreds of classes coached in real-time by the on-screen trainer.
People who want to record their metrics. Tonal tracks your stats and helps you progress.
Who Shouldn't Buy the Tonal Home Gym
Powerlifters, strongmen, and bodybuilders who need more weight and more equipment to compete in their respective sports.
Budget-conscious buyers. While we think this is a great investment for those who want a space-saving home gym with everything included, it carries a higher price tag than your typical cable machine.
It may be expensive, but Tonal offers in-home personal training and equipment all bundled into a stylish piece of hardware that can still push you to the limit.
Read our full experience with the Tonal Home Gym here.
Best Home Gym Treadmill
If you're a runner or cardio junkie — or a lifter looking to perform more cardio at home — then a durable, high-quality treadmill may be the piece of home gym equipment you're looking to prioritize.
NordicTrack Commercial 1750
NordicTrack's Commerical 1750 model is equipped with a 10″ touchscreen that you can stream classes on. (Your purchase comes with a yearlong iFit membership). You can take a live class and compete against others on a leaderboard or opt for a solo run that mimics outdoor terrain. Other perks: The cushioning is adjustable to mimic the rigors of road running or allow for a more cushioned run. This mid-priced treadmill is foldable (which is nice since it's on the larger side).
Who Should Buy NordicTrack Commercial 1750
Folks who want to take live running classes.
Anyone who wants to be able to adjust their cushioning.
Runners who want to mimic different types of outdoor terrains.
Who Should Buy NordicTrack Commercial 1750
People with a small home gym space. This isn't a space-efficient treadmill.
Folks who run the distance and want a phone charger on their treadmill. This one isn't equipped with one.
Reasonably priced, comfortable, and equipped with live classes, the Nordictrack Commercial 1750 is a quality home gym pick for runners.
Best Cable Machine for Your Home Gym
A great cable machine should be reliable, smooth, space-efficient, and able to handle any workout you throw its way. The REP Fitness 3000 Compact Trainer is just that.
REP Fitness FT 3000 Compact Trainer
While we really like the REP Compact Trainer for its size, we just couldn't ignore just how solid of a cable machine it really is. REP makes a lot of quality products, and this home gym cable machine is no exception. The pulleys and cables are smooth, with no bumping or catching while you're working out. And while it's not the cheapest cable machine on the market, for its quality built and convenient size, it's competitively priced. To sum it up, this thing is a cable machine that will last you day in and day out.
REP Fitness FT 3000 Compact Trainer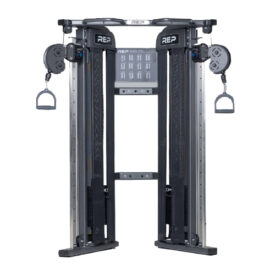 REP Fitness FT 3000 Compact Trainer
The Rep Fitness FT 300 Compact Functional Trainer is true to its name. It's incredibly compact and highly functional with 15 cable positions to choose from and twin 180lb weight stacks — pull up bar included.
Who Should Buy the REP Fitness FT 3000 Compact Trainer
Home gym owners who need to make the most of their limited space, but also want a cable machine will appreciate this pick.

Bodybuilders who need a cable machine to dial in on specific muscles.

Those who plan on using a cable machine very regularly will feel comfortable knowing that this piece of equipment is built to last and comes with impressive warranties.
Who Shouldn't Buy the REP Fitness FT 3000 Compact Trainer
People who train with a barbell and want to stick with that modality should be looking at some of the other picks on this list (we're watching you).

Shoppers on a tight budget. This is a great home gym, but if you're looking for something at rock bottom prices, you may want to try craigslist.
The REP Fitness' FT 3000 Compact Trainer saves on space, has a fair price point, and is a smooth-operating cable machine that should last for years, if not decades.
Best Home Gym for Powerlifters
Luckily for powerlifters, the amount of equipment needed to deadlift, squat, and bench press is relatively low-profile when it comes to space. However, stability, durability, and quality should be top of mind, which is how we decided on our top home gym for powerlifters.
Titan Fitness Competition Bench and Squat Rack Combo
If you're a powerlifter through and through, then your training revolves around the squat, bench press, and deadlift. You also need a rack that can facilitate the bench and squat in the way you'll perform them in competition. Titan Fitness's rack acts as a competition-approved bench — complete with a stand for spotters to stand on — as well as the bench being removable so you can squat.
Who Should Buy the Titan Fitness Competition Bench and Squat Rack Combo
Competitive powerlifters who want to adapt to the feel of competition equipment.
People who want a pure bench press and squat stand.
Folks who own a barbell and weight plates. Otherwise, factor those into the overall cost.
Who Shouldn't Buy the Titan Fitness Competition Bench and Squat Rack Combo
General fitness enthusiasts who don't need to shell out for a dual bench and squat rack.
CrossFitters who functional fitness athletes who need more equipment.
Powerlifters will love the details of this squat and bench press rack, along with how easy it is to use.
Best Bowflex Gym
Bowflex built its brand on the idea that gym-goers would trade in the gym membership for a home gym that was affordable and space-saving. Here's which one we think is the best of the best.
Bowflex Xtreme 2 SE Home Gym
The Bowflex Xtreme 2 SE is a tank. It comes with 210-pounds of resistance but can be upgraded to 310 pounds. You can perform 70-plus exercises on it — including leg extensions, squats, crunches, and pulldowns. A really neat feature is that they've implemented a "No-Change" cable pulley system, so you can work your back and legs all on the same cable pulley without having to adjust anything. For an extra charge, you can add a preacher curl and "Gym Style Ab Crunch."
Who Should Buy the Bowflex Xtreme 2 SE Home Gym
Fans of Bowflex. The brand has stood the test of time for a reason. They make quality, space-friendly products.
Folks who like full-body workouts. You can hit every muscle, head to toe, on this machine easily.
Current Bowflex owners who are maybe looking for an upgrade.
Who Shouldn't Buy the Bowflex Xtreme 2 SE Home Gym
People who prefer more traditional workout equipment.
Lifters who don't want a resistance-based home gym.
Athletes who need and want to perform more dynamic and explosive movements.
Bowflex makes effective, space-friendly gym equipment that offers up more than 70 potential exercises. If you're looking to get in better shape (and stay there), this is a solid buy.
Related: Read our full review on the Bowflex Xtreme 2 SE Home Gym.
Best Home Gym for the Money
You may save money in the long run, but a quality home gym will cost you a lot upfront. If you want to both save a little money (relatively speaking) and stretch your dollar, go for the Gold's Gym XRS 50.
Gold's Gym XRS 50
It's not the most versatile pick on this list, but the XRS 50 lets you perform pulldowns, leg extensions, flyes, rows, and curls. You can purchase more attachments to vary your grips. In total, the XRS 50 offers a total of 280 pounds of weight. You can tuck this machine in the corner of your home and have all you need to develop your muscles.
Who Should Buy the Gold's Gym XRS 50
This is a great value, as you get plenty of muscle-building exercise options for a fair price.
At around 300 pounds, this is a fairly mobile piece of workout equipment that you can move around your house or apartment.
Anyone who wants to build muscle and work on toning their body.
Who Shouldn't Buy the Gold's Gym XRS 50
Folks who want to perform strength-building moves like barbell squats and Pendlay rows.
People who need or want more than 280 pounds of total resistance.
Your money will go far with this home gym that offers up a variety of tried-and-true pieces of equipment.
Related: Read our full review on the Gold's Gym XRS 50.
Best Portable Home Gym
You shouldn't have to choose between a life on the go and staying fit — and you don't have to. There are plenty of portable gym options out there, and this one is among the best.
TRX Home2 System
In as quick as 60 seconds, you can set up this TRX on any tree or door for a full-body bodyweight workout. The TRX is designed to row, push, squat, plank, lunge, and rotate with just your body weight (or while wearing a weight vest). It can fit in a mesh bag for easy storage, making this pick our most space-friendly gym by far. The one downside is that this product won't really satisfy folks who want to lift heavy iron and easily track weight and reps. If you're more of a casual gym-goer who wants to burn calories and get intense workouts in at home, then this will do the trick.
Who Should Buy the TRX Home2 System
People who want a simple suspension trainer system so they can work out anywhere.
Folks who prefer bodyweight workouts.
People who don't want to load up their home with a bunch of workout equipment.
Who Shouldn't Buy the TRX Home2 System
People who want to lift weights.
Anyone who is on a strength training program and needs weights to track sets, reps, and loads.
If you prefer bodyweight workouts that you can do anywhere, this is the cheapest and most space-friendly pick on our entire list.
Best Home Gym Squat Rack
The main function of this rack is to facilitate heavy squatting sessions, and you can outfit it in a variety of ways.
Force USA MyRack Folding Power Rack
Compared to the other picks on this list, the Force USA Folding Power Rack is more singular in function, but it still allows for many functionally. First and foremost, this rack is unique in that it is both freestanding and foldable. Most, if not all, foldable racks are wall-mounted, which means how much you can lift is limited by how strong your wall is. This free-standing rack can support up to 1,000 pounds, be equipped with numerous attachments — like dip bars, band pegs, and a monolift — and then the pull-up bar comes off so you can collapse it inward and stow it away, saving you tons of space.
Who Should Buy the Force USA MyRack Folding Power Rack
Powerlifters or other strength-focused athletes who will be primarily squatting, bench-pressing, and deadlifting.
Lifters who want a rack that can be added to for more upper-body work and accommodating resistance.
Anyone who wants a power rack that can be folded up for easy storage.
Who Shouldn't Buy the Force USA MyRack Folding Power Rack
Lifters who want a cable-based home gym. This is primarily for compound barbell exercises.
Athletes who require a more sturdy power rack that is bolted into the floor.
This free-standing/foldable rack is great for powerlifters who want to crush compound movements and fold up the rack after their training session.
Best Home Gym Power Rack
This power rack is constructed of steel, can be bolted to the floor, and serves as the centerpiece for add-ons for a complete home gym.
Force USA MyRack Modular Power Rack
The steel power rack is built with Westside Barbell hole spacing, can support over 2,000 pounds, and can be outfitted with up to 20 attachments. Also, Force USA gives you the option to add a cable tower pulley system — housed on either side of the rack — a lat pulldown system, and a foldable seat (to use with the cable and lat pulldown systems). As a bonus, you can get the rack in three colors — black, red, and blue.
Who Should Buy the Force USA MyRack Modular Power Rack
Serious strength athletes who want a stable power rack that can support thousands of pounds.
Anyone who wants the option to add a lat pulldown and/or cable pulley system to their power rack.
People who appreciate a pop of color. The matte red and blue options are bright and fun.
Who Shouldn't Buy the Force USA MyRack Modular Power Rack
Folks who want a complete gym in one purchase and don't want to buy extras.
Anyone who isn't focused on performing heavier compound movements.
This basic power rack can be built upon to serve as the centerpiece of your home gym. Add the exact equipment you need for a complete setup based on your training goals.
Best Squat Stand With Pull-Up Bar
If you either have an existing home gym or want a bare-bones setup to squat and perform overhead presses, a simple squat stand will do the trick at a fraction of the cost of a complete home gym machine.
Rogue SML-2 Monster Lite Squat Stand
As the saying goes, big things come in small packages, and we think Rogue's Lite Squat Stand is a testament to that. It weighs just 166 pounds so that you can move it frequently. It comes equipped with a "skinny" and "fat" pull-up bar option for extra back work and to hang resistance bands for pulldowns and triceps work. This rack is forged from 11-gauge steel and can support more than 1,000 pounds.
Who Should Buy the Rogue SML-2 Monster Lite Squat Stand
Anyone who simply wants a squat stand.
Folks who want a squat stand with a pull-up bar, which is a simple but effective addition.
People who want a mobile piece of gym equipment that can be easily moved around.
Shoppers looking for a low-cost entry into building their home gym, or those looking to add to an existing setup.
Who Shouldn't Buy the Rogue SML-2 Monster Lite Squat Stand
People who want either a complete home gym or even a power rack with more add-ons.
Shoppers who won't be training primarily with a barbell and weight plates.
If all you want is a squat stand, you won't do much better than this durable and lightweight squat stand.
The Benefits of Home Gyms
Not sold on shelling out for your own iron paradise? Here are some benefits of owning your very own home gym.
Home Gyms Are Convenient
Above all else, convenience is probably one of the major benefits of owning a home gym. You wake up in the morning, have your pre-workout, and then walk 15 steps to your garage so you can start clanging and banging. You'll never have to wait for the curl bro to get out of the squat rack, nor will you have to wipe another person's flop sweat off the rower. And because of this convenience factor, it's safe to assume that you'll be more dedicated to your workout program. Maybe not, but when you don't have a 20-minute drive ahead of you, it's a lot easier to get under the barbell for 45 minutes.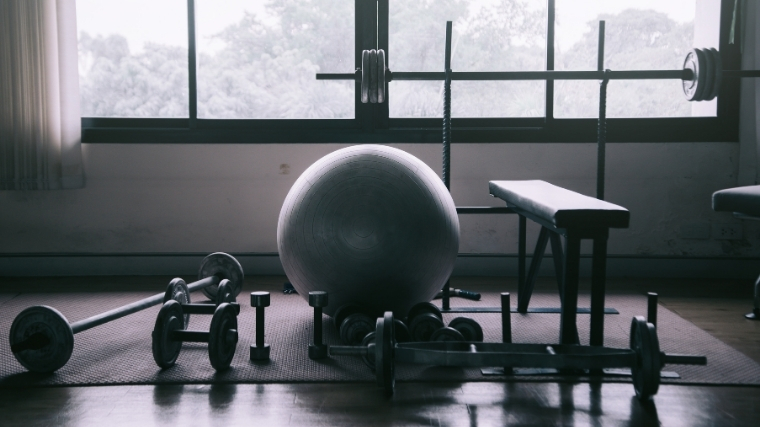 You Can Customize it
The beauty of owning your own home gym is that it's yours. All yours. Into CrossFit? Buy a simple squat stand, a plyo box, some rings, and a few kettlebells. More into powerlifting? Then opt for a more robust power rack, a quality barbell, and lots of plates. See where we're going with this? Or, maybe you want a piece of equipment that can do everything you want (with the option to add more to it).
Your home gym can be as minimal or equipped as you'd like — and you won't have to answer to anyone.
It's Cheaper in the Long Run
The final major home gym benefit is long-term savings. Home gym equipment's price can be high, but it's an investment. Over a long period of time, owning your own equipment can save you money in two ways. First, more than likely, you can drop your gym membership fee, and over time that can add up. Second, it saves you the time you'd be driving to and from the gym, along with the time you have to wait for equipment. For most, this extra time can turn into energy and time invested in other areas of their life.
Is a Home Gym Right for You?
The questions below will help you decide if investing in home gym equipment or building your own gym is a wise, financially savvy choice.
What are your strength goals?
If you're looking to be the next Brian Shaw, then you need to really think about what that takes. You'll need to invest in Atlas stones, logs, hundreds of pounds of weights (eventually), farmer's handles — all sorts of strongman tools. You may be better off just finding a local gym with the myriad of equipment you need in this instance. That's not to say you can't be elite and have your own home gym — but building that setup will take time and money.
How much space do you have?
This question should help guide you to what equipment will be best for not only your goals but your lifestyle, too. If you're living in a one-bedroom, then maybe an option like Tempo or resistance bands are better for now. On the other hand, a two-car garage affords you a lot more space to build a complete set-up.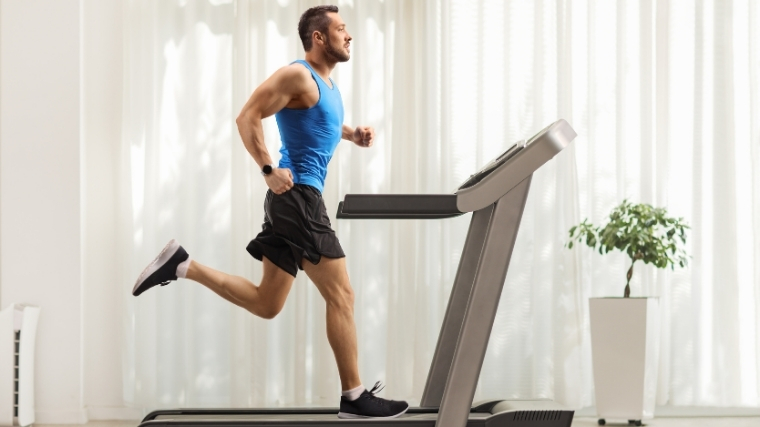 What's your budget?
This question is simple and will vary from person to person. Before investing in home gyms, we recommend realistically calculating your current gym expenses, consider the price of equipment, and how much you're willing to put into a home gym. Of course, you don't need to buy everything at once. You can start with a squat stand, barbell, some weights, and a bench, and then go from there.
FAQs