Derived from milk, whey is the most popular protein supplement on the market and for those looking for the most basic and inexpensive version, whey concentrate is the go to.
But of all the kinds of whey one can buy, whey concentrate has the most fat and the most carbs, meaning it also has the most sugar and lactose. That's why many folks prefer to take whey isolate, which has much of the fat and carbs processed out of it — sometimes all of them.
Here are our best picks.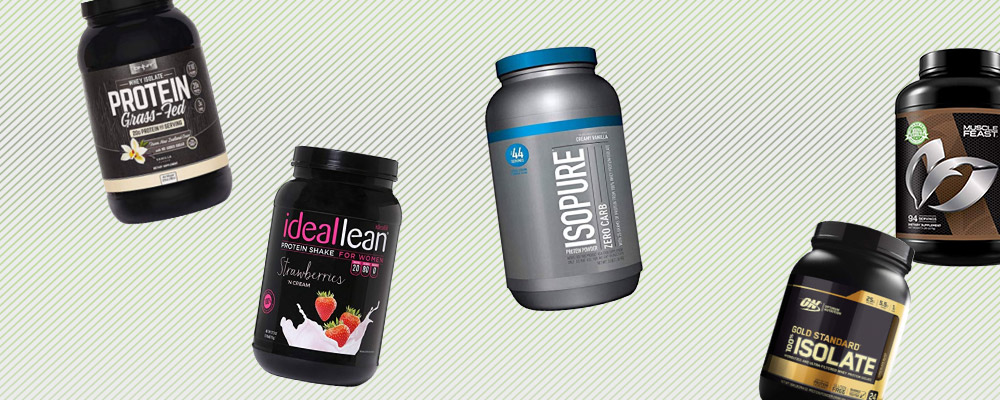 Editor's Pick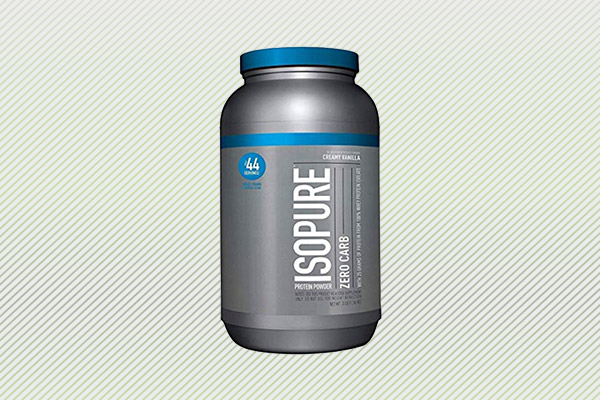 Isopure Zero Carb
Many people pick isolates because they want to control their carbs, and Isopure delivers: no carbs whatsoever, and usually under a gram of fat. Available in a huge variety of flavors, the real bonus here is the fact that it doubles as a multivitamin — each scoop provides about 20 percent of the recommended daily intake of over a dozen vitamins and minerals.
Pros
Isopure is very inexpensive for a whey isolate.
There are no carbohydrates whatsoever in the product, so it's also lactose free.
Each scoop delivers over a dozen vitamins and minerals.
Cons
It contains soy, which some prefer to avoid.
There are artificial flavors and sweeteners.
Perhaps because of the total lack of carbs, it's not the tastiest isolate on the market.
Best for Weight Loss
IdealLean Protein Shake for Women
At just 80 to 100 calories per scoop, this is among the lowest calorie isolates on the market. The flavors are innovative and delicious, there's no fat at all, plus it provides a nice dose of Vitamin D, a nutrient that can be hard to obtain from whole foods.
Pros
The product has no fat and no cholesterol.
There's a great range of tasty and unusual flavors, like White Chocolate Peppermint and Caramel Mocha.
There's added Vitamin D, which may help with bone strength and hormonal health.
Cons
This whey is a little on the pricy side.
There are artificial flavors and sweeteners, which some prefer to avoid.
Best All Natural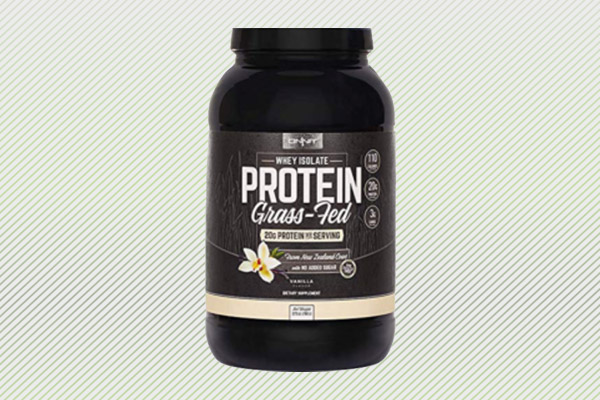 Onnit's Grass-Fed Whey Isolate
This whey is not only free from artificial flavors and sweeteners, but it also is sourced from free-roaming, grass-fed New Zealand dairy cows. But what really sets it apart from its competitors is the huge emphasis on digestive health: it contains seven digestive enzymes and some probiotic bacteria, which might help with nutrient absorption.
Pros
Onnit has a huge emphasis on digestive health, with probiotics and seven digestive enzymes added to the mix.
It contains no soy, no artificial flavors, and no artificial sweeteners.
The formula is completely sugar free.
Cons
This is a remarkably pricy protein powder.
With 5 grams of carbs per serving, this has less protein per calorie than many other isolates.
Best Whey Isolate for the Money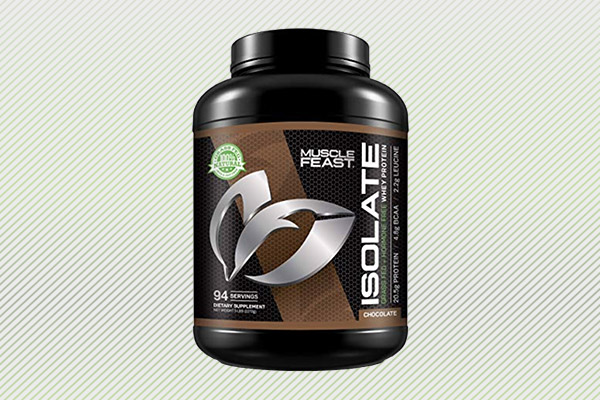 Muscle Feast Grass Fed Whey Isolate
This isn't an especially well known brand, but they deserve recognition. Muscle Feast makes a terrific whey isolate with 99 calories per serving and 0.8 grams of net carbohydrates and 0.5 grams of fat. There are also no artificial flavors or ingredients, and it's extremely inexpensive.
Pros
This is the best value whey isolate on the market.
There are no artificial flavors or sweeteners.
The dairy is sourced from grass-fed New Zealand cows.
Cons
It's naturally flavored, so the favor is a little bland with water.
There are no digestive enzymes, which some prefer to lower the risk of indigestion.
Best Isolate-Hydrolysate Blend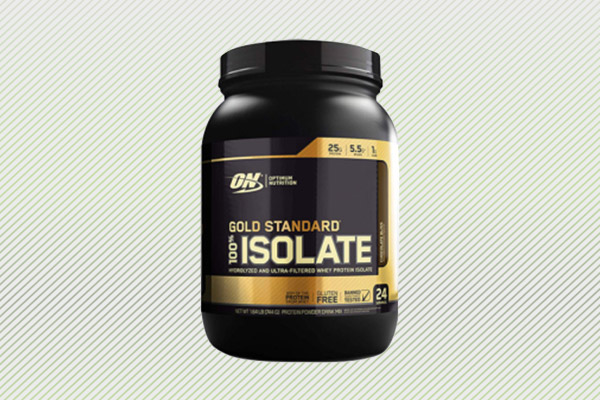 Optimum Nutrition Gold Standard Isolate
Hydrolyzed whey is the third kind people hear about after concentrate and isolate; it's been broken down by acids or enzymes to make a protein that digests very quickly, with some research suggesting it may be more useful for recovery among athletes training twice (or more) per day.
Pros
It's subjective, but this is one of the best tasting wheys on the market — it tastes great with water, which is rare.
The blend of hydrolysate and isolate may make it more useful for athletes.
It's practically lactose-free.
It's very well-priced for an isolate blend.
Cons
This isn't technically free from carbs — there's about a gram per serving.
The product contains soy, which some prefer to avoid.
The first ingredient is partially hydrolyzed whey, not completely hydrolyzed.
What Is Whey Isolate?
There are two kinds of protein in milk: whey and casein. The two are separated in the cheesemaking process, usually with acid or enzymes, and whey used to be considered a waste byproduct, but it's extraordinarily high in protein and is now the most popular protein supplement on Earth.
Whey concentrate is the most basic and least processed form of whey. It's the cheapest, but it also has the most fat, lactose, and sugar.
Whey isolate is a more processed form that's much lower in carbs and fat — some isoalte products are totally free from both. It's pricier, but it's more protein dense and it's typically friendlier on people with lactose sensitivities.
Whey hydrolysate, or hydrolyzed whey, is the most processed and most expensive form. It's been partly broken down with enzymes or acid, to the point that some consider it "pre digested." It digests very quickly, and some evidence suggests that it might help athletes to recover more quickly than whey isolate if they're training twice a day.(1)(2) However, the free amino acids in whey hydrolysate mean it can taste biter.
BarBend Tips
People with lactose sensitivities often go with whey isolate, but some isolates still contain a gram or more of lactose per serving. Check the label.
Many whey isolates contain soy lecithin to help with mixability, so folks with allergies or who otherwise try to minimize soy in their diets should be mindful.
Other ingredients that some people have issues with and are often present in whey isolates include gums, artificial sweeteners, and artificial flavors.
Whey is a relatively inexpensive, low calorie form of protein, but building muscle and losing fat involves controlling calories and plenty of exercise, sleep, carbs, fat, and micronutrients. Ensure your supplementation falls within a well planned regimen.
Speak with a doctor before starting any new exercise or diet routine.
The Takeaway
Whatever your priority is, whey isolate can be a very useful method of increasing protein intake. It's convenient, it's tasty, and especially when compared to a steamed chicken breast, it's inexpensive. Pick the option that's right for you and enjoy the benefits.
References
1. Potier M, et al. Comparison of digestibility and quality of intact proteins with their respective hydrolysates. J AOAC Int. 2008 Jul-Aug;91(4):1002-5.
2. Buckley JD, et al. Supplementation with a whey protein hydrolysate enhances recovery of muscle force-generating capacity following eccentric exercise. J Sci Med Sport. 2010 Jan;13(1):178-81.