Based in Utah, Transparent Labs makes a wide variety of sports nutrition supplements, all of which are totally free from artificial ingredients. Of course, the company's biggest strength may be their transparency: not only are all their products third party tested, Transparent Labs provides certificates of analysis on composition for further peace of mind.
Today, we're taking a look at the Milk Chocolate flavor of their grass-fed whey protein concentrate.
Save 10%
Transparent Labs 100% Grass-Fed Whey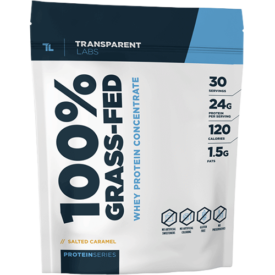 Transparent Labs 100% Grass-Fed Whey
An extremely transparent ingredient list from a company that goes out of its way to provide clear sourcing. Save 10% with code BARBEND10.
Transparent Labs 100% Grass-Fed Whey Concentrate Nutrition and Ingredients
One scoop has 140 calories: 24 grams of protein, 6 grams of carbohydrates (1 gram fiber, 3 grams sugar), and 2 grams of fat (1 gram saturated fat).
As far as micronutrients go, there 's 10 percent of the recommended daily intake of calcium, 25 percent of your daily cholesterol, 10 percent of your daily sodium, and 8 percent of your daily iron.
The ingredients are listed by the amount of each that you get in one 37.29-gram scoop:  grass-fed whey protein concentrate (31g), cocoa (3g), chocolate flavor (2.765g), sodium chloride (400mg), and stevia (125mg).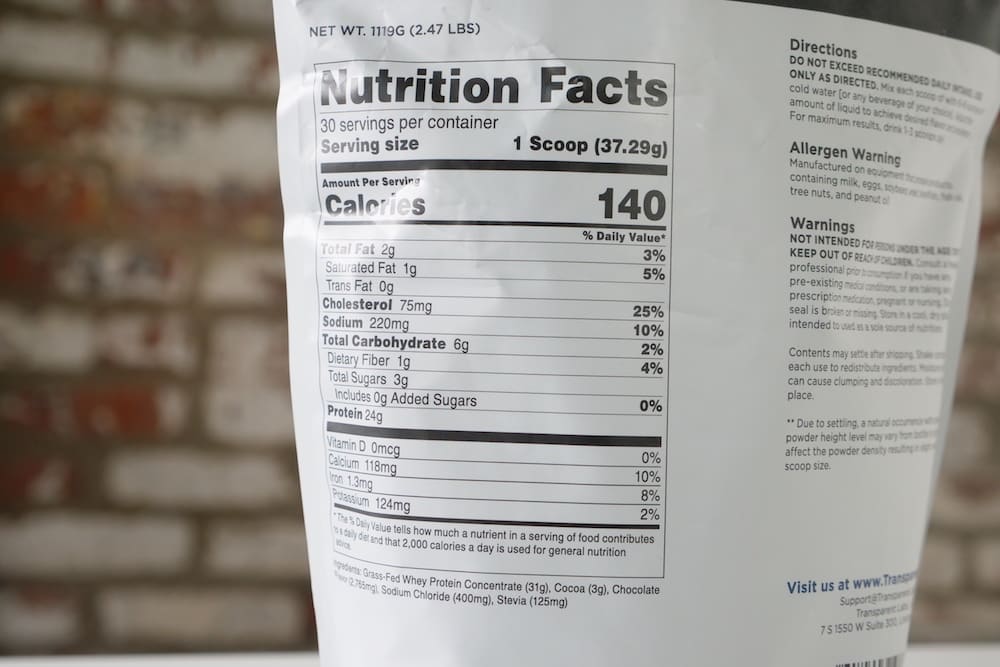 Transparent Labs 100% Grass-Fed Whey Concentrate Benefits and Effectiveness
Whey concentrate is the simplest and cheapest kind of whey, which is also why it has a considerable amount of carbs and fat when compared to the pricier whey protein isolate.
That said, Transparent Labs is unusually high in carbs for a whey concentrate: 6 grams per serving. I'd normally expect three, maybe four grams. With three grams of sugar and no added sugar, this product contains lactose. So some users may not be wild about the macros.
Since there are no digestive enzymes (like lactase), the lactose this may cause issues for those who are intolerant. And since this was made on equipment that processes products containing eggs, soybeans, wheat, shellfish, tree nuts, and peanut oil, athletes with particularly sensitive allergies may want to steer clear.
There's also quite a lot of cholesterol here with 25 percent of the daily intake, and 10 percent of your sodium isn't particularly low either.
Those are all the potential negatives for some users, but that doesn't mean this is a bad product. It's got no artificial ingredients, it has a solid 24 grams of protein, and the dairy comes from grass-fed cows, meaning the fat content — while low — has a few more healthful compounds in it than conventional whey.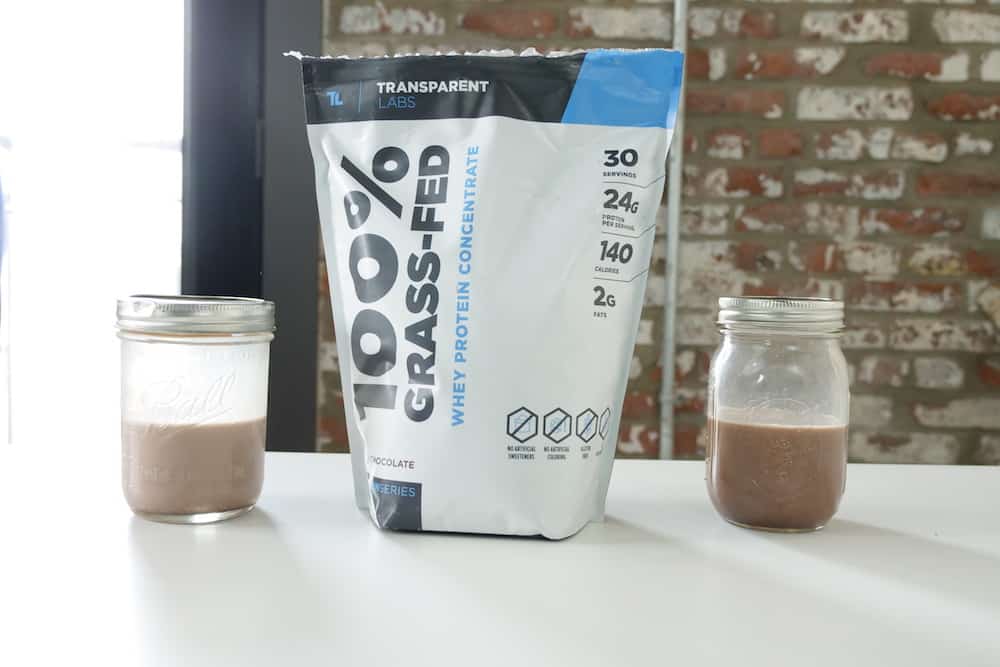 Transparent Labs 100% Grass-Fed Whey Concentrate Price
You can pick up a two-pound bag for $49, which provides 30 servings. That's $1.63 per serving or 6.8 cents per gram of protein.
That's pricier than conventional whey and about what I'd expect to pay for an all-natural, grass-fed whey isolate.  For a grass-fed whey concentrate, this is a little on the expensive side.
Transparent Labs 100% Grass-Fed Whey Concentrate Taste
I didn't love the taste. Like a lot of naturally flavored chocolate protein powders, this wound up tasting a lot like very dark chocolate. To that end, it didn't taste quite right when mixed with milk — it's not a creamy enough flavor. With water it was fine, but more bitter than I'd have liked. It mixed very well, though.
Related: Best Whey Protein Powders
The Takeaway
I'm always happy when companies put out naturally flavored protein powder, and Transparent Labs' commitment to transparency is commendable.
When a company puts so much effort into keeping everything "natural," it's understandable that the final product may not have the perfect taste or the perfect macros. It's not the tastiest or the most effective whey protein, but if you like your supplements natural and transparent, you could do worse than Transparent Labs.
Other Great Protein Powders Reviews
Related Best Protein Powders Content
Transparent Labs 100% Grass-Fed Whey Protein Concentrate
Per Serving: $1.74