When you think of an at-home exercise bike, you may be picturing the bulky, noisy, clunky machine that's been collecting dust in your parents' garage for the past few decades. Fortunately, today's models are sleeker, quieter, and far more dynamic. Whether you're an avid spin cyclist looking to get some high intensity workouts in at home, or a reluctant exerciser, the right bike exists for you.  
P.E. teachers and doctors alike have long touted the benefits of a regular cardio workout routine. Even the U.S. Government recommends 2.5 hours of weekly aerobic activity as a way to strengthen your heart, reduce health risks, and keep off excess weight. If you're having trouble getting your cardio in, using an exercise bike can be an effective way to chip into that quota, or even exceed it. With such a proliferation of bikes on the market, it can be tough to figure out where to start. To aid you in your fitness quest, we've put together a list of the best exercise bikes in a variety of categories.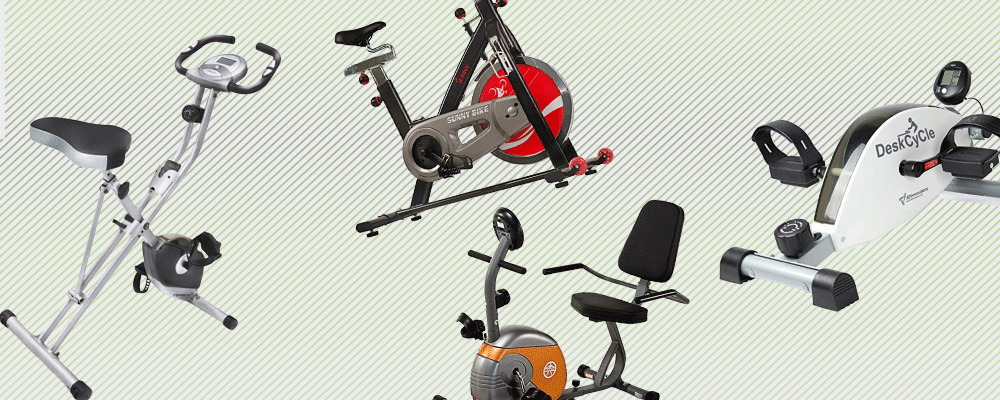 Best Overall Value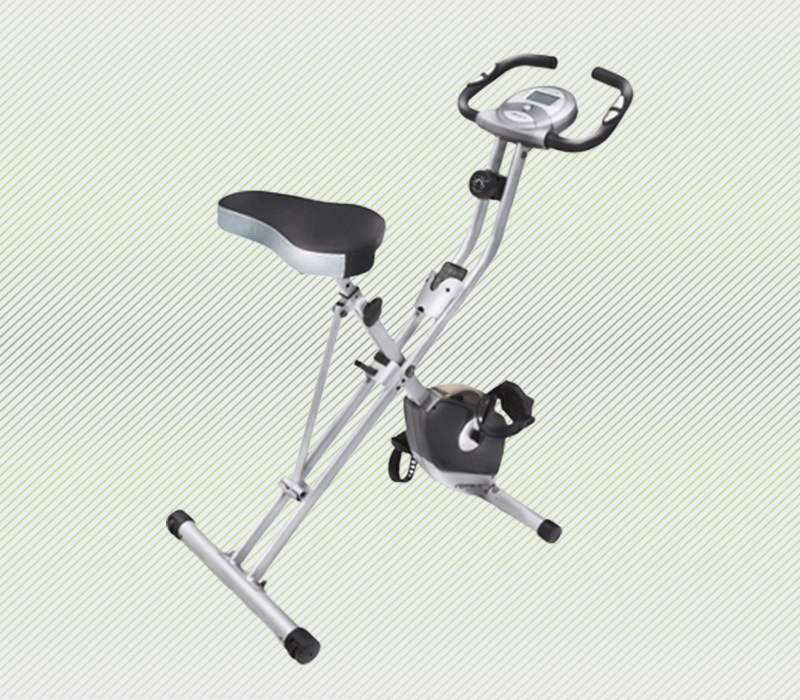 Exerpeutic Folding Upright Exercise Bike
Pros:
Its compact design and foldability are a key feature, particularly if your home does not have a dedicated workout space. Weighing fifty pounds, it's certainly not a light unit, but offers some level of portability.

Equipped with a heart monitor so you can keep track of your pulse while exercising, a key to make sure you're performing at ideal levels. Display unit also displays distance, calories burned, time and speed.

The eight level magnetic resistance system makes for an adjustable tension while maintaining a quiet operation, allowing you to watch TV, listen to a podcast, or simply not wake up your neighbors!

A 14.6 inch cushion is designed for a comfortable ride, and a bit wider than most bikes on the market.

The Exerpeutic is very competitively priced. 
Cons:
A potential drawback of this model is its lack of water bottle holder. However, if you're using this in the home, you could potentially position one within reach on a nearby stool.
Exerpeutic Folding Upright Exercise Bike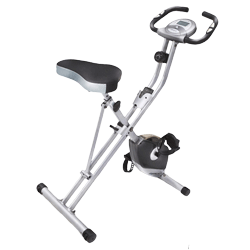 Exerpeutic Folding Upright Exercise Bike
The Exerpeutic offers a lot of functionality with very few bells and whistles. Built to support up to 300 lbs and equipped with a heart monitor, this bike sports a simple design and folds away neatly, making it ideal for folks short on space. 
Best For Office Workouts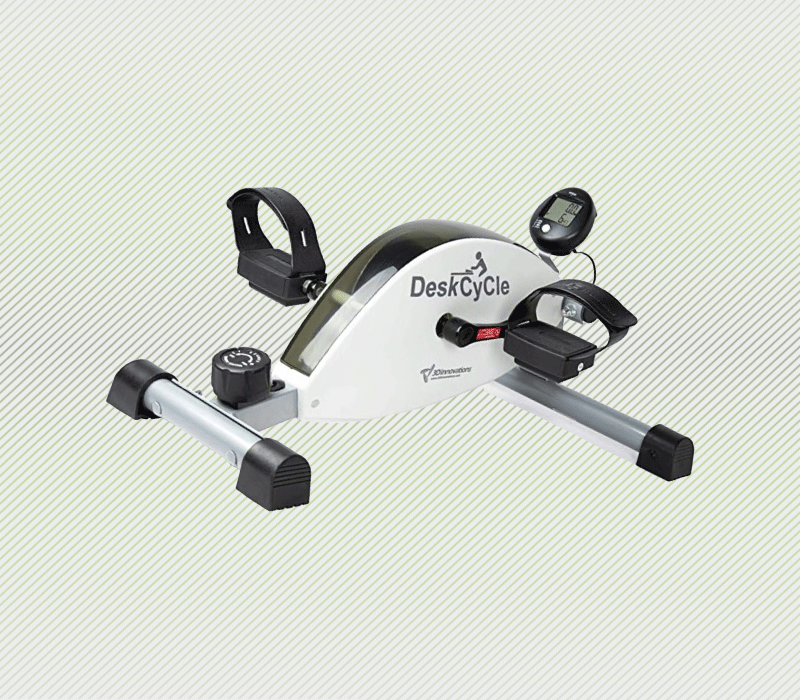 DeskCycle Desk Exercise Bike
Pros:
Includes a detachable display stand to track your progress throughout your workout, including speed, time, distance, and calories burnt. 

Comes equipped with an app designed to track workout progress. 

With 8 resistance settings, it's possible to work up a real sweat on the higher levels; yet the magnetic resistance keeps the machine quiet, so you won't disturb your co-workers.
Cons:
If used on a slippery floor or with a rolling chair, the DeskCycle (or your chair!) may slide. One trick for this could be to find a piece of discarded carpet, and place that underneath the device. The manufacturers also include a Velcro strap to tether the DeskCycle to a chair, if necessary.

Depending on your budget, this may be a bit expensive for a machine you only use at work.
DeskCycle Desk Exercise Bike
DeskCycle Desk Exercise Bike
A compact machine designed to sit on the floor, the DeskCycle may be a great option if you're stuck behind a desk and find it difficult to get some exercise in. It sits just 10 inches off the ground, making it a perfect fit for most desks or tables.
Best Recumbent Bike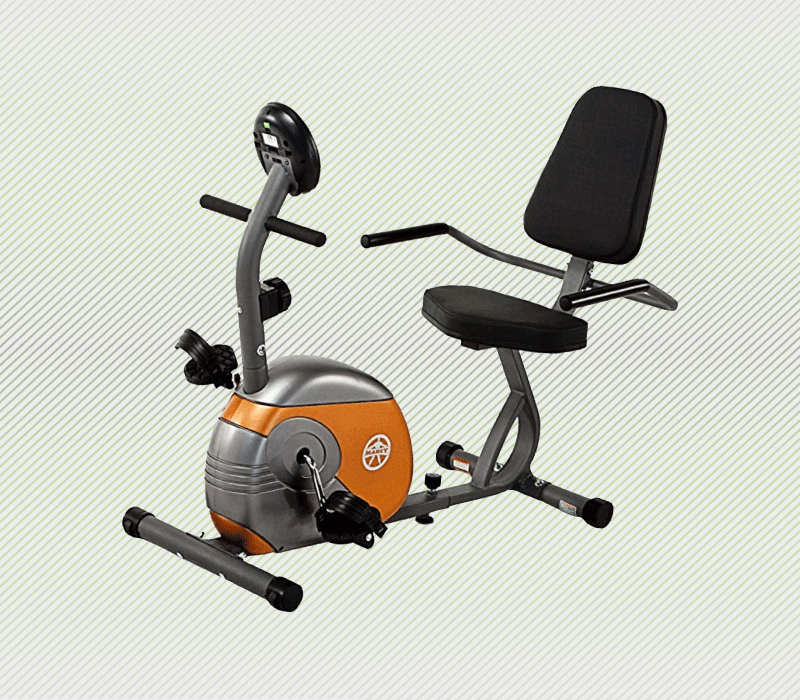 Marcy Recumbent Exercise Bike
Pros:
Big font display runs on two AAA batteries and shows time, speed, distance and calories burned, key info to keep track of during your workouts. 

Most folks find assembly easy, as the package comes with step-by-step instructions and necessary tools.

This bike includes eight resistance levels, giving the rider an opportunity to work harder as you improve. 

Sleekly designed with a wide, comfortable seat and a quiet ride. Also features wheels on the front end, making it possible to relocate it from place to place.
Con:
The Marcy does not include a heart rate monitor or water bottle holder. Folks not accustomed to regular cardio exercise may want to be able to track their heart rates. Consult your doctor. 
Marcy Recumbent Exercise Bike
Marcy Recumbent Exercise Bike
Those who deal with back pain or balance issues may want to consider a recumbent exercise bike to get their cardio minutes in. Marcy offers a very solid exercise bike - featuring 14-gauge steel tubing - at a competitive price. 
Best for Spin Workouts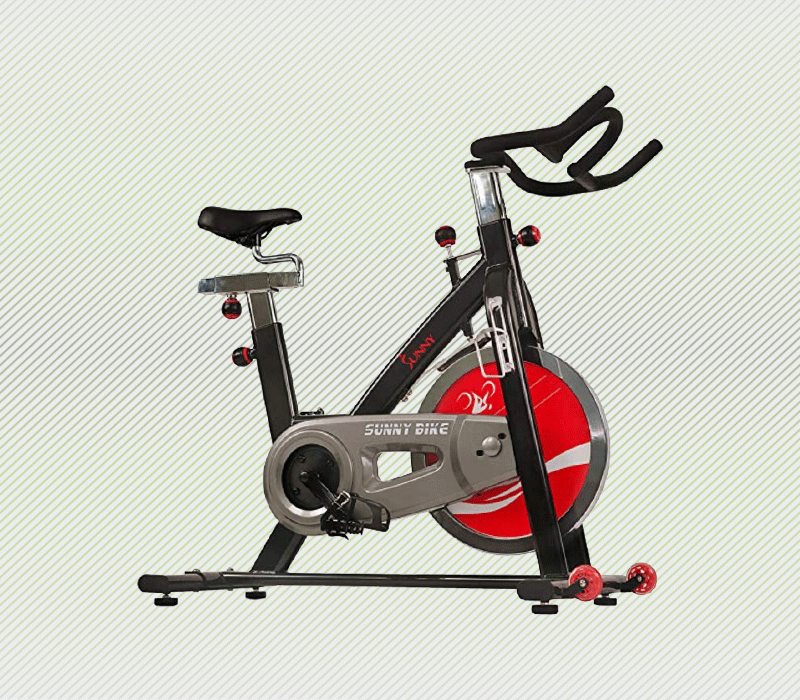 Sunny Health & Fitness 49 Lb Chromed Flywheel
Pros:
The 49 lb flywheel provides tremendous resistance, allowing you to really replicate the hills and terrain of an outdoor ride.

Sunny's bike includes caged foot pedals to keep your feet locked in, helping you maintain a fast and furious pace.

A multi-grip handlebar gives you different options depending on the intensity or duration of your workout.

A water bottle holder is conveniently located on the right-hand side of the bike so you can refuel while you sweat it out. 
Con:
Some more expensive brands offer display screens or a place to position a tablet. This bike has no such implement. 
Sunny Health & Fitness 49 Lb Chromed Flywheel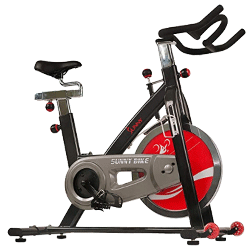 Sunny Health & Fitness 49 Lb Chromed Flywheel
If you're hooked on spinning but less keen on spending a fortune at fitness studios, consider Sunny's offering. With a flywheel weighing in at 49 pounds, much heavier than comparably priced bikes, you'll be equipped to replicate the high-intensity studio workouts of the local studio. You may have to provide your own motivational coach, though. 
Best Bargain Fan Bike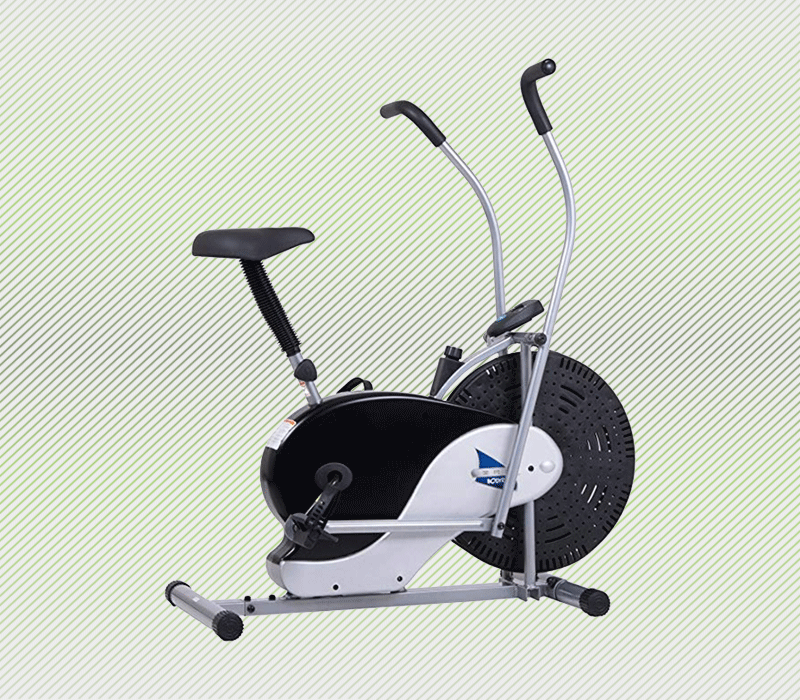 Body Rider Exercise Upright Fan Bike
Pros:
A digital display tracks time, speed, distance and calories burned, allowing you to keep track of your workout.

The elliptical style handles allow you to get in a bit of an upper body workout while pedaling – a huge plus for multitaskers!

A very competitively priced item.

Built to accommodate up to 250 pounds.
Cons:
The seat has been redesigned from an earlier model, but may still be considered too hard for a lot of folks. You may want to consider an additional seat cushion. 

Though this bike is not as loud as the fan bikes you'll find at a Crossfit gym, it's still going to be louder than the other options covered above.
Body Rider Exercise Upright Fan Bike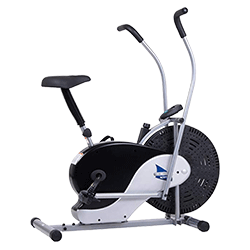 Body Rider Exercise Upright Fan Bike
If you're looking to get your arms involved in your cardio workouts, you may want to consider a fan bike. Body Rider's model offers a very solid, if basic, bang for your buck. 
Methodology
The rise of name brand cycling classes has brought a proliferation of exercise bikes to the market. Different styles of bikes offer different types of workouts, so it's important to know what elements to consider before making an investment. 
Display Screen
What sort of information do you want to keep track of during your workouts? Depending on your fitness goals and whether or not you already use an app to track your progress, having information like time, distance, and calories burned displayed during your work may be important. 
Heart Rate Monitor
Partnered with the display screen, access to a heart rate monitor may be more important for some folks than others. For folks looking to lose weight or train for a specific goal, keeping tabs on heart rate may be very important. 
Resistance Levels
Different styles of bicycles offer different levels of intensity. If you're new to cardio exercising, a recumbent bike may be sufficient. If you're an avid exerciser looking to pick up a new style of workout, you may want something more intense, like a flywheel based bike. 
Portability
Keep in mind how much space you can alot to a new workout device. If your home gym or garage is empty, the size and weight of your bike may not matter. But if you're living in a studio apartment and every square inch is crucial, find a bike that can fold up is probably going to be at the top of your wish list. 
Weight Capacity
You'll definitely want to bear in mind your weight when looking at the weight-bearing capabilities of the various bikes on the market. 
Price
It's wise to consider how an exercise bike fits into your overall workout budget. If this is only going to supplement your existing gym membership, it may not make sense to invest all that heavily.
Use
Dovetailing with price, keep in mind how much you plan on utilizing your exercise bike before committing to one. If you're only going to jump on it once a week, a simpler model may suffice. On the other hand, if this is going to be a mainstay of your fitness regimen, it's probably worth investing in a top-flight bike.
BarBend Tips
Consider your personal fitness goals before you commit to an exercise bike. Not everyone needs to ride like they're training for the Tour De France. A simpler model may work fine. 

Test out a few different styles of exercise bike at a local fitness store or gym, if possible. Pay attention to how the seat feels. A little discomfort is normal, particularly if you're new to riding a bike; but if you don't see you can't wait to jump off the bike as soon as you get on, you may consider a different option.
Choosing the right exercise bike depends a lot on your personal fitness goals. Pay less attention to what the trendiest options are, and think critically about how you'll get the most out of your investment. And if you're just starting out a cardio regimen or have any injuries, you may want to consult your doctor before jumping on the saddle.