We receive free products and receive commissions through our links. See
disclosures page
.
If you're a die-hard cycling enthusiast but still find yourself reaching for dumbbells to knock out an upper body workout after your indoor bike ride, the Assault AirBike could be a good fit for you. It's a full-body workout thanks to its moving arms that take the place of the more typical stationary handlebars. In fact, if you want to focus on your upper body entirely, you can even prop your feet up on the bike's pegs and power its fan wheel using just your arms.
This versatile machine is popular for cross-training, CrossFit, interval sessions, and even with the US Military for their physical training programs. The price for this exercise bike is fairly low for cardio or strength machines, but the build will hold up long past most equipment's expiration date making this a great addition to any home gym space. If you're looking for a way to kick things up a notch, we think the Assault AirBike is worth considering.
Main Takeaways
The Assault AirBike has moving arms that add an additional upper body workout to your ride.
Pegs on each side of the fan wheel allow you to ditch the pedals altogether and just work your upper body.
The small display features interval programs as well as goal workouts to keep you motivated throughout your session.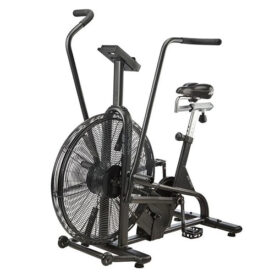 The Assault AirBike is a moderately priced bike with a solid build that features a powder-coated steel frame. It's an upright indoor bike with moving arms that's designed to burn calories and integrate seamlessly into cross-training and interval workouts.
Assault AirBike Video Review
Our Reviews Writer, Jake, tried the Assault AirBike out for himself. In this video review, he walks you through the bike's pros and cons, price, features, and more.
Assault AirBike Highlights
With the Assault AirBike, you still get the spin and lower body work that you might find on a typical indoor bike, but you also have the opportunity to work your upper body with the bike's moving arms. There's a reason why this bike is called the "calorie bike". You're using most of your body to operate the machine, so you tend to burn a lot of calories.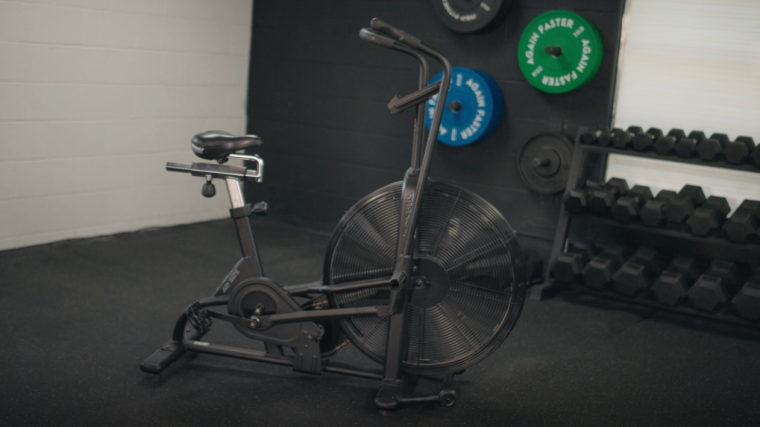 Users can expect a robust workout from this bike, but this version of an indoor bike is, of course, not for everyone. If you're training for a road race or want to focus on your leg strength, a typical upright indoor bike may be a better fit for you.
Who Should Buy the Assault AirBike
Athletes who want to incorporate upper body work into their cycling workouts.
Riders who enjoy interval training and following pre-programmed workouts.
Users who want the option to track their heart rate and calories burned throughout their ride.
Who Shouldn't Buy the Assault AirBike
Anyone who wants a quiet piece of equipment for their early morning at-home workouts.
Spin class enthusiasts who aren't keen on using moving arms for added upper body work.
Users who don't like a heavy stream of cool air blowing in their face off the fan wheel as they ride.
Price
Including shipping, the Assault AirBike sells for around $760, which is a relatively low price tag. It has minimal features outside of its stat-tracking, making it less expensive than higher-end indoor bikes with advanced tech, like touchscreen displays and workout app compatibility. Assault tends to make high-quality products that stand the test of time, so this price — while some may find it high with its lack of features — is well justified, in our opinion.
If you don't want to spend that much upfront, you can finance your purchase in a few ways. If you were to purchase the AirBike directly through Assault Fitness, you can utilize Affirm, or you can buy it through Rogue, where they provide the option to use PayLater from PayPal.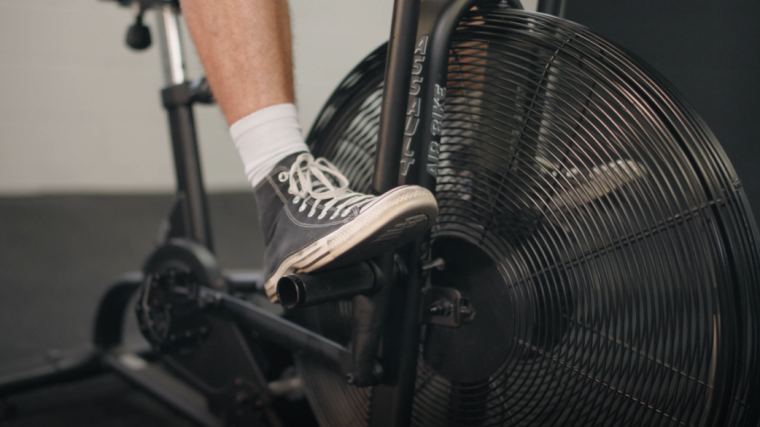 If you're interested in the upgraded versions of the Assault AirBike, you can opt for the Elite and Pro models. The Pro will run you around $980 and features an improved LCD display with Bluetooth capabilities for your phone or fitness tracker — plus, it's compatible with the Assault Fitness App. The Pro model also has 11 height adjustments for the seat, and six front-to-back adjustments.
The Elite model will cost you about $1,400 and has the same upgraded LCD display the Pro model has. However, it does have a bulkier frame, custom programming options, and the wind screen is built in. Plus, it features a larger seat to go along with the 11 height adjustments and eight front-to-back adjustments, meaning it might be more accommodating for people of all sizes. The Elite also comes with a 10-year warranty on the frame and a three-year warranty on the parts.
Overall Build and Quality
The Assault AirBike is built to support years of heavy use. Its powder-coated steel frame and sturdy 25" fan wheel are relatively low maintenance. The moving arms do add a concern for additional wear, but as long as you keep your machine clean of sweat, the parts are built to endure. This bike scraps the large console for a smaller display that will still track your stats, but also steer clear of those moving arms that can reach high speeds when you're really leveling up your resistance and interval training.
Features
The Assault AirBike keeps the features low, but the sweat levels high. The moving arms make for some added work, and you can still track all your basic stats on the small LCD display screen for a complete workout session.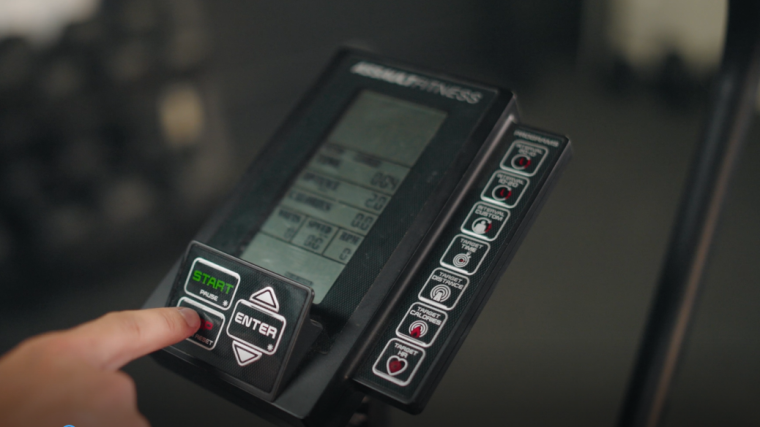 Several interval and goal programs are built into this bike to guide your workout; however, it's not compatible with any workout apps. Though not as high-tech as some more expensive options, you'll still get all the necessary features for a complete workout on this machine.
Stats Tracking and Metrics
You can track your time, distance, speed, RPM, watts, and heart rate on the bike's small LCD display situated between the moving arms.
Display
This bike has a small LCD display. You can customize your ride easily using the buttons along the side of and beneath the display screen.
Included workouts
There are three interval programs — 20/10 Interval, 10/20 Interval, and Custom Interval — in addition to goal programs for time, distance, calories, and heart rate. But if you want to ride without added guidance, you can also opt for manual mode and drive your own workout.
Workout Apps, Compatibility and Subscription Options
This machine doesn't come with any apps, nor is it specifically compatible if you are using third-party apps of your own. Since it's not your traditional upright indoor bike, the classes you can follow on apps like Peloton or iFit won't have cues for the arm movements you'll be making on this bike. Plus, there's nowhere to prop up a phone to follow along to a video stream, so you're better off just using one of the programmed workouts or manual mode to ride here.
If you're a CrossFit athlete, you'll probably find a calorie bike programmed consistently in your WODs, so if you're on the hunt for a piece of equipment that is compatible with CrossFit-style workouts, then the Assault AirBike is an ideal machine for you.
Ride Feel and Comfort
The seat is padded for comfort and can be angled to best suit your body. However, since this bike is a bit different from your typical upright indoor bike, it won't feel like your average indoor or road bike ride — you'll work your arms much more intensely.
Heart Rate Monitoring
You can track your heart rate on the display using any Polar-compatible chest strap. If you have your own separate monitor that isn't compatible, you can opt for that as well — the stat just won't show up on the display screen with the rest of your stats.
Fans
No console fans are built into this machine, but since it is a fan resistance bike, no matter the speed you pedal, you'll get a pretty steady breeze blowing off the fan wheel. The harder you work, the stronger the breeze — expect very high winds at those higher speeds.
Speakers
There aren't any speakers built into the console, so you will have to rely on earbuds or floor speakers for sound if you need music to jam to as you ride.
Water Bottle, Cup Holders, Tablet and Phone Holders
The Assault AirBike has a water bottle holder, but you won't find any place to store extra accessories or devices on this machine.
Bluetooth and Audio Options
There's no Bluetooth connectivity on this bike, but you shouldn't need it for workout streaming purposes since all the workouts you need are programmed into the bike.
HDMI, USB and Other Inputs
This machine doesn't have any inputs, so you won't be able to connect any devices through the bike itself.
Product Specs
Weighing a fairly light 98.1 pounds, this machine is easy to maneuver using its two front wheels. It's technically an upright indoor bike, but the moving arms add a little extra oomph to your workout.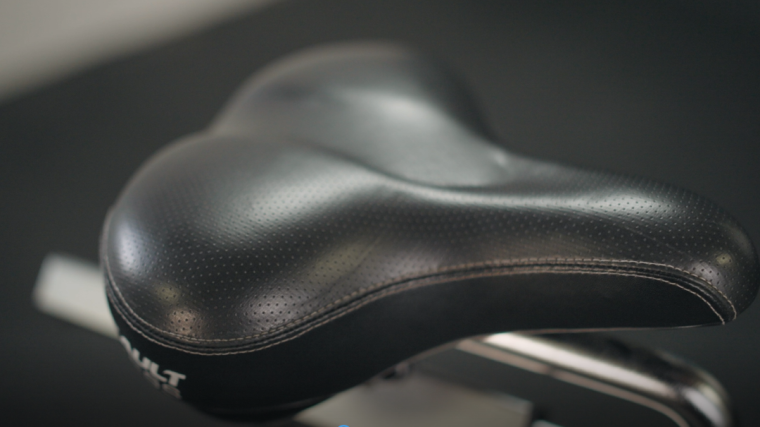 Though it is light, it's a noisy piece of equipment since it utilizes a large fan wheel to create resistance. Unlike some bikes with a limit to their resistance, this bike will keep the resistance working with your strength, going higher and higher the harder you pedal.
Bike Type
The Assault AirBike is considered an upright fan bike. The great thing about fan bikes is that the resistance is produced by the fan, and the moveable arms provide an added stimulus to your workout.
Resistance
The fan air resistance system adapts to the amount of effort each user puts into the ride. The harder you pedal, the stronger the resistance is going to be. The same goes with the arms — the harder you push and pull on the arms, the stronger the resistance.
Pedals
The pedals on the Assault AirBike are extra wide standard pedals, so they will sit comfortably with all sizes of running shoes. In addition, if you just want an arm workout, you can take your feet off the pedals and place them on the pegs next to the fan wheel to power the fan with just your upper body strength.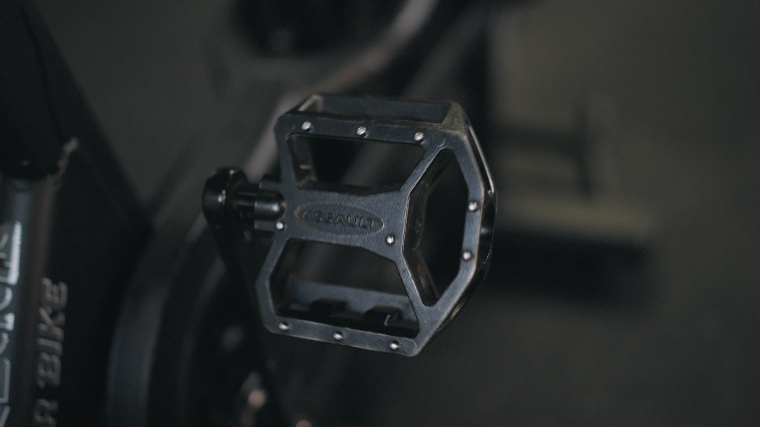 There are no clip-in options here, so you can ditch your spin shoes with this bike.
Seat and Handlebars
The seat is adjustable vertically and horizontally, but since the arms are mobile, they don't adjust like regular handlebars. They'll still be functional for most sizes, but because you cannot adjust the height of the handlebars, some people with smaller frames may have to reach a little higher than normal.
Dimensions
This bike measures 50.9″ x 23.3″ x 48.4″, which is a little larger than average indoor bikes due to the movement of the arms and the large fan wheel.
Weight Capacity
The Assault Airbike can support weights of up to 300 pounds, which is around average for an indoor bike.
Portability
The Assault AirBike has front wheels that make maneuvering the bike on firm surfaces super seamless.
Electrical Requirements
The Assault AirBike is powered by the user's movement and power, but the console runs on 2 AA batteries.
Noise
The Assault AirBike is one of the louder bikes on the market due to its fan resistance. However, purchasing a wind screen will soften the noise just a little for home use.
Places to Buy
You can buy the Assault AirBike through Rogue Fitness and Assault Fitness.
Warranties
With your purchase, you'll receive a 5-year warranty on the frame and a 2-year warranty on all parts.
Company Information
Assault Fitness produces a line of fitness products, including bikes, rowers, and treadmills. Their Assault AirBike is considered one of the most challenging bikes on the market, but their other products are also built for heavy trainers, focusing most on overall form and performance that improves athletic ability.
Final Word
Whether you're someone looking to spend the afternoon burning some extra calories, or you want to get a quick upper body workout in, the Assault AirBike can satisfy both needs. Since the resistance will increase the harder you push yourself, we doubt there will ever be a dull moment. Since this is a fan bike though, it is a little noisy, and may not be ideal for everyone. If that will annoy you, we suggest looking for a more traditional stationary bike.
It also doesn't have a lot of "bells and whistles," so if you're looking for a bike with streamable workout classes, or speakers built into the display, you might want to keep searching for another more technologically advanced bike. But, since this bike is more affordable than some of its high-end competitors and is built to last, we think this could be a great purchase for anyone who is looking for a solid exercise bike to add to their home gym — especially those who want a full body workout on their bike.
FAQs
Is the Assault AirBike better than a regular indoor bike?
It depends on what you are looking for. This bike keeps the features low, but adds that extra upper body work with its moving arms. If you're looking for the added arm workout, this is definitely a better option for you than a basic upright indoor bike. However, if you want higher-tech options, or just want to focus on cycling, you're better off opting for a more traditional indoor bike.
Is the Assault AirBike too loud for home use?
If you're looking to stay quiet at home, the answer is yes — this is a loud machine, and if having a quiet bike is a priority for you, you're better off looking for something with magnetic resistance. However, if you live alone and are only worried about the sound getting through your walls and into your neighbor's space, unless your walls are ultra-thin, the Assault AirBike will be just fine.
How much does the Assault AirBike cost?
This depends on which of the three models you decide to purchase. Including shipping, the standard Airbike will run you around $760, the Pro is about $960, and the Elite is around $1,400. Even the Elite version is cheaper than some of the high-tech options out there. We think you're getting a pretty solid deal regardless of which one you choose considering the durability and difficult full body workouts this bike provides.