If you've ever forgotten to bring a water bottle to the gym, you've probably experienced the negative effects of dehydration on your workout. As you sweat you not only begin to become dehydrated, but you also lose electrolytes. The American College of Sports Medicine recommends drinking during exercise to avoid excessive changes in hydration levels and to maintain electrolyte balance (1). Electrolytes are minerals that conduct electricity in water and in so doing help the body maintain a host of functions – including muscle contraction, and regulating blood pressure. Common electrolytes include potassium, sodium, chloride, magnesium, and calcium.
While trace amounts of electrolytes are found in many bottled or tap water sources, a host of companies produce electrolyte supplements designed to help restore hydration and electrolyte levels. The National Athletic Trainers Association recommends additional electrolyte supplementation for those who engage in intense exercise for more than an hour at a time, or in areas of excessive heat (2). Additionally, electrolytes may be beneficial for folks suffering from dehydration related to illness, diarrhea, or vomiting. Your humble author may or may not be known to seek out electrolytes the morning after a night of indulging in a few too many adult beverages. Regardless of your particular need for electrolyte supplementation, there are a lot of options available on the market, including powders, tablets, and capsules. We rounded up some of the best electrolyte supplements available, tested them out, and compared them.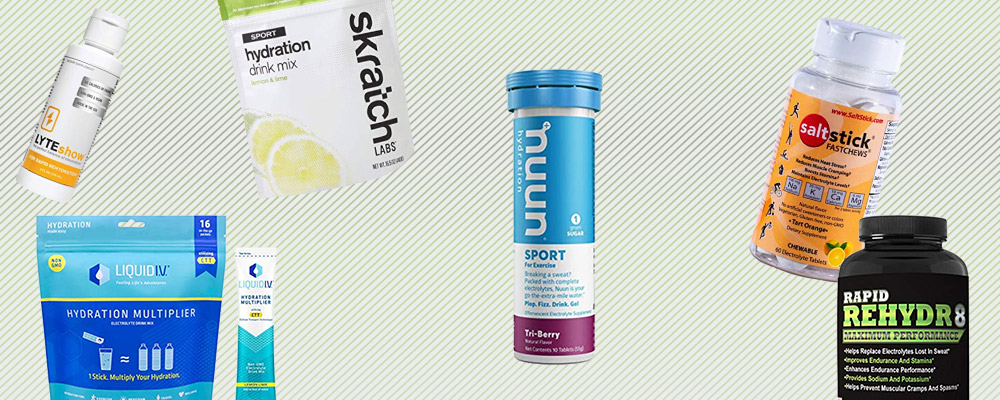 Editors' Choice: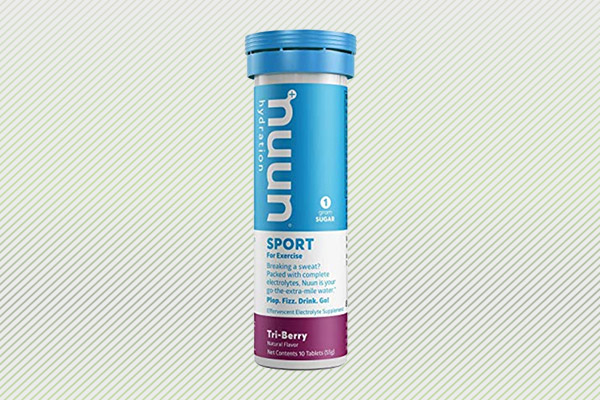 Nuun Hydration Sport Tablets
Pros:
Nuun Hydration Sport Tablets are available in a variety of tasty flavors, including tri berry, citrus fruit, lemon lime, and orange. 
Directions advise to add one tablet to 16oz of water. It's possible to drink it with less water, but the flavor may end up being a bit overpowering for some.
Packaged in an easy-to-transport tube filled with 10 tablets, and available in boxes that carry up to four tubes per box.
Compared to other powders that need to be stirred, these tablets are much easier to use as they simply bubble up and create a lightly carbonated, relatively evenly mixed beverage in less than a minute.
Only one gram of sugar per serving, which is pretty remarkable given the high quality taste.
Cons:
While some other electrolyte supplements include vitamins, Nuun's hydration sport tablets do not.
Best Single Serve Powder Packets: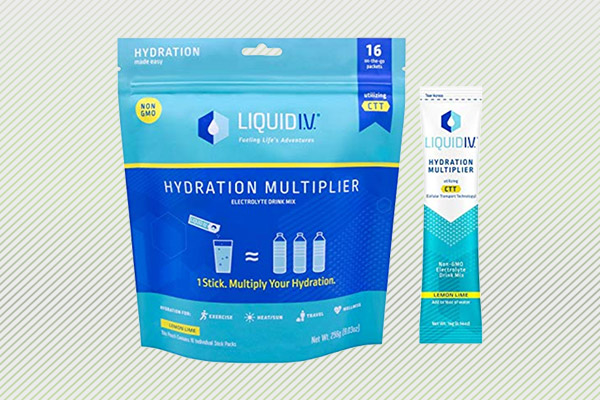 Liquid IV Hydration Multiplier
Pros:
Liquid IV's single-serving packets might be a great option for folks who want to take powdered electrolyte mix with them on the go. 
Each packet contains 500mg sodium and 370mg of potassium, as well as a daily recommended dose of Vitamins B3, B5, B6, B12 and Vitamin C. 
With each purchase of Liquid IV, the company donates a serving to someone in need.
Cons:
After stirring this into a 16oz glass of water, the lemon-lime taste was quite tart, more so than one might expect for this type of product. 
Each serving contains 50 calories and 11g of sugar, and the first ingredient listed is pure cane sugar. 
From a cost perspective, these were among the most expensive on the market from a per serving basis. 
Best Powdered Electrolyte Mix: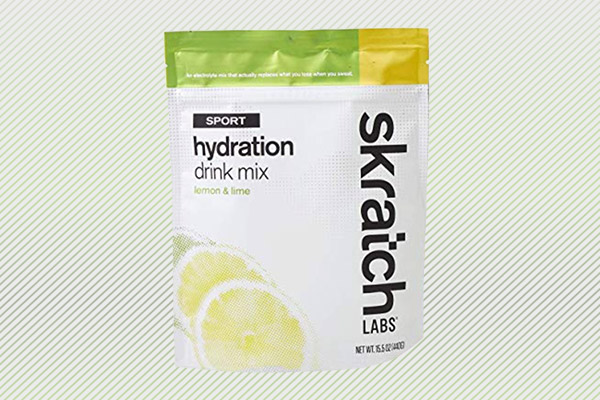 Skratch Hydration Drink Mix
Pros:
Each 1 scoop serving of Skratch's powder contains 80 calories and 380mg sodium, as well as 44.3mg of calcium, and 39mg of potassium and magnesium. 
The lemon lime flavor we tasted needed to be mixed with a spoon to fully dissolve, but had a very refreshing taste. 
Instructions advise 1 scoop for 12-16 oz of water, and 1.5 scoops for larger servings of water. 
Comes in an easily resealable bag with a convenient scoop.
According to third party testing for purity via Labdoor.com, Skratch's powder ranks at the top in terms of purity and nutritional value.
Cons:
Each serving of Skratch's mix contains 19g of sugar, a bit higher than some of the competing electrolyte mixes. 
The overwhelming electrolyte used in this mix is sodium, while other electrolyte supplements provide a bit more of a mix of electrolytes in their blends.
Best Chewable Electrolytes: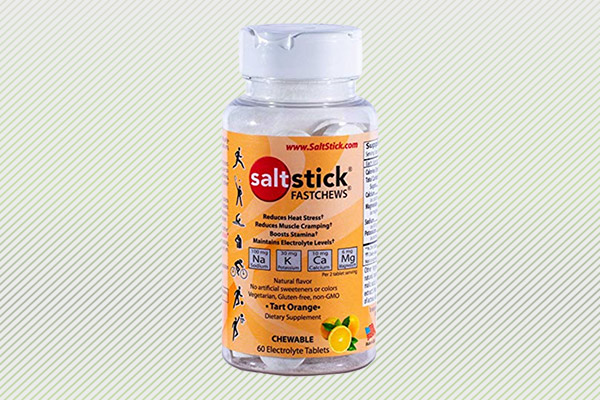 SaltStick Fastchews
Pros:
Each 2 tablet serving of SaltStick Fastchews contains 10 calories, 100mg of sodium, and 30mg of potassium, as well as lower levels of calcium and magnesium.
With only 2g of sugar per serving, these tart orange chewables still pack a pleasant flavor. 
Each bottle contains 30 servings of fastchews. 
Cons:
On a per serving basis, these chewables do not have as many electrolytes as many of the competitors we checked out. 
Best Electrolyte Concentrate: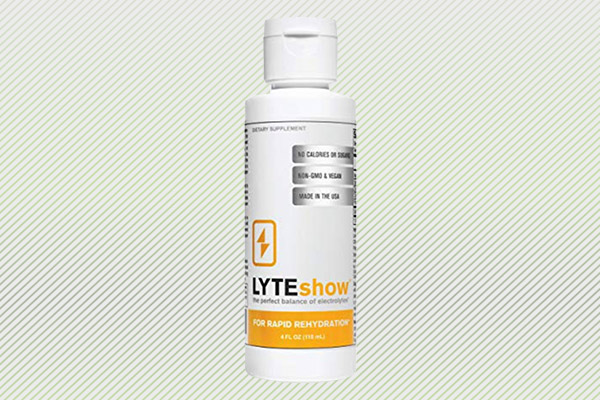 LyteShow: Ionic Electrolyte Concentrate
Pros:
Each package of LyteShow comes with a 4oz bottle of concentrate as well as a 3ml-sized travel flask, intended to be convenient for travel. 
On a per serving basis, this is one of the more competitively priced electrolyte supplements on the market. 
Each serving contains just over 700mg of electrolytes, including 390mg chloride, 125mg sodium, 130mg potassium, 40mg magnesium, 20mg sulfate, and 2mg zinc. 
No sweeteners or sugars added.
Cons:
As the company makes very clear, this product is not crafted with taste in mind. As such, the concentrate makes water a bit salty and tart, which may be unpleasant for a number of folks. 
For a lot of folks, the inclusion of zinc here is worth noting, as zinc can sometimes cause upset stomachs.
Best Value: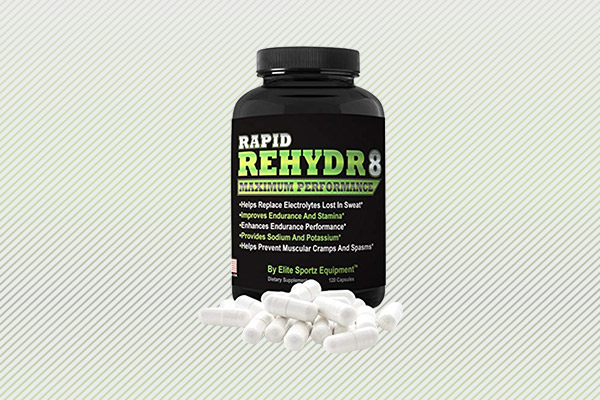 Rapid Rehydr8 Electrolyte Capsules
Pros:
Each capsule contains nearly 400mg of electrolytes per serving, including 200mg sodium, 99mg potassium, and 50mg calcium and magnesium.
Rapid Rehyd8 capsules are made from a vegetable formula, making these vegan friendly. 
Designed to prevent muscular cramps and spasms while enhancing endurance and performance, with instructions that advise capsules be taken before, during, and after workouts or races. 
On a per serving basis, this is one of the most competitively priced electrolyte supplements on the market. 
Cons:
A potential drawback of taking an electrolyte via capsule or pill form as opposed to powdered form is that you'll still need to make sure you get enough water to ensure your hydration levels are appropriate. 
Methodology
Electrolytes play a key role in helping our bodies function properly. As folks lose bodily fluids – either through exercise, exposure to warm temperatures for a long period, vomiting, diarrhea, or whatever the case may be – they also lose electrolytes. Losing electrolytes can impact athletic performance, cause an increase in muscle cramps, and generally lead to increased feelings of fatigue or discomfort. For that reason, taking an electrolyte supplement may be very beneficial for exercising for an extended period of time, working outdoors in an exceptionally hot environment, or even taking a long flight. In comparing various types of electrolytes supplements, we looked at a few different key features.
Type of Electrolyte
One of the most common sources of electrolytes across the supplements we reviewed is sodium. This tracks logically, since most folks lose a great deal of sodium through sweat (3). However, most US adults already ingest more than enough sodium on a daily basis (4). If you're concerned about your sodium levels, you should consult a medical professional.
Other common electrolytes found in supplements include potassium, magnesium, and calcium. Among the supplements we reviewed, LyteShow stands out as the only supplement to feature chloride more prominently than sodium.
Amount of Electrolytes
Take a look at the suggested serving size and compare how many electrolytes are available. Among the brands we compared, Liquid IV and LyteShow featured the most electrolytes per serving, while SaltStick Fastchews and Nuun Sport tablets were on the lower end of the spectrum. Depending on how intense your exercise, it may not be a full on "more is more" situation.
Form: Powder, Pill, Concentrate
Ultimately, this comes down in large part to personal preference. Some folks may find a chewable tablet or swallowable capsule more convenient than mixing up a powder or liquid supplement into a bottle of water, particularly if you're in the middle of an endurance race. On the other hand, drinking electrolytes can help ensure that you get an adequate amount of hydration as well.
Additional Nutrients
Some electrolyte products bolster their supplement with additional vitamins. While a well-balanced diet will ensure you get all the vitamins you need, getting some additional Vitamin B may be worth it for some folks.
Purity
With any supplement, it's worth taking a look at the ingredients list and checking for any third party testing. Labdoor includes some third party testing on electrolyte supplements to help give you peace of mind.
Taste
This is another matter of personal preference. Some folks have no issue choking down unpleasant tasting supplements as long as they trust that the benefits are worth it, while others may only take their medicine with a spoonful of sugar.
Sugar Content
These supplements vary widely in terms of sugar content. At the high end, Skratch contains 19g of sugar per serving, while Nuun still achieves a tasty product with just 1g of sugar. For folks looking to keep sugar completely out of their diets, you may want to consider LyteShow or Rapid Rehydr8.
Cost
To figure out the best bang for your buck, divide the total cost by the amount of servings listed on the product. It's also worth taking into account how many electrolytes are in a given serving of an electrolyte.
BarBend Tips
Staying adequately hydrated is important for maintaining your health. However, this does not necessitate an uptick of electrolyte intake. Many folks will get enough electrolytes from following a balanced diet, and will really only need to turn to electrolyte supplementation during very intense, long workouts, endurance running, swimming, or biking, or extended exposure to an excessively hot environment.

If you're planning on going for an extended run or subjecting yourself to an activity or environment where you'll be sweating intensely, it's worth taking a precautionary dose of electrolytes to stave off cramps.
Electrolyte supplements have started to become increasingly popular in recent years, as many folks swear by their efficacy. Before you click purchase on any one product in particular, consider all the features that set one supplement apart from another.
References
American College of Sports Medicine, Sawka MN, Burke LM, et al. American College of Sports Medicine position stand. Exercise and fluid replacement. Medicine and science in sports and exercise. 2007;39(2):377-390.‌

McDermott BP, Anderson SA, Armstrong LE, et al. National Athletic Trainers' Association Position Statement: Fluid Replacement for the Physically Active. Journal of Athletic Training. 2017;52(9):877-895.

Lara B, Gallo-Salazar C, Puente C, Areces F, Salinero JJ, Del Coso J. Interindividual variability in sweat electrolyte concentration in marathoners. Journal of the International Society of Sports Nutrition. 2016;13(1).

Cogswell ME, Zhang Z, Carriquiry AL, et al. Sodium and potassium intakes among US adults: NHANES 2003-2008. The American journal of clinical nutrition. 2012;96(3):647-657.

‌