From squats to overhead presses, slam balls have the resistance and versatility to build strength in your entire body. You can also slam them against a wall and almost any surface making them a great tool for functional training and cardio. Not to mention you can use them as therapy for your pent up aggression.
Slam balls all serve the same function, but there are some differences that may be impact how and why they're used. We've rounded up the best slam balls to help you choose which one is right for you and your training.
The Best Slam Balls
Best Overall Slam Ball
Rep Fitness steps up their game with a thicker and more robust slam ball than their first incarnation.
Rep Fitness V2 Slam Balls
With a 50% thicker rubber shell and a strengthened air nozzle, this slam ball is an upgrade from the original Rep Fitness Slam Ball. The shifting sand inside forces you to execute your movements properly as it will pull you in the direction in which it is tossed if you don't engage your core and control your center of gravity. The improvements don't come at an extra cost as these are some of the most affordable slam balls in the market.
Who Should Buy Rep Fitness V2 Slam Balls
Athletes at the intermediate and experienced levels. If you've mastered the classic slam ball, the shifting center will add an extra challenge to your workouts.
Who Shouldn't Buy Rep Fitness V2 Slam Balls
Suppose you're a very inexperienced beginner; the rubber provides substantial grip but it might not be enough to control the shifting center.
The Rep Fitness V2 Slam Balls take the best overall pick as it hits the mark on construction and adds the shifting center to work your resistance and control.
Best Classic Slam Ball
A grip-friendly option with no shifting center, this pick is a model representation of a classic slam ball.
Rogue Echo Slam Balls
You won't find anything out of the ordinary with these slam balls. The Echo Slam Balls have a rubberized shell that is so durable Rogue backs it up with a two-year warranty. These slam balls are well balanced since the center doesn't move at all and it provides just a little bounce on the return.
Who Should Buy Rogue Echo Slam Balls
Athletes of all levels. The standard rubber shell and the compact interior make it an easy slam ball anyone can use.

These balls can be used for various workouts such as wall tosses, Russian twists, and rotating lunges so they'll be useful during circuit training.

If you need variety in weight. These slam balls come in five-pound increments from ten pounds to 50 lb.
Who Shouldn't Buy Rogue Echo Slam Balls
If you need higher weights and more resistance. These slam balls only go up to 50 lb.

If you want a slam ball with absolutely no bounce.
Providing just what you need for a fundamental slam ball drill, this pick delivers the fundamental features without any added bells and whistles.
Best Slam Ball for a Dead Bounce
If you're looking for a ball with the sole purpose of slamming them as hard as you can then an option with no bounce might be the best for you.
Titan Fitness Slam Balls
This pick is ideal for ball slams. The Titan Fitness Slam Ball can help you increase your explosiveness without the fear of the ball bouncing back onto your face. With no rebound, this slam ball also works your hand-eye coordination as it falls heavy and must be caught quickly after being thrown against walls or tossed from training partners.
Who Should Buy Titan Fitness Slam Balls
Combat fighters such as boxers and MMA fighters as these slam balls train you to throw some weight behind your punches.

If you have a training buddy. These slam balls are great for chest throws and won't bounce all over the place if your partner doesn't catch it.
Who Shouldn't Buy Titan Fitness Slam Balls
If you prefer a ball with more bounce to work your speed and agility.
Most slam balls have a little bounce to them but you'll be forced to do all the work as these remain dead on impact.
Best Slam Ball for Grip
While most slam balls have raised grip lines, one with treads on the surface might help even further your hold.
American Barbell Slam Balls
These slam balls have tire tracks that prevent them from slipping out of your hands. This pattern is found all around the surface which makes them ideal for long and sweaty sessions. These slam balls also go up to 200 lbs making them the only pick on this list to offer that size.
Best for Grip
American Barbell Slam Balls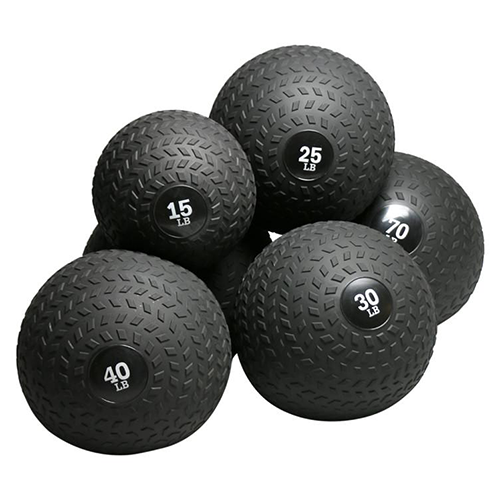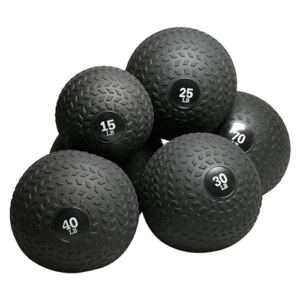 American Barbell Slam Balls
The treads on these slam balls enhance grip ability but are still comfortable to handle with their rubberized shell.
Who Should Buy American Slam Balls
If you need to work on strengthening your grip.
Elite athletes. This pick comes in a variety of higher weights and can be used as a soft Atlas stone.

If a ten-pound slam ball is a little too light for you, this pick also comes in a 12 lb option.
Who Shouldn't Buy American Slam Balls
If you prefer the typical slam ball shell without any treads.

If you need more weight variety as these only come in ten-pound increments. They also do not have a 20 lb or 30 lb option.
These slam balls will serve you with their treaded shell as you increase your weighted resistance without costing you your grip.
Best Slam Ball for Versatility
Slams balls and medicine balls are not the same. With this pick, you don't have to choose one over the other.
Rogue Fitness D-BALL MEDICINE BALLS
With its gel-filled interior, this pick gives off the feel of a traditional medicine ball. While its rubber exterior still makes it sturdy enough to handle violent and rigorous throws, its density allows it to withstand medicine ball workouts like push-ups and planks. This pick also comes in an eight-pound, 12 lb, and 16 lb option which is sometimes hard to find in other slam balls.
Who Should Buy DBall Medicine Balls
If you want a slam ball not filled with sand. The gel-filled center makes this ball more flexible.

If you're tired of your medicine balls tearing at the seams after countless slams.

If you want to elevate your pushups.
Who Shouldn't Buy DBall Medicine Balls
The ability to use this slam ball as a medicine ball causes it to be a bit more expensive than the others on this list. If you don't need a medicine ball, you're better off buying an actual slam ball.
Medicine balls are usually not constructed to take the impact of some slam ball workouts but thankfully, this pick is built to work as both.
Best Slam Balls to Buy as a Set
You might need to increase your weighted resistance as you get stronger. A set of slam balls might have you covered.
Fringe Sport OneFitWonder Slam Balls
Another classically designed slam ball on our list, what distinguishes this pick from the rest is the option to buy several weights as a set. The sets include a ten pound, 15 lb, and 20 lb variety and an alternative that adds higher increments up to 50 lb. Buying the sets will also save you some extra cash.
Who Should Buy DBall Medicine Balls
Gym owners. The sets are essential for group settings and gym members will appreciate the variety.

If you're looking to build your home gym. This set is a great starter pack with standard weight options found in commercial gyms.

If you're looking for higher weights as these slam balls go up to 150 lb.
Who Shouldn't Buy DBall Medicine Balls
If you need smaller increments between sizes. Past 30 lb, these slam balls only come in 10lb increments and there are no 70 lb or 90 lb options. There is also a big gap between 100 lb and 150 lb.
A set of medicine balls is not only a great way to build a gym but they will also ensure you'll consistently build strength over time.
What are Slam Balls?
Whether they're being passed to a partner, tossed against a wall, or slammed into the ground, slam balls are constructed to endure high impact. Their tough shells are usually made of rubber to withstand any surface and it also allows for strong grips during catch and release drills. Combine that outer shell with a sand or gel filling and you have a ball that doesn't bounce or ricochets onto your face.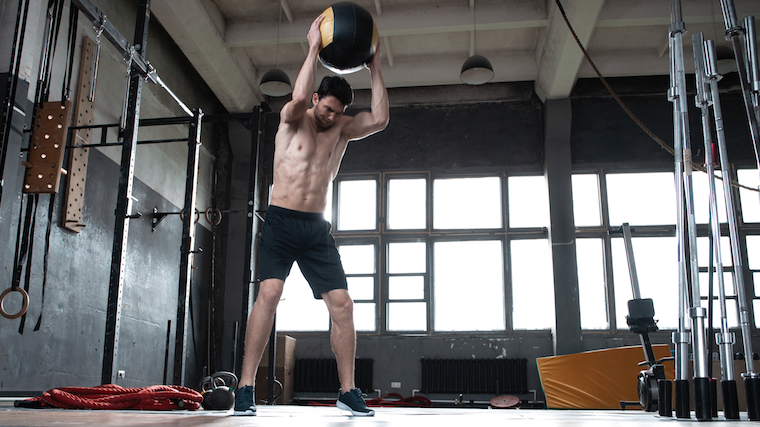 Slam Balls vs. Medicine Ball Differences
Some people make the mistake of using medicine balls as slam balls. They realize the error when it's already too late. The medicine ball has popped and the gym owner is asking them to clean up the sand that has spread all over the mats.
While some slam balls can be used for medicine balls exercises, medicine balls can not always be used for slam ball exercises. While some are also made of rubber most are made of leather, vinyl, or plastic. After consistent slams to any surface, some medicine balls will start to tear apart and deflate.
An easy way to remember which type of ball to use during your exercise is to consider if it involves propelling the ball with intense force or not. If so, choose a slam ball. It'll not only be the correct tool for your workout but it'll also save you from having to buy another ball sooner than later.
Before Buying Consider
Different slam balls are similar in their basic functionality but some serve specific needs better than others. Before buying consider your level of expertise. For instance, if you're a beginner or if your hands are sweatier than most, you might want a slam ball with a treaded shell. This will help as you build your grip strength.
Bounce or Dead Bounce?
The next aspect to consider is if you want the ball to bounce or not. If you're using your slam ball for ab exercises, you don't necessarily need a ball with a bounce. But if you're doing a partner drill like a slam pass, you might want to look into a slam ball with a bounce so that it can return to you and your partner easier.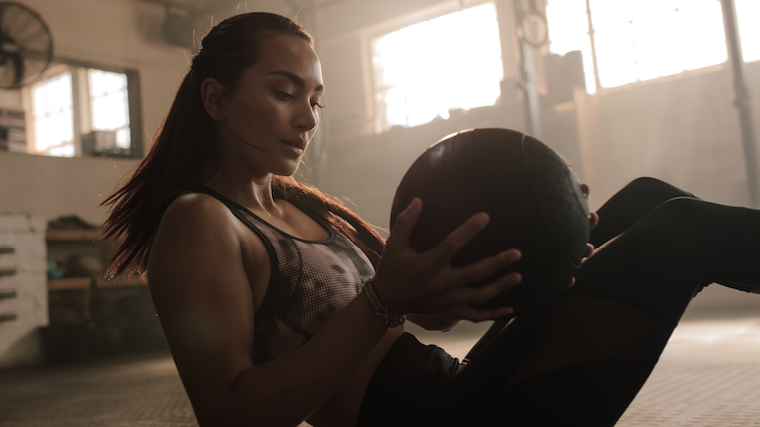 Weight Variety
It's also important to consider what type of weight you need for your training. While weight is important for strength training it's also essential to improve your speed and mobility. Lower weights work well during speed and reaction drills while also benefiting rotational exercises like halos or a wall side toss.
Heavier weights are useful in exercises like shoulder throws or carries. Before choosing, make sure your pick goes up to the weight you need. Some brands only have standard sizes ranging from five pounds to 50 lb while others only go as low as 50lbs but reach up to 200lbs.
Price
The last thing to consider is price. While a standard 10-pound slam ball will cost an average of $20 to $30, some come in at a heftier price of $100 and up. If you're on a budget, know that they're affordable options on the market. Also, see if your pick has a warranty as this usually means the company is confident their ball is durable and strong enough to withstand any type of slam.
Final Word
Slam balls are a versatile tool any athlete can use for almost any workout. Other than being thrown and tossed, they can be lifted, rolled, and balanced on. Use the best slam balls on this list to enhance your training and as a way to engage every muscle in your body.