A squat rack can be one of the most essential pieces of fitness equipment in any gym. By helping us load a weighted barbell on our backs, this type of rack can help us consistently work on our squats which builds one of our bodies' largest muscles. It can also provide a designated station for various other movements.
Depending on the amount of space you have, the other types of exercise you enjoy, and your skill level, your squat rack is likely to become one of the biggest investments you'll make. You want to make sure the squat rack you choose provides exactly what you need. For instance, does it have Westside hole spacing to help you get a precise rack position on your bench presses? Use our list of the best squat racks to help you find the perfect rack for your gym and workout regimen.
Best Squat Racks
Best Squat Rack Overall
You want a rack that is sturdy, can be added to, and won't take up your entire training space. Eleiko's model is all of those things and more.
Eleiko XF 80 Half Rack Hybrid
Assuming you have the space to fit this rack that stands 94-inches tall, 55-inches long, and 73-inches wide, your training sessions will benefit big time. Once it's bolted into the floor (yes, it needs to be bolted into the floor), The Half Rack Hybrid can accommodate shelves, a platform, a dip bar, a pull-up bar, barbell storage, and extra weight plate storage. The steel skeleton is coated with a textured powder coat (a coating common among kettlebells) for added durability.
Who Should Buy the Eleiko XF 80 Half Rack Hybrid
Serious strength athletes who need a durable squat rack that can be added upon.

Anyone who trains in their garage. You will need the space for this particular rack.
Folks who want to build around their squat rack. This is a large piece that needs to be bolted into the floor, so it doesn't move easily.
People who want a rack that they can also do split squats and bench presses in.
Who Shouldn't Buy the Eleiko XF 80 Half Rack Hybrid
Anybody who trains in a small place. You need at 94-inches of headroom and 73 lateral inches just to fit the rack.

Folks who a more simple rack just for squatting.
People who want extras already included. This rack requires you to buy add-ons for an additional cost.
Financially and spacially, this rack may be more than some people bargained for. However, this is a quality rack that will support your training efforts through various pieces of equipment. It also comes with a warranty good for up to 10 years.
Best Squat Rack for Small Spaces
Some lifters may desire a more simplistic and mobile squat rack that can facilitate squat sessions. The end result is more space in your gym and a fatter wallet.
Eleiko Light Squat Stand
Don't let the simplicity of this stand fool you — there is a myriad of details that make it delightful addition to your training room. For one, the hooks that your barbell sits on are equipped with polyurethane rollers so you won't damage the knurling, and you can easily adjust its position even when loaded. The width of the base can be condensed or widened to accommodate different body types; the adjusting knobs are knurled for a better grip, and the end of the bottom tubes are sloped so you're less likely to trip over them.
Who Should Buy Eleiko Light Squat Stand
Anyone who wants a mobile squat stand. This stand doesn't need to be bolted into the floor and it only weighs 51 pounds.

Folks who appreciate thoughtful details — the soft rollers, sloped tubes, and knurled knobs will make your squat experience that much more enjoyable.
Weightlifters and squat enthusiasts.
Who Shouldn't Buy Eleiko Light Squat Stand
People who want a sturdier squat rack that they can add attachments to.
Anyone who is on a budget. This is certainly not a cheap squat stand.
All in all, this is a thoughtfully designed rack with squatters in mind. If you're hoping to accomplish more with your squat rack, look elsewhere, but Olympic weightlifters and squat enthusiasts need not look at other picks.
Best Squat Rack for Large Spaces
A rack that provides more depth than others can serve many gyms that want to make the most use out of their spaces.
Rogue RML-690C Monster Lite Power Rack 3.0
The 3×3 11 gauge steel construction and the 5/8 five-bolt hardware of this power rack make it sturdy enough to serve commercial gyms and training facilities. With six uprights, it creates an ample amount of space for you to comfortably perform your movements inside the rack. Add variety to your workouts with the Rogue RML-690C Power Rack 3.0 since it includes four pegs for resistance band movements and one pull-up bar. There's also plenty of space to store your plates as it also comes with eight storage pegs.
Rogue RML-690C Monster Lite Power Rack 3.0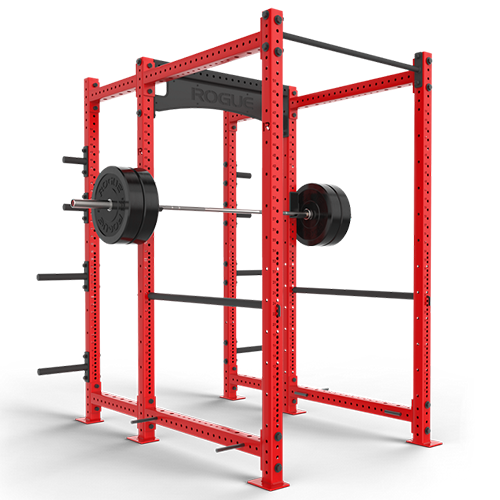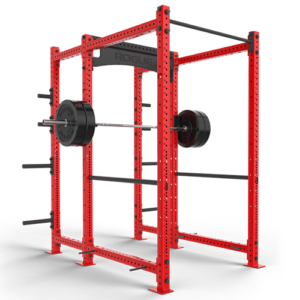 Rogue RML-690C Monster Lite Power Rack 3.0
Along with a pull-up bar, band, and storage pegs, this pick includes even more accessories such as two Monster Lite J-Cups with plastic inserts and two pin and pipe safeties. You can also choose to have your uprights numbered.
Who Should Buy The Rogue RML-690C Monster Lite Power Rack 3.0
If you own a commercial gym or have a largely spaced home gym. This pick has a footprint of 80×53, one of the largest in Rogue's Monster Lite Series.

This option features Westside hole patterns in the bench and clean pull zones so experienced lifters can get a more precise rack height for their lifts.

Cross members can increase the functionality of your power rack by being compatible with accessories. This one in particular is great for anyone who wants to add a cable pulley system to their rack.
Who Shouldn't Buy The Rogue RML-690C Monster Lite Power Rack 3.0
Folks who don't have space for a larger power rack.

Buyers who want a more affordable option as this pick is one of the more expensive on our list.
This power rack is built to stand strong. While this might be a bit grand for smaller rooms, it will allow you to execute many exercises as long as you have the space for it.
Best Squat Rack for Versatility
A squat rack doesn't have to be for just squats. Some models offer various features and attachments that serve as a more complete workout station.
Force USA G3 All-In-One Trainer
This pick is a power rack, a smith machine, and a cable pulley system all in one. Its heavy-duty base provides stability and its uprights feature Westside hole spacing. With its fixed barbell, the smith machine allows beginners to safely practice their movements and acts as spotters for advanced lifters who want to reach higher gains with caution. Its pulley system can help any lifter with their functional training and its multi-grip chin-up area will add variety even to your pull-ups. It also features a landmine station suitable for upper body and core training.
Force USA G3 All-In-One Trainer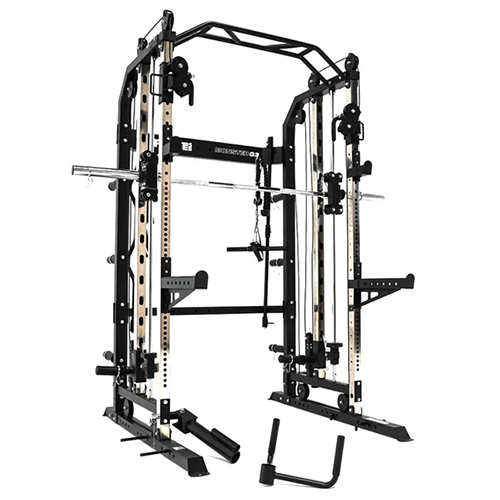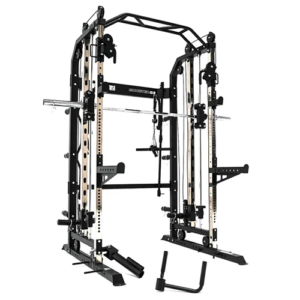 Force USA G3 All-In-One Trainer
With 20 attachments included, this all-in-one trainer also features a complete storage system for your barbells, weight plates, and cables. It can be further optimized by adding a leg press and lat-pulldown seat. 
Who Should Buy Force USA G3 All-In-One Trainer
People searching for a single piece of equipment for multiple training needs.

Fitness enthusiasts who want to build a home gym.

Gym owners who don't have the space to accommodate several lifting stations.
Who Shouldn't Buy Force USA G3 All-In-One Trainer
Lifters who want a simple squat rack without the added accessories.

Shoppers on a budget as this pick is the most expensive on our list.

People who want a smaller rack as this one has a footprint of 80×55.
This multi-functioning pick has a ton of accessories and attachments suitable for anyone looking to get the most variety out of their rack.
Best Squat Rack for The Money
If you're looking for a simple rack that's not going to cost you an arm and a leg, this pick might be the one for you.
Fringe Sport Squat Rack with Pull-Up Bar
The Fringe Sport Rack is one of the more affordable on our list, but that doesn't take away from its functionality. Its pull-up mount can be adjusted to reach up to 82" and its bar is powder-coated to enhance your grip. The uprights contain Westside spacing to execute your lifts and place your bar with precision. Its durable frame is constructed with 12-gauge steel and weighs in at just 80 pounds. Its weight horns can be used for plate storage and as floor mounts to further the rack's stability.
Fringe Sport Squat Rack with Pull-Up Bar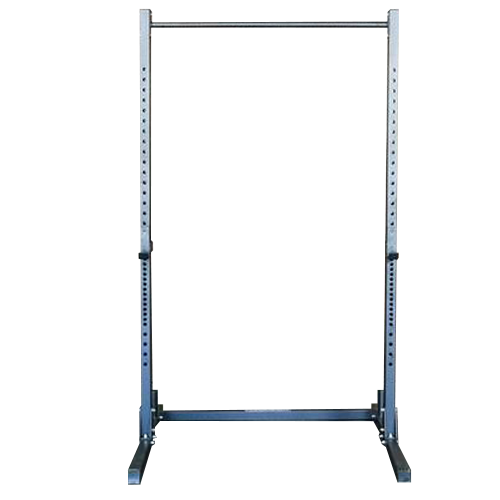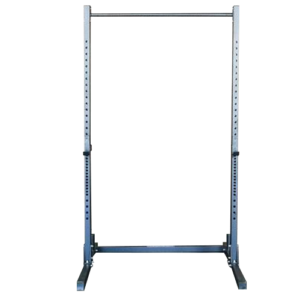 Fringe Sport Squat Rack with Pull-Up Bar
With a footprint of just four feet by four feet, this rack has a capacity of 450 pounds. It comes with a pair of j-cups and you also have the option to bolt this rack to the ground for an even more solid stand. 
Who Should Buy Fringe Sport Squat Rack with Pull-Up Bar
Shoppers who want a robust squat rack without having to pay extra for high quality.

Lifters who just need a no-frills squat rack and pull-up bar without extra features.

Commercial gyms and homeowners with small spaces.
Who Shouldn't Buy Fringe Sport Squat Rack with Pull-Up Bar
If you are looking for a rack with more accessories and features.
The Fringe Sport Squat Rack with Pull-Up Bar is a high-quality product that is compact and gives you just what you need at a good price.
Best Squat Rack for Beginners
Because sometimes all you need is a simple rack to work the most basic movements.
T-3 Series Short Squat Stand
This pick doesn't come with many bells and whistles, but it will serve anyone who is just starting to lift. It's a straightforward squat rack that can also be used for bench presses and cleans. Its uprights reach up to 72" and feature six-inch side hole patterns and Westside hole spacing throughout the bench and clean zones. This bolt-together frame has a footprint of only 47×48 inches but can sustain up to 1000 lb.
Who Should Buy T-3 Series Short Squat Stand
Beginners focussed on

working on their squats

.

Anyone who needs a designated station for their squats.

People who have low rising ceilings.
Who Shouldn't Buy T-3 Series Short Squat Stand
Lifters who want more variety out of their squat rack.

If you're looking for a squat rack with a pull-up bar. This pick does not come with one included.
The T-3 Series Short Squat Stand might be simple, but it's just what a beginner needs to work traditional movements consistently.
Best Squat Rack for Powerlifting
Powerlifters need to squat, bench press, and deadlift — so it makes sense that you want a rack that can accommodate all of the competition lifts.
Eleiko IPF Competition Combo Rack
Eleiko has designed a squat/bench press rack that is up to IPF (International Powerlifting Federation specifications. If you're an event organizer, you'll appreciate both the new levers that make it easy to change the height of the stand and the ease with which the bench can be removed from the apparatus. The bench itself is upholstered with a knurled pattern for a better grip, and the stand, bolted or not, is incredibly stable (which makes sense considering it close to 350 pounds with the bench).
Who Should Buy Eleiko IPF Competition Combo Rack
Powerlifters or event organizers who need a bench that meets the IPF's standards of design.

Anyone who wants a squat stand that can double as a bench.
Folks with a lot of space. You need to be able to accommodate a rack that's 80-inches wide by 63-inches long.
Who Shouldn't Buy Eleiko IPF Competition Combo Rack
People who don't have a lot of space.

Anyone who wants or needs just a squat stand.
Folks who don't need the newest piece of powerlifting gear. There are other bench press/squat combos that are more affordable.
Powerlifters will love the details of this squat and bench press rack along with how easy it is to use.
How We Chose Our Picks
Whether you own a commercial gym or are building your own at home, a squat rack can become the centerpiece of your training area. We decided that the following qualities were important to look for when choosing the best on our list.
Stability
Most squat racks on our list are made out of heavy-duty steel and are built to resist any type of swaying. Everyone's strength is different, meaning not everyone will lift the same amount of weight. This can be the difference between a squat rack that stands firm because you're lifting lighter weights or a rack that wobbles when you perform a pull-up.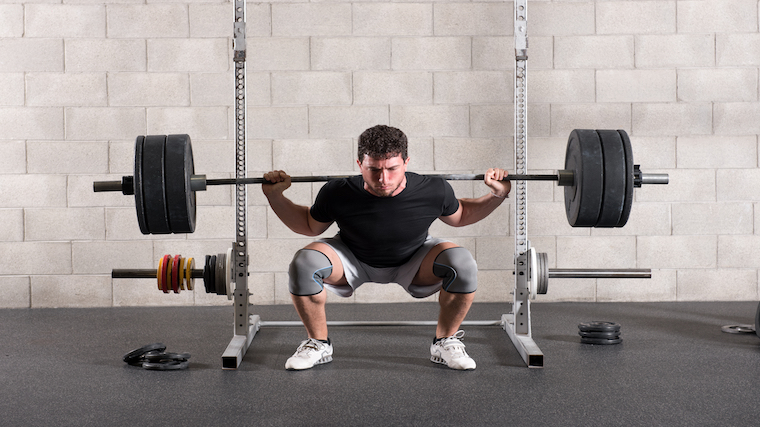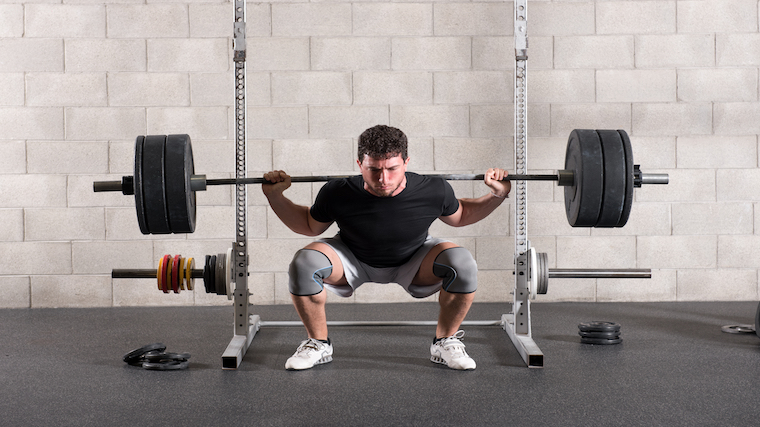 Because of this, some of the picks on our list have frames that weigh a little heavier than others or that can be floor mounted for more stability. If you prefer not to purchase such heavy equipment or don't want to drill holes into your foundation, maybe this alternative squat rack list can help you find other options.
Versatility
Since some people will look towards their squat racks for many different workouts, we also considered if the options included accessories and specific features. This can determine the versatility buyers will get out of their purchase and if it meets their expertise level.
While some of the picks on our list include standard attachments, some will consist of pegs for resistance bands, a landmine station, and even a variety of pull-up bars. Some also include Westside space patterns on their uprights for anyone familiar with the benefits of such precise rack heights. Some options on our list sell their accessories separately, but it's nice to know that you can customize and add these bonuses to your rack if it's what you need.
Price
Durability and accessories can determine a squat rack's price, but not all of the picks on our list will force you to shell out extra cash for high quality and versatility. The most straightforward squat racks on this list will be some of the more affordable options, while those offering add-ons and customization will cost you a little more.
Before Buying Consider
All squat racks are not made the same. Some will meet your needs better than others while some will just be too big for your space. Here are some things to keep in mind before you buy.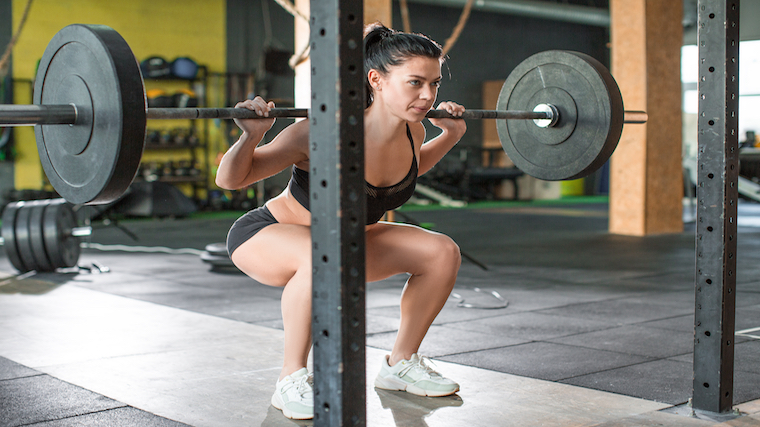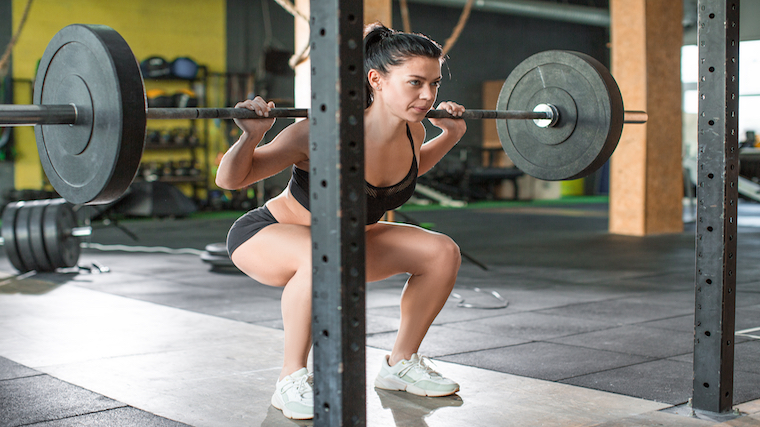 Squat Rack vs. Power Rack Differences
Squat racks and power racks have similarities, but they are not entirely the same. Squat racks can be used for squat variations, bench presses, and simply to rack your barbell. Power racks can give you the same benefits but can also help you to diversify movements like pull-ups. They can also provide plenty of space for plate storage.
That being said, it's best to know your end-game before purchasing a squat rack from this list. If you're looking for the basics and simply want to squat, then a no-frills bonafide squat rack might be perfect for your needs. On the other hand, if you envision this purchase to be something that enables you to train more movements and have more equipment options, consider a power rack that you can build on over time.
Size
While the differences between a squat rack and a power rack can dictate your exercises' variation, it will also help you decide which one you need for your space. Power racks are suitable for larger rooms, while squat stands can have a smaller footprint. It's good to know the rack's dimensions to decide if it will fit in your space.
Final Word
Buying a squat rack can be one of the most important purchases you can make for your gym. The squat is one of the most important lifts you can perform after all. By determining the type of workouts you want to achieve and what will fit in your space, you'll be able to find an option that is right for you. Let this list help you decide the best squat rack that will meet your needs and help you consistently hit your goals.