We receive free products and receive commissions through our links. See
disclosures page
.
If you're building out that perfect garage gym, a good place to start is with a durable, versatile squat rack. As essential as they are, it's hard to ignore their massive footprint. Thankfully, fitness-minded engineers have found a way to create folding squat racks that can deliver the same sturdiness without the required space.The best folding squat racks share a lot in common with one another, including durable steel frames, helpful accessories and add-ons, and accommodating depths for in-cage workouts.
Finding the ideal rig for your space can be a little more complicated than just matching the measurements to your ceiling height. To help with a bit of the leg work, we've tested more than 10 squat racks, examined loads of specs and measurements, and consulted with plenty of customer reviews to curate this round-up of the five best folding squat racks on the market today.
The 5 Best Folding Squat Racks for Compact Home Gyms (2023)
How We Tested
The BarBend team is made up of competitive athletes, certified personal trainers, and lifelong fitness enthusiasts. We've had experience with plenty of squat racks over the years, as well as plenty of small training spaces. So, getting the most out of our available workout area is always top of mind.
For this round-up, we looked at key factors that could influence your folding squat rack's durability and stability, as well as those that can affect your training setup from a convenience standpoint. We looked at key metrics such as the gauge of steel used in the build, the hole sizing and spacing along the uprights, the actual size of the uprights, the weight capacity of the squat rack, and (of course) the footprint of the rig both in-use and when stored.
We also looked at the amount of available accessories that could be added to your setup over time. While most add-ons like dip stations, landmines, and extra J-cups can be universal, depending on your hole sizing and spacing, we understand the benefit of keeping your entire setup to just one brand for the sake of warranties, fitment, and just general brand loyalty.
Finally, we looked for how easily these rigs could be added to your home gym — would they be a quick day's install with minimal bolts and work, or would they require a week's worth of housing renovations before a single back squat could be performed?
Best Folding Squat Rack Overall: REP Fitness PR-4100 Folding Squat Rack
REP PR-4100 Folding Wall Mount Squat & Power Rack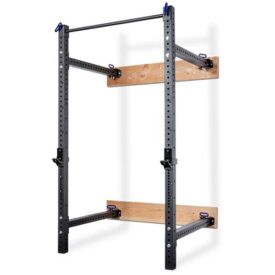 REP PR-4100 Folding Wall Mount Squat & Power Rack
The PR-4100 comes in two sizes — the 21.5" and the 41". Both options fold into the wall when not in use thanks to four heavy-duty pull-pins, which can save users a lot of space. 
Specs
Height: 92.3"
Working Depth: 21.5" or 41"
Folded Depth: 6" or 24"
Upright Size: 3" x 3"
Price: Starting at $499.99
Pros
When properly mounted, this durable 11-gauge steel folding squat rack can hold up to 1,000 pounds.
The PR-4100 is affordable, starting at $499.99 for the 21.5-inch depth model.
The three-inch by three-inch uprights are compatible with a number of REP attachments.
Cons
This squat rack doesn't come with stringers or the corresponding lag bolts.
The PR-4100 only has one colorway.
The single height offering may be too tall for some spaces.
A top piece of equipment should grow with you as you progress along your strength journey. The REP PR-4100 folding rack can do just this with a ton of available attachments coupled with a top-notch design and durable materials. It's a standout pick from REP's impressive roster of squat racks and our favorite folding squat rack overall.
We appreciate how sturdy the three-inch by three-inch uprights are, thanks to their 11-gauge steel composition. This makeup creates a rigid profile capable of holding up to 1,000 pounds when properly mounted. Plus, there are plenty of attachments to choose from like drop-in dip station, landmine accessory, and spotter arms, allowing you to build out your perfect training setup.
The PR-4100 folding squat rack boasts one-inch Westside spacing through the bench press and pull area, with two-inch spacing higher up for squats and overhead presses. Our tester noted how they enjoyed this versatility in training, as it allowed them to easily dial in the exact liftoff height for a buttery smooth bench press every time.
This rack does its job of saving space well, coming only six or 24 inches off the wall when not in use, depending on whether you go with the 21.5-inch deep model or the 41-inch deep profile. This can leave ample space for other gear or your car, compared to standard racks, which can hog a lot of space when not in use. Folding the squat rack in and out of storage is a breeze, too, and our personal tester had no issues operating the included heavy-duty pull-pins.
REP also upgraded the PR-4100 from previous iterations by including plastic caps to protect your floor. This is a nice touch, as older models could leave your space with scratches and worn-in grooves after repeated swings in and out of operating position.
If you're as impressed with this REP Fitness offering as we are and think it's a suitable pick for your training space, we do caution that a trip to the hardware store will be required to secure the proper mounting gear. The PR-4100 does not come with stringers or the corresponding lag bolts needed to properly mount this rig to your wall. REP recommends using eight M10x75 lag bolts and eight M10 washers to mount your stringer before getting the squat rack into position, so be sure to have these items at the ready before diving into installation and assembly.
[Related: The Best Black Friday & Cyber Monday Squat Rack Deals of 2023]
Best Budget Folding Squat Rack: Bells of Steel Hydra 3×3 Folding Rack
Bells of Steel 3x3 Inch Four Post Hydra Rack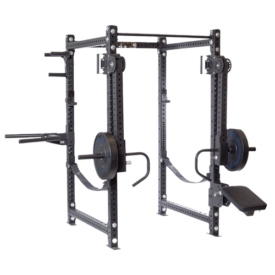 Bells of Steel 3x3 Inch Four Post Hydra Rack
This rack from Bells of Steel offers custom height, width, and depth dimensions, West Side spacing, a plethora of accessory options, and a 1,000-pound weight capacity. 
Specs
Height: 72", 84", 90", or 108"
Working Depth: 18" or 41"
Folded Depth: 12"
Upright Size: 3" x 3"
Price: Starting at $579.96
Pros
The sub-$600 price tag is cheaper than the other picks on this list, and shipping is free.
This squat rack is available at multiple heights, catering to a wider range of spaces.
When properly mounted, this folding squat rack can support up to 1,000 pounds.
Cons
It's easy to get carried away with attachments and blow up your budget (more on this below).
It only comes in black.
The product page can be a little overwhelming due to the layout and multitude of videos.
Starting at roughly $580, the Bells of Steel Hydra 3×3 Folding Rack has an approachable price point, but what really separates this rig apart from other similarly-priced squat racks is the inclusion of free shipping. You don't have to worry about this often-forgotten expense, which can add hundreds of dollars to your total.
We also appreciate how Bells of Steel includes the required stringers and lag bolts with this folding squat rack, eliminating the need for a hardware store trip. Plus, the Hydra 3×3 Folding Rack is available in multiple heights from 72 inches all the way up to 108 inches. This means the rack can suit most training spaces — all you need is at least six feet of clearance.
We did find that the online order screen isn't the most intuitive, but it's manageable. We did appreciate, however, how Bells of Steel allows you to add all your desired attachments all on one page. This eliminates the need to have multiple tabs open when creating the home gym of your dreams. It can be enticing, though, to overshoot your budget, so be sure to stay within your means when building out your setup.
This Hydra 3×3 Folding Rack is a beast in its own right and can handle even the strongest lifters' needs. Coming in at a very reasonable price with free shipping and all of the mounting hardware included, this product offers a winning value for anyone shopping for a folding rack on a budget.
[Related: Power Rack vs. Squat Stand: Which Piece of Equipment Do You Need?]
Best Folding Squat Rack for Small Spaces: REP Fitness PR-4100 Folding Squat Rack
REP PR-4100 Folding Wall Mount Squat & Power Rack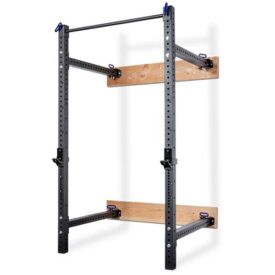 REP PR-4100 Folding Wall Mount Squat & Power Rack
The PR-4100 comes in two sizes — the 21.5" and the 41". Both options fold into the wall when not in use thanks to four heavy-duty pull-pins, which can save users a lot of space. 
Specs
Height: 92.3"
Working Depth: 21.5" or 41"
Folded Depth: 6" or 24"
Upright Size: 3" x 3"
Price: Starting at $499.99
Pros
When folded, the PR-4100 can sit just six or 24 inches off your wall, depending on your chosen working depth.
Westside spacing through the bench press area helps to dial in the pick height.
Free shipping or local pickup can potentially save you hundreds of dollars.
Cons
The PR-4100 is only available at 92.3 inches tall, which may be too big for some spaces.
The instructions aren't the best if you aren't at least a little handy to begin with.
You'll have to buy the stringer mounting accessories separately.
Folding squat racks can be excellent options for strength training enthusiasts dealing with confined spaces, and the REP PR-4100 practically disappears when folded up for storage. The 21.5-inch working depth model shrinks to just six inches off the wall when not in use, while the deeper 41-inch profile sits 24 inches off the wall when stored. Those dimensions can leave you with plenty of space for other home gym machines, eliminating the need for a large training footprint from the start. "It folds up out of the way and allows me to use a guest bedroom as a home gym," notes one pleased customer.
Additionally, this PR-4100 profile uses universal three-inch by three-inch uprights in its makeup. This can be great for adding attachments, as you can shop just about anywhere for add-ons compatible with this size. REP makes it hard to stray from the brand for these accessories, however, offering premium options for landmines, dip stations, spotter arms, J-cups, and more.
Just because this folding squat rack is compact and convenient doesn't mean it lacks brawn, though. The thick 11-gauge steel is plenty durable for regular training, and can withstand loads up to 1,000 pounds.
Be mindful, though, that the PR-4100 is only available at 92.3 inches tall. This means you'll need over seven and a half feet of clearance to properly house the rig. Additionally, REP does not include stringers or the accompanying lag bolts for proper installation. You'll need to make an extra trip to the hardware store to pick up these necessary items before getting into the assembly process.
Most Customizable Folding Squat Rack: PRx Home Gym Folding Squat Rack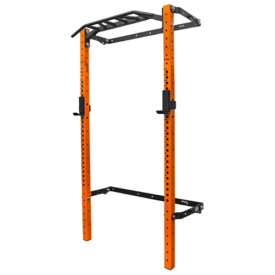 Have your garage gym and park your car too with the PRx Performance Home Gym Package. Build your own one of these space-saving packages which can include a Profile PRO Folding Rack, a Profile Wall-Mounted Folding Bench, bumper plates, a high-quality olympic barbell, and more.
Specs
Height: 73" to 116"
Working Depth: 24"
Folded Depth: 4"
Upright Size: 3" x 3"
Price: Starting at $1,970.94
Pros
Multiple gym packages at varying price points allow you to customize your setup.
You can easily adjust the rack height by changing the mounting angle.
This folding squat rack is available in multiple colorways.
Cons
The packages are expensive from the start and may not suit some budgets.
Installing the rack can be labor intensive given the lack of clear instructions.
Athletes that already own home gym equipment probably don't need the bundled setups.
If you're the type of person who can get bored pretty easily with the same stuff, a versatile and customizable rack may be what you need. Feel like doing dips today? There's an attachment for that. Belt squats on the landmine attachment? No worries. Kipping pull-ups? This rack can handle that and just about anything else you can dream up.
We're big fans of PRx's customizable packages and equipment, and this rack is a great example. The rack comes in home gym packages that have three levels — basic, prime, and elite — with each one adding some more equipment for a wider array of exercises. There are also individual, couples, and even ceiling-saver packages if you're working with limited vertical space.
We also appreciate how you can build your own package that caters directly to your needs. Start by selecting a rack, then add on any accessories you may need like a folding bench, plates, bars, or storage.
It should be noted that PRx gear is pricey, but all of the equipment is premium quality and built to last a lifetime. The racks have a stated weight capacity of 1,000 pounds when properly mounted. Putting it to the test, we've had 600 pounds on the rack, and it was rock solid.
Despite this impressive stability, the racks are easy to fold and stow. It only takes a finger to get the rig folded thanks to the gas shock assists. Just be sure to measure the vertical space you have available — these racks fold upward instead of to the side like other profiles in this round-up.
Finally, we do recommend having a helper nearby when assembling and installing one of these PRx folding squat racks. While our tester had no lack of confidence in their handiness, they did state that the instructions aren't as clear as other folding squat racks they've assembled over the years. Be sure to take your time and ensure everything is in place before getting started on your next scheduled leg day.
Read our full PRx Home Gym Review.
Most Durable Folding Squat Rack: Force USA Folding Power Rack
Force USA MyRack Folding Power Rack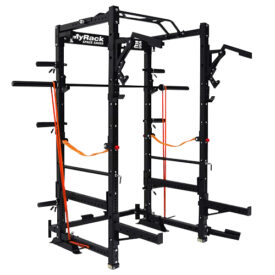 Force USA MyRack Folding Power Rack
Power racks are the centerpiece of any home gym, and this model proves to be one of the best on the market. It's foldable, durable, and can be equipped with many add-ons.
Specs
Height: 86"
Working Depth: 41"
Folded Depth: 20"
Upright Size: 2.4" x 2.4"
Price: $699.99
Pros
This folding squat rack uses heavy-duty 12-gauge steel and can withstand weights up to 2,000 pounds, which is more than most other picks.
This rack has the option to add on band pegs for accommodating resistance training.
The unique freestanding design means you don't have to mount this rack to a wall.
Cons
This folding squat rack is only compatible with Force USA attachments.
This still takes up more floor space than other folding racks, even when folded.
The rack might be somewhat wobbly if you don't bolt the back legs to the ground.
A durable folding squat rack has to have high-quality parts that stand up to not only repeated abuse from lifting but from folding and unfolding as well. That may seem like a tall order, but Force USA managed to hit it out of the park with the Folding Power Rack.
We loved the makeup of this durable rig in testing thanks to its heavy-duty 12-gauge steel frame capable of withstanding up to 2,000 pounds. For reference, most folding squat racks can only support 1,000 pounds of weight. Additionally, we like how this folding squat rack can stand on its own — there's no need to mount it to a wall. Our tester did note, though, that throwing around excessive weight on the rack can lead to some wobbles, so we recommend anchoring the back legs to the floor for added stability and safety.
The Force USA Folding Power Rack also folds to 20 inches when not in use. It's not the shortest depth we experienced in testing folding squat racks, but it's still convenient enough to give you back some much-needed space outside of training.
We also enjoyed the one-inch Westside spacing showcased at the bench press level. This allowed us to fine-tune our liftoffs to just the right height for smooth, efficient lifts day in and day out.
Aside from being tough, we like how many options there are to customize this innovative design, like monolifts, dip handles, and band pegs, which are rare for folding racks. Be mindful, though, that the 2.4-inch by 2.4-inch upright dimensions limit your add-ons solely to Force USA. You cannot mix and match attachments with this rig, so you're at the mercy of the brand's pricing and inventory when it comes to building out your personal setup.
Read our full Force USA Folding Power Rack Review.
How We Chose the Best Folding Squat Racks
Folding squat racks can be efficient tools in your home gym, but finding the perfect blend of durability, safety, and convenience can take some trial and error. To determine the best folding squat racks available today, we tried 11 different squat racks and examined each profile's specifications. Below are some of the factors we considered when developing our rankings.
Build Quality
Not all steel is the same, and a squat rack is only as good as the steel it's made from. Sure there might be some super cheap options, but they're usually made with subpar materials, unlikely to last a long time, and can even be unsafe in some situations. We only chose to highlight products made from high-quality steel. High-quality steel means steel that's 11-gauge or 12-gauge — the proper thickness for stability and safety. (1) Additionally, we found these steel thicknesses were a suitable mix of strength and affordability for most home gym needs.
Upright Size
Uprights, or posts, as they're sometimes referred to, are the vertical square tubes of metal that make up the squat rack. There are many different sizes of these, but most companies stick with whole numbers somewhere between two and three inches. That said, there are some outliers that are, say, 2.4 inches by 2.4 inches. We looked for folding squat racks showcasing common build dimensions, as this can influence how compatible your rig is with certain attachments.
Attachments
Buying a rack is only half the fun for some. The other half is figuring out which attachments and add-ons you want to get to make the rack work the best for you and your training style. We looked for folding squat racks compatible with multiple attachments, which ultimately comes down to the hole sizing and upright dimensions featured across the rig. Racks with unique dimensions across these specs may leave you with less options for accessories, so we tried to include a good range of picks offering as much universal fitment as possible.
Hole Spacing
Your hole spacing determines where you're able to place your J-cups and spotter arms when setting up for a lift. While most squat racks use a two-inch spacing between holes at the top, we also looked at rigs offering one-inch, or Westside, spacing within the bench press area. This can allow for more precise height adjustments of the barbell when setting up for a bench press, so you can get the height just right. Westside spacing is quite common now, and if a rack doesn't feature it, their ranking in our picks dropped.
The Benefits of Folding Squat Racks
Adding a folding squat rack to your home gym can be a great way to create an optimal strength training setup without sacrificing a large swath of flooring to house your rig. Additionally, folding squat racks can be excellent for facilitating multiple exercises outside of just a back squat or bench press. Below are a handful of perks that can come from equipping your training space with one of these compact, efficient setups.
Full-Body Workouts
Squat racks aren't just good for leg day, like their namesake implies. You can do pretty much any barbell exercise with them. Yes, even curls if you're feeling rebellious — it's your rack, after all.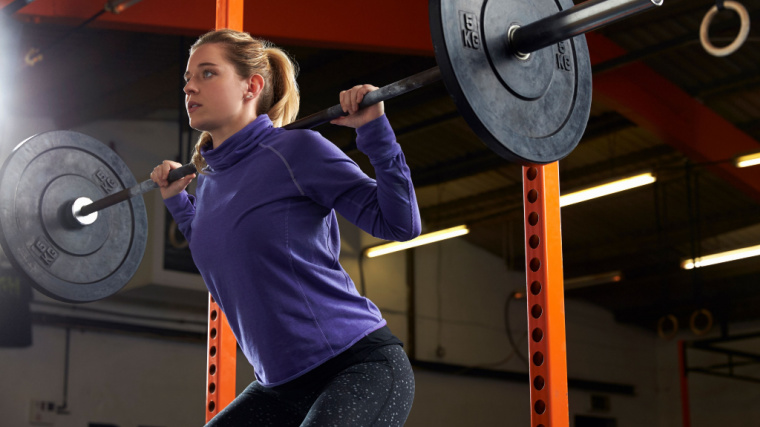 You can also turn your squat rack into a worthwhile weight bench for chest day. Many profiles showcase Westside spacing across the uprights at this area, too, which can allow you to safely rack your barbell at the right height for your shoulders.
Many folding squat racks come with an option to have a pull-up bar on them, too, which gives you the opportunity to mix in some bodyweight training. In the end, the workout possibilities are limited only to your imagination when it comes to folding squat racks.
Lift Heavier, Safer
Though folding squat racks don't have quite all of the inherent safety features that a full cage does (some do, like folding power racks), they all still have the ability to add safety spotter arms to them, which are meant to catch your bar if you fail a lift. Also, since the folding racks are bolted to the wall, they are much safer to fail on than squat stands. That said, we always recommend lifting with a spotter, especially if you're going heavy.
Saving Space
The whole schtick of a folding squat rack is to save space, naturally. They can accomplish this in a few different ways, but the classic designs either fold into themselves or out flat against the wall. We've seen some innovative designs like lifting upward on the wall, which can free up floor space, too.
Four-post power racks can take up several square feet of space, and are usually in the way when you're not using them. Folding racks, on the other hand, are able to duck out of the way to make room for a car in your garage during the winter, an extra blowup mattress in the basement during sleepovers, or whatever else you might need the space for.
How Much Do Folding Squat Racks Cost?
These pieces of equipment are definitely an investment, but if you're serious about your home gym, they're worth it in our opinion. Standalone folding squat racks can cost as little as $300 for something extremely basic with a low weight rating. On the other side of the coin, the sky's the limit for the price once you start looking at more heavy-duty or commercial-quality racks.
There's also plenty of room for customization with extra add-ons and accessories. Common attachments for folding squat racks include dip stations, landmine setups, pull-up bars, and even extra weight storage. Each brand can offer something different, though, so be sure to look at your options before deciding on a particular rig.
A product like an all-in-one power rack has great versatility and can give you basically an entire gym in one product. The problem is they usually start at around $2,000 for the cheapest ones and only go up from there. That's why we like folding squat racks as an alternative option. Not only do they save space, but they're also generally cheaper than full power cages. Prices for folding racks generally range from around $400 to about $800.
How to Choose the Best Folding Squat Rack
There are many considerations that should be taken into account when purchasing a folding squat rack. For one, folding racks can be convenient alternatives to their bulkier brethren, but still take up some space. Additionally, you need to think about where and how you can mount your rig to your wall or floor, along with other factors like price, height, and available attachments for extra training opportunities.
Measure Your Space
Your equipment's footprint is a major factor to consider when building out your home gym, and odds are that if you're looking at folding squat racks, you're starting off with less available floor space than you'd like. Thankfully, these rigs can fold up for added convenience when not in use, with some getting all the way down to just four inches off your wall. Naturally, though, you'll need to take some measurements before opting for one of these space-saving silhouettes.
The first measurement you'll need to focus on is your available clearance, i.e., how tall your ceilings are. Folding squat racks can range in heights from 72 inches all the way up to 108 inches and taller. Be sure you have the proper height available for your rig, as this metric will be constant regardless of whether you're using the equipment or storing it.
Next, you'll need to look at your available depth. While folding squat racks can fold up for compact storage outside of training, they can be useless if you don't have the available room to actually unfold the rigs for training. If you're just looking to perform basic exercises like back squats and rack pulls, you can get away with a shallower rack. If you'd like to bench press within your setup, a deeper rack can be ideal for added safety.
Think Through Attachments
Folding squat racks, like other racks, can also be compatible with accessories and add-ons for a more robust training setup. These extras can range from pull-up bars, to dip stations, landmines, spotter safety arms, and more. If you're interested in taking your workouts beyond the typical rack exercises, be sure your rig is compatible with your desired accessories.
To do so, you can look at the brand's available offerings or locate your folding squat rack's upright dimensions. Most setups will feature a two-inch by two-inch or three-inch by three-inch makeup, which can allow for more opportunities for attachments from different brands. If your uprights aren't these common measurements, your available attachments may be limited to just those offered from the same brand as your rack.
Set Your Budget
Okay, so a folding squat rack may fit within your training space, but does it fit into your budget? These space-saving devices can range in prices, with plenty of options across the board. The folding squat racks we've included in this round-up, for example, vary from roughly $500 all the way up to nearly $2,000.
While it might seem logical to go with the cheapest rig possible, you need to remember that price is often related to the structure's durability and composition. For the most efficient and safe setup possible, we recommend going with a folding squat rack composed of either 11-gauge or 12-gauge steel. These thicknesses can be sturdy enough for a number of lifts without necessarily breaking the bank.
Finally, folding squat racks can also be compatible with a variety of attachments and add-ons like landmines and dip stations. These extras can be great for keeping workouts versatile and engaging, but do come at an extra cost. If you want to build a setup with multiple outlets for training, be sure to take these additional purchases into consideration.
Think About Installation
We're not engineers or construction professionals, but we've installed a few folding squat racks in our time. There's one thing that you almost always need when installing a folding rack, and that's called a stringer. Basically, these allow the load and force distribution to spread across a wider area than just where the rack attaches to the studs in your wall.
Some folding squat racks come with all the proper hardware, including the stringers themselves. Others, though, do not, so you'll need to have some DIY intuition at the ready. For most people, a quality piece of 2×4 will work fine, along with a good bit of lag bolts and washers. In our experience, eight M10x75 lag bolts and eight M10 washers can be worthwhile anchors for this project.
You'll attach the 2×4 to your studs and then attach the folding rack to the 2×4. This helps to improve stability and reduce stress on the system as a whole, especially the studs in your wall.
Final Word
There are many things to consider with folding squat racks when compared to power racks. How often will you be unfolding it, and how hard is it to fold? How deep of a rack do you need? Some people like to leave their racks unfolded for the summer when they don't need to park in the garage, then fold them up daily in the winter. Others are more particular and prefer to fold and unfold them with every workout.
A folding squat rack can be one of the largest investments someone makes in their home gym and plays a central role in almost every workout. You can do almost any type of exercise with a squat rack and a few attachments, allowing you to get a full-body workout in with minimal equipment and, in this case, minimal space. By determining what size you want and need, as well as which attachments are necessary for your workout style, and matching that up with a folding rack in your budget, you'll be on the gains train in no time.
FAQs
What makes a good folding squat rack?
A lot of different aspects go into what makes a good folding squat rack. We mainly look for versatility, build quality, and price. If it's made of high-grade steel, has hole sizing and spacing that is fairly universal, and listed at a reasonable price, chances are it's a good folding rack. Brands with excellent customer service are also a big plus in our book.
Do I really need all these attachments with my folding squat rack?
In short, no. You can do tons of exercises and get a great workout with just a rack and barbell, but that can get boring pretty quickly, and it's always nice to change things up a little. Certain movements just can't be mimicked with a barbell, such as a one-arm press on a set of jammer arms or a landmine. It's up to you what attachments you'd like, and some are more versatile than others.
Are folding squat racks worth it?
Folding squat racks are incredibly valuable pieces of gym equipment, especially if you don't have a ton of space to work with or if that space needs is used for multiple purposes. We love our folding squat rack because it allows us to still park in our garage during inclement weather rather than the entire area being taken up by a big bulky rack.
Are folding squat racks safe?
All types of exercise have some inherent risk, and folding racks are no different. That said, there's nothing to say that folding squat racks are more or less safe than other types of racks when used properly. Taking precautions like purchasing spotter arms and lifting with a capable spotter are always good ideas to lower the chances of an injury.
Can you bench press on a folding squat rack?
You can absolutely bench press with a folding squat rack, provided you have a weight bench to go along with your rig. Additionally, if you're looking to bench press in your folding squat rack, it can be helpful to look for setups featuring one-inch, or Westside, spacing across the bench press area. These tighter adjustments can allow you to fine-tune your liftoff height more so than the common two-inch hole spacing seen near the top of most squat racks.
What is the best folding squat rack?
The best folding squat rack for your setup can depend on a variety of factors, and everyone's needs are different. In our opinion, the REP PR-4100 Folding Squat Rack is the best of the bunch thanks to its compact design that folds neatly and efficiently when not in use, the available one-inch spacing across the bench area, and multitude of available attachments.
References
Thalmann, R., & Baechler, H. (2003, November). Issues and advantages of gauge block calibration by mechanical comparison. In Recent Developments in Traceable Dimensional Measurements II (Vol. 5190, pp. 62-69). SPIE.