They may be called squat racks, but they're so much more than that. Sure you can squat in them, but you can also bench press, do rack pulls, contemplate life, and even curl in them. Squat racks are the centerpiece of most commercial gyms and many home gyms. The particular squat racks we are talking about here are designed to fold away when not in use to save space, making them a great option for a home gym. This allows you to park your car if you've got a garage gym, or have extra room if you're a basement gym kind of person.
Not all folding squat racks are built the same though, and engineers have found different ways to make a squat rack more efficient with the space it occupies. Some fold out into a power rack, but the majority fold out into squat uprights. They come in different steel gauges with higher or lower max weight thresholds. They feature different hole sizing and spacing for different attachment compatibility. You can spend days sifting through the various types, but don't worry, we've done the leg work for you so you can get to the real leg work. These are some of our favorite options in a variety of categories to help make your search easier.
Best Folding Squat Racks
Best Folding Squat Rack Overall
To be the best folding squat rack, a product has to be well-constructed from high-grade steel and competitively priced. It helps if it's versatile enough to offer the ability to do a variety of different exercises on it. A top piece of equipment should also be able to grow with you as you progress along your fitness or strength journey. For those who want a folding rack with all of those qualities, the Force USA Folding Power Rack is an easy choice.
Force USA Folding Power Rack
This squat rack has an innovative design featuring "pop-in" technology. The "pop-in" technology Force USA uses for their bolts makes setup time shorter than it is for comparable folding racks. The plethora of attachments amounts to over 50 different configurations you can make with this versatile piece of equipment. You can choose between three different safety arms, three types of J-hooks, dip attachments, landmines, band pegs, and more. This rack has a 2,000-pound weight rating and a lifetime structural warranty. The 12-gauge steel is heavy-duty, and meant to stand up to anything you can throw at it.
The accessory holes are 5/8-inch (16mm), but the upright tubes are a more specialized 2.4-inch (60mm) size, meaning this rack has limited attachment possibilities for products from brands other than Force USA. (Other folding racks on the market use a standardized 2×2-inch, or preferably, 3×3-inch design to ensure external compatibility.) Force USA recommends a ceiling height of at least 96 inches to be able to do a full pull-up on the rack with your head above the bar.
Force USA MyRack Folding Power Rack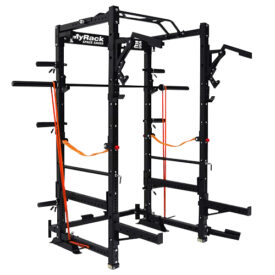 Force USA MyRack Folding Power Rack
Power racks are the centerpiece of any home gym, and this model proves to be one of the best on the market. It's foldable, durable, and can be equipped with many add-ons.
Who Should Buy Force USA Folding Power Rack
Anyone who wants the security of a four-post power rack, but the space-saving qualities of a folding rack.
Consumers who like to get everything from one place — Force USA offers a ton of attachments and different add-ons that are compatible with this rack.
People who want a quick and easy setup that also feels secure — this rack can support up to 2,000 pounds.
Who Shouldn't Buy Force USA Folding Power Rack
Anyone who likes to get attachments from a variety of different places — the uncommon upright size of 2.4 inches isn't compatible with many other manufacturers' equipment.
Lifters who want to save the most space possible, this rack still comes almost two feet off the wall when folded.
Anyone looking for a plain folding rack — this modular rack is great for customizing but can get complicated quickly with all of the different options and add-ons.
This rack is engineered with a modular design and quick setup in mind thanks to Force USA's "pop-in" technology. The 11-gauge steel of the uprights and an included multi-grip chin-up bar make this sturdy rack a great deal.
Best Folding Squat Rack (Runner Up)
It was very hard to pick the best folding squat rack overall, so we're giving you a runner-up option, as well. That's not to say that this rack isn't as good as the top overall pick — it's just a little different. The REP PR-4100 folding rack features a ton of available attachments coupled with top-notch design and quality materials, which is why it's our runner up pick for best folding squat rack.
REP PR-4100 Folding Squat Rack
When it comes to home gym equipment, REP has made a name for itself in a relatively small amount of time. They've done this by producing solid pieces of equipment that are similar in quality to some of the other, more established brands, and usually at a lower price. The 3×3" 11-gauge steel used is very sturdy and has a capacity of 1,000 pounds when mounted properly. The inclusion of Westside spacing allows for more options on barbell height, especially in the bench press area of the rack. There are tons of attachments that it's compatible with, like REP's landmine, other J-cups, spotter arms, and dip attachments.
When folded, this rack takes up just 6" of space off the wall in the 21.5" deep configuration, and 24" off the wall in the 41" configuration. This allows you to still have plenty of space for other gear or parking your car. The actual folding mechanism is quite easy, as well with heavy-duty pull-pins that allow you to set up or fold the rack away quickly. In addition, there are protective caps on the bottom of the uprights that help to protect the floor as the rack slides to fold. One of the very few downsides? This rack only comes in black.
REP PR-4100 Folding Wall Mount Squat & Power Rack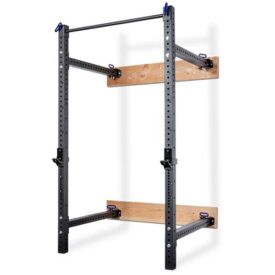 REP PR-4100 Folding Wall Mount Squat & Power Rack
The PR-4100 comes in two sizes — the 21.5" and the 41". Both options fold into the wall when not in use thanks to four heavy-duty pull-pins, which can save users a lot of space. 
Who Should Buy REP PR-4100 Folding Squat Rack
Lifters who want a heavy-duty rack that they know can grow with them due to the high weight capacity.
Anyone who likes to have a variety of barbell heights they can choose from — the Westside spacing through the bench press area allows for precision height.
People who are tight on space, but still want a high-quality piece of equipment that can do almost everything a power rack can.
Who Shouldn't Buy REP PR-4100 Folding Squat Rack
People who are looking for an enclosed power rack with four uprights, so that they can work out inside.
Anyone not worried about saving space with the footprint of a squat rack can find more versatile power racks out there.
Someone who prefers a more modular design can add additional pieces of equipment, like a lat pulldown or cable pulley system.
While this is not a full squat rack, the design and available attachments allow you to do pretty much anything you could possibly want on this rack. The high quality materials and heavy-duty steel make this a top pick, especially combined with the solid price point for such a sturdy piece of equipment.
Best Budget Folding Squat Rack
If you're trying to get your home gym set up on a tight budget, we have you covered. Versatility is the name of the game when it comes to working with a budget for home gym equipment. Sometimes, the hardest expense is one we don't think about when buying equipment — shipping. This pick not only comes at a great price point, but it also comes with free shipping. Shipping fees could cost hundreds of dollars depending on where you live and how heavy the things you're ordering are.
Titan T-3 Series Folding Power Rack
Titan Fitness makes some top-quality products similar to many other (possibly more popular) premium brands — but, they offer their products at quite affordable prices. The Titan T-3 Series Folding Power Rack is a great example. It's made from 2×3-inch 11-gauge steel with a weight capacity of 1,100 pounds. Titan offers this folding rack in 82-inch and 91-inch heights with 21-inch and 41-inch depths, depending on what your needs are.
The 2×3-inch uprights mean that almost all of the T-3 series attachments and accessories are compatible with this rack. The free shipping that comes with Titan is also a considerable saving for those on a budget. The starting price point of around $359.99 is considerably lower than comparable racks on the market.
Titan T3 Series Folding Power Rack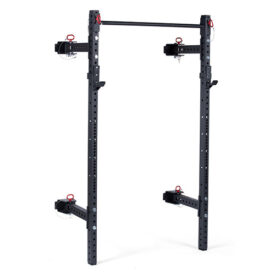 Titan T3 Series Folding Power Rack
This is the ultimate space-saving rack. You can buy a model that is either 21 or 41 inches long when unfolded but, regardless of which you choose, the rack folds up to be only five inches deep. 
Who Should Buy Titan T-3 Series Folding Power Rack
Anyone looking to test the waters of having a home gym. This rack is a great starting point since it won't break the bank.

Lifters who want a lot of accessories can add to their folding rack with almost any T-3 series attachment.

Athletes who are looking for a bare-bones folding rack that just gets them what they need with no frills.



Who Shouldn't Buy Titan T-3 Series Folding Power Rack
Anyone looking for a longer warranty on their products — Titan only offers a one-year warranty on this rack.

Athletes who like to workout inside of a full rack — this is only a two-post rack, and though Titan sells safety spotter arms, if you're moving serious weight, it's safer to be in a full squat rack.
Titan makes high-quality home gym equipment for those on a budget, or people who just don't want to spend the extra money for a name. Their T-3 Series Folding Power Rack is no different. Coming in at a very reasonable price with free shipping, this product offers a winning value for anyone shopping for a folding rack on a budget.
Most Durable Folding Squat Rack
When purchasing a piece of equipment such as a power rack, durability is usually at the top of the list, along with versatility and price. A durable folding rack has to have high-quality parts that stand up to not only repeated abuse from lifting, but from folding and unfolding as well. That may seem like quite the tall order, but Force USA has managed to hit it out of the park with their Folding Power Rack.
Force USA Folding Power Rack
Force USA designed their folding rack to stand up to nearly everything. This rack is ultra-tough and made from high-quality, 12- gauge steel for the uprights. You can tell that it's durable based on the weight capacity rating of 2,000 pounds, which is about double what most of the other folding squat racks on the market can support. This tough rack comes with Westside spacing in the bench press area to help with getting the barbell height just right.
The laser-cut steel construction and robotic welds ensure this rack is as sturdy as they come. It's able to handle your toughest workouts, and ask for more. Force USA is so confident in the durability of its product that they stand behind it with a lifetime structural warranty.
Force USA MyRack Folding Power Rack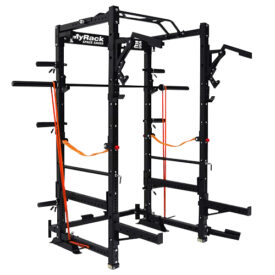 Force USA MyRack Folding Power Rack
Power racks are the centerpiece of any home gym, and this model proves to be one of the best on the market. It's foldable, durable, and can be equipped with many add-ons.
Who Should Force USA Folding Power Rack
Athletes who want a folding rack that can accommodate a bunch of attachments for a robust training session will like this product.

Trainees who do

accommodating resistance training

— this rack has an option to add on band pegs.

Folks who are limited on space but like the feel of a full squat rack, and don't want to sacrifice the square footage for a squat cage.
Who Shouldn't Buy Force USA Folding Power Rack
Anyone looking for the most space-saving option — though this does fold, it still takes up almost two feet in depth when folded, and is almost five feet wide.

People who are on a budget — this rack isn't the most expensive on the market, but there are more cost-effective options out there for a folding rack.
The 12-gauge steel upright construction and 2,000-pound weight capacity here all scream durability. This, along with the option to bolt the rack to the wall or ground make it an ideal choice for anyone looking for a highly durable option. Force USA designed this rack to take the punishment of tough everyday use.
Best Folding Squat Rack for Small Spaces
When it comes to home gyms, people have varying degrees of space to set up their equipment. Some people have nice multi-car garages where they can spread their gym out, whereas some people are working within tighter apartment confines. So, you want to build a home gym, but you've got a studio apartment? No worries, the Rogue RML-3W Fold Back Rack is a great solution. Just don't blame us when your landlord finds a folding squat rack in the kitchen.
Rogue RML-3W Fold Back Rack
One of Rogue's most popular products is the RML-3W Fold Back Rack, and for good reason. The 11-gauge high-quality steel is something that Rogue prides itself on, and that many people will enjoy. This rack has 3×3-inch uprights, and Westside spacing through the bench press area with two inches of center spacing everywhere else. If you like rack add-ons, this rack is compatible with most Monster Lite attachments, though Rogue urges against using some. For small spaces, this rack works well because the uprights can be folded to either side. This allows for more room on each side or in the center, depending on how you fold it back.
The options are 21.5 inches deep or 41.5 inches deep and you can add a Rogue stringer on for an extra cost (more on stringers below). Speaking of cost, this is one of the more expensive options on the list, but is considered to be one of the most premium options, as well. Rogue's brand has grown tremendously over the past few years, and their quality has only gotten better — if you can fork up the extra money, this pick is totally worth it, in our opinion.
Rogue RML-3W Fold Back Wall Mount Rack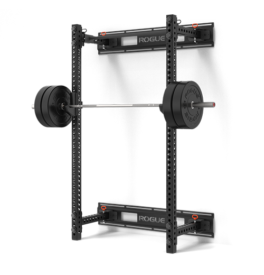 Rogue RML-3W Fold Back Wall Mount Rack
A full retractable, wall-mounted power rack with a quick attach pull-up bar, locking pin and hinge system, and profile that folds to just 5 inches deep when full retracted. A solid and extremely sturdy feeling option for spaces where a fully assembled squat rack is desired but too large as a permanent fixture.
Who Should Buy Rogue RML-3W Fold Back Rack
Anyone who has limited space, and wants to make the best use of that space — this rack can even squeeze into an apartment.

Athletes who want to add a lot of high-quality attachments — almost all 3×3-inch attachments (including most Rogue Monster Lite attachments) work with this rack.

Customers who prefer to buy everything from the same place — Rogue has just about everything anyone could need for their gym, including accessories and weights for this rack.
Who Shouldn't Buy Rogue RML-3W Fold Back Rack
Someone on a tight budget may want to look elsewhere on this list as Rogue is generally more expensive than the competition.

Someone who wants the security of a four-post squat rack may want to look into a regular

squat rack

.
Just because you don't have tons of space to play with doesn't mean you shouldn't be able to get great equipment, and experience the same tough workouts as those who do have extra space. With the Rogue RML-3W Fold Back Rack, you can have your cake and eat it too — or in this case, have your rack and store it too.
Most Customizable Folding Squat Rack
If you're the type of person who can get bored pretty easily with the same stuff, a more versatile rack may be what you need — this rack is highly customizable. Feel like doing dips today? There's an attachment for that. Viking press or belt squat on the landmine attachment? No worries. Pin Squats instead of regular? This rack can handle that too. You can perform all of these exercises and hundreds more on the versatile and fully customizable Force USA Folding Power Rack.
Force USA Folding Power Rack
Force USA offers a variety of accessories and add-ons that are designed to fit their racks and the folding power rack is no exception. When you're placing your order for this product, they offer a selection of different options for attachments. There are regular J-hooks or Monolift hooks, safety slings or spotter arms, landmine attachments, band pegs, and more. You can even order gym flooring with your rack to make the space truly yours. Force USA says there are over 50 different combinations you can have with 10 different attachments. The included lifetime structural warranty helps ensure that you will be customizing this folding rack for a long time, as well.
Force USA MyRack Folding Power Rack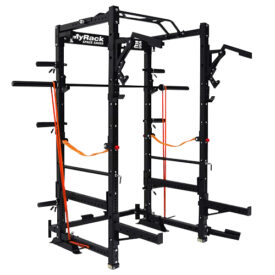 Force USA MyRack Folding Power Rack
Power racks are the centerpiece of any home gym, and this model proves to be one of the best on the market. It's foldable, durable, and can be equipped with many add-ons.
Who Should Buy Force USA Folding Power Rack
Athletes who want the ability to do a variety of different exercises with limited space and equipment will appreciate how compact this rack is, while still offering you the room to conquer most types of workouts.

Anyone who wants a rack that they can add on to over time with different attachments.

Customers who value versatility and ease of use over most other things — this rack is easy to set up and put away.
Who Shouldn't Buy Force USA Folding Power Rack
Lifters who just want a simple squat rack to lift out of with no extras or customization options.

Anyone on a tight budget — the rack is reasonably priced, but once you start customizing and adding attachments, it can add up.

Beginners just starting a home gym might want to start off with something cheaper until they're sure they'll use the equipment, rather than having it sit there to collect dust.
When it comes to customizability, Force USA's Folding Power Rack hits the mark. Tons of attachments? Check. Easy and quick to set up and put away? Check. High-quality material with a highly rated 2,000-pound weight capacity? Check. With more than 50 configurations, this rack can do pretty much anything you want to and accommodate nearly any type of workout.
How We Chose the Best Folding Squat Racks
It's unlikely you've got unlimited space for your home gym equipment unless your home is a gym. (In that case, can we come over and lift?) When it comes to home gyms, space is king and oftentimes, the squat rack is what takes up the most space in a gym. We sifted through all of the available options on the market. We landed on what we thought to be the best based on a set of criteria that would apply to most people's home gyms. We looked at build quality, attachment availability, the footprint that the equipment takes up both in use and folded away, as well as price.
Build Quality
Not all steel is the same, and a squat rack is only as good as the steel it's made from. Sure there might be some super cheap options, but they're usually made with subpar materials, unlikely to last a long time, and can even be unsafe in some situations. That's why we only chose to highlight products made from high-quality steel. High-quality steel means steel that's 11-gauge or 12-gauge — the proper thickness for stability and safety.
Steel Gauge
Steel thickness is measured in gauge, derived from the French term "jauge" which means "a result of measurement" (1). Common gauges used in squat racks are 11-gauge and 12-gauge. 11-gauge steel is 1.45 times thicker than 12-gauge steel (1), and is generally stronger than 12-gauge steel, making it a more premium product and able to withstand more load. This also generally results in the product being more expensive because it's made with higher-strength steel. We only included racks made from 11 or 12-gauge steel since it's a happy medium between light enough to be foldable, and strong enough to be secure.
Upright Size
Uprights or posts as they're sometimes referred to, are the vertical square pieces of metal that make up the squat rack. There are many different sizes of these, but most companies stick with whole numbers somewhere between 2×2 inches and 3×3 inches. That said, there are some outliers that are, say, 2.4 inches by 2.4 inches.
The downside to sizing like this is that almost no other manufacturers' attachments will work with their uprights out of the box without some modifications. Squat racks that are made with more universally sized uprights naturally rank higher for us because of their increased compatibility. This leads us to our next criteria
Attachments and Spacing
Buying a rack is only half the fun for some. The other half is figuring out which attachments and add-ons you want to get to make the rack work the best for you and your training style. There are two considerations when purchasing attachments for your folding rack — upright size and hole size/spacing. We just discussed the upright size, and said that the common sizes are whole numbers between 2×2 inches and 3×3 inches, with some exceptions. You may also find 2×3 inches, but that has become less popular as of late with companies opting for more square posts than rectangular. We ranked racks higher if their attachment availability was greater due to more common hole sizing.
Hole size is fairly common at either 5/8 of an inch, or a one-inch-sized hole. The holes we're referring to are the ones you see when facing the rack, such as the holes that your J-cups or spotter arms go into. There are also often holes on the sides of the uprights that face each other, but few attachments (think monolifts) use those and they're almost always one inch.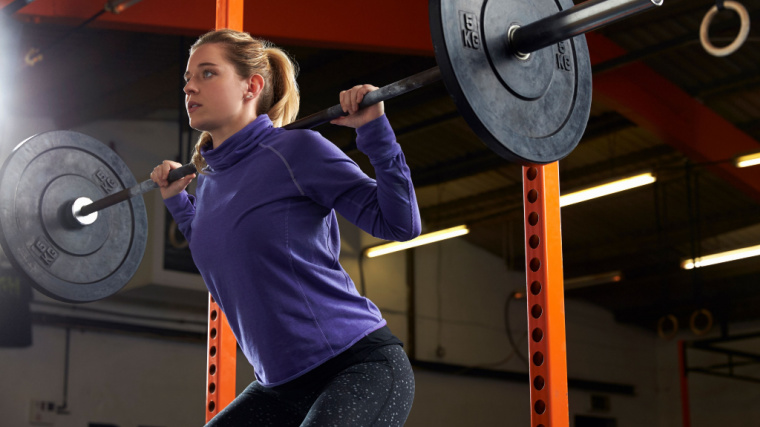 When purchasing attachments for your folding rack, ensure that the hole size is correct. You don't want to be disappointed when you go to use that shiny new attachment you've just bought, and it doesn't fit.
Spacing is the final piece of the puzzle for attachments and accessories. Most racks will list this under specifications or dimensions. The standard is two inches on center for the inside of the posts, but the accessory hole spacing varies. Most racks employ a two-inch on-center spacing for the top half of the rack, and "Westside" spacing for the bench press area. Westside spacing consists of holes spaced one inch apart on center. This allows for more precise height adjustments of the barbell when setting up for a bench press, so you can get the height just right. Westside spacing is quite common now and if a rack doesn't have it, then their ranking in our picks dropped.
What to Consider Before Buying
There are many considerations that should be taken into account when making such a large purchase, like a folding squat rack. You have to figure out how much room you have and match that to your potential purchase's footprint. The piece of equipment also has to be in your price range to be considered. Mounting the rack is something that many people think of too late — that is, when they unbox their new equipment. Think about how and where you'd like to mount the rack, if you'll need stringers, and if you'll need any special tools.
Equipment Footprint
The footprint of the equipment is a big concern for most people buying a folding rack for their home gym. That said, it was one of our most important things to take into consideration when choosing the picks for this list. A lot of the racks on this list have the option to buy a taller or shorter upright rack with a deeper or shallower depth, as well. The height is fairly straightforward as you can just measure floor to ceiling and see if the folding rack will fit, then pick the appropriate height.
Depth is a bit more nuanced as it can serve a few different purposes. Just like squatting, we always want to hit the right depth. If you're doing box squats or looking to add plate storage, or especially if you're benching in the rack, it might be a good idea to get a deeper rack. If you're just doing some basic squats, presses, and the like out of the rack you can likely get away with a shallower depth. Always be sure to measure everything before you make a purchase, so you know exactly what you need.
Price
Price is something that's always important no matter what you're buying. We want to get the best value for our money and we took that into account when making our picks, as well. Some racks are more on the cost-effective side, whereas others are more of a splurge. When buying something as important and central to all your main exercises as a squat rack, it's best not to go cheap. That doesn't mean you have to spend a lot of money to get a high-quality piece of equipment (just check out our pick for the best budget folding rack).
All we're saying is that squat racks come in a lot of different varieties and varying degrees of quality. You can rest assured that any of our picks are high-quality and give great value for the price. It's also a good idea to consider what attachments or accessories come with the folding rack you're buying, and factor in the ones you need as part of the price. Some come with everything you need and even throw in a pull-up bar, whereas others don't come with J-cups even, and they have to be purchased separately.
Stringers
We're not engineers or construction professionals, but we've installed a few folding racks in our time. There's one thing that you almost always need when installing a folding rack, and that's called a stringer. Basically, these allow the load and force distribution to be spread across a wider area than just where the rack attaches to the studs in your wall.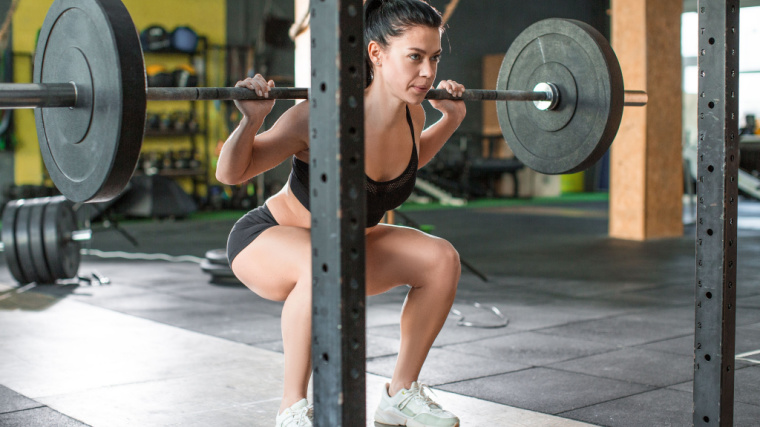 For most people, a quality piece of 2×4 will work fine. You'll attach the 2×4 to your studs and then attach the folding rack to the 2×4. This helps to improve stability and reduce stress on the system as a whole, especially the studs in your wall. Rogue also sells a branded stringer as an add-on for their wall-mounted folding racks, but it works with most companies' folding racks.
How Much Do Folding Squat Racks Cost?
These pieces of equipment are definitely an investment, but if you're serious about your home gym, they're worth it. Standalone folding squat racks can cost as little as $300 for something extremely basic with a low weight rating. On the other side of the coin, the sky's the limit for the price once you start looking at more heavy-duty or commercial quality racks. Some even come with cable pulley towers attached to them and dip stations.
A product like an all-in-one squat rack and functional trainer has great versatility, and will give you basically an entire gym in one product. The problem is they usually start at around $2,000 for the cheapest ones and only go up from there. That's why we like folding squat racks as an alternative option. Not only do they save space, but they're also generally cheaper than full power cages. Prices for folding racks generally range from around $300 to about $1,000.
Benefits of Folding Squat Racks
When you decide to purchase a folding squat rack, you're not only purchasing a piece of equipment, you're investing in yourself. The sheer amount of exercises you can do with this one piece of equipment has no rival, and you'll thank yourself for it.
Full-Body Workouts
The name of these products might be squat racks, but that's just the start of the exercises you can do with them. Squat racks aren't just good for leg day, like their namesake implies, you can do pretty much any barbell exercise with them. Yes, even curls if you're feeling rebellious — it's your rack after all. Some of our favorites are rack pulls, rows, lunges, Z-press, and overhead presses. If you put a bench into your rack, you can even knock out some bench press. Lots of folding squat racks come with an option to have a pull-up bar on them, which allows you to get an even better workout with some bodyweight exercises and back work.
Lift Heavier, Safer
Though folding squat racks don't have quite all of the inherent safety features that a full cage does (some do, like folding power racks), they all still have the ability to add safety spotter arms to them, which are meant to catch your bar if you fail a lift. Since the folding racks are bolted to the wall, they are much safer to fail on than squat stands. We always recommend lifting with a spotter though, especially if you're going heavy.
Final Word
There are many things to consider with folding squat racks when compared to power racks. How often will you be unfolding it, and how hard is it to fold? How deep of a rack do I need? With a folding squat rack, you can't just slide it out a bit to get more depth since it's attached to the wall. Some people like to leave their racks unfolded for the summer when they don't need to park in the garage, then fold them up daily in the winter. Others are more particular and prefer to fold and unfold them with every workout.
A folding squat rack can be one of the largest investments someone makes in their home gym, and plays a central role in almost every workout. The squat is one of the most important lifts there is, right? Squat racks are for so much more than just squats, though. You can do almost any type of exercise with a squat rack and a few attachments, allowing you to get a full-body workout in with minimal equipment, and in this case, minimal space. By determining what size you want and need, as well as which attachments are necessary for your workout style, and matching that up with a folding rack in your budget, you'll be on the gains train in no time.
FAQs
What makes a good folding squat rack?
A lot of different aspects go into what makes a good folding squat rack. We mainly look for versatility, build quality, and price. If it's made of high-grade steel, has hole sizing and spacing that is fairly universal, and at a reasonable price, chances are it's a good folding rack. Companies with excellent customer service are also a big plus, in our book.
How do I know which folding rack is right for me?
We suggest writing down the dimensions of the space you have available including the ceiling height and square footage on the ground where you want to put the rack. After that, figure out what type of workouts you'll be doing and what equipment is needed for that. Then figure out your budget and read through our list to see which one matches up with your needs.
Do I really need all these attachments with my folding squat rack?
In short, no. You can do tons of exercises and get a great workout with just a rack and barbell, but that can get boring pretty quickly and it's always nice to change things up a little. Certain movements just can't be mimicked with a barbell, such as a one-arm press on a set of jammer arms or a landmine. It's up to you what attachments you'd like, and some are more versatile than others.
References
Thalmann, R., & Baechler, H. (2003, November). Issues and advantages of gauge block calibration by mechanical comparison. In

Recent Developments in Traceable Dimensional Measurements II

(Vol. 5190, pp. 62-69). SPIE.