Cable machines can take a training space from good to great. They offer you the opportunity to perform several more exercises and work your muscles from different angles. The constant tension and fixed path of travel force the muscles to work hard while minimizing the risk of injury.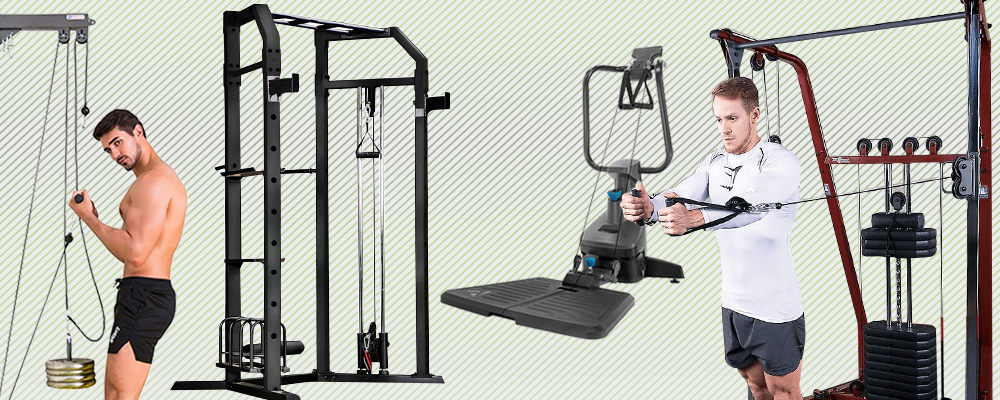 Choosing the right cable machine is important in helping you achieve your personal fitness goals. These four machines will be a great asset to your weight room and will breathe new life into your workouts.
Best Weight Stack Choice
Place Your Pin and Go
Pros:
The pulleys are adjustable from high to low and swivel 180 degrees so you can train from a comfortable angle.

The machine comes with a three year warranty.

The size of this machine won't require a major space commitment.
Cons:
The stack goes to a top weight of 190 pounds which may not be enough for stronger athletes.

Outside of the two single handles that come with it, you will need to purchase your own attachments separately.

There are several pulleys which means a lot of routing if you need to replace the cables.
Body-Solid Best Fitness BFTT10R Functional Trainer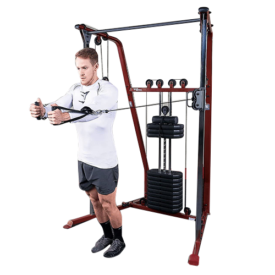 Body-Solid Best Fitness BFTT10R Functional Trainer
Having a weight stack saves you time because all you have to do is select your weight and place the pin in. You can perform exercises from a high or low angle as well as use both sides or one at a time.
Home Gym Centerpiece
Home Fitness Foundation
Pros:
The pulleys are well constructed so you can be sure it will last a long time before needing replacement parts.

The racks allow you to perform barbell movements outside of the station like squats and shoulder presses.

You can store up to 150 pounds of plates in the storage rack.
Cons:
The cable attachment holds Olympic plates so it won't hold standard (one inch hole) plates.

There is only one pulley so you can't perform some exercises working both sides of your body like cable crossovers.

There are no holes for anchoring so you must find your own way to secure it.
Marcy Olympic Multi-Purpose Strength Training Cage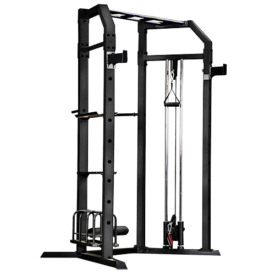 Marcy Olympic Multi-Purpose Strength Training Cage
This is more than a cable machine. It is also a half-rack with a pull-up bar, dip station, and a place to store plates. If you're needing a machine to start your home gym with, this could be it.
Best Space Saver
Simple and Effective
Pros:
You can place it where it serves you best without making a major space commitment.

The weight limit is 600 pounds which is more than many stations offer.

It's easy to move since the machine pieces weigh a total of eight pounds.
Cons:
You could be limited by the strength of the wall or object you attach the machine to.

There is a time commitment to assemble it before you can use it..

Without a counterbalance, the weight may swing while it's in motion.
CKIDS Tricep Workout Machine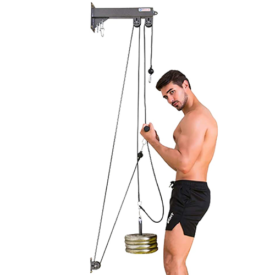 CKIDS Tricep Workout Machine
This machine is a wall-mount version. You could also mount it on a rack or anywhere you feel it can help you train effectively. The plate-loaded rack can hold more weight than most so you can go heavy if you like.
Beginner's Choice
Learn to Train Comfortably
Pros:
The platform provides extra comfort should you need to perform movements on your knees or back.

There is an app that accompanies this machine to help you get started.

The pulleys swivel so you can perform exercises from any angle.
Cons:
The weight limit is 65 pounds and there's no way to increase resistance beyond that.

There are only low pulleys so you can't perform movements from higher angles.

Taller lifters might not have enough cable to effectively perform all exercises.
Teeter FitForm Strength Trainer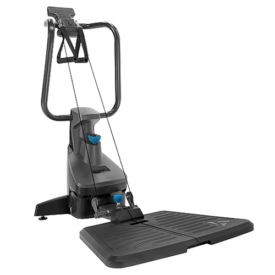 Teeter FitForm Strength Trainer
This machine allows you to perform over 100 exercises. You can increase the weight by one pound increments so you can slowly gauge your strength. Anyone starting out can learn how to perform exercises safely while still challenging themselves.
Methodology:
Cable machines are meant to challenge your muscles throughout the full range of motion of an exercise. You should be able to feel resistance or tension at any point. When you pull or press down on the attachment on the end of the cable, you should feel assured that the cable won't break and the movement should be smooth.
You can perform cable exercises as a part of a strength training routine or as a circuit program to challenge your endurance and cardiovascular system. The options cable machines provide can take your training to a higher level.
Things to Consider
When you're looking for a cable machine, take a look at both your fitness goals and your current training program. How can a cable machine enhance those? The level of importance you place on a machine likes this can help you determine what kind of station you need. Think of the following when making a decision.
Your Fitness Experience
If you're just starting your fitness journey, then a larger machine may be intimidating. A machine that's basic and easy for you to learn with would be a better option. More advanced athletes may need more angles and weight levels to work with.
Space
How much space do you have to commit to a machine? If your weight room has plenty of space where you can exercise comfortably, then consider a larger station. If not, a wall-mount option or a machine you can combine with a rack may be best.
Construction
There's no point in buying a machine if you have to keep replacing pieces. Are the pulleys durable and are the cables strong? Higher weight limits means that you can feel more confident about working with the station.
Weights
If you have several weight plates, then a machine with sleeves to hold them could serve you well. If you want to feel stability and focus on the control of the movement, then a weight stack with pin placements could be what you need.
Conclusion
Cable machines allow you to perform exercises like cable pull-throughs, triceps press downs, and cable curls. Regardless of the form of training you follow, having a cable machine can be a great asset to help you maximize your potential as long as you choose one that suits your personal needs. Not considering all of the above factors could lead to a decision you may not be happy with. Make sure you take your time before placing an order so you can enjoy the experience of your choice long after you buy it.