Purists in strength sports may sometimes shun weightlifting belts and opt to lift raw, but when used in the right circumstances and with the right intentions, they are undeniably beneficial for lifting. Belts are a simple way to help create a little extra intra-abdominal and thoracic pressure, helping you stay more stable throughout the lift. There is a reason why equipped powerlifting totals are higher than raw totals.
Like many pieces of equipment, lifting belts were less available in the past than they are now. However, as lifting — of all kinds — has grown in popularity, so have the options available to consumers. There are now speciality belts for almost every discipline; powerlifting, Olympic weightlifting, strongman and more. We've sifted through the top weightlifting belts on the market and picked out the best ones for the different requirements you might have.
Best Weightlifting Belts
Best Weightlifting Belt Overall
Let's get one thing clear about weightlifting belts: they're meant to offer core support and stability as you lift. Their primary function is to assist lifters as they brace and move without causing discomfort or getting in the way of the actual movement, which is why we like this weightlifting belt from Element 26 so much.
Element 26 Self Locking Weightlifting Belt
Element 26's Self Locking Weightlifting belt does everything a lifting belt should, but without any of the hassle some might find in other belts. It's a sturdy, well-constructed belt made with 100% nylon, and it sports an endlessly adjustable strapping system, which means lifters can find just the right amount of pressure and lock the belt into place. When athletes are done with their lift, they can pull on the easy-to-access release roller to loosen the belt and move on to the next exercise. The 4″ design all around the belt is meant to provide evenly dispersed intra-abdominal pressure, and it doesn't hurt that the color options are also pretty cool too.
Element 26 Self Locking Weightlifting Belt
Element 26 Self Locking Weightlifting Belt
The Element 26 Self Locking Weightlifting Belt is made with 100% nylon and offers a lifetime warranty. The locking system allows users to find the perfect amount of pressure and easily lock the belt into place.
Who Should Buy the Element 26 Self-Locking Weightlifting Belt
Lifters who want to dial in the amount of pressure their lifting belt provides.
Functional fitness athletes who want a belt that's easy to strap in and release without getting in the way of their workouts.
Competitive weightlifters who are looking for belt to wear in competition.
Who Shouldn't Buy the Element 26 Self-Locking Weightlifting Belt
Athletes looking for a classic, leather weightlifting belt — this one's not for you.
Weightlifters who might want a tapered design as opposed to the uniform 4″ design of this belt.
People who want their belt to have some sort of padding on the inside for added comfort.
The Element 26 Self Locking Weightlifting Belt is a solid all-around choice for any weightlifter, powerlifter, or functional fitness athlete. It has a great build, adjustable function and an admirable lifetime warranty should you ever run into any trouble.
Best Lever Lifting Belt
Lever belts blend the security of buckle belts with the greater convenience of the lever system for fastening. The Gymreapers 10mm is our favorite in this category. Normally leather belts are not as comfortable as man made material belts to begin with, but the smoothed edges mean that while the belt molds to your body you'll still lift in comfort.
Gymreapers 10mm Lever Belt
At 4 inches wide and with a 10mm thickness, you can expect this belt to be very stable. Made from high quality leather, it also has reinforced stitching and comes with a one year warranty. What's more, this belt is USPA approved, so if you plan on competing in powerlifting, you won't need to change your equipment for competition.
Gymreapers 10MM Lever Belt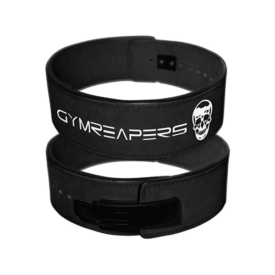 Gymreapers 10MM Lever Belt
This lever lifting belt has been rigorously tested for form, fit, and function and is manufactured with premium leather. The design incorporates smooth edges, reinforced stitching, and an adjustable lever buckle attachment.
Who Should Buy the Gymreapers 10mm Lever Belt
Athletes who want a premium quality lever belt.
Lifters in need of a belt that is USPA approved.
Anyone who likes lifting in a thicker belt.
Who Shouldn't Buy the Gymreapers 10mm Lever Belt
Trainees who prefer buckle or velcro belts.
Lifters who prefer a thinner belt.
Consumers who prefer not to purchase goods made from animal products.
Made from very high quality materials and with some nice design touches for comfort, the Gymreapers is a great choice for a life long belt.
Best Lifting Belt for Deadlifts
If there's any lift that you want to make sure your spine is fully braced on, the deadlift is top of the list. Our favorite belt for deadlifting is the Rogue Ohio Lifting Belt. At 4 inches high and 10mm thick, this is a chunky belt and won't leave you wanting for stability. There is plenty of support for your core.
Rogue Fitness Ohio Lifting Belt
We love the quality buckle which is made with thick metal for durability and the vegetable tanning process gives the leather some water resistance whilst also helping with firmness and durability. With a little cleaning every now and then, this belt should last you a long time.
The Rogue Ohio leather weightlifting belt has a quality finish and stainless steel buckle to ensure durability and trunk stability. It's a top pick for powerlifters and those who need to maximize core support for big lifts. 
Who Should Buy the Rogue Fitness Ohio Lifting Belt
Lifters who are aiming to push up their deadlift numbers.
Anyone who wants a well crafted leather belt.
Athletes that like thick belts for extra rigidity.
Who Shouldn't Buy the Rogue Fitness Ohio Lifting Belt
Trainees who prefer a thinner belt.
Buyers who want a buckle or velcro belt.
Lifters who prefer a double stitched belt for longevity.
The 10mm thickness on this belt makes for a really solid structure. If you're going to be deadlifting heavy regularly and want to keep your trunk set in place, look no further.
Read our full review of the Rogue Fitness Ohio Lifting Belt
Best Leather Lifting Belt for Weightlifting
Olympic lifting is tricky with belts as they can easily interfere with the bar movement. That's why we recommend the Rogue Oly Ohio Lifting Belt if the snatch and the clean and jerk are your main focus. A 4 inch wide belt that tapers down to 2 inches on the front, it minimizes the chances of the bar catching and causing problems with your lift.
Rogue Oly Ohio Lifting Belt
The 10mm thickness gives great core support and the vegetable tanned leather is held together with reinforced stitching, so you won't need to worry about durability. You will need to keep the leather clean and conditioned, but it will last a lifetime if you do. It is relatively expensive compared to other belts on this list, but if Olympic lifting is your focus then it's worth the money.
Rogue Oly Ohio Lifting Belt
Rogue Oly Ohio Lifting Belt
The Rogue Oly Ohio lifting belt is made of leather and designed to be less intrusive while performing olympic weightlifting movements like the clean and jerk and the snatch. It's tapered in the front while still offering solid core support. 
Who Should Buy the Rogue Oly Ohio Lifting Belt
Olympic lifters looking for a supportive but smaller profile belt.
Athletes who want a belt that allows for slightly more movement of the torso.
Consumers who want a durable belt with great longevity.
Who Shouldn't Buy the Rogue Oly Ohio Lifting Belt
Lifters who prefer a belt with uniform width.
Trainees who want a less rigid belt.
Buyers who want a belt that is more adjustable.
Designed with Olympic Lifting in mind, this belt is supportive but sleek and won't cause you to miss lifts unnecessarily.
Best Lifting Belt for Squats
Of all the lifts, aside from the deadlift, the squat is probably the one you would most associate with belts. Keeping your spine aligned is vital if you want to squat heavy and avoid issues in the long run. We think the Rogue 4" Faded Belt is just the ticket if your training plan involves plenty of squats and you want a bit of added stability.
Rogue 4" Faded Lifting Belt
At 4 inches wide and 8.5mm thick, this leather belt is going to be very stable. It is the most expensive belt on this list, but with tanned leather and a black suede lining, you're getting a belt that will last a lifetime with proper care. On top of that the patent pending Pioneer Cut means that you'll probably get a better fit than virtually any other buckle belt out there.
The Rogue 4" Faded Belt is the perfect option for the serious lifter that wants a belt that is going to last and provide a lot of support. It's very stable and will last a lifetime if cared for properly. 
Who Should Buy the Rogue 4" Faded Lifting Belt
Athletes for whom squats make up a large portion of training.
Consumers looking for a buckle belt that gives better adjustability than the norm.
Buyers who a belt made from top quality materials.
Who Shouldn't Buy the Rogue 4" Faded Lifting Belt
Lifters who prefer the flexibility of velcro when tightening their belt.
Buyers with a smaller budget.
Trainees who prefer nylon or other man made material belts.
A beautiful piece of craftsmanship with a smart innovation on the classic buckle, this belt will provide excellent core support that is a great aid to anyone out there squatting heavy.
Best Lifting Belt for Beginners
For people just getting started lifting, or those wishing to start using a belt for the first time, the Rogue Harbinger is our pick. Incredibly easy to use with a velcro strap and just as easy on the wallet, there is a very low barrier to entry here.
Rogue Harbinger 5" Foam Core Belt
The 5 inch width and 3 inch velcro strap provide great coverage of the midsection. There is somewhat of a trade off with regards stability at higher weights thanks to the foam core that is less rigid than other belts, but this won't be much of an issue for beginners. Finally, we like the fact that the nylon doesn't require any breaking in and will be comfortable to train in from day one.
Rogue Harbinger 5 Lifting Belt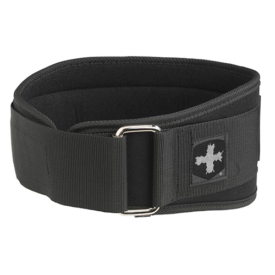 Rogue Harbinger 5 Lifting Belt
The Rogue Harbinger lifting belt is made of flexible ultra-light foam core with breathable plush tricot lining. It includes a three-inch wide support strap and a heavy-gauge steel-roller buckle for custom fit.
Who Should Buy the Rogue Harbinger 5" Foam Core Belt
Trainees who want to get started using a lifting belt.
Buyers with a tighter budget.
Athletes who want an easily washable belt.
Who Shouldn't Buy the Rogue Harbinger 5" Foam Core Belt
Lifters looking for a heavy, thick belt for extra support.
Anyone prefers a buckle or lever arm lock for security.
Those who prefer the feel of a leather belt.
Great value for the money, very easy to use and surprisingly comfortable, this belt is your go to if you're just getting started.
Read our full review of the Rogue Harbinger 5" Foam Core Belt
Best Lifting Belt for CrossFit
One of the hallmarks of CrossFit is varied movement. If you're moving from a heavy squat clean, straight into rowing or box jumps, you need a belt that is easy to adjust or remove. This is why the Schiek 2004 is our pick for CrossFitters. With a stainless steel buckle and "Slide N' Grip" VELCRO® brand fasteners, you can quickly and easily tighten or loosen this belt as needed.
2POOD Metcon Training Belt
Aside from its easily fastening and adjustment, the 2POOD Metcon Belt also features a tapered shape and design that maximizes core support while keeping the belt lighter and less bulky than similar brands. Ideal for WODs that are going to involve a lot of heavy lifting and breathing, this belt is designed for athletes who need to move quickly between movements that have varying support requirements.
2POOD Metcon Training Belt
2POOD Metcon Training Belt
A secure-yet-comfortable belt with a WODclamp fastener for easy adjustment, 2POOD's Metcon Belt is designed for workouts where athletes are moving between multiple movements. It's lightweight and can be worn and removed quicker than most other belts on the market, with a focus on support for the core and lower back.
Who Should Buy the 2POOD Metcon Training Belt
Anyone looking for a belt that is easy to care for.
CrossFitters who need an easily secured and released belt.
Lifters who prefer a less rigid material for their belts.
Who Shouldn't Buy the 2POOD Metcon Training Belt
Athletes who prefer a buckle or lever arm for security.
Anyone who want a thicker belt for more rigidity.
Lifters who prefer a belt with uniform pressure round the entire midsection.
2POOD's Metcon Belt is a great choice for anyone who wants support when lifting, but also wants to avoid spending minutes trying to fasten their belt before each attempt.
What to Consider Before Buying Weightlifting Belts
There has been some innovation in weightlifting belts in recent years, but in reality, belts are still a quite straightforward proposition — support the core under heavy weight. Here are the main factors to think about when choosing your belt.
Your Training and Sport
The type of lifting you do is going to have a big impact on the belts you will want to consider. Powerlifters and strongmen are going to want belts that prioritize security above all else. The last thing you want is your belt coming loose in the middle of a heavy deadlift. For everyone else, ease of adjustment, comfort and other factors will come more into play.
In CrossFit, Olympic Weightlifting or bodybuilding you're unlikely to be hitting quite such high numbers and are more likely to have to transition between a variety of exercises. Here, you're less likely to want to spend a few minutes tightening and then unfastening your belt after each attempt. The mechanisms and materials are going to be other things you'll want to pay attention to as well.
Your Budget
There is a big price range in this market. There is also a good reason for this price range. Some of these belts are handmade with very high quality materials, and some are designed to be more mass market. At the upper end you can be spending nearly $150 on a belt, but if you take care of it, it should last you a lifetime. On the lower end, you can get down to $20, but we wouldn't expect the same lifespan or security out of those.
Design
The design of a lifting belt usually isn't going to be a deal breaker. Belts tend to be functional rather than aesthetic choices, but at the same time you may have a preference for a more or less traditional design.
Different Types of Lifting Belts
There are multiple types of belt designs, but from our tests and reviews every belt tends to technically fall into three major categories: cylinder, tapered, and cone. Each belt has different design attributes to benefit certain types of strength athletes.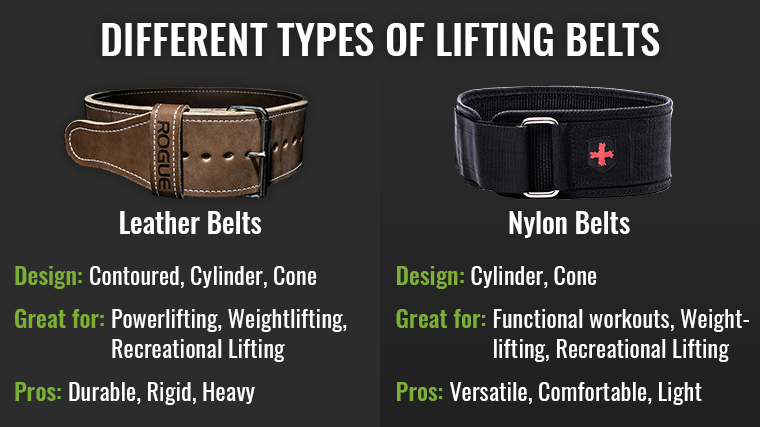 Cylinder Lifting Belt
This style belt is the same width at every part and covers the torso equally. They are designed to support the back, abdomen, and sides evenly with the same amount of material. Powerlifters and strongman athletes typically sway towards these belts.
Tapered Weightlifting Belt
This belt is often favored by Olympic lifters and recreational athletes because it provides the posterior with extra width, but thins out towards the abdomen. The skinnier portion over the abdomen allows the torso to remain mobile while providing support without being to obtrusive.
Cone Belt
This design is possibly the most rarely seen. These belts are contoured on the sides, but offer a thicker posterior and anterior section. In theory, their design is supposed to follow the natural curvature of the torso. The Schiek Model 2004 Lifting Belt utilizes this type of belt design to create a versatile, yet supportive belt.
Fastening Mechanisms
Different belts have different locking mechanisms and each has its strengths and weaknesses. When deciding which is best for an athlete, there are some factors that will be decided by training, but mostly it comes down to personal preference. Below are the main types of fastening mechanisms and the main advantages and disadvantages associated with them.
Buckle
The classic mechanism gives a very secure fit once locked and easy to adjust the fit. However it can be difficult to get the buckle locked when you need the belt very tight and many a lifter has needed assistance to close their buckle belt before a big lift. You are also usually stuck with 1 inch increments with the adjustments.
Lever
Gives just as secure a fit as a buckle, but is more customizable to the user. The downside is that it generally restricts the belt to use by just one person as changing the fit takes time.
Velcro
Easy to adjust and to take on and off, this type of mechanism is great for sports like CrossFit, but is usually a little less secure than a buckle or lever belt. The lifespan may also be shorter unless the velcro is replaced once it wears down.
Ratchet
Less common, this type of mechanism is great for a super tight fit, but the quality of the ratchet component will be key. If it is cheaper, then usually it will be a weak point.
What Materials Are Weightlifting Belts Made Of?
Generally weightlifting belts are made from two primary materials: leather or a man made material, usually nylon. Leather is hard wearing and will give you a belt that will mold to your body over time, but it will usually require a breaking-in period. These belts will also require a little TLC like any leather product. You'll want to clean them and apply leather conditioner every 3-to-6 months to avoid them drying and cracking.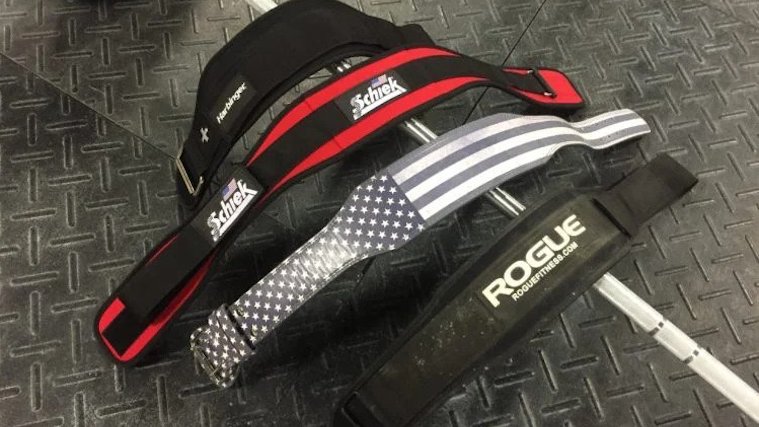 Nylon belts won't require the same breaking in period, but also won't end up fitting you quite the same as a well used leather belt. They are on the other hand a little easier to care for and just need the occasional brushing to remove chalk and a hand wash every now and then depending on how sweaty you are when training.
How We Test Belts
We test belts on a variety of criteria and each category receives special attention to decide which belt deserves the top pick.
Stability, Mobility, and Comfort
To test a belt's ability to perform well in WODs and metcon styled workouts, we utilize power and strength movements. Some of the lifts we utilized are the power clean, deadlift, front squat, back squat, and overhead press.
We look for three different things when testing a belt's ability to perform in a functional fitness setting. First and most importantly, the stability a belt provides. A belt is worn for its stability, so we consider how the torso is supported through the variety of movements we perform. Second, a belt's versatility. We watch for mobility issues and times when a belt limits someone's mobility. Third, comfort and ease of use. This point is essential for testing how quickly you can adjust a belt in-between sets and how it leaves your torso feeling after a workout.
[Related: Does The Ketogenic Diet Work For Strength Training?]
Why Lifting Belts?
A belt is a useful piece of equipment to keep in your supportive strength arsenal. Belts are primarily used to prevent injury and support the torso during heavier movements by support proprioception and the creation of intra-abdominal pressure. The use of a belt can provide a strength athlete with extra support around the torso to increase a lift's safety.
Every strength athlete can benefit from choosing a belt that's catered specifically for their sport. A powerlifter and strongman athlete often want a cylinder styled belt, which is a weight lifting belt that wraps around the torso equally. This type of athlete will typically want a stiffer, or more rigid belt for strength movements, as they're often pressing, squatting, and deadlifting.
An Olympic lifter needs a weightlifting belt that provides support, but also versatility. The typical Olympic weightlifting belt usually comes tapered, so the posterior is thicker in width than the front of the belt. The stiffness and material of this athlete's weightlifting belt usually comes down to personal preference, as this athlete is performing power movements often.
The recreational and functional fitness athlete will often want a weight lifting belt that provides support, comfort, and versatility. Since these athletes perform multiple movements during a single workout, then they need a belt that holds up well with power and strength exercises.
Weightlifting Belts and the Research
Weightlifting belts have been studied quite extensively over the years as they have been a feature of weightlifting for a long time. There have been investigations into many of the theorized benefits of wearing a belt during training with mixed results.
The first thing to note is that the use of belts seems to be only marginally effective at reducing injuries(1, 2), but we must take into account that this research was conducted on people at work, not training in the gym. Participants in the study were wearing a belt for their entire day of work. Something that none of you reading this are likely to do.
Where we can be more certain is that in a training environment there do seem to be some concrete benefits. Performance of exercises such as the squat and deadlift while wearing the weight belt resulted in greater peak and average intra-abdominal pressure(3, 4) and other studies found that lifting belt use resulted in reduced spinal compression(5). But while some research notes the benefit of weightlifting belts, others have suggested that the use of a belt does seem to reduce the range of motion available during movements(6).
Research Takeaways
Much of this research has been done on working populations and revolves around trying to find ways to reduce injuries. In this area at least, belts seem to lack effectiveness. However within the gym, there are reasons for cautious optimism. Increased intra-abdominal pressure when lifting and reduced spinal compression are two things I think many would highlight as unambiguous benefits. At the same time, reducing your range of motion in the gym isn't necessarily a good thing, so you have to be careful when selecting a belt for the task at hand.
Our advice
Don't view the belt as a cure all. It doesn't excuse you from doing core work, it doesn't excuse you from lifting with good technique and it certainly doesn't mean you can't get injured. Learn to use your belt properly — it can help or hinder.
Check out our in-depth Guide to wearing Weightlifting Belts
Final Word
There are coaches out there who decry ever using lifting belts, but tools used for the right job can be effective. Lifting belts are a tool just like weightlifting shoes, foam rollers or supplements.
Stating that you should never use belts is akin to a carpenter saying he would never use a flat head screwdriver. They have their place, but you have to make sure you know why you're using them, and practice using them beforehand. On the other end of the spectrum, you shouldn't be wearing a belt for every single exercise in your training plan.
Belts can be an excellent option for competitions, or if you are looking to push yourself in a hard training session. Make sure you do your research before buying, train to be familiar with the belt before the day of reckoning and use it as a tool rather than a crutch.
FAQs
What is the best weightlifting belt?
If you're a powerlifter moving very heavy weight, a thicker, supportive belt will be best. Olympic weightlifters will want a belt that is less intrusive, and CrossFitters will want a belt that works well for functional fitness and is easy to strap on or remove.
Do you need a weightlifting belt?
If you're a recreational lifter, then you don't need a lifting belt for success, however, that doesn't mean it can't be useful. For example, if you plan to push your limits and train heavy consistently, then a belt can be a useful tool based on your goals and needs to ensure your torso is receiving enough support.
Do I have to wear a lifting belt for heavy weights?
Nope. You can lift very, very heavy weights without any supportive equipment whatsoever. Belts are very helpful if you want to go incredibly heavy, say over 1000lbs.
Should beginners use a lifting belt?
It depends. If you're a true beginner, then you should conquer form and mechanics first before reaching for a belt. At times, lifters can reach for a belt a bit too soon in their career before they nail their mechanics. On the flip side there are occasions when a beginner might need a belt. For example, if you're a beginner strength athlete and you're working with a coach and they advise you to grab a belt, then doing so can help with the specificity of your sport.
When should you wear a lifting belt?
A lifting belt can be worn during maximal lifts, heavy sets, and strength sport specific movements. While it's certainly not a must in these occasions, these are the times when athletes will reach for a belt to support performance with the creation of additional intra-abdominal pressure.