If you go to a commercial or big box gym, you've probably seen them. They stride into the free weight section and beeline toward an open squat rack. Casting their gym bag onto the ground, they pop into a bodyweight squat and start rifling through their belongings.
They pluck a pair of fancy lifting shoes from their bag. Then, a pair of knee or elbow sleeves. Oh, there's chalk in there too. Last but not least (and almost always), this individual will remove a large, sturdy-looking belt from their bag and set it on the ground. You're watching a serious lifter suit up for a heavy session of barbell training. And their weightlifting belt is the centerpiece of the show.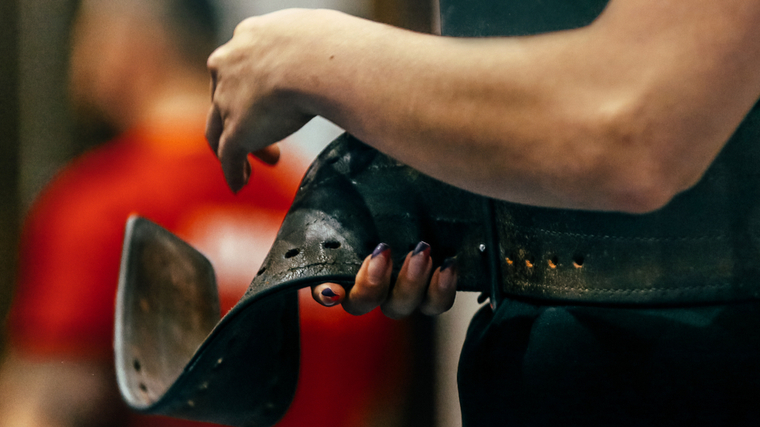 Weightlifting belts are a ubiquitous, near-indispensable tool for powerlifters, weightlifters, and run-of-the-mill gym rats who love lifting heavy. That said, you don't have to be a strength competitor to benefit from using one. If you perform strength training for, well, any reason, there's a lot you stand to gain from belting up. This guide will teach you everything you need to know about the weightlifting belt:
Weightlifting Belt Guide
Editor's Note: The content on BarBend is meant to be informative in nature, but it shouldn't take the place of advice and/or supervision from a medical professional. The opinions and articles on this site are not intended for use as diagnosis, prevention, and/or treatment of health problems. Speak with your physician if you have any concerns.
What Does a Weightlifting Belt Do?
Weightlifting belts are a type of assistive equipment that are designed to enhance performance during physical activity. Specifically, lifting weights. The idea behind the belt is, actually, quite simple — your core musculature contracts to stabilize your body against external forces. It is easier to contract a muscle if you give it something to push against, hence the snug support of a belt.
Contrary to what you might think, belts are more of a performance-enhancing tool than a preventative measure. One study from the Journal of Strength & Conditioning Research (1) found that, "the use of a weight belt may improve a lifter's explosive power by increasing the speed of the movement without compromising the joint range of motion or overall lifting technique."
Safety & Injury Risk
It is commonly believed that wearing a lifting belt reduces the exerciser's risk of injury. In fact, data show that the vast, vast majority of folks who exercise use belts as a form of preventative care. (2) However, there's little substantive evidence suggesting that weightlifting belts tangibly reduce injury risk. Findings range from small positive effects on reducing risk of re-injury to potentially even amplifying injury risk due to an increased perception of immunity to harm. (3)
The Bottom Line: Weightlifting belts are used for both performance enhancement and safety, but are generally far more successful at the former than the latter.
How to Use a Weightlifting Belt
You can't just strap a belt on and expect it to work wonders. In other words: You can't just wear a belt. You need to use the belt. And like any skill worth learning, it takes practice. Here's the right way to use a lifting belt.
Step 1 — Wrap the Belt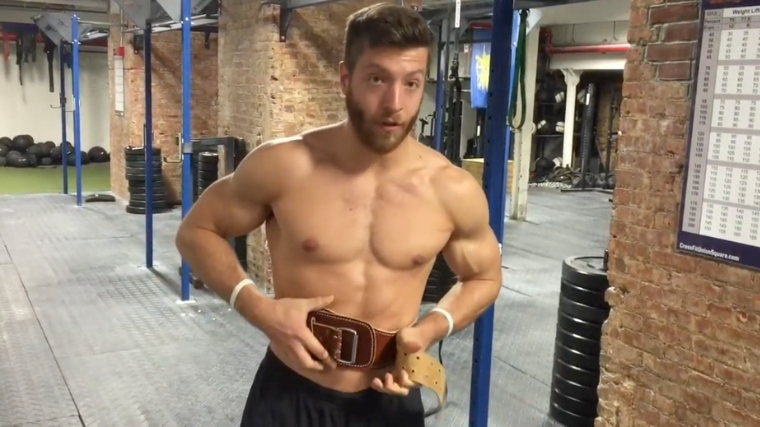 Ideally, the weightlifting belt should sit just above your hip bone so that it can have full contact across the back, sides, and front of the torso.
Pro Tip: If you find the weightlifting belt is restrictive or pinching in some areas, there is a strong chance it is not set in the right position. If this still happens, then you may need to look at using a different belt thickness or adjust the tightness (see below sections)
Step 2 — Inhale Slightly and Tighten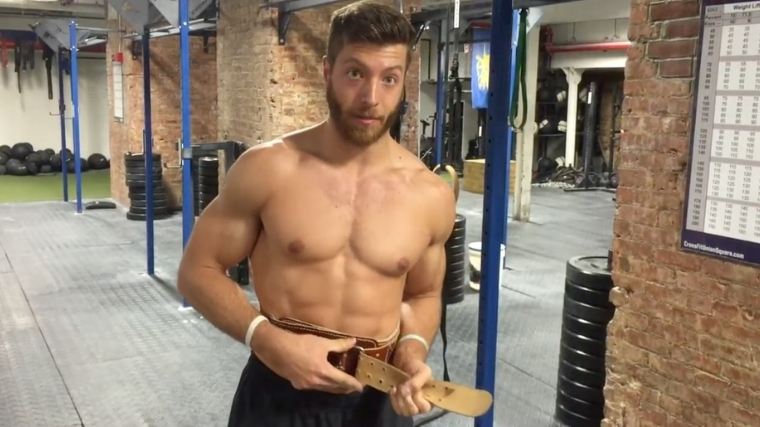 The belt should be tight, but not to the point you feel like you will explode. You want to leave enough room for your stomach to expand so you can create tension and brace. Your belt should be tight and snug but will be filled out once you begin to brace.
Pro Tip: You should be able to stick your index finger down the back of the belt. Any more than that, and the belt may be too loose or not placed properly.
Step 3 — Breathe and Expand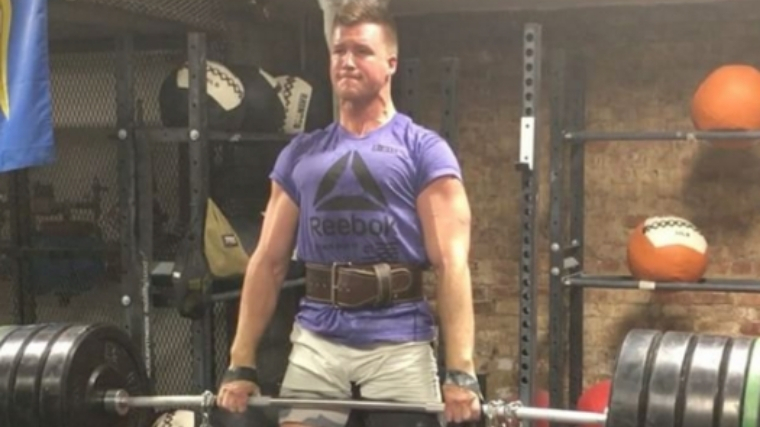 The point of a weightlifting belt is to make your back more stable. Your first line of defense against a weak back is your core. Brace your core muscles, and you should be tight. The belt allows you to brace more aggressively, is all. To do so, you need to take a deep breath into your belly and flex your abs and lower back. Then, hold this position for the duration of the lift.
Pro Tip: A weightlifting belt is not a band-aid for poor bracing mechanics and breathing patterns. It is a performance enhancer for those who already know how to brace themselves and breathe under load. Be sure to review and master some of the bracing and breathing techniques discussed in later sections.
Weightlifting Belt Tips & Tricks
You can't expect to just slap a weightlifting belt on all willy-nilly and immediately set a new 1-rep max in your favorite exercise. Like any piece of exercise equipment, there's a learning curve to lifting belts. These tips and tricks for proper breathing and bracing should help you optimize your usage of a weightlifting belt:
Pretend You're Getting Punched in the Gut: If someone were to ever wind up and send a knuckle sandwich into your bread basket, you'd flex every muscle in your stomach, right? This is the first step to achieving a secure and stable back.
Breathe Into the Core: While you are preparing to take a (fake) hit in the gut, think about breathing into the abdomen. The tension should develop with each breath you take. Try to visualize the ribcage getting pulled into the body and the pelvis stacked perfectly underneath the ribcage. Be sure to stay uptight and focus on bringing your ribcage into the body.
Flex Your Obliques: The obliques are key to maintaining pelvic alignment and stability while minimizing rotational forces at the hips and spine during loaded movement. Try to think about puffing them outwards as you breathe into the core, almost as if you were puffing your cheeks (face) out.
Benefits of Weightlifting Belts
Below are a few of the many reasons to wear a weightlifting belt. Belts have a lot to offer, but remember not to think of them as a band-aid fix to issues you may have with bracing, breathing habits, or injured muscles. Your belt should supplement your lifting habits, not cover for bad habits.
Increased Force Production
Your core is the structure through which you transfer force when you're lifting. During the squat, for example, your legs push into the ground and that force carries up through your midline to help you stand up. Smooth and effective force transfer is integral to heavy lifting, particularly for training power.
That's where the weightlifting belt really shines. Adding external support to your trunk makes it easier for you to transfer force from your limbs into whatever object you're trying to move. (1)
Increased Spinal Stability
You'll primarily use a lifting belt to increase intra-abdominal pressure and aid in stabilizing your trunk during heavy lifting. (4) In addition to bracing correctly, a lifting belt can add additional support in such events that require maximal rigidity and tension in the torso. That said, remember that a weightlifting belt does not replace or protect against poor technique and improper bracing during a lift.
Can Minimize Spinal Extension
A weightlifting belt can offer some support and feedback against excessive arching of the lower back, especially in overhead exercises. Wearing a belt can help you "clamp" your ribcage down via engaging your abdominal muscles and, subsequently, reduce unwanted spinal extension.
Provides Tactile Feedback
It's important to clarify again: A weightlifting belt is not a substitute for poor bracing mechanics. However, having the tangible belt wrapped around you to press against can help build awareness. (It's similar to looping a mini band around your knees when you squat to force them outward.) A weightlifting belt offers an individual an immediate physical response and feedback, helping them determine if they are actively expanding into the belt or not.
Who Should Use a Weightlifting Belt
Choosing the right weightlifting belt for you based on your goals, sport-specific movements, and regulations (for some organizations and sports, see below) is important. A weightlifting belt that is too rigid, too thick, or not sanctioned can significantly impact maximal strength and power performance.
On the other hand, a belt that is too loose or flimsy may not provide the protective and assistive benefits you're looking for from it in the first place. As always, context matters.
Strongmen and Strongwomen
Strongman athletes often may vary weightlifting belts based on the specific event/movements performed. The sport of strongman requires an athlete to be strong, such as in the deadlift or overhead pressing events, and be strong while moving, such as in events like carries, stone lifts, and throws.
For events requiring less movement, some athletes may opt for a thicker belt, less pliable, and can offer slightly more support. Some lifters may want a more pliable yet still supportive weightlifting belt option for more strength and movement-based events.
Powerlifters
Powerlifting is a sport in which maximal strength is tested using the squat, bench press, and deadlift. Unlike Olympic weightlifting and strongman, the need for a more pliable weightlifting belt is decreased as the ranges of motion are often less. Due to that distinct difference in the sporting movements, weightlifting belts used in powerlifting tend to be thicker, sometimes wider, and more rigid.
Olympic Weightlifters
Olympic weightlifters need a combination of both a strong and rigid belt to aid in heavy lifts and belts that are more pliable and less thick than those found in powerlifting. Due to the increased ranges of hip flexion and mobility needed in the snatch and clean & jerk, some lifters may want to opt for a more supportive nylon belt. Some lifters prefer a more rigid leather belt, which can provide some added rigidity and movement to find leather belts with a more tapered belt design.
General Fitness and Weight Training
A weightlifting belt is a smart — but not essential — purchase for most recreational exercisers. If you're a beginner lifting weights, it's important to allow your body to develop and acclimate "naturally" to the stability demands of strength training. In plain terms, this means not relying on the belt before your core and spine have a chance to grow and strengthen on their own.
All that said, a weightlifting belt is perfectly appropriate for free weight training, particularly during compound exercises like rows, presses, or squats. Just make sure you aren't relying on it as a crutch to the detriment of building good breathing and bracing habits.
What To Look For When Buying a Weightlifting Belt
There's a lot to be on the lookout for if you're in the market for a good lifting belt. These are some of the major factors to consider before you pick up your first belt:
Thickness
The thickness of a belt refers to how thick the belt is from the aerial view, while the width refers to how "tall" the belt is on your torso. Often, a thicker belt will offer more rigidity of the spine, which could be beneficial for heavier, less dynamic lifts, such as squats and deadlifts. In turn, a very thick and rigid belt may interfere with more dynamic lifts like the clean & jerk.
Tightness
A good rule of thumb for the tightness of your belt is that, when secured around your belly, you should be able to comfortably fit one finger between your body and the belt. As such, make sure that you purchase a belt in the appropriate size. If you need to bind it to the last notch or you feel like you can't expand your diaphragm while wearing it, it is probably too small for you.
Material
Almost all weightlifting belts are constructed out of either nylon or, preferably, leather. There are certainly benefits to wearing a leather vs. nylon belt regarding comfort, since multi-layered leather belts are often quite stiff and pinchy and require a good bit of breaking in.
However, for performance enhancement leather belts beat nylon belts every time. A nylon lifting belt with a Velcro cinch may not be secure in all cases, especially if you're working at maximum effort. Nylon belts earn some points for being easy to travel with, versatile, and much less intrusive on your body. They won't pinch or catch on your clothing while you move.
Latching
Almost all nylon lifting belts are bound with Velcro, which is great for quick on-the-fly adjustments but isn't the most secure way to bind the belt. Leather belts on the other hand tend to come with two fastening options: Lever or prong.
Lever belts are fixed, meaning it is quite tedious to loosen or tighten the bind of the belt itself. The trade-off, though, is maximal security; lever belts will (almost) never come open while you're lifting. Notched belts bring semi-comparable security and are easier to adjust on the fly or if you happen to gain or lose weight.
Sport-Specific Considerations
If you're purchasing a weightlifting belt for the purposes of training or competing in a strength sport (that's powerlifting, weightlifting, CrossFit, or strongman), take a few minutes to read up on what the regulations of your specific federations are regarding belt usage.
For instance, the International Weightlifting Federation technical rulebook for 2023 stipulates that belt width may not exceed 12 centimeters in competition. The International Powerlifting Federation's 2023 rulebook has extensive policies on belt usage including material, adornment, and lift-by-lift conditions.
Your Takeaways
Weightlifting belts are among the most productive purchases you can make to augment your performance in the gym. While they do confer some safety-related benefits, belts are best used to enhance strength and power production.
Weightlifting belts are used during free weight exercise to stabilize the core and improve muscular engagement.
Belt usage is appropriate for any free-weight compound movement, or to create a sense of comfort and confidence around movement.
Research indicates that using a weightlifting belt may not tangibly reduce injury risk in all cases.
Belts come in both nylon and leather, with a variety of different fastening mechanisms and design choices specific to their intended uses.
Before purchasing a belt, consider the thickness, width, material, latching mechanism, and any potential stipulations around using one in the context of a strength competition.
FAQs
What is the best type of weightlifting belt?
There's no one best belt. There are a plethora of styles of lifting belts. Styles can range from material used, structure, rigidity levels, and sport-specific types.
For Olympic weightlifting, you want a belt that's thicker in the back but thinner in the front for more mobility during the snatch and clean & jerk. Powerlifters and strongmen want a power belt, which is the same thickness and width for more intense bracing. There are also different styles to consider. Some feel that a buckle is more secure than a lever, but it's generally harder to secure and fasten. There are also velcro belts, which everyday gym-goers may enjoy since they're easier to use and not as stiff. 
When should you wear a weightlifting belt?
Generally speaking, most lifters who wear weightlifting belts do so when loads get above 80% of their one-rep max. Depending on the skill level of the lifter and loads being lifted, this may vary. It is important to note that lifting with a belt does require some awareness and skill, so it is important to train in a belt from time to time if you are planning on competing in a lifting sport.
That said, most lifters who train and compete in weightlifting belts will also go through training blocks where they will not use a belt, which can be helpful to develop better foundational core strength and address weaknesses that may be masked when using a belt.
What exercises should you wear a weightlifting belt for?
Nearly any exercise can be done with a weightlifting belt. However, it is reserved for compound lifts like squats, presses (bench and overhead), deadlifts, and accessory movements. 
If you find yourself using a weighting belt for things like walking lunges, calf raises, and biceps curls, for example, there is a strong chance you are not even using a weighting belt properly, should learn how to brace without a weightlifting belt, and might be recovering from lower back issues. In that case, you should ask yourself if you should be training the way you are training right now. 
How can I break my belt in?
If you just bought a heavy-duty power belt, then you'll notice it's really stiff. Here' a simple trick: Turn on your favorite show, sit down with your belt in front of you on the floor, and roll it tightly up and then unroll it for the duration of the show. Eventually, it'll get warm and begin to loosen. This will ensure it's comfortable to wear, and then over time, it'll soften up a bit more.
References
Zink, A. J., Whiting, W. C., Vincent, W. J., & McLaine, A. J. (2001). The effects of a weight belt on trunk and leg muscle activity and joint kinematics during the squat exercise. Journal of strength and conditioning research, 15(2), 235–240.
Finnie, S. B., Wheeldon, T. J., Hensrud, D. D., Dahm, D. L., & Smith, J. (2003). Weight lifting belt use patterns among a population of health club members. Journal of strength and conditioning research, 17(3), 498–502.
McGill, Stuart M. "On the Use Weight Belts". 2005. National Strength and Conditioning Association.
Kei Miyamoto, Nobuki Iinuma, Masato Maeda, Eiji Wada, Katsuji Shimizu. Effects of abdominal belts on intra-abdominal pressure, intramuscular pressure in the erector spinae muscles and myoelectrical activities of trunk muscles. Clinical Biomechanics, Volume 14, Issue 2. 1999. 79-87.
Featured image: Etoilestars/Shutterstock