Whether it is the pressure of work, the tediums of travel, or the non-stop duties of the household that are adding up, people of all stripes could use a relief. That's why back massages are so popular – and nowadays people can relieve that tension from the comfort of their own homes with their own back massaging machines. This emerging marketplace has lots of different products that might be right for you. We assessed the leading brands to provide a helping hand in determining the pros and cons of various products on offer. Here's what we found:
Editor's Choice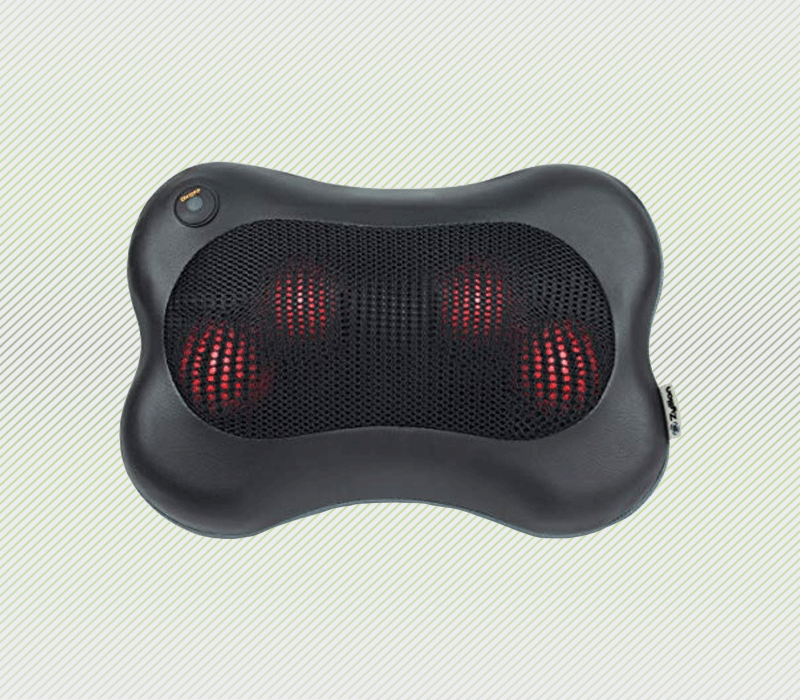 Zyllion Shiatsu Back and Neck Kneading Massage Pillow
Pros: 
Easy to clean. The leatherette material is not only comfortable but easy to clean. For those planning on using a massager every day, the ability to quickly clean can not be undervalued

Slim design. At only 3.5" inches deep, this device is one of the smaller units in the marketplace

Durability. This unit is made of durable materials and has a great warranty. Though this user clumsily dropped it once or twice, the massager was no worse for wear after a few accidents
Cons: 
Weight. The device may be thin, but at around four pounds, it is one of the heavier options available

Shortage of massaging nodes. While some users will be satisfied with the four massaging nodes, most of its competitors offer options with eight nodes
Contender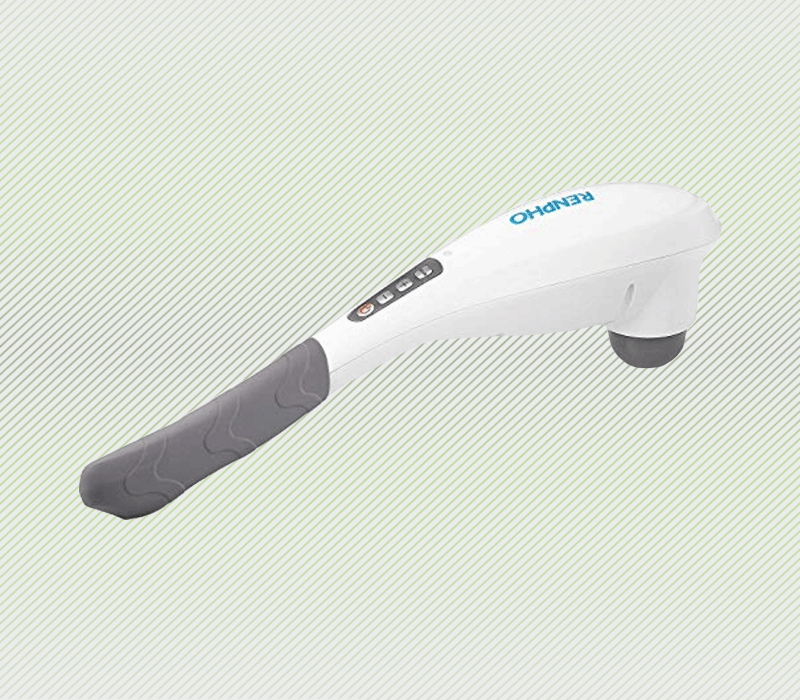 RENPHO Rechargeable Cordless Electric Percussion Hand Held Deep Tissue Massager
Pros:
Wireless: Though many products on the market require a constant connection to a powersource, this offering from RENPHO is battery-powered and allows up to 140 minutes of use without a charge. For those going on long trips or in an office that requires constant activity, this might be the perfect product for you

Powerful motor. The built-in Electric Percussion motor provides around 3,600 pulses per minute. This can be manipulated with four different strength modes and three speed modes

Weight. Clocking in at under two pounds, this device is under half the weight of some competitors and was easy to use for long periods without fatigue
Cons:
Charge. Because it is battery-powered, its effective time of use may vary based on how a user uses the device. Sometimes the charge doesn't last the full promised 140 minutes

Arm positioning. The fact that this is a hand-held unit offers some obvious benefits, but on the flipside, it can be tiring to hold in the same position for a lengthy period of time
Best Bargain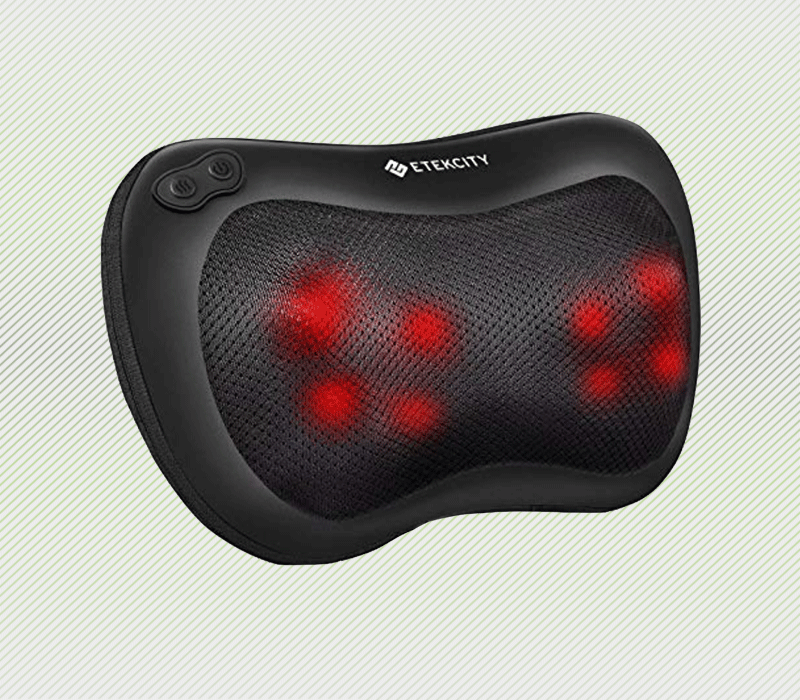 Etekcity Back Neck Massager with Heat Function & Adjustable Intensity Deep Tissue Shiatsu Massage Pillow
Pros:
Use it anywhere. This product has elastic straps that can be attached to car-seats, office chairs, couches, and stools. It measures only 13.3 x 4.3 x 8.6 inches

Design. Not only is the Etekcity brand known for its effectiveness, but their sleek, modern look blends effortlessly into most environments. This is perfect for those wanting to keep their massaging discrete

Price. Surprising as it may be, but this user found the Etekcity Back Neck Massager as not only the most effective product he sampled, but the most affordable as well!
Cons:
No battery. While it has an AC and DC adapter, and can be plugged into most cars, this product doesn't have the same battery-powered optionality that some of its competitors do

Auto shut-off. Considered a valuable safety feature, the unit shuts off after 20 minutes to avoid overheating. While certainly safety can never be over-valued, some users might be annoyed that they have to restart the unit after 20 minutes
Also Consider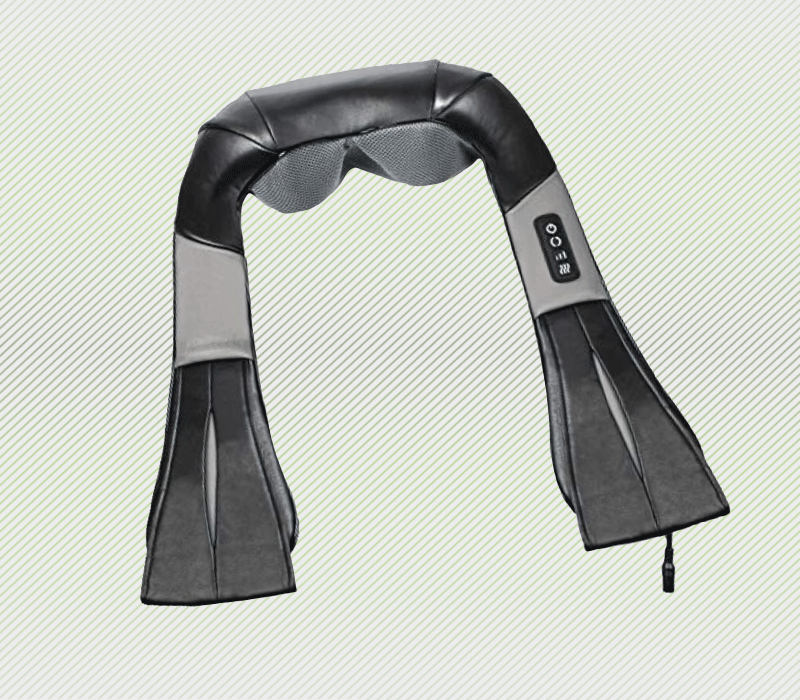 Nekteck Shiatsu Neck and Back Massager with Soothing Heat, Electric Deep Tissue 3D Kneading Massage Pillow
Pros: 
Shape. This device is versatile for use all over the body. Whether for legs, arms, back, neck, or abdomen, this reviewer found the device comfortable and effective. The slips for arms to rest in is a pleasant surprise

Alternating direction. Nekteck proudly features alternating clockwise and counter-clockwise directions, allowing for a direction switch every minute

Remote control. For those that need muscle and tissue relief in a less-than-convenient position, or like to relax and stay stationary during a massage session, the remote control allows the user to modify, start, or stop the unit with minimal movement 
Cons:
Colors. The design features a dull grey to go along with a black base. While not allowing discretion, the unit doesn't instantly pop for its handsome design either

Intensity. Though this might be the perfect product for some users, the effectiveness of the device may indeed be too much for some. The deep massage it provides is perfect for some customers but may prove painful for others
Best Hands-Off Option
InvoSpa Shiatsu Back Shoulder & Neck Deep Tissue 3D Kneading Pillow Massager
Pros: 
Portable. Not only does the InvoSpa Pillow Massager have a handsome carry bag, but it comes with a free car charger. Perfect for those who need muscle and tissue relief on-the-go

Hand slips. A major innovation in personal-use massagers, the hand slips allows the user to rest their hands while doing a neck or back massage. This made the experience much more comfortable for this user

Auto-reverse. Designed to mimic human hands, this device automatically reverses direction every minute 
Cons: 
Weight. At just under four-and-a-half pounds per unit, this is one of the heavier products on the market

Design. While some of the competitors vie for a discrete and modern look, there is no hiding the turquoise design of the InvosSpa massager
How We Picked
Everyone has different sores, aches, nagging injuries, and places where they feel fatigue most acutely. Personal massagers are developed specifically to address users with varying needs and tissue massage goals. As each of these products were tested, we used several key characteristics to determine how these devices may help different customers.
Ergonomic Design
As a product that by nature is pressed against sensitive tissue and generally sore body parts, it is critical for the massager to be comfortable, unburdensome, and adjustable. Some units are handheld – these are great for applying to very specific body parts. Other units are designed to strap to a chair or car-seat – allowing hands-free usage. Determining the manner in which the product will be used is very important when deciding which one to get. Someone expecting effortless use may be in for more trouble than it is worth if the unit isn't comfortable.
Results
Though most of the top brands offer Shiatsu multi-direction, heated massage nodes, they are all powered differently and at different speeds. How much you can adjust the speed, strength, and direction can make a big difference in how well it helps relieve muscle tension and tissue soreness. Taking advantage of the warranties and money-back guarantees that some companies offer may be a nice way to determine whether heat, direction, or strength is more important to you.
Portability
Muscle soreness can flare up at any time. Being on a business trip or at a kids' soccer game may be the last place someone may think to have a personal massage device. Some units can be plugged into a car, some are portable and battery-powered, while some simply have to be plugged in at all times. Keep this in mind when deciding your purchase; how you use it, when you use it, and how often may be the most important questions you ask.
Relaxation vs. Relief
Massagers have varying strength and functionality, each with corresponding results on our tissue and muscles. Massaging can have a naturally occuring relaxation sensation. Some units, however, are powerful in their massaging and might actually be painful for some users. Whether you are a casual user, an everyday user, or someone with acute massage needs, it is useful to check how powerful, comfortable, and how many relaxing functionalities each product offers.
Coloring
Some products use colors and design to jump off the shelf – perhaps an effective way to grab your attention, but not always the best way to be discreet about your health needs. Some products are small, some are all-black, while some are white and colorful. For use at home or for a family, this may not be a problem. Those using the product on the road or in an office may be on the look-out for a sleek design.
Price
Ranging from under $30 to around $50, these devices can provide more bang for the buck or perhaps longer shelf-life. Though none of them will truly break the bank, customers looking for a discount may be turned away by the more expensive pricepoints, while those looking for something that gives the comfort of being "top-of-the-line" may be looking for a higher pricepoint.
Buying Tips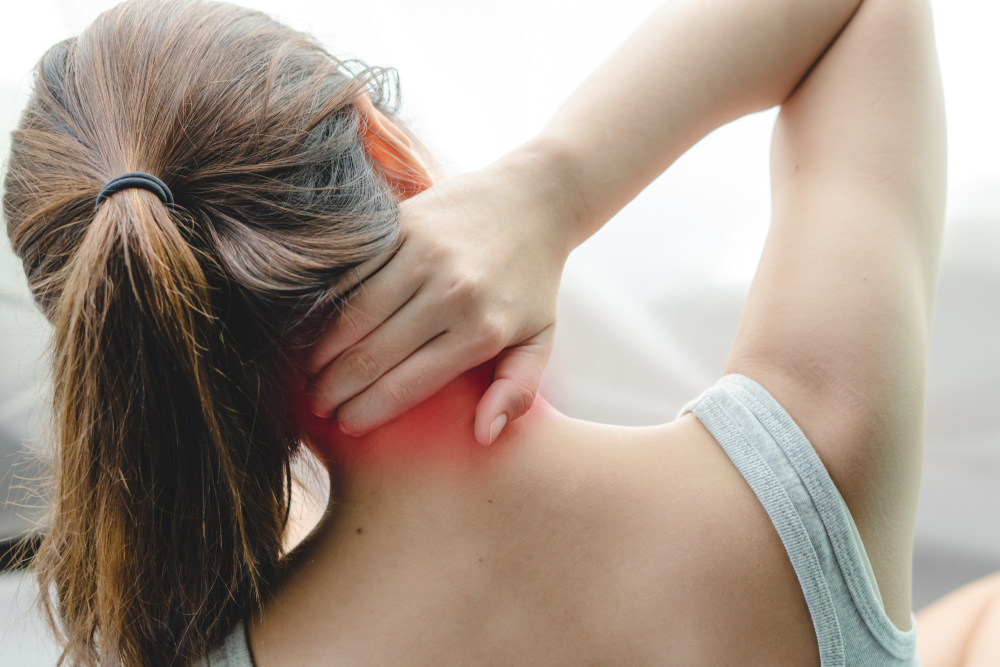 Not sure which personal massager is best for you? Consider the following tips when making your choice:
Which parts of your body are aching? These devices have different modalities – slipping over a carseat, handsfree, comfortable wrapping around your neck, or totally cordless and for use on any part of the body. If you have multiple areas that ache, or have soreness in a region of the body that is not easily accessible or comfortable to constantly massage, you should distinguish between the products based on how they can be used. And remember, massagers can be a useful personal tool, but they won't fix everything. If you experience long-term injuries and chronic pain, consult with a medical professional.
Who will be using this massager? Not all products will be useful for more than one person, while others are perfect for everyone in the family to use. Slip one over a carseat and whoever is driving can enjoy the benefits. Or buy a cordless travel unit and use it as a personal massager wherever you go.
How much adaptability do you need? These devices can be manipulated in several ways. Some offer speed controls, other automatically or manually let you adjust the direction. Heat is something that can often be adjusted, while others don't feature any heating functionality.
Can it be transported easily? While most of the products on the market are rather small, some are over twice the weight of their competitors. The carry bags and cordless/battery-charged aspects of some products are huge pluses for those hoping to take their massaging devices with them.
Remote control. Not all the units offer remote control functionality, but if you are planning on resting for long periods while getting a massage, using a remote control can make a world of difference, when getting up and adjusting the speed and strength or turning back on after an auto-shutoff could be a recurring hassle.