Pull-up assist bands are large rubber bands that relieve a certain amount of weight when performing a pull-up. For example, if an athlete who weighs 150 pounds uses a pull-up assist band of 25 pounds, then they are pulling up 125 pounds instead of their full body weight.
This seems pretty straightforward and primarily for those who are training toward performing unassisted pull-ups or pull-up accessory exercises. There are many reasons why athletes of all experience and fitness levels might be able to benefit significantly by having access pull-up assist bands.
Best Pull-Up Assist Bands
So whether your goal is your first unassisted pull-up or spicing up the normal X sets of Y reps of normal pull-ups, assist bands are worth looking into. Let's stretch out and find which would be best for your needs.
Editor's note: The content on BarBend is meant to be informative in nature, but it should not be taken as medical advice. The opinions and articles on this site are not intended for use as diagnosis, prevention, and/or treatment of health problems. It's always a good idea to talk to your doctor before beginning a new fitness, nutritional, and/or supplement routine. Individual needs for vitamins and minerals will vary.
Best Overall
These bands use commercial grade rubber to ensure long term durability and include access to VIP Club — an online blog of different workouts and community forums. Each band can stretch to twice their starting length to better fit both commercial gyms and home gyms.
DYNAPRO Power Resistance Bands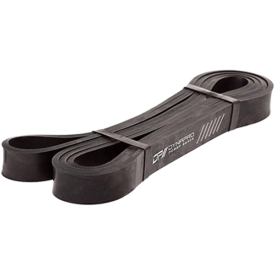 DYNAPRO Power Resistance Bands
These resistance bands are a set of five bands that range from five pounds to 170 pounds of resistance. They fold comfortably and have bands to hold them tight so they are easier to pack and travel with. Each band is made of eco-friendly snap-resistant rubber.
These bands can provide resistance up to a range of 165 pounds. That makes it effective for beginners working towards their first pull-up and advanced athletes working on pull-up progressions.
Who Should Buy DYNAPRO Power Resistance Bands
Athletes who want bands manufactured with commercial grade rubber.
Those who want to invest in a set of pull-up assist bands for the long term.
Taller athletes need bands that can stretch up to twice their starting length.
Who Shouldn't Buy DYNAPRO Power Resistance Bands
Anyone who might be put off by strong rubber scents.
Those who need to maintain a tighter budget for fitness equipment.
The rubber has a strong scent that may be off-putting to some athletes. On the pricier end of the market for the full set of bands.
[Related: The Lifter's Guide To Magnesium: What This Nutrient Does For Strength]
Best Bundle
This pull-up assist band bundle includes five pull-up bands with a resistance range up to 125 pounds and a free ebook of exercises that can be downloaded to any mobile device. Despite supplying multiple resistance bands, this bundle is more affordable than most other competitive options on the market.
Odoland 5 Packs Pull-Up Assist Bands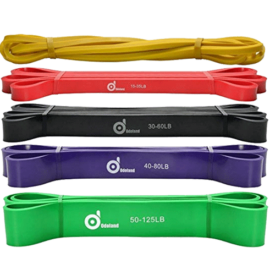 Odoland 5 Packs Pull-Up Assist Bands
These pull-up assist bands have a resistance range of five pounds to 125 pounds. The smallest band is half a centimeter thick while the thickest is just over four centimeters. The pack includes two handles, a door anchor, and a carrying bag.
These assist bands scale in resistance with the following weights: five-15 pounds, 15-35 pounds, 30-60 pounds, 40-80 pounds, and 50-125 pounds. The thickest of the bands is just over four millimeters thick.
Who Should Buy Odoland 5 Packs Pull-Up Assist Bands
Athletes who are interested in a free downloadable ebook of exercises.
Those who are looking for more affordable pull-up assist band options.
Folks who are looking for a wide range of weight assistance up to 125 pounds.
Who Shouldn't Buy Odoland 5 Packs Pull-Up Assist Bands
Heavier athletes who need more than 125 pounds of assistance.
People who might be annoyed by the film covering on each band peeling off over time.
There aren't many negative aspects to these bands. They aren't doing anything particularly fancy and provide a solid range of weight assistance for most athletes. If you are a heavier athlete building towards your first pull-up and need more assistance than 125 pounds, then you will have to check out other options on this list. Otherwise, the main downside is an aesthetic one of the film covering peeling after excessive use. That doesn't inhibit their functionality, so although there is room for improvement, this bundle still tops our list.
Best For Travel
These pull-up assist bands are made of a latex rubber that aims to maintain elasticity over the long term. They are designed to be used in outdoor gyms and are great for travel workouts. If you are an athlete who needs to train on the road, consider these assist bands highly.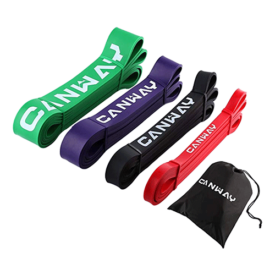 These pull-up bands come in a set of four that offer a resistance range of 15 pounds to 125 pounds. A carrying bag and a user manual are included. The total weight of the bands is approximately two pounds for easier travel.
As one of the more affordable options available on the market, these are a great option for athletes playing it safe with their bank accounts. These come four bands to an set and provide 15 to 125 pounds worth of assistance. Additionally, each set includes a carry bag to help with organization on the move.
Who Should Buy CANWAY Pull-Up Bands
Those who need durable assistance bands to last a while.
Folks who train outdoor gyms or in smaller hotel gyms while traveling.
People who are on a tighter budget.
Who Shouldn't Buy CANWAY Pull-Up Bands
Athletes who need a bands with tighter assistance ranges.
Anyone who is allergic to latex.
It is worth noting that these are latex bands, so anyone with an allergy should obviously move on to a different set of assistance bands on our list. The other notable downside with this set is it comes four bands to a set instead of five, meaning that each band has a wider range of assistance. That has pros and cons but means that beginners made have a more difficult time building up their pull-ups with these as opposed to a different set with more narrow weight ranges.
Ultimately, if you are an athlete looking to grab some assistance bands to take on the road or pack into a suitcase, you might be looking at your best option.
[Related: Could Baking Soda Be The Best Workout Supplement You've Never Tried?]
Best For Advanced Athletes
These assist bands provide upwards of 200 pounds of assistance, which is higher than most competitors on the market. This larger range means they can double nicely for beginners who need the additional assistance, but would be great for advanced athletes who could also use these as resistance bands.
Draper's Strength Heavy Duty Pull-Up Assist and Powerlifting Stretch Bands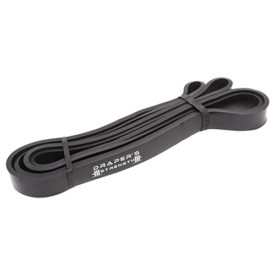 Draper's Strength Heavy Duty Pull-Up Assist and Powerlifting Stretch Bands
Draper's Strength Heavy Duty Pull-Up Assist Bands come in a set of six that range from 2-200lbs of resistance. Each band is made of latex rubber and is 41 inches long. Free e-workout guide included with the set of bands.
Each set includes six bands, which is more than most other comparable options on the market, and are 41 inches in length. Although they are made of latex which may not be suitable for athletes with allergies, they are durable bands that are intended to last several years of routine use.
Who Should Buy Draper's Strength Heavy Duty Pull-Up Assist and Powerlifting Stretch Bands
Athletes who want a higher resistance range from their bands.
Those who are in the market for bands that offer the utility of pull-up assistance as well as resistance training.
People who are happy to have tighter resistance ranges from six bands per set.
Who Shouldn't Buy Draper's Strength Heavy Duty Pull-Up Assist and Powerlifting Stretch Bands
Athletes allergic to latex.
Folks who don't want to see signs of wear reflected on the bands.
Anyone working with a tighter budget for fitness equipment.
Again, latex-allergic athletes need not apply. Beyond the material used, the downsides here are the retention of scuffs or other signs of wear that might show up on these bands. That's not a put off for everyone, but it might be a no-no for some. Additionally, these are more expensive than comparable options on the market, but that doesn't mean you won't get what you pay for. If you are specifically looking for a really stiff band that is going to provide a lot of assistance for your pull-ups and a lot of resistance for accessory training, then this is a solid option to consider.
Best For Beginners
These pull-up assist bands can provide up to 125 pounds of assistance and are made with anti-snap, eco-friendly latex. Additionally, the four-band set weighs a total of two pounds making it easier to carry around in a gym bag.
INTEY Pull-Up Assist Band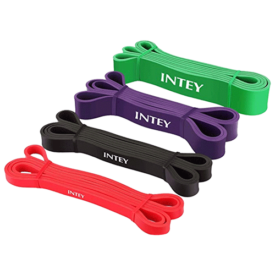 INTEY Pull-Up Assist Band
INTEY's Pull-Up Assist Bands come in packs of four and include a workout e-book, a carrying bag, and a gift box. They offer a resistance range of 15lbs-125lbs. They are made from an anti-corrosive and anti-snap rubber to ensure better safety.
The bands range from seven-tenths of an inch to 1.7 inches in width providing more area for foot placement or to sit on when performing assisted pull-ups.
Who Should Buy INTEY Pull-Up Assist Band
Those who need more area to position their feet or sit bones during assisted pull-ups.
Athletes who want a lighter set of bands to travel with.
People working with a strict budget.
Who Shouldn't Buy INTEY Pull-Up Assist Band
Folks who would prefer a five or six band set to provide wider resistance ranges.
Anyone who dislikes having to routinely clean their equipment.
The only notable downside about these bands is that they have a tendency to get moldy if they are used in warm environments or get covered in sweat without being cleaned. Of course, most equipment should be routinely cleaned to prevent odors. Again, a quick disclaimer for those with allergies — these are made with 100 percent natural latex.
[Related: The Best Foods And Supplements For Fighting Inflammation]
How We Decided Our Picks
Resistance Range
Depending on the needs of an athlete, the amount of resistance (or assistance) can vary. Beginner athletes learning correct form for pull-ups may need a band that can off-set more of their bodyweight so the pull-ups aren't as difficult starting out. As an athlete gets stronger, less assistance is needed, and most band sets include bands that go meet or go below five pounds of resistance.
Ease of Travel
Traveling easy is not necessarily a needed attribute for those with home gyms, but for those without, being able to travel to and from the gym or from hotel to hotel easily is important. Many sets prioritize easy travel with lightweight bands, travel bags, or tight packaging of the bands when rolled up. If you are a traveling athlete, be on the lookout for pull-up assist bands that place easy travel at the forefront of their messaging as it is usually highlighted by the seller.
Elasticity
A pull-up band's elasticity is going to be indicative of its durability. Better elasticity means the band is less likely to snap or tear over time. Usually, bands that offer more resistance are also thicker than bands that offer less resistance. Maintaining elasticity despite the increased thickness is very important to ensure safety. If a band snaps during an exercise, it can leave a bad welt on the athlete.
Most assist bands are made of rubber and are long enough to avoid accidents. However, knowing how much tension a band can withstand is important, especially for taller athletes or athletes with longer wingspans where the bands will have to naturally stretch farther.
[Related: Nutrition For Bulking: 10 Tips For Intelligent Muscle Gain]
Pull-Up Assist Band Benefits
Pull-ups are one of the best upper body building exercises out there and they don't necessarily always need to be full bodyweight pull-ups to achieve the benefits they offer. Here are some reasons why having pull-up assist bands in your equipment arsenal is beneficial:
Training routines that call for higher volume work with lighter weight pull-ups.
Pull-up assist bands will help athletes continue to perform pull-ups without having to concede proper form when fatigue sets in.
Performing pull-up drop sets (every set gets progressively lighter) is possible with assist bands.
Assist bands are excellent when supersetting pull-ups with other exercises.
Using assist bands to learn or correct pull-up form will help build strength in the long term. Pull-up assist bands can provide some extra mileage for athletes who are able to get creative with them by incorporating supersets, dropsets, or grip variations. Ultimately, pull-up assist bands are a great addition to your equipment bag.