We receive free products and receive commissions through our links. See
disclosures page
.
When it comes to gym shorts, the market is vast and it can be difficult to suss out what makes any one pair different from another beyond a brand logo. However, there are several nuances that can make a difference in your comfort when working out in the gym.
We've sifted through and found the top gym shorts that you should take into consideration before purchasing your next pair. So let's tighten our drawstrings and find the best pick for you.
Best Gym Shorts
Editor's note: The content on BarBend is meant to be informative in nature, but it should not be taken as medical advice. The opinions and articles on this site are not intended for use as diagnosis, prevention, and/or treatment of health problems. It's always a good idea to talk to your doctor before beginning a new fitness, nutritional, and/or supplement routine. Individual needs for vitamins and minerals will vary.
Best Fitting
These 100 percent polyester mesh shorts seem to offer enough breathability and comfort with a fit that felt just right (follow the sizing chart). These were great for lifts that involve a hip hinge like the deadlift or other movements like the lunge where shorts bunching could pose a problem.
The Neleus Men's 7" Mesh Running Workout Shorts are made with 100% polyester mesh fabric, a brief lining, and elastic waistband with adjustable internal drawstring. There are five colors available with pockets lined along the side seams for easy item storage.
The lack of a liner makes for an easy layout across the pelvic region and the shorter inseam keeps these shorts from riding up. Barring some really sweaty workouts, the fast drying fabric didn't retain all that much odor.
Who Should Buy Neleus Men's 7
Those who need better fitting shorts for bigger lifting.
Anyone that needs shorts that don't retain much odor.
Athletes happy to have shorter inseams to prevent bunching.
Who Shouldn't Buy Neleus Men's 7
Those who need a tighter fit.
Anyone who can't guarantee they are tumble dried in low heat.
Unless you are in need of a pair of shorts that really hug the body for a particular reason, there isn't many faults to discuss with these shorts. The requirement of low heat when drying them in the laundry can be a tedious thing to remember, but it is to ensure that that good fit remains so over the long haul. If you have ever had issues with the proper fitting along the groin with gym shorts before, this might be the best pick for you.
Best For Outdoors
These machine-washable shorts are designed with four-way stretch construction for easier multi-directional movement. This is great for those who train CrossFit or compete in sports that would take place on a field outside. These shorts provide protection comparable to UPF 30 when exercising in the sun to help prevent burns without compromising comfort.
Under Armour Men's Raid 10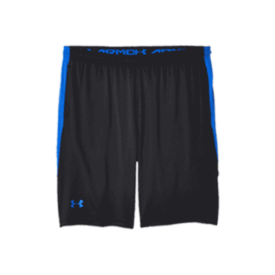 Under Armour Men's Raid 10
The Under Armour Men's Raid 10" Shorts are made of ultra lightweight HeatGear fabric that is 84% polyester and 16% elastane. It incorporates anti-odor technology to stave off odor causing microbes and quickly wicks sweat.
In windier conditions, the material tends to feel lighter. The extra deep pockets help compensate to better ensure that personal effects don't fall out even during intense activity.
Who Should Buy Under Armour Men's Raid 10
Those who perform full body workouts or need to have comfort when moving in multiple directions.
Anyone who is training outside.
Who Shouldn't Buy Under Armour Men's Raid 10
Those who don't like a snug fit around the waist.
Anyone who doesn't want the deeper pockets.
The deeper pockets can be a double edged sword. It has a better chance of keeping your items safe, but also means that they could move or swing more against your legs when training if the items inside are heavier. Other than that, there isn't much to dock points from these shorts. They are a snug fit around the waist, which may be unappealing to some, but it's nice not having to pull them up mid-run or worry about them falling during a sprint between snatches during your CrossFit WOD.
Most Pocket Space
These training shorts are made with a polyester and spandex blend designed with a two-way breathability. All six color options have deep pockets that can hold a large number of personal effects — such as a wallet, phone, keys, etc. — making them great for those performing routine workout splits in the gym. This is useful for those that need to bring items to the gym, but don't have enough to warrant bringing a full gym bag.
DEVOPS Men's 2 Pack Cool Chain 10-inch Loose-Fit Workout Training Shorts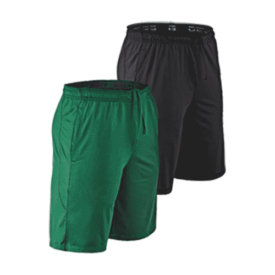 DEVOPS Men's 2 Pack Cool Chain 10-inch Loose-Fit Workout Training Shorts
The DEVOPS Men's Cool Chain 10-inch Loose-Fit Workout Training Shorts are designed with breathable polyester and spandex that is moisture sensing with two-way air circulation. The long inseam aims to provide comfort and coverage during full range of motion. They are available in six different colors.
The material itself has a thin feel too in, which has the capacity to help keep you cool in a warmer environment. The shorts also provide coverage equivalent UPF 50, which can make it a great choice for outdoor training as well. The downside of that is the deep pockets won't be as useful as items might swing while running.
Who Should Buy DEVOPS Men's 2 Pack Cool Chain 10-inch Loose-Fit Workout Training Shorts
Those who need shorts with a more snug fit.
Anyone who prefers having deeper pockets.
People who might train outside and want UPF coverage.
Who Shouldn't Buy DEVOPS Men's 2 Pack Cool Chain 10-inch Loose-Fit Workout Training Shorts
Those uninterested in air drying their shorts.
Anyone who is turned off by wrinkles.
Men who want the lighter color options without drawing attention to their bulge.
The main points against these shorts were primarily aesthetic ones. They had the tendency to retain more wrinkles than comparable options and need to be air dried after washing rather than tumble dried. Additionally, because of the more snug fit at the waist, the lighter color options accentuated the bulge on men. A lot of the time, no one will really care about that as its not disruptively distracting and comfort should be primary when getting new training shorts. However, if you're someone who wants to avoid any unwanted attention or is performing an exercise like the deep squat, perhaps stick to the darker color options.
Overall, these shorts were quite comfortable and the deep pockets are great for those who stick to a nearly daily gym routine.
Best Bulk Buy
Aside from the price tag being appealing to those who need a lot of pairs of shorts due to daily training or avoiding laundry, these shorts use breathable mesh. If staying cool in warmer environments is a priority for you as shorts sticking to thighs can be a real annoyance when trying to perform Romanian deadlifts, then you should probably consider these.
Champion Men's Long Mesh Short with Pockets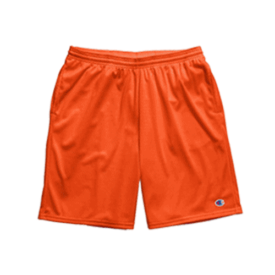 Champion Men's Long Mesh Short with Pockets
Champion Men's Long Mesh Short with Pockets come in twenty different color options and are made of 100% breathable polyester. They are designed with an internal drawstring to adjust sizing around the waist and are 9 inches wide.
A surprisingly unique boon for these shorts is that they are machine washable and dryer safe. That might not seem like a big deal, but a lot of shorts are made of material blends that need specific catering when in the laundry, whether it be certain heats when drying, not being dryer compatible at all, or even requiring a particular wash cycle. That can be tricky to remember if the rest of your wardrobe doesn't require the same and if disregarded, the shorts might not last as long as they otherwise could. It's subtle, but a huge point in these shorts favor.
Who Should Buy Champion Men's Long Mesh Short with Pockets
Anyone who is happy to have 360 degree breathable mesh to stay cool.
Those who want an easier time doing laundry.
People who need to keep their budget in check.
Who Shouldn't Buy Champion Men's Long Mesh Short with Pockets
Those who hate it when shorts bunch.
Anyone who has longer legs as the thigh coverage may not be sufficient.
People who don't want to mess with fishing drawstrings out of the elastic waist.
One of the things that could dock points from these shorts is also entirely avoidable. If the drawstring isn't knotted, then when the elastic waist is stretched out, it could get lost in the waist. Having a drawstring means the shorts can be as tight or as loose as desired, but means that even when not being worn or when being washed that the drawstring needs to be knotted.
The only legitimate knock against these shorts is their tendency to bunch more than other comparable options, but that is something offset by the price tag. If you are looking to spend less coin and don't mind bunching, then these should certainly be in contention for you.
How We Decided Our Picks
Material and Stitching
Most gym shorts will be made primarily with polyester and a small percentage of something else like spandex, elastane, or cotton. The key factors to consider when assessing the material of gym shorts are breathability, stretch capacity, and stitching patterns.
Breathability is straight forward. It is more often than not a benefit to not have sweaty legs when working out causing shorts to stick and bunch. Stretch capacity and stitching go a bit more hand in hand. Essentially, if you are exercising or performing a sport that requires a lot of multi-directional movement or exercises like barbell split squats, having a pair of shorts that can easily allow for that movement is important.
Pockets
It is more likely than not that a pair of gym shorts will be equipped with pockets. The variety comes in how many there are and where they are positioned. Pockets on the sides, usually along the seams, are pretty standard, but there are some options on the market that have a pocket on the side of the glute or lower down on the thigh. If you have a lot of personal effects that you need to have on you while exercising, consider pairs with the extra pocket space.
The other factor to look for with regard to pockets is how deep they are. Pockets deep enough to hold personal effects is important, but if they are too deep, the potential that they can swing or move around in your pocket can cause discomfort during a movement. For male athletes in particular, having pockets that can keep personal effects from swinging is important.
Wrapping Up
When choosing your next pair of gym shorts, look for the type of material you find most comfortable. Ultimately, your shorts should allow you the full range of motion you need to do the exercises you want.