We receive free products and receive commissions through our links. See
disclosures page
.
Weightlifting shoes have a few advantages over cross-training shoes — greater stability, a more beneficial position for mobility, and a better "feel" for the surface you're lifting on (improved proprioception, if you're feeling fancy). If you're mainly lifting using machines, weightlifting shoes don't add much benefit because the machines themselves take care of the stability. But if used judiciously, weightlifting shoes are a fabulous tool that can aid in mobility and form while performing free weight movements like squats, presses, cleans, and snatches.
Over the past few years, there has been an explosion of new gyms as weightlifting, powerlifting, CrossFit, and more have grown in popularity. With that growth of gyms has come a dazzling array of new shoes for lifting all with different heel elevations, strap systems, designs, and of course, price points. We're here to help you navigate through and find the best weightlifting shoes that will fit your requirements.
Check out our full list of the Best Black Friday & Cyber Monday fitness deals!
Best Weightlifting Shoes
How We Tested and Chose the Best Weightlifting Shoes
Weightlifting shoes are surprisingly complicated pieces of equipment and have many different parts. So much goes into making good weightlifting shoes that we had to narrow our criteria down to a few important variables. Heel height and elevation will be the first thing you notice when slipping on a pair of weightlifting shoes — thus, we made it a top priority.
The way a shoe laces and straps up will also influence how it feels, and who it's best for. The type of heel used to make the shoes has a large impact on the performance of the shoe (whether it's stacked leather, TPU, wood, or EVA). Design and durability are related to each other, and also weighted heavily in decision-making for the best shoes. Read on for more in-depth information on each consideration.
Heel Height and Elevation
The height of a weightlifting shoe's heel can make quite a difference in your training, especially if you compete. The elevation of the heel on these types of shoes supports better mobility and allows a lifter to remain more upright when squatting — achieving better positioning for lifting. Having your feet planted and stable is necessary, especially when lifting heavy weights, and an elevated heel can help with that.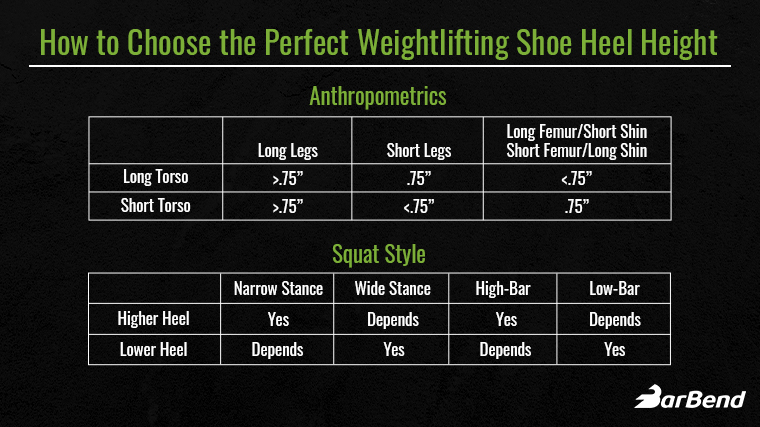 Weightlifting shoe heel-to-toe elevations can range anywhere from as low as 0.3 inches to a full inch, and every lifer will have a preference of what height feels best to them. What's important to consider when looking at heel height is your sport, anthropometrics, and feeling. All the charts in the world can tell you that you need a heel that's 0.75 inches tall or greater, but if it doesn't feel right for you, it isn't.
Lacing and Strapping
The way in which a shoe laces up or straps down can make a big difference for lifers who prioritize foot stability or flexibility. Among the list of shoes, we reviewed you'll find many different options for a single strap, double strap, and other lacing options. Each of these options comes with its own advantages and disadvantages as well as different levels of security for areas of the foot.
For the most secure and versatile feeling, double straps with heavy-duty lacing or even BOA laces. Single straps also provide a good level of stability and security but are less versatile since you can only tighten down the section of the foot that the strap is over. If you have a double strap system, you can tighten the front or back straps differently depending on the exercise. For example, when performing split jerks, you want a bit more flexibility in your rear foot so you can be up on the ball of your foot, but you want maximum stability in the lead foot, so you can adjust the straps accordingly.
Type of Heel
Regular running shoes or sneakers —with a few exceptions — have compressible rubber or foam-based heels, which are less than ideal for supporting and stabilizing any remotely heavy weights. Weightlifting shoes, on the other hand, have a few different heel options and they are usually very solid with little to no give. Some of the most common heel options are EVA, TPU, stacked leather, and wood. Each of these options has a different appearance, level of stability, performance, noise, and feel on the platform.
When it comes to deciding which heel is the right one for you, it's often up to the discretion of the lifter and what they prefer. Some reasons you may want to choose each type of commonly used heel material follow.
EVA Heel: Lightweight, somewhat compressible or maneuverable, very durable
TPU Heel: Lightweight, resistant to compression and abrasion, long-lasting, durable
Stacked Leather Heel: Throwback look, platform feedback, and sound, somewhat compressible
Wood Heel: Stable, old-school appearance, little to no compression, platform feedback, and sound is unmistakable
The type of heel material and height of the heel are what helped us when we were dividing each shoe into their "best" category.
Durability
Durability is less of an issue nowadays, and improvements in manufacturing technologies and materials have improved leaps and bounds. It's still worth paying attention to what friends and fellow lifters say about a certain shoe you may have your sights set on. One major thing to consider is how often you'll be using the weightlifting shoes and how much wear and tear you anticipate you may put them through on a weekly and monthly basis.
Materials
Something to be aware of are the tradeoffs that come with certain types of materials. Leather, for example, looks great, but does not breathe as well as other fabrics such as textile or mesh. Conversely, using a ton of breathable material will make shoes nice and lightweight with great airflow, but may impact their durability and possibly stability.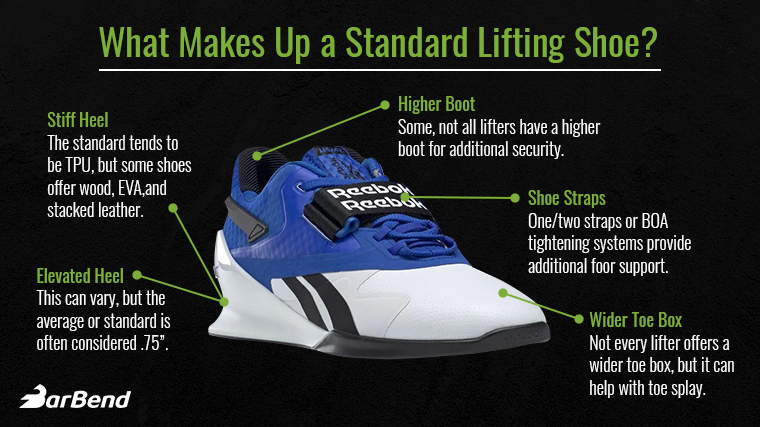 When it comes to heels and outsoles, weightlifting shoes tend to be built for stability and traction to help you stick to the platform. Weightlifting shoes are meant to make you feel connected to the platform, so don't expect much forgiveness or a squishy feeling from them.
Design
Design is something that is highly subjective and we try our best not to put too much emphasis on it, but sometimes there are shoes we can all agree just look good — and we'll point that out. Whether you're someone who cares about the look of your shoes or simply views them as tools meant to perform a job, the design of weightlifting shoes has come a long way and there are a lot of different looks and options to choose from now.
Best Weightlifting Shoe Overall: NOBULL Lifter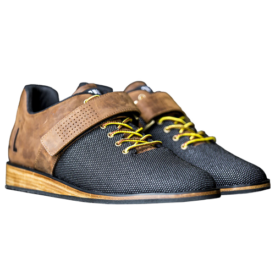 The old-school design and handcrafted heels are aesthetically pleasing, but NOBULL made these lifters for performance as well as looks. The tough  SuperFiber® upper material is stretched over lightweight mesh for durability and breathability. Your heel is also raised by 14mm (0.73 inches) allowing for better positioning in squats and the Olympic lifts.
Specs
Sizes Available: 8-16 men's, 5-11 women's
Colorways: 11 options
Function: Heavy weightlifting, powerlifting, or bodybuilding
Pros
This weightlifting shoe can last through many years of heavy, everyday use, thanks to the high-quality materials.
The heel is 0.73" high to help you get the deepest squat possible.
You get plenty of colors to choose from, including leather options.
Cons
These shoes are pretty pricey, though you do get high quality.
Athletes who want more stability and adjustability may want to look for shoes with dual straps.
The best weightlifting shoe is a combination of comfort, stability, affordability, and high-quality materials. Stability is a huge plus — it's the main reason many people buy a pair of weightlifting shoes in the first place. The NOBULL Lifter checks all those boxes, and the shoe looks great — to boot.
NOBULL has steadily gained popularity for making good-looking and well-designed products. The company's weightlifting shoes live up to this standard, bringing comfort, style, and performance to the table. The NOBULL Lifter has an 18.5mm (0.73 inch) heel to allow for optimal positioning during squats and Olympic lifts, while the mid-foot lockdown strap adds extra stability. Their old-school design with a stacked leather heel is created by expert craftsmen, and each shoe is individually waxed and buffed for a premium look.
The upper portion of the shoe is made from an ultra-breathable and durable material called SuperFabric® that's also lightweight. A men's size 11 weighs right around 16 ounces, so they're not overly heavy. The sticker shock may give some people pause, though, as these are about $299, which is on the expensive side for a weightlifting shoe. However, they're built to last, and if you can spring for them, they're worth the price.
One thing to note: You may want to size up. According to one five-star reviewer, "Excellent build. They run a bit small. Recommend upsizing ½ size from normal size." And our testers agree — they have a more narrow toe box, so people with wider feet may need to go up in size. Luckily, NOBULL offers free returns and exchanges, so getting a new size should be a breeze.
The NOBULL Lifter is one of the most expensive weightlifting shoes on the market, aside from collectible pairs. NOBULL justifies the price well, though, with handcrafted design and high-quality materials to make one of the most aesthetically pleasing and performance-oriented shoes we've seen. If you want the best and don't mind paying for it, these are an easy choice.
Read our full NOBULL Lifter Review.
Best Weightlifting Shoes for Squats: Adidas Adipower III
The Adidas Adipower III is a unisex weightlifting shoe designed specifically for olympic lifting athletes. The combination of a high-density TPU midsole and leather lockdown strap provides top-notch stability while the extra padding around the collar ensures you don't sacrifice comfort.
Specs
Sizes Available: 8-16 men's, 5-11 women's
Colorways: Four options
Function: Heavy weightlifting, powerlifting, or bodybuilding
Pros
This shoe has a reinforced midfoot and a raised heel to increase stability and range of motion during your squats.
The middle velcro strap gives you a little extra stability and reinforcement.
These shoes feature some interesting accents but are fairly classic in their design.
Cons
Although the heel is stable, it's not made of wood and may wear with time.
These are top-notch, but also pretty pricey compared to other picks.
Squats are one of the universal lifts that seem to be included in almost every sport and training program. Just as technique is important for getting the most out of your squats, having the proper footwear is a key to gains, as well. When looking for weightlifting shoes for squats, the name of the game is stability. The last thing you want when you step into a power rack is to feel off-balance, or have your feet and ankles wobbling. For weightlifting shoes that are basically made for squatting, you can't beat these — that's why we chose the Adidas Adipower IIIs as our best choice for weightlifting shoes for squats.
Shoes that compress are great for running and jumping because they help to absorb some of the impacts of landing, but that's not ideal for squats. Adidas' newest version of the Adipower III is a long-awaited refresh of the company's hottest weightlifting shoes. These shoes feature a 20.1mm (0.79-inch) heel height to help improve positioning during squats, cleans, and snatches. The average heel-to-toe drop is around three-quarters of an inch, so these are just above average heel height. Uniquely, these shoes are unisex, but the sizing is provided in men's sizes.
These are available in a pretty wide variety of sizes, however, they do run pretty narrow, according to our personal testers. And multiple customer reviews note the same: "They help me squat deeper. I have a narrow foot, so, for me, these were true-to-size." So, people with wider feet may want to size up or opt for another option on our list.
The Adipower IIIs were designed for maximum stability with a reinforced forefoot for lateral support with each step. The high-density TPU midsole and tarsal strap offer lockdown stability, and the textile upper shoe lets the shoes breathe well. These shoes offer a satisfying platform feel and a strong foundation with their solid, one-piece sole — increasing the wearer's confidence during a heavy squat. Adidas made these shoes to last for years and if you treat them right, they'll treat you right back. The Adipower IIIs are available in three colorways — white, black, and red.
The Adidas Adipower IIIs are available in men's sizes six through 13 in three colorways — white, black, and red. The use of TPU in the midsole and interior reinforcement mean these shoes are made for load support at the highest level of competition. These shoes are ultra-stable and won't let you down when you're chasing that next squat PR.
Best Weightlifting Shoes for CrossFit: NOBULL Trainer+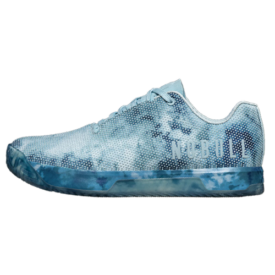 These shoes are versatile with components like a wider outsole and EVA midfoot plate for traction and stability. They're also lightweight and have a subtle heel rise making them just as well-suited for lifting as they are for agility or plyometric workouts.
Specs
Sizes Available: 8-16 men's, 5-11 women's
Colorways: 30+ — NOBULL makes low and high-top trainers, so colors depend on your choice.
Function: Weightlifting, CrossFit, HIIT Training
Pros
NOBULL's trainer+ shoes are stable for lifting, but flexible and versatile enough for CrossFit and HIIT training.
NOBULL has an extremely large palette of colorways.
You can opt for a high top version if you want some extra ankle support.
Cons
These don't have an elevated heel or support strap like weightlifting-specific shoes.
Advanced weightlifters who are handling very heavy weights will want a sole that is completely made from stacked leather or EVA, which doesn't compress as much as CrossFit shoes.
Weightlifting is an important aspect of CrossFit, and you can't be successful in the sport without at least being pretty good at weightlifting. That said, there are some major differences between the way weightlifting is done in CrossFit and the way it's done when competing in the sport of Olympic Weightlifting. With those differences — such as higher reps, different exercises in between, and loads of conditioning workouts — come different footwear needs. That's where the NOBULL Trainer+ comes in.
According to our tester Kate Meier, these are excellent for squats and deadlifts. But another tester on staff says they're excellent for box jumps, burpees, and sprint intervals, too. "Solid, stable, and comfortable," says one five-star customer review. "Amazing shoe and my favorite workout shoe, excellent for all lifting and gym workouts."
The NOBULL Trainer+ features the same seamless design and one-piece fabrication as the original line of NOBULL Trainers, with added extras to enhance comfort, stability, and traction when lifting. SuperFabric® — a highly durable and breathable material — is stretched over a flexible mesh base layer for 360-degree support no matter which direction your workout takes you. The supportive midsole has been upgraded to full-fledged EVA to create a stability plate with an expanded outsole for a more stable foundation.
When you're lacing up, you'll see the internal webbing system designed to improve lateral stability, which is a common weak point in trainers. A modest heel-to-toe drop of four millimeters (0.15 inches) may help those with ankle mobility restrictions reach better positions during the Olympic lifts. Finally, NOBULL included a toe bumper for jerks, toes-to-bars, HSPUs, and other exercises. You can pick these up in tons of simple or unique colorways starting around $169.
When it comes to the needs of CrossFit athletes, the list is as long as the workouts. But with the NOBULL Trainer+, you have the gear to tackle just about any CrossFit workout you want at home. The added midsole stability plate and toe bumper make these a great option for both on and off the platform.
Best Budget Weightlifting Shoes: Adidas Powerlift 5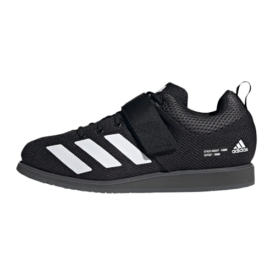 The Adidas Powerlift 5 is a unisex shoe that comes in sizes six through 13, available in blue and red. Priced reasonably, these are well-constructed from flexible canvas and breathable mesh for comfort. A lockdown strap and reinforced heel zone highlight the stability features.
Specs
Sizes Available: 4-16 men's, 5-17 women's
Colorways: Three options
Function: Weightlifting, powerlifting, bodybuilding
Pros
These are as much as $150 less than other weightlifting shoes, so they're budget-friendly.
These have a comfort-focused design with breathable mesh and a flexible toe box.
These have an elevated heel but it's lower than most other lifting-specific shoes.
Cons
The upper is a little more flexible than others, which may not be ideal for some athletes.
The lift is made from hard plastic, which can wear over time, rather than wood.
So, you're looking for a solid pair of weightlifting shoes and don't want to break the bank. If you've spent any time looking around at gear you likely noticed that weightlifting shoes vary in price quite a bit from under $100, like our pick here, to hundreds of dollars for some of the vintage shoes on the market. For those who like to incorporate weightlifting occasionally into their workouts, or are testing the waters to see if weightlifting is right for them, you may want a more cost-effective option when choosing shoes for lifting. That's where the Adidas Powerlift 5 comes in.
The Adidas Powerlift 5s were designed, as the name suggests, for powerlifting, but they're great all-around lifting shoes, especially for the price. Coming in at $120, not including tax and shipping, these are great for anyone looking for a solid workout shoe. The Powerlift 5s feature a more moderate 15mm (0.59 inch) heel height, making them more versatile for lifters who want shoes they can use for not only Olympic lifting, but the rest of their workouts too. "If you do heavy squats, deadlifts, and other movements that require stabilization on your feet when lifting, these shoes are for you," one five-star reviewer writes.
Available in two colorways, blue and red, in men's sizes six through 13, the Powerlift 5s are unisex shoes — so be sure to select the correct size. A new introduction for this version of the shoe is a new flexible canvas upper portion of the shoe and breathable mesh to help prevent excess sweating or discomfort during longer workouts. If you're looking for stability, these have you covered, too. An anti-slip rubber outsole, a reinforced heel zone, and a high-density midsole wedge combine to provide excellent stability. Despite this, Adidas still designed these to be flexible enough to work for pretty much any type of workout, from cross-training or powerlifting, to olympic weightlifting, or even bodybuilding-style workouts.
Well-priced, stable, breathable, and designed for comfort, these shoes are an awesome deal for anyone in the market. Unless you're looking for a true weightlifting shoe, these will likely fit the bill without breaking the bank.
Best Weightlifting Shoes for Men: Adidas Powerlift 4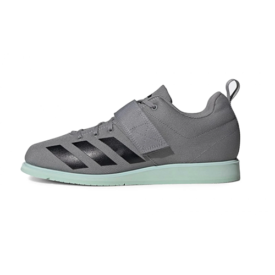 The brand new updated Adidas Powerlift 4 offers a lightweight canvas outer construction, an open forefoot design, and a strong single strap for stability. 
Specs
Sizes Available: 4.5-19 men's
Colorways: Four options
Function: Weightlifting, powerlifting, bodybuilding
Pros
The hook-and-loop strap is ideal for men lifting heavy who want a secure fit.
The elevated heel is perfect for male athletes, who often lack as much flexibility as women (more on that below).
These are made with a lightweight canvas upper and optimized for breathability.
Cons
The effective heel height on these is 15mm (0.59 inches), which is lower than most other weightlifting shoes on the market.
Adidas' weightlifting shoes tend to run narrow, so they're not for everyone.
Men and women have different biomechanics in the squat and produce forces differently in the Olympic lifts.(1)(2) Because of these differences, the shoes that are optimal to use can differ from men to women, as well. Generally speaking, men can also somewhat lack flexibility compared to women, too.
Choosing the right pair of weightlifting shoes can be a total game-changer for your lifting because they can potentially help to put you in better positions and reduce wear and tear on the body. Our pick for best weightlifting shoes for men fits more like a regular shoe than most other options and still provides the support you're looking for from a good pair of weightlifting shoes. Plus, the heel lift offers a little more range of motion, which is ideal, as men tend to have slightly stiffer muscles than women. (8) "I love the velcro strap that makes them more snug. It has a loop in the back so you can help your foot in and it is very cushiony overall. Design is beautiful too and they are very comfortable," says one five-star review (among hundreds of others).
The Adidas Powerlift 4 shoes are like if your favorite pair of sneakers just so happened to be weightlifting shoes too. They're designed for comfort and are quite stylish in our opinion, but can stand up to tough weightlifting workouts. The lightweight design of these helps to promote that connected to the platform feeling you want when you're trying to stick a split-jerk or pull under a heavy snatch. With the redesign of these shoes from the previous generation, Adidas did make these narrower, so those with wide feet may want to explore other options.
Other changes made during the redesign include more lightweight and breathable materials to help with the extra sweating that guys tend to do along with a flexible toe box. If you've ever had your front foot hit the ground early in a split-jerk, you'll know that a flexible toe box is very nice to have. The placement of the lockdown strap is also something to note, as the sole strap is located toward the top of the foot rather than the forefoot. The location can help allow for better flexibility in the forefoot area of the shoes, such as in the receiving position of a split-jerk.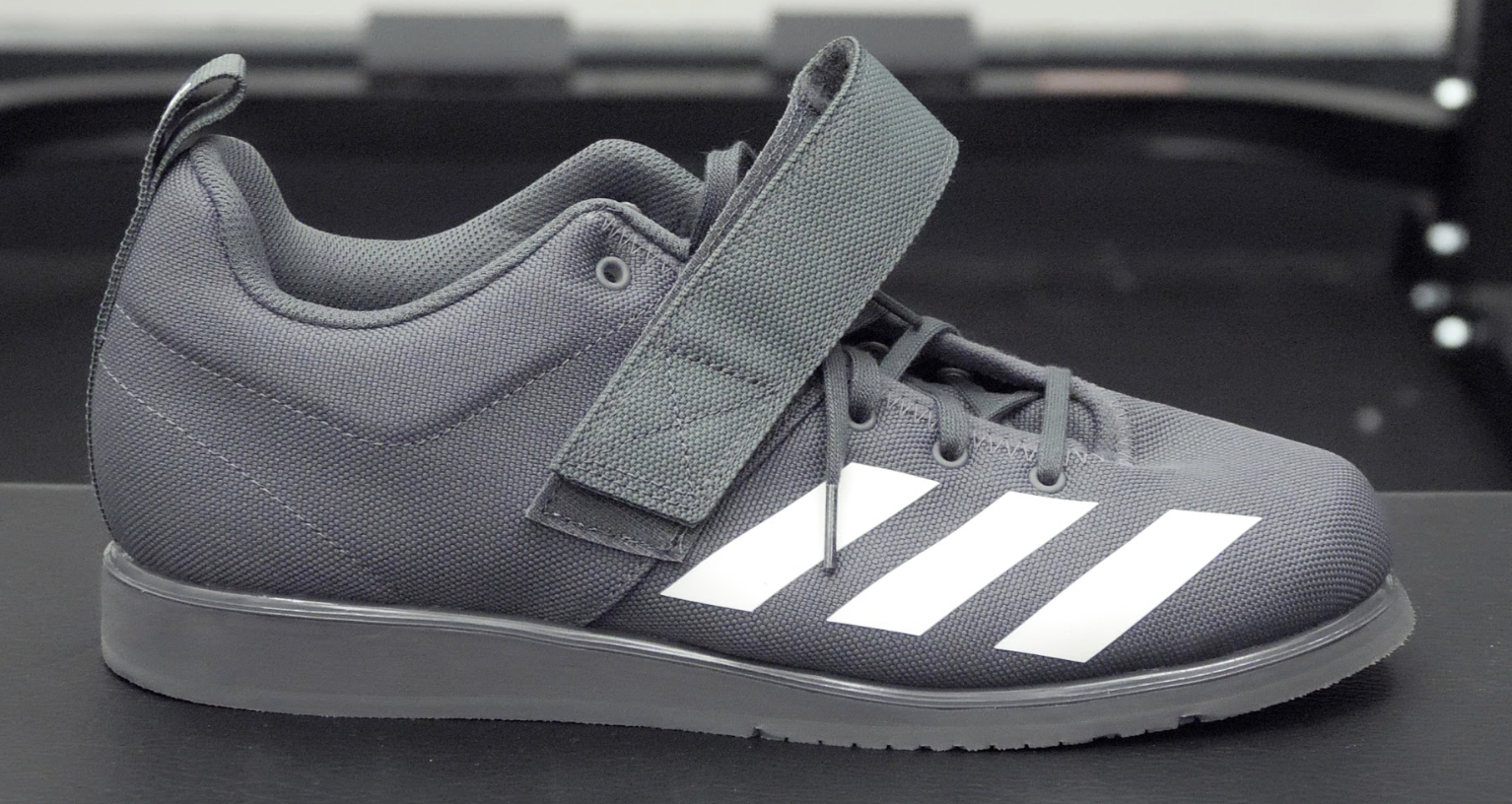 These weightlifting shoes were designed with comfort and form in mind. The open forefoot design coupled with the cuts in the midsole wedge allows for flexibility in the shoe, unlike many other weightlifting shoes on the market that have a whole-foot bottom plate. The Adidas Powerlift 4 is also lightweight and breathable, helping to prevent unnecessary fatigue. Adidas recommends sizing up a half a size from your normal shoe size when ordering, but an entire size may be necessary for those without narrow feet to accommodate for the shoes being designed to be more narrow than others.
Read our full Adidas Powerlift 4 Review.
Best Weightlifting Shoes for Women: Reebok Legacy Lifter III – Women's
Reebok Legacy Lifter II for Women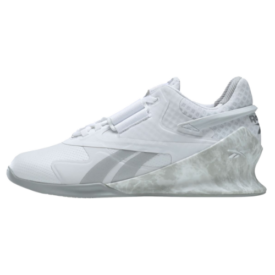 Reebok Legacy Lifter II for Women
Reebok's signature weightlifting shoe is engineered with updates for stability and performance on the platform. This version of the shoe features an ETC anti-microbial lining, achilles padding, and a high-grip rubber outsole great for explosive movements.
Specs
Sizes Available: 5-11 women's
Colorways: Five options
Function: Weightlifting, powerlifting
Pros
The higher 0.86" heel height puts the ankle and heel up taller, which can be helpful for women's biomechanics when weightlifting.
Reebok made these with a wider lockdown strap and higher ankle support than many other shoes.
The all-surface rubber outsole is super grippy, so you get plenty of stability on the platform or gym floor.
Cons
These are a little pricey compared to other picks on this list.
While some athletes love the taller heel, they're not practical for other styles of strength workout.
Although they're stable, these are pretty rigid, which not all athletes love.
Women's weightlifting has grown exponentially in the past few years thanks in great part to some CrossFit competitors turned Olympians, like Alyssa Ritchey, Tia-Clair Toomey, and Morghan King. That said, men and women have different needs when it comes to the type of footwear they utilize — mostly due to biomechanical and force production differences. (1)(2) Having a shoe with a higher ankle and slightly higher heel may be helpful for women when competing in weightlifting. That's why we chose the Reebok Legacy Lifter II as our pick for women.
The Reebok Legacy Lifter II was designed for the female weightlifter and it shows. The higher collar support and beefed-up Achilles pad offer more ankle support than other shoes. The shoe is molded in an anatomical shape that naturally contours the foot for maximum support and power output to prevent wasting energy. It features a thicker lockdown strap over the midfoot for added support and an antimicrobial sock liner to prevent bacteria and smell.
The heel is slightly higher than the industry standard of 0.75 inches and sits at 0.86 inches instead. This is done to help compensate for the large hip-to-quadriceps angle that women naturally have. (3) The shoes also have a textile upper section for increased comfort and breathability — nicely reducing weight compared to leather and helping to prevent uncomfortably sweaty feet. Lining the shoes on the inside is a full foam lining for added comfort when moving the feet aggressively and quickly as is needed in weightlifting.
Weightlifting in America has had much success in the past two Summer Olympic games thanks to the female athletes, and if you're interested in weightlifting these are a great choice of shoe. They're supportive, comfortable, and designed for the needs of women.
Best Non-Weightlifting Weightlifting Shoes: NOBULL Trainer+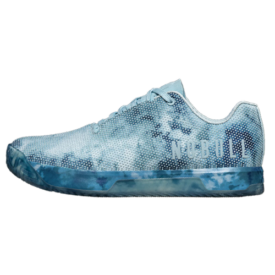 These shoes are versatile with components like a wider outsole and EVA midfoot plate for traction and stability. They're also lightweight and have a subtle heel rise making them just as well-suited for lifting as they are for agility or plyometric workouts.
Specs
Sizes Available: 8-18 men's, 5-11 women's
Colorways: 30+ — NOBULL makes low and high-top trainers, so colors depend on your choice.
Function: Weightlifting, CrossFit, HIIT Training
Pros
These shoes give you enough flexibility to perform conditioning WODs but sufficient stability for strength training without needing to pack extra shoes.
You get a little more cushioning with these shoes than standard lifters.
These are great for those just getting into weightlifting, thanks to their versatility.
You can choose between low- and high-top versions, depending on how much ankle stability you want.
Cons
These aren't designed specifically for weightlifting, and if you're going to compete, there's no replacing dedicated weightlifting shoes.
If you're looking for a pair of trainers, there are more cost-effective options though they may not have the same features.
Some shoes are good for weightlifting even though they weren't intended for that at all. Converse All-Stars, better known as Chucks, were originally basketball shoes but have become the unofficial shoe of powerlifters all over the world. The NOBULL Trainer+ was designed to fill a similar role in the weightlifting world. Their design is a marriage of the best that cross-trainers and weightlifting shoes have to offer.
The NOBULL Trainer+ clearly has the DNA of weightlifting shoes coursing through its design, making them durable, versatile, and stable. They feature a herringbone rubber outsole for max traction when lifting or running, paired with a lightweight SuperFabric® upper portion for breathability. The midsole stability plate made from ultra-dense EVA won't compress under weight like foam or rubber midsoles might, allowing you to feel more stable throughout your lifts.
"The fit and support is great. I've noticed a difference during lifting and training exercises, the sturdy base of the shoe helps my balance and stability more than I expected," one (of many) five-star reviewer writes. Also, a modest heel-to-toe drop of four millimeters (0.15 inches) is added to potentially improve your position when lifting.
NOBULL updated the lacing system with internal, reinforced webbing for improved lateral stability, which is often lacking in non-weightlifting shoes. If you want even more ankle stability, you can select the high-top option for an upcharge. There are a ton of colorways with more being released regularly, from all-black simple options to unique floral and swirl patterns. You can pick up a pair with prices starting at around $139.
If you're looking for a pair of all-around solid trainers, these versatile shoes will fit the bill. They're designed to stand up to punishing workouts and help keep your feet cool with ultra-breathable material. On top of that, they're available in high tops and have a colorway to fit your aesthetic, whether you like simple or loud styles.
Best Weightlifting Shoes for Flat Feet: Reebok Legacy Lifter II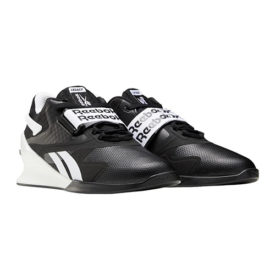 An updated version of Reebok's signature weightlifting shoe, featuring solid construction and a raised heel built to traditional weightlifting specifications. This update model also features anti-microbial lining and additional design elements for airflow. 
Specs
Sizes Available: 7.5-11 men's
Colorways: One option
Function: Weightlifting, Powerlifting
Pros
This shoe is designed with some extra foot support in the insole to prevent your arches from collapsing, a common issue for athletes with flat feet (which can potentially cause injury).
These have a taller heel to help overcome flexibility issues and get into better positions for the squat.
These are true, dedicated weightlifting shoes.
Cons
These only have one color option.
The ankle on these is pretty low cut and some athletes may prefer added stability.
The higher heel is great for weightlifting but doesn't allow for a lot of versatility.
Folks with flat feet can develop a host of problems due to their falling arches, such as tendonitis, foot pain and fatigue, shin splints, and inflammation. (4) Those with flat feet and interested in weightlifting may feel like there's no solution for them, but we beg to differ. People with flat feet simply need a bit more support and contoured design than those without.
The Reebok Legacy Lifter II is designed with an anatomical shape that naturally contours the foot for maximum support, which also helps to produce maximum power output because the energy transfer is more efficient. The collar is higher around the ankle for added support and the Achilles pad is ETC lined to help reduce friction and abrasions, especially when wearing low-cut socks.
The lockdown strap is wider than previous versions, allowing for added stability and pulling the shoe closer to your foot, thus creating a more contoured feeling. The lifted heel is also higher than most other shoes at 22mm or 0.86 inches tall — this helps with getting positions right when lifting and can help compensate for lack of flexibility which is often seen in flat feet as well. (4) The LL2 also includes a full foam lining with an extra Achilles pad to help absorb shock and provide a more comfortable wearing experience. Another bonus? These aren't as narrow as most weightlifting shoes. Bought these shoes two months ago as my first pair of lifting shoes and am very pleased," one five-star reviewer writes. "Comfortable with lots of toe room and a secure fit."
For folks with flat feet, the Reebok LL2 is an ideal choice not only because of the anatomically contoured design and full foam lining but because of the wider lockdown strap, which allows for a more secure fit. The grippy rubber outsole of these shoes also gives the connected feeling that experienced weightlifters look for in a weightlifting shoe.
Best Weightlifting Shoes for Wide Feet: Do-Win Weightlifting Shoes
Do-Win Weightlifting Shoe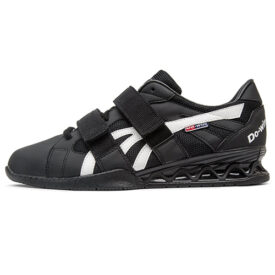 Do-Win Weightlifting Shoe
A wider built weightlifting shoe that offers double mid-foot straps and a solid .75" plastic heel, the Do-Win weightlifting shoe has a classic look and an incredibly sturdy feel. It's specifically designed to cater to athletes with wide feet. The single-sole construction adds to the feeling of support. It's recommended purchases order ½ size under their normal running shoe size.
Specs
Sizes Available: 4.5-14 men's, 6-15 women's
Colorways: One option
Function: Weightlifting, Powerlifting
Pros
After comparing to other weightlifting shoes, these were designed with a wider toe box to give athletes with wider feet more comfort and stability.
These have a dual metatarsal strap system for a totally personalized fit.
These are budget-friendly, compared to other options on our list.
Cons
Compared to other weightlifting shoes, these are pretty heavy due to the leather and hard plastic materials.
The heel is plastic, which is sturdy but not as durable or long lasting as wood options.
If you've got wide feet, you know the struggle of trying to squeeze your foot into shoes that they were clearly not made to fit into. You also know the Cinderella-like feeling of bliss when you slip your foot into a shoe that fits just right. Shoes with a wider profile can actually be beneficial for athletes with all widths of feet, not just those with wide feet, as they allow for a greater ground-contact area and wider base of support for yourself when lifting. So, after comparing the widths of other lifters on the market, Do-Win created a shoe that gave athletes some extra breathing room in the toe box.
The Do-Win Weightlifting shoes feature a 0.75-inch heel made from hard plastic, which is the standard height for weightlifting shoes. A leather upper portion of the shoe is offset by a breathable nylon mesh and single sole construction which helps add to the shoe's durability and flexibility. The inclusion of dual metatarsal straps allows the wearer to adjust the tightness and flexibility of the shoes, which customers love. "The Velcro adds a nice bit of tightness to make sure your feet don't shift during a position like sumo," one five-star reviewer writes.
By strapping down the forefoot strap tighter, you allow for less flex in the shoe, which might be preferred during a snatch when you don't want to be up on your toes. Alternatively, during a split jerk, a lifter may want to loosen the front strap to allow for more flexibility in the receiving position of the jerk when the athlete's rear leg's pressure is mainly on the ball of the foot. These shoes were inspired by years of customer feedback and direct experience since Do-Win has been making weightlifting shoes for a long time, and it shows.
Do-Win did the world of people with wide feet a favor when they made these shoes. We've had a pair for years now and they're still just as comfy and supportive as the day we opened them up. The wide profile and dual metatarsal straps ensure you'll get the exact amount of pressure and stability you need for each lift.
Read our full Do-Win Weightlifting Shoes Review.
Best Heel Lift Inserts: VersaLifts V2 Heel Lift Inserts
VersaLifts V2 Heel Lift Inserts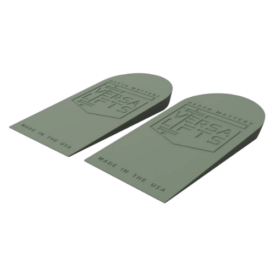 VersaLifts V2 Heel Lift Inserts
If you're looking for the raised heel benefits of weightlifting shoes, but don't want to or can't buy a pair right now, then the VersaLifts V2 Heel Lift Inserts have you covered. They'll raise your heel-to-toe drop by half an inch, which could make a world of difference in exercise effectiveness and overall position for weightlifting.
Specs
Sizes Available: S, M, L
Colorways: N/A
Function: Compatible with any weightlifting shoe
Pros
These inserts help you lift your heels without needing to buy heel-lifted weightlifting shoes.
These are more budget-friendly alternatives to totally new shoes.
CrossFit athletes who want the comfort of regular trainers, but still want the advantages of a raised heel.
Cons
These are only heel lifts, so they don't offer all the benefits of weightlifting shoes.
These heel lift inserts are great, but lifting heavy weights on a shoe that's not stable or compresses like regular trainers can cause ankle problems over time.
So you really like your current workout shoes, but still want some of the benefits of having weightlifting shoes, like a raised heel for deeper, more upright squats. You might also be testing the waters of trying out weightlifting, so you don't want to invest in a pair of weightlifting shoes until you find out if it's for you. Maybe cash is a little tight right now and you can't quite justify dropping the money on a new pair of weightlifting shoes. There's a solution that's not perfect, but it'll do the trick in a pinch — heel inserts.
VersaLifts made the second version of their heel lift inserts, and we're not talking about the ones your friend who's 5'5 but swears that he's 5'8" wears. These are made for weightlifting, and they're meant to be inserted into your shoe to help raise the heel-to-toe drop by half an inch to give you a better bottom position of your squat and a more upright position when weightlifting.
They're made from high-durometer polymer and are meant to withstand heavy loads so they won't compress. VersaLifts V2 inserts are available in three sizes that correspond to shoe sizes. You don't have to worry about them shifting around in your shoes either — they have no-slip cleat tech to ensure that they stay in place as you move around and they're even labeled left and right on the bottom.
Whether you're just trying out weightlifting or can't quite splurge on that shiny new set of shoes yet, the VersaLifts V2 Heel Lift Inserts are a solid choice to hold you over in the meantime. "These are the best and cheapest way to increase your lifts, depth, and hit that first or fiftieth pistol; and they fit right into your wod shoes already," one five-star reviewer writes. They're not a long-term solution for anyone who wants to do weightlifting seriously, but they can be a happy middle ground for some.
Best Versatile Weightlifting Shoes: Nike Metcon 8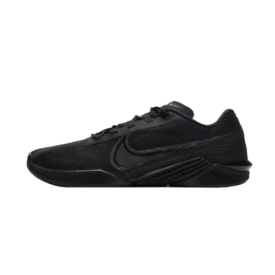 This light design is ideal for speed work. The soles maintain a nice level of stability, thanks to their firmer outer layer, which balances out the softer foam inner core. There's also a rubber wrap along the arch that can provide great rope climb grip.
Specs
Sizes Available: 6.5-11.5 men's, 5-10.5 women's
Colorways: 10 options
Function: Weightlifting, CrossFit, general workouts
Pros
These weightlifting shoes are pretty versatile and can be used for various workouts, including lifting, CrossFit, HIIT interval training, or cardio exercise (but they're not ideal for longer runs).
Generally weightlifting shoes are pretty flat but these have some extra cushion for comfort.
Although they're not built for solely weightlifting, these have a solid, stable base.
Cons
These aren't specialized weightlifting shoes and if you're going to compete, there's no replacing listing shoes with a higher heel.
The lack of a formal stability plate in these shoes can exacerbate lower limb or ankle injuries over time.
While specializing in one form of exercise is perfectly fine, hybrid athletes have never been more common. And if you're doing a hybrid-style workout routine, you may want extra shoe stability for your lifts but enough flexibility for your plyometrics. The Nike Metcon 8 is a great shoe for weightlifting when you just want a versatile pair of workout shoes.
The similarities between the Nike Metcon 8 and other weightlifting shoes are striking. The Metcons feature a rubber outsole for extra traction and a lightweight mesh design to help keep your foot speed where it needs to be. Another feature is the wide, flat heel that has an inner plate for enhanced stability in squats, snatches, and cleans. They do compress a bit, which can be detrimental to those who are lifting quite heavy weights, especially when squatting.
The compression of the foam of the shoe causes instability which can lead to overuse of the ankle tendons from stabilizing too much and too hard, so if you're lifting serious weight, we'd recommend getting a pair of dedicated weightlifting shoes. If you're just doing weightlifting as part of your regular CrossFit workouts or sports strength & conditioning program, then these shoes are likely just fine and double up as cross-trainers for the rest of your workout as well.
Anybody who wants a pair of solid, all-around, and versatile trainers could do worse than the Nike Metcon 8's. They're made to withstand tough workouts with high quality construction, and they're lightweight to avoid unnecessary fatigue. They're not purpose-built weightlifting shoes, so competitive weightlifters should look at other options on this list, but they'll work perfectly fine for anyone else doing weightlifting exercises as part of their normal workout routine.
Benefits of Weightlifting Shoes
Weightlifting shoes have been studied on multiple occasions, although not incredibly in-depth. The topics that have been researched have mostly been focused on the idea of how an elevated heel can alter performance and mechanics. There are some benefits that we can point to with confidence thanks to anecdotal evidence since weightlifting shoes have been used for decades to help improve torso angle during squats and produce a more upright posture. Weightlifting shoes might also make up for a lack of ankle mobility and help reach a more forward shin angle to reach deeper squats.
Upright Torso in the Back Squat
A notable study comes from the Journal of Strength and Conditioning Research. In this research, the authors assessed the kinematic changes weightlifting shoes have on the barbell back squat. (5)
From the study, researchers suggested that weightlifting shoes changed an athlete's foot angle and forward lean, but didn't change thigh angle to a high degree. They suggested that weightlifting shoes were seen to be beneficial when reducing forward torso lean, which can at times cause additional shear stress on the lower back. Also, researchers suggested that weightlifting shoes could be useful tools to increase knee extensor activation.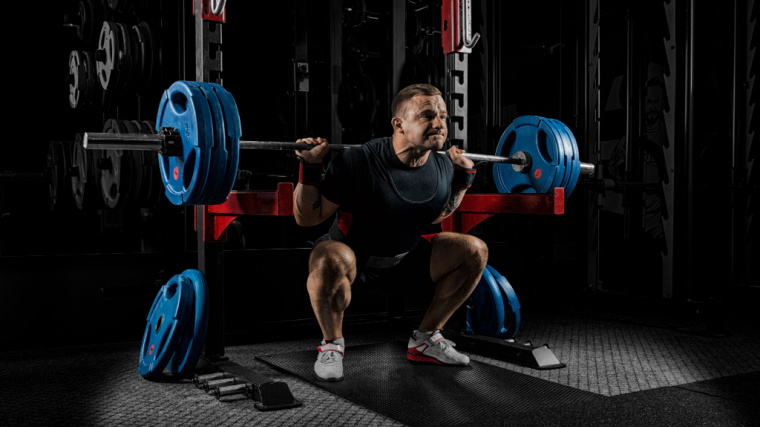 Another study from 2017 published in the Journal of Strength and Conditioning Research sought to explore the same idea of how weightlifting shoes impact trunk and leg mechanics in the back squat. (6) For this study, researchers noted that this topic was lacking research and sought to challenge the idea that weightlifting shoes led to a more upright torso in the squat, which has been suggested to protect the back from injury.
Deeper Squats
Because of the heel-to-toe drop in weightlifting shoes, the tibia is further forward than it would be without a raised heel when squatting. That allows the knees to travel forward and compensate for the physiologic limitations of ankle dorsiflexion. (7) The more forward position of the knee allows the hips to sink lower since they're not physically blocked by the lower leg as much. This all together allows someone wearing weightlifting shoes to achieve a deeper squat than they would be able to otherwise. Compare a powerlifting squat to a weightlifting squat the next time you see them, and you'll notice the difference in shin angles.
Research Takeaways
When you consider the benefits of weightlifting shoes in the literature, it becomes clear that the goal is to improve the wearer's posture. With better posture comes a more solid base to lift from and potentially stronger lifts. Researchers have also noted that a more upright torso and better range of motion can potentially protect lifters from a back injury, but more research is needed. If you have trouble staying upright when squatting or sitting down into a deep squat, then weightlifting shoes may be the solution for you. (6)
Check out our in-depth Guide to Lifting Shoes.
How Much Do Weightlifting Shoes Cost?
Weightlifting shoes tend to fall into certain price ranges that are rather rigidly set depending on the type of shoe and where it fits within the company's overall offerings. Flagship shoes such as Nike Romaleos and Adidas Adipower cost the most with a price at or slightly above $200. Other shoes which are more oriented towards cross-training generally cost less, and prices range from less than $100 to around $150.
| | | |
| --- | --- | --- |
| Best Weightlifting Shoe Overall | NOBULL Lifter | $299 |
| Best Weightlifting Shoe for Squats | Adidas Adipower III | $198 |
| Best Weightlifting Shoe for CrossFit | NOBULL Trainer+ | Starting at $139 |
| Best Budget Weightlifting Shoe | Adidas Powerlift 5 | $120 |
| Best Weightlifting Shoe for Men | Adidas Powerlift 4 | $90 |
| Best Weightlifting Shoe for Women | Reebok Legacy Lifter II – Women's | $124.97 |
| Best Non-Weightlifting Weightlifting Shoe | NOBULL Trainer+ | Starting at $139 |
| Best Weightlifting Shoe for Flat Feet | Reebok Legacy Lifter II | $200 |
| Best Weightlifting Shoe for Wide Feet | Do-Win Weightlifting Shoes | $95 |
| Best Heel Lift Inserts | VersaLifts V2 Heel Lift Inserts | $28.99 |
| Best Versatile Weightlifting Shoes | Nike Metcon 8 | Starting at $79.95 |
High quality weightlifting shoes can be quite expensive if you're interested in purchasing the newest and most technologically advanced release with prices from $200 and up. Prices of shoes on this list range from around $90 to $200 with one notable outlier — heel inserts. Heel inserts elevate your heel by situating them inside of your existing shoes and are great for those on a budget, but lack many of the other stabilizing benefits of full-blown weightlifting shoes.
What to Consider Before Buying Weightlifting Shoes
When making any purchase, especially a larger one like a new pair of shoes, it's a good idea to consider the options and take inventory of what you'd like to get out of your new piece of equipment. Just like other types of shoes, there are a lot of options on the market and a lot of factors to think about when choosing your next or first pair of weightlifting shoes. We'll explain some of the most important considerations here.
Your Training and Sport
Some athletes are focused on one sport, while others may like to traverse different sports that share some common characteristics. You may like to compete in weightlifting, but also do an occasional powerlifting meet or two just to keep things interesting and spice up your training. If you like variety, then you'll likely want to consider a more well-rounded and versatile shoe that can accommodate different needs in different sports. They likely won't be ideal for one particular sport, but they'll be good for a variety.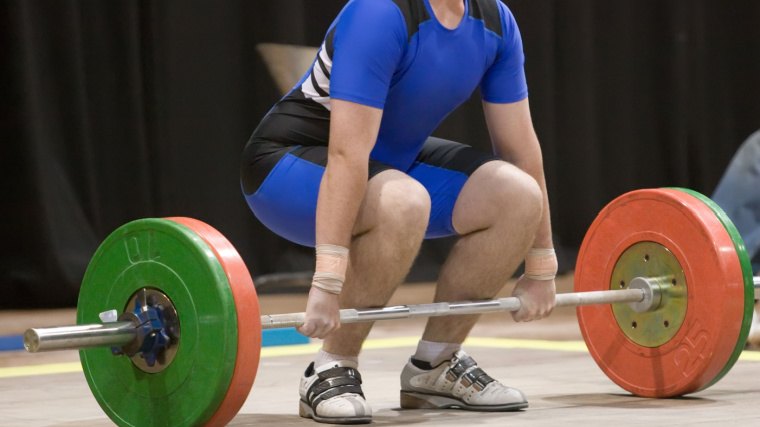 Alternatively, if you're solely focused on one sport, you'll have an easier time narrowing down the shoe specifically designed for your chosen sport. Just know that if you choose a sport-specific shoe, it likely won't perform as well as other more versatile shoes if you choose to switch things up in the future.
Your Budget
Budget can be tricky because there is a wide range of prices that weightlifting shoes come in. Some of the shoes are functionally very similar, but either are designed to look nicer or are constructed from superior materials and constitute a higher price tag. Whether you've got some extra money to spare to splurge or you're on a tight budget, choosing the right shoe should come down to the features that you need to achieve your goals and your biomechanical needs such as flat or wide feet, male or female, etc.
Final Word
While these weightlifting shoes each have their strengths and weaknesses, one key thing to remember when buying any pair of shoes is your overall comfort. We can talk about the toe width, the heel height, and all the other features that are available, but if your feet hurt when you wear them, then they aren't the right shoe for you — and you probably won't be wearing them much.
It's worth thinking about your sport, body, and budget before buying a pair of high quality lifting shoes. Chat to your friends if they have lifting shoes, and try to buy from a retailer that has a good return policy, so you don't have to worry about sending them back for a different size or model. Once you have that perfect pair, it's time to let the PRs roll.
FAQs
Why should I buy weightlifting shoes?
Weightlifting shoes come with a few key benefits that traditional training shoes can't offer due to structural differences. For example, weightlifting shoes have:
Elevated heels to provide assistance when sitting back and under weight.
Additional straps and security systems to lock down the foot.
Firm EVA/Wood/TPU heels for stability and durability.
Flat outsoles for full toe splay and contact with the ground/platform feedback.
What are the best weightlifting shoes for wide feet?
The weightlifting shoe that often works best for wide footed athletes is the Do-Win weightlifting shoe. The shoe is constructed to be wider and can accommodate for full toe splay really well, even with wide feet.
Can beginners wear weightlifting shoes?
Yes. The important thing to remember with weightlifting shoes for beginners is the "why" behind them. They should be used as tools to promote perfect form and to teach proper movement mechanics with the assistance of their elevated heels and stable outsoles.
How much do weightlifting shoes cost?
Weightlifting shoes can range in price from under $100 to several hundred for collector shoes. The shoes on this list range from around $90 to $200, so nearly everyone has an option that works for them. We also included an ultra-budget choice with heel lift inserts, which only cost around $30.
What are the best weightlifting shoes?
Weightlifting shoe technology is always changing and updating. While some people prefer the classics, others like the latest and greatest. The best weightlifting shoe for you will depend on the heel height, price range, and shoe width you're interested in. That said, our favorite weightlifting shoes right now are the NOBULL Lifters. They're extremely solid and stable, not excessively heavy, and offer great support  — plus we think they look really cool. They may be pricey, but they'll last for years with proper care.
What are the benefits of weightlifting shoes?
There are multiple benefits that come along with weightlifting for serious lifters and strength sport athletes. Some of these benefits include:
Elevated and stable heel.
Additional mid-foot security.
Firm and flat outsole material provides platform feedback.
Beefier construction.
Do you need weightlifting shoes?
Weightlifting shoes aren't 100 percent necessary but they can definitely help give you some extra stability and range of motion during your heavy lifts.
How should weightlifting shoes fit?
Your lifting shoes should feel pretty secure and stable. If you're doing a heavy deadlift or snatch, the last thing you want is your foot moving around inside your shoe. So, while you don't want your toes being overly pinched, these should feel a little tighter than, say, your running sneakers.
Are weightlifting shoes worth it?
This is a matter of personal opinion but we definitely think so! At the very least, having a lifting-specific pair of shoes (you don't necessarily need a heel lift) can help improve your overall strength-training results by helping you feel more stable and grounded during your lifts.
Where can you buy weightlifting shoes?
We did that work for you! You can buy them using the links right on this page. Chances are, your local sporting goods store won't carry lifters, so you probably won't find them in-store. Luckily, all of these companies have pretty convenient return policies if your shoe doesn't fit just right.
References
Garhammer, J. (1991). A comparison of maximal power outputs between elite male and female weightlifters in competition. Journal of Applied Biomechanics, 7(1), 3-11.
Zeller, B. L., McCrory, J. L., Kibler, W. B., & Uhl, T. L. (2003). Differences in kinematics and electromyographic activity between men and women during the single-legged squat. The American journal of sports medicine, 31(3), 449–456. https://doi.org/10.1177/03635465030310032101
Hahn T, Foldspang A. The Q angle and sport. Scand J Med Sci Sports. 1997 Feb;7(1):43-8. doi: 10.1111/j.1600-0838.1997.tb00116.x. PMID: 9089904.
Van Boerum DH, Sangeorzan BJ. Biomechanics and pathophysiology of flat foot. Foot Ankle Clin. 2003 Sep;8(3):419-30. doi: 10.1016/s1083-7515(03)00084-6. PMID: 14560896.
Sato K, e. (2018). Kinematic changes using weightlifting shoes on barbell back squat. – PubMed – NCBI . Ncbi.nlm.nih.gov. Retrieved 10 October 2018, from https://www.ncbi.nlm.nih.gov/pubmed/22201687
Lee SP, e. (2018). Heel-Raised Foot Posture Do Not Affect Trunk And Lower Extremity Biomechanics During A Barbell Back Squat In Recreational Weightlifters. – PubMed – NCBI . Ncbi.nlm.nih.gov. Retrieved 10 October 2018, from https://www.ncbi.nlm.nih.gov/pubmed/28644193
Endo, Y., Miura, M., & Sakamoto, M. (2020). The relationship between the deep squat movement and the hip, knee and ankle range of motion and muscle strength. Journal of physical therapy science, 32(6), 391–394. https://doi.org/10.1589/jpts.32.391
Yu, Suiqing, et al. "Gender difference in effects of proprioceptive neuromuscular facilitation stretching on flexibility and stiffness of hamstring muscle." Frontiers in Physiology, vol. 13, 2022, https://doi.org/10.3389/fphys.2022.918176.