We receive free products and receive commissions through our links. See
disclosures page
.
The Nike Romaleos 4 are the newest iteration of Nike's immensely successful weightlifting shoe line. They're an updated version of Nike's Romaleos 3 and Romaleos 3 XD versions, but this new model draws more on inspiration from the ultra-popular Romaleos 2 shoe — the one that caused Nike to really explode in the weightlifting scene. Nike ditched some of the less successful parts from the Romaleos 3, and drew upon their prior success to make an even more innovative and all-around great weightlifting shoe.
We think these shoes are a great option for someone who needs a pair of shoes specifically for weightlifting training, or someone who does weightlifting movements often as part of their training. The Nike Romaleos 4 are intended to be a true weightlifting shoe, which is a departure from the Romaleos 3, which were designed as a hybrid lifting shoe that could be used for many different strength sports. If you're looking for a solid weightlifting shoe, we break this model down for you below, and give you a firsthand look at what this shoe has to offer.
Main Takeaways
The dual straps are a welcome addition to this model. One strap over the tongue area helps to splint the ankle during heavy lifts where you may want more stability. You can use the metatarsal strap to vary tightness in the forefoot for toe splaying during snatches, or a tighter feel during split jerks.
The Romaleos 4 have a heavier build than their previous model by about four ounces. The TPU midsole covers a larger area with a higher density, and this can help to provide a more stable receiving position in the olympic lifts, and a more cemented feeling during squats and pulls.
Nike moved away from the less durable thin leather for the upper of the shoe and replaced it with a woven fabric that holds up nicely and is still flexible in this model.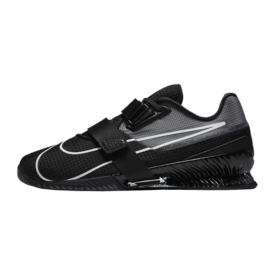 The Nike Romaleos 4 are about as pure of a weightlifting shoe as you can get. They're designed with stability and performance in mind with dual leather lockdown straps and a unique patterned rubber sole for a better platform feel and stability.
Nike Romaleos 4 Highlights
Nike has been known for making great weightlifting shoes for years now. These shoes have a ton of features to improve comfort, performance, and stability. The fourth iteration of Nike's iconic weightlifting shoes, the Romaleos, is a pure weightlifting shoe, and is of the top-quality many expect from Nike.
It's clear that Nike drew a lot of inspiration for the Romaleos 4 from the second-generation Romaleos. They went back to a two-strap design after criticism from athletes about the single strap design from the previous version — which doesn't allow for as tight of a feel, but does give better flexibility. The Romaleos 3 were more of a hybrid weightlifting shoe that was lighter and more flexible, but Nike returned to its weightlifting shoe roots when making the Romaleos 4, which is a pure weightlifting shoe.
These shoes feature a 20mm (0.78-inch) heel to help allow for better positioning, as well as dual lockdown straps. The fore-foot strap wraps all the way around, under the shoe, and through the sole, to provide the most support possible all around the foot. The other strap around the tongue of the shoe provides more lockdown stability for the ankle that you may need during heavy squats or snatches.
The Romaleos 4 are made for stability with a wide, flat outsole. The rigid midsole is intended to optimize power transfer during explosive lifting. It seems like every aspect of these shoes was revamped for a more weightlifting-forward approach. The rigid section of the midsole extends further towards the front of the shoe to create extra stability, which does sacrifice some flexibility, but you'll still have more than enough for split-jerks.
The fourth-generation Romaleos also feature a wider heel with a unique, patterned, rubber sole to improve flatform feel and traction. For comfort, Nike included extra padding around the collar of the shoe to help when doing long and intense weightlifting workouts. These are available in four different colorways, White, Black, Orange, and Special Edition Hyper Violet. The special edition shoe has a wider toe box, and is intended to support lifters with wider feet.
Who Should Buy Nike Romaleos 4
Weightlifters who want a high-quality shoe that can last them many years, and take heavy, everyday use.
Anyone looking for a higher heel to help them get into the deepest squat possible will appreciate the 0.78-inch heel height.
Athletes who are looking for the most support they can get — the dual leather lockdown straps, one of which wraps around the entire shoe, allow for the most stability possible.
Who Shouldn't Buy Nike Romaleos 4
People who are looking for a weightlifting shoe with minimal heel height. These are quite tall, and may make you feel pitches forward if you are not used to using weightlifting shoes.
Anyone who is on a tight budget — there are shoes that are cheaper, though they may not be up to the same quality.
Athletes who prefer to have a lighter shoe. These are 20.1 ounces at men's size 10, which is heavier than some other weightlifting shoes on the market, and may contribute to fatigue if you're not used to wearing weightlifting shoes.
Price
The Nike Romaleos 4 are priced at $200 through both Rogue Fitness and Nike. This has become the common price range for flagship weightlifting shoes, and is in line with most newer model top-quality shoes from the other major manufacturers, such as the Adidas Adipower III ($220) and Reebok Legacy Lifter II ($200). If you're looking for a cheaper shoe, then previous models or a non-flagship weightlifting shoe may be a better choice.
Overall Build and Quality
The overall build and quality of the Romaleos 4 are what weightlifters have come to expect from Nike — a well-built shoe made of high-quality materials. Even though Nike went away from the Flywire material, they've replaced it with woven fabric, which is arguably better because of its flexibility and toughness. The woven fabric upper is able to withstand hard bracing, and is still supple enough to give a comfortable toe box. The TPU and rubber sole of the shoe feel great, and give a well-connected feeling when you're on the platform. Any competitive weightlifter would be happy with these, and there's a good reason that the majority of world-class weightlifters choose to wear the Nike Romaleos 4.
Features
Nike went back to the drawing board with this version of the Romaleos, and brought back some fan-favorite features, such as the dual-strap design and "Powerbridge" on the heel. In addition, the 0.79 inch heel height allows for a solid range of motion. They also innovated, and made some gutsy choices that have paid off with the woven fabric upper replacing the leather and Flywire material upper of the previous generation.
Effective Heel Height
The effective heel height of the Nike Romaleos 34 is .79 inches or 20 millimeters, which still qualifies this model to be considered in the 0.75 inch category.
The gold standard heel height for lifting shoes has become around a 0.75 inch lift. This seems to be the best height for a variety of lifters with multiple ranges of motion and anthropometric differences. An effective heel height of 0.79 inch will benefit lifters who need help with range of motion, but also want to stay below the higher 1 inch heel. An elevated heel can help a lifter remain stable and achieve a solid range of motion in the squat, snatch, and clean & jerk — especially for those with limited ankle mobility, or previous injuries that prevent forward knee travel.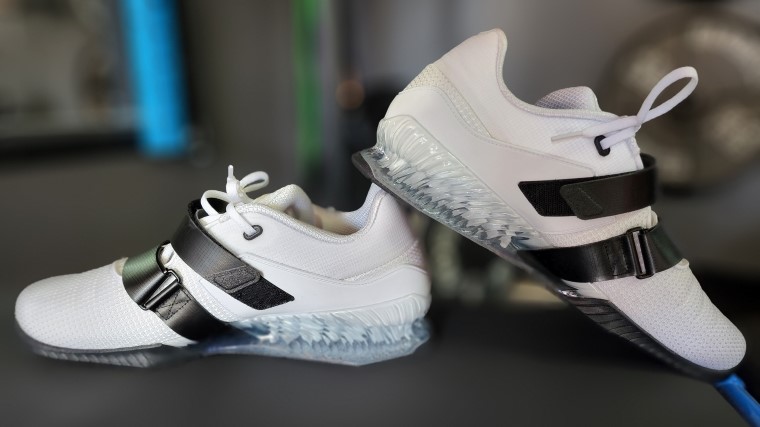 One potential segment of lifters who may not enjoy the heel height on these would be powerlifters — specifically low-bar squat style powerlifters. That style of squatting benefits from a lower heel, such as a 15mm (0.59 inches) or even flat shoes like the ever-popular Converse Chuck Taylors. The height of this heel may pitch a low-bar squatter too far forward. Conversely, if you're someone who has mobility issues or injuries that prevent forward knee travel, you may want a higher heel to compensate for that, and these may not be tall enough for you. Those two exceptions are outliers though, and the majority of lifters will find the sweet spot for heel height is indeed around 20mm (0.79 inches).
Heel Construction
The Nike Romaleos 4 have a hard thermoplastic polyurethane (TPU) heel, which is a lightweight non-compressible material often used for its sturdiness and resilience to abrasions.
Once again, Nike drew upon their wildly popular Romaleos 2 for the design of the Romaleos 4. They stepped back from the parallel diagonal lines, and brought back the "Powerbridge" — if you flip the shoe over, you'll see the polygon, honeycomb-type design directly under the heel. The hard TPU material found there extends all the way to the forefoot, and sees the metatarsal strap run through it and the sole of the shoe. The clear plastic design that replaced the parallel lines from the previous version looks, in our opinion, a lot cooler.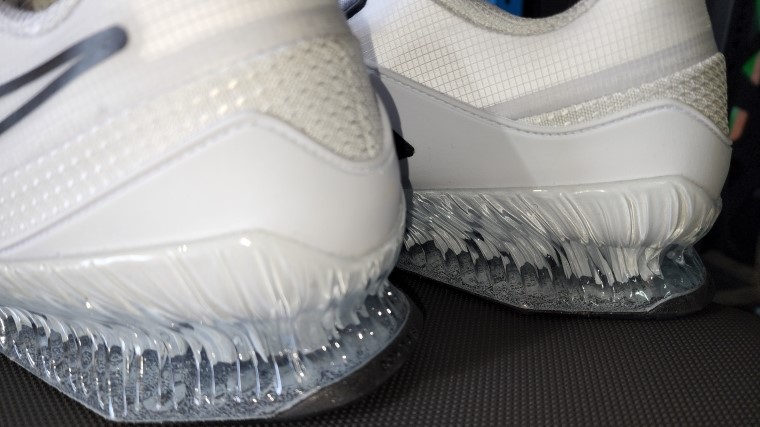 TPU heels have become a standard of lifting shoes, as they're a sturdy and durable material that can hold up and not compress under even the heaviest weights. For Olympic lifters who want an old-school wood or stacked leather heel to feel the platform better, then the TPU material here won't be your best fit. We've lifted with just about every type of heel there is, and the TPU does feel comparable with technological innovations. You'll also have a difficult time finding a modern shoe that uses wood, and we only know of one — the Do-Win Weightlifting Shoe — that uses stacked leather.
Upper Shoe Material
In the biggest and most gutsy change for the Romaleos 4 when compared with the Romaleos 3, Nike ditched the thin leather and Flywire material for the upper shoe material. They opted instead to go with a woven fabric material that ended up being a great choice. The main complaint people had with the previous version was the lack of longevity the shoes had due to the toe box and upper wearing out quickly. Nike addressed this issue with high-density woven fabric that feels sturdy with tight stitching. The upper may even feel better than the Flywire material. Due to the material being fabric with no leather on the upper, there's no real break-in period, so you can start lifting with these right out of the box.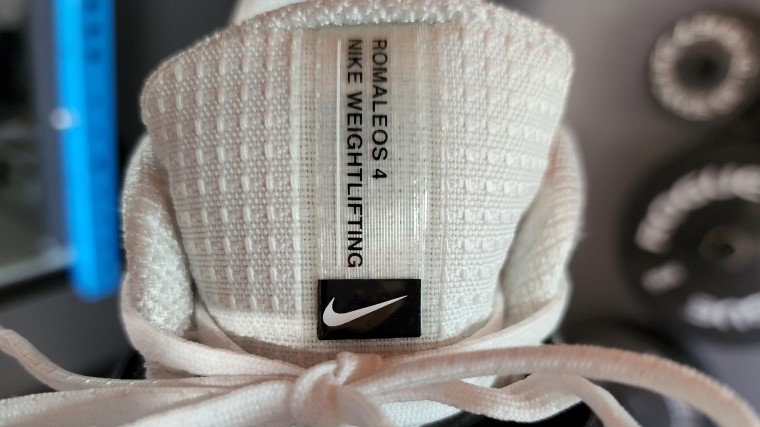 The woven fabric provides a nice area to brace the toes against when squatting or pulling heavy, yet remains flexible enough when receiving a snatch, clean, or jerk. The one potential issue here is that those who are used to more lightweight shoes or shoes that are made from leather may take issue with the more mobile toe box and heavier weight of the shoe. It's something that you can get used to pretty quickly, but those who have historically had problems with slow foot turnover during the Olympic lifts may want to opt for a lighter shoe.
Foot Straps
The Nike Romaleos 4s have two straps — one around the tongue and another that wraps around the entire foot through the TPU material at the metatarsal area. This is different compared to the previous Romaleos 3s that had one strap around the midfoot, and once again, draws from the Romaleos 2. The return of the two-strap design is a welcome one, as many lifters prefer the additional control and stability that the two straps offer.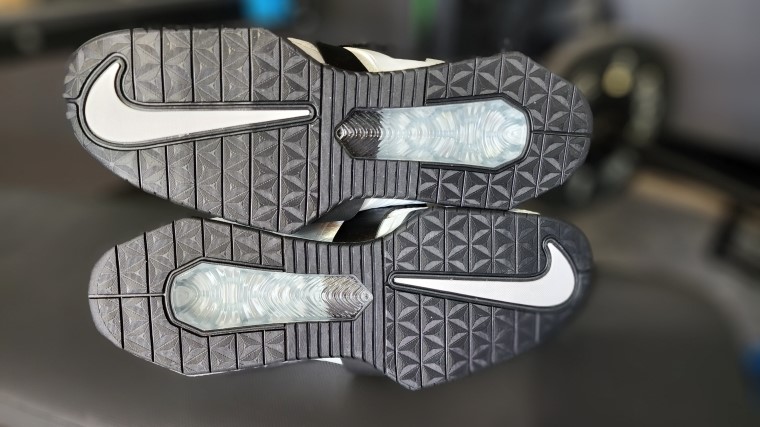 The two straps are shorter and narrower than the one strap on the Romaleos 3, but this doesn't affect the support provided at all as they fit together nicely to provide maximum stability and control. You can have the straps tighter for snatches where foot flexibility isn't as needed, and then loosen the metatarsal strap during clean & jerks where you may need extra forefoot flexibility for receiving a split jerk.
Product Specs
You can expect the Nike Romaleos 4 to hold up well for years to come. These shoes do have a heavier weight to them than the previous Romaleos, but the Romaleos 4 are more of a weightlifting-specific shoe rather than a hybrid performance shoe, so there's a solid rationale behind the reason for that. The TPU heel and sole also provide maximum stability while the uniquely patterned rubber helps with traction and platform feel under heavy weights.
Type of Weightlifting Shoe
Weightlifting shoes are varied in both form and function. Many weightlifting shoes will feature a hybrid design that allows for greater versatility in the types of exercise the shoes can be used for. The hallmarks of hybrid shoe types are generally a shorter heel height, single strap design, and stability plate, or TPU that doesn't extend past the heel. An example of these would be the Nike Savaleos.
On the other hand, there are shoes designed specifically to help maximize the performance of competitive weightlifters. The Nike Romaleos 4 are an example of a weightlifting specific shoe. The design features a taller heel height at 0.79 inches, dual strap design, and TPU that extends all the way to the forefoot, which gives greater stability.
Weight
In another departure from the previous versions of the shoe, Nike ships the Romaleos 4 with only one sole insert, a very stiff competition one, which is intended to give the most direct platform feedback and feel when lifting. The Nike Romaleos 4 will come in with a heavier weight than most other shoes at around 20.1 ounces at size 10.
The heavier weight may make some athletes hesitant — especially those who have a slower foot turnover. The added weight is mostly due to the extra strap, as well as the TPU midsole covering a larger area. There is also noticeably more padding around the heel and tongue area than in previous versions, which contributes to the added weight. The trade-off for a slightly heavier shoe is better stability and comfort.
Anyone worried about the heavier weight can try training with the heavier, competition sole that came included with the previous Romaleos, which should add a few ounces, and give a similar feel to what the Romaleos 4 will feel like on your feet. With the Romaleos 2, many athletes only trained and competed with the competition insert in the shoes, so the difference may not be as large as you think.
Colors
The Nike Romaleos 4 are available in four different colorways. They come in Black, White, Orange, and Special Edition Hyper Violet. The Nike Romaleos 4 SE, available only in Hyper Violet, feature a wider toe box in order to support lifters with wider feet.
Materials
The Nike Romaleos 4 use a woven fabric for the upper portion of the shoe. This material provides a flexible toe box, yet is strong enough to stand up to repeated heavy use. The sole and heel of the shoe is made from TPU, which has become the standard of modern weightlifting shoes thanks to its lightweight and extremely strong structure. The rubber outsole provides a great deal of traction for sticking your feet, and feeling connected when doing snatches, split jerks, and other movements that require replacing the feet.
Warranties
Nike offers a 60-day refund policy where you can return the shoes within that time frame for a full refund. For purchases after 60 days, but before two years, Nike stands behind their products with a manufacturer's warranty against flaws. The return instructions are different depending on how the purchase was made, so refer to their return site for more information.
Places to Buy
You can purchase these shoes with the link above through Rogue, or directly through Nike's website.
Company Information
Founded in 1964 as Blue Ribbon Sports, the company changed their name to Nike in 1971, referring to the Greek goddess of victory. Nike is one of the most valuable brands among sports businesses and employs over 76,000 people worldwide.
To find out more information, you can contact their Products and Orders team at (800)-806-6453, or through chat on their website. Company info and queries can be directed to (800)-344-6453.
Final Word
The Nike Romaleos 4 were created to be more of a true weightlifting athlete's shoe, rather than a hybrid workout shoe. Slightly heavier than Nike's previous model, these have a denser and more solid feel with more platform feedback. The dual leather strap design provides a more customizable amount of security for your feet that you can easily vary for different weightlifting movements.
Despite Nike's departure from the Flywire material used in the Romaleos 3, the Romaleos 4 provide an excellent premium feel with their woven fabric upper. There's little-to-no breaking-in period for these shoes thanks to the fabric design instead of leather, and Nike didn't sacrifice durability at all. These shoes are extremely well designed and have the ability to provide great support, workout after workout, for years to come. We think these shoes are a great option for those who train for or compete in weightlifting, as well as those who do weightlifting movements often throughout their training, as the Nike Romaleos 4 are one of the best pairs of true weightlifting shoes available today.
FAQs
Why buy a pair of Nike Romaleos 4 weightlifting shoes?
Weightlifting shoes, specifically the Nike Romaleos 4, have a few advantages for people interested in Olympic-style lifting over normal training shoes. They offer a flat, non-compressible surface which may reduce injury risk and help to improve stability. The Romaleos 4 use a TPU and rubber sole to give the best base of support and traction on the platform. The raised heel height also helps to get into more advantageous positioning when lifting, and allows for a greater range of motion. The Romaleos 4 have a heel height that's considered the gold standard at around 0.75 inches tall. 
What is the difference between the Nike Romaleos 4 and cheaper shoes?
As with any product, there are a variety of price points that weightlifting shoes are available at. Generally, the more cost-effective versions will use less durable materials or not feature innovative technologies. Another difference is often how the shoe feels. Generally, more expensive shoes have more padding around the collar for comfort during longer workouts. The Romaleos 4 are a great example of this as they use all premium materials, such as a tough but flexible woven fabric for the upper, and TPU for the heel. They're more expensive for sure, but they're generally considered among the best you can buy for their materials and durability.
Who are the Nike Romaleos 4 best for?
The Romaleos 4 are a great shoe for anyone looking for a weightlifting shoe, and you'd be hard-pressed to find a better pair of weightlifting shoes. That said, these are intended to be pure weightlifting shoes, and aren't meant to be worn during moving exercises as they may restrict your foot's range of motion. They're also heavier than most trainers, so you'll have to work harder to move your feet during non-weightlifting workouts. In short, these shoes are best for competitive weightlifters and those who train weightlifting movements as a core part of their program.