The Converse Chuck Taylor has remained relatively unchanged for many years, and that's consistently grown this shoe's cult-like following. In fact, the only noticeable changes made on this shoe came after 2003 when Nike acquired Converse and re-worked some of the model's insoles to promote comfort for everyday wear.
Ironically, this shoe was never designed for the gym, but has grown steadily as one of the best deadlift shoes on the market. If you're new to lifting, then you might be scratching your head about the why behind Converse Chuck Taylors and lifting.
The Converse Chuck Taylor rocks a simplistic and flat, firm outsole, which is great for lifters trying to limit their range of motion in the deadlift and promote a strong tripod foot positioning in squats. Personally, I prefer to compete in Converse Chuck Taylors and love the stability they provide in the gym when pushing heavy squats and deadlifts.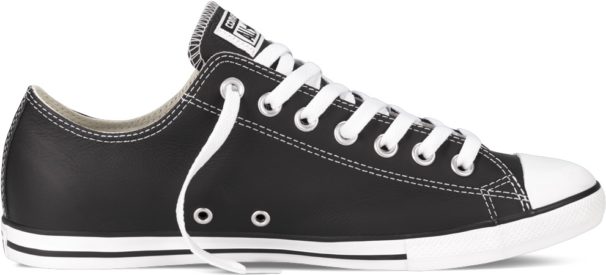 The Converse Chuck Taylor offers a flat and firm outsole, which is perfect for the powerlifting athlete. 
Construction
Outer Construction and Mid-Foot
The outer construction of the Converse Chuck Taylor is simple in design and has remained unchanged for years. The outer is made with a lightweight canvas material, which is breathable and easily maneuverable. One cool thing about Converse Chuck Taylor's simple outer construction is the variety of colorways they come in. Chances are, they have a color that fits your personal preferences and tastes.
The mid-foot of the converse features seven eyelets that run from the toecap to the ankle. The tongue is a lightweight canvas material and pretty breathable. There is double stitching throughout the shoe and a firm rubber toecap to prevent any form of wear and tear on the toe.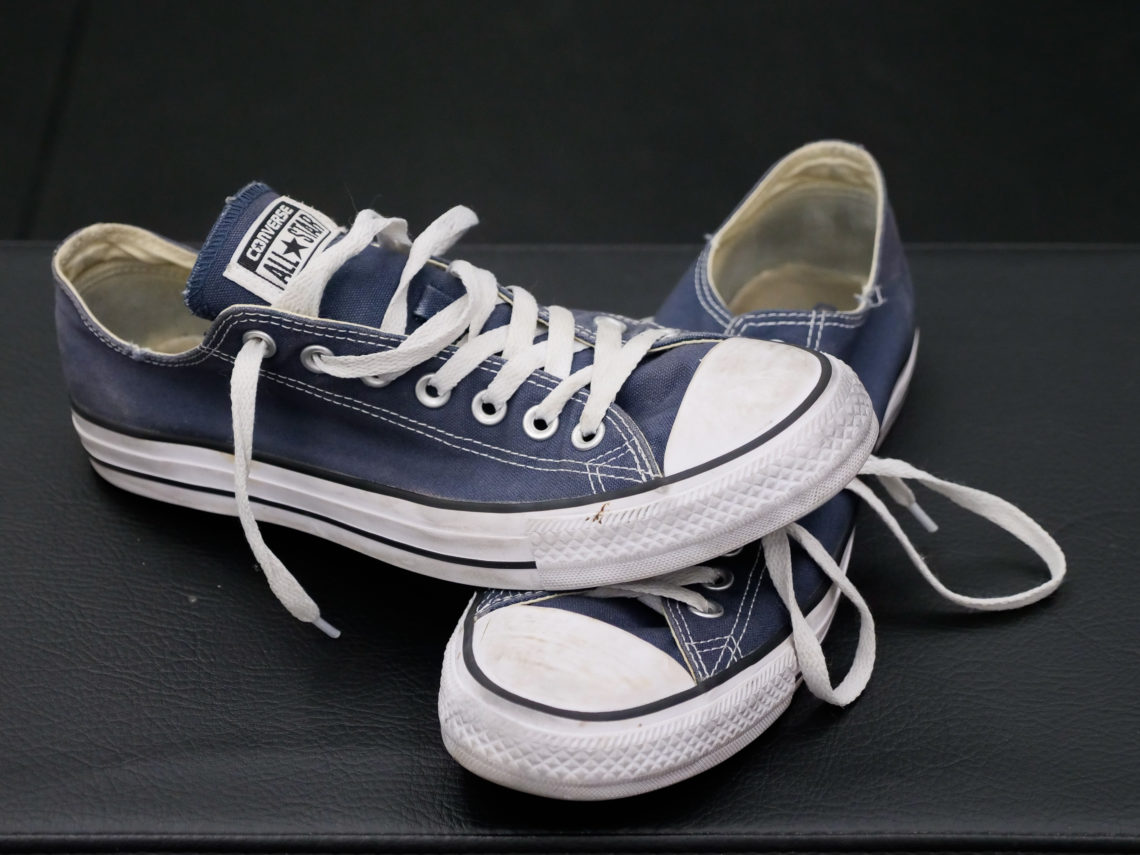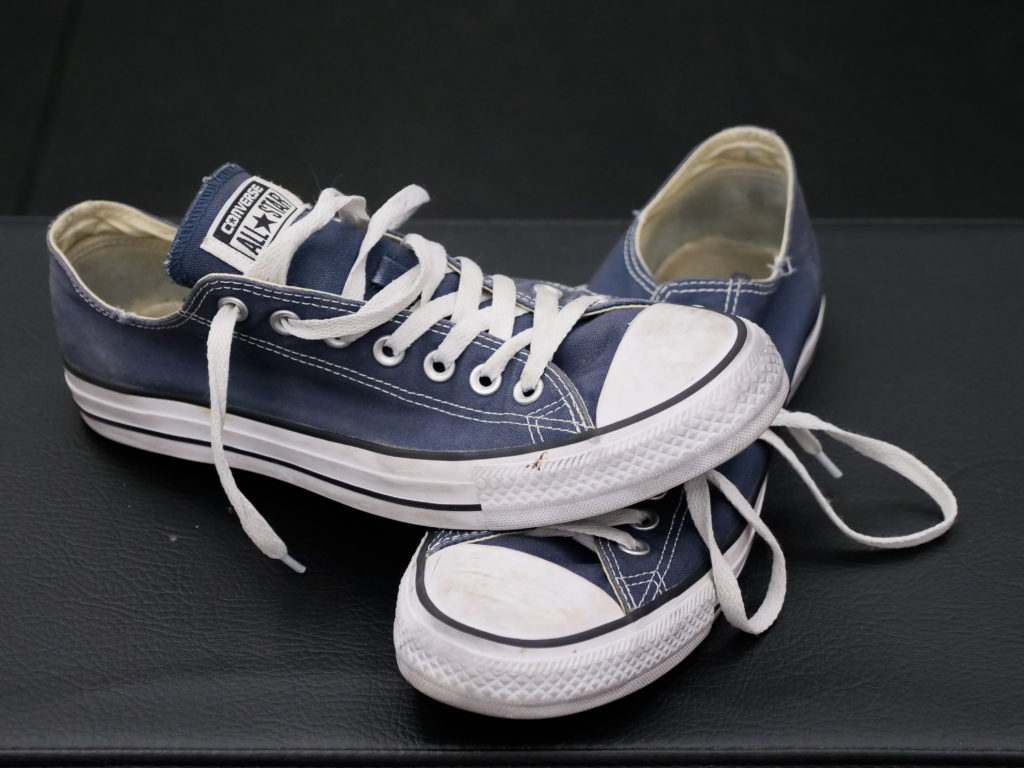 Midsole and Outsole
Potentially the best part of the Converse Chuck Taylor is there midsole and outsole, which are coincidentally what make this shoe so great for lifting. The midsole is consistent throughout the full shoe and is made with a firmer rubber material. The outsole has a textured triangle-like material on the forefoot and heel, and has a flatter outsole texture around the edges and mid-foot.
Performance
For most lifters, the performance of the Converse Chuck Taylor is the selling point for investing. Keep in mind, the Converse Chuck Taylor's uses will be slightly more limited in the gym compared to cross training and lifting shoes. These shoes are not inherently designed for working out, so they have a very finite level of usage in terms of optimal performance.
In this review, I assessed the Converse Chuck Taylor's performance in the squat and deadlift. Since owning multiple pairs, I've competed twice in powerlifting in them and can provide a pretty good idea about their performance in heavier squats and deadlifts. My favorite parts of the Converse Chuck Taylor is their ability to limit range of motion in the deadlift and the flat surface they provide when gripping the floor in squats. 
| | |
| --- | --- |
| Movement Test | Rating + Note |
| Back Squat (Up to 445 lbs) | 9/10 — Stable, No Compression |
| Deadlift (Up to 545 lbs) | 10/10 — Flat and Supportive |
Sizing
Go a Half-to-Full Size Down
New Converse Chuck Taylor wearers, be forewarned. These shoes do run a bit long, and it's generally recommended to go a half-to-full size down to what you normally wear. Personally, I wear a size 10 in training and lifting shoes, but a 9 in Converse Chuck Taylors. If you can, it's always a good idea to try a pair on before investing to avoid looking like you're wearing clown shoes.
SIZING NOTE: Aim for a half-to-full size down to what you normally wear!
Durability
Eh…It's What You Expect
I love Converse Chuck Taylors for their performance, but I'm not the biggest fan of their durability. In the last four years, I've bought three pairs of these shoes due to them ripping during heavier deadlifts. Personally, I find that the shoes tend to rip after about 8-months of consistently lifting heavy.
When have they ripped on me? In the deadlift and squat, I really screw my feet into the floor (check the video above), so on heavier sets where there's a lot of torque, the shoes have torn on a couple of occasions for me. Granted, this might be due more so to my lifting style, but nonetheless, it's worth considering. However, Converse Chuck Taylors are relatively inexpensive, so it's not a huge surprise that they rip after consistent use — and more on price below.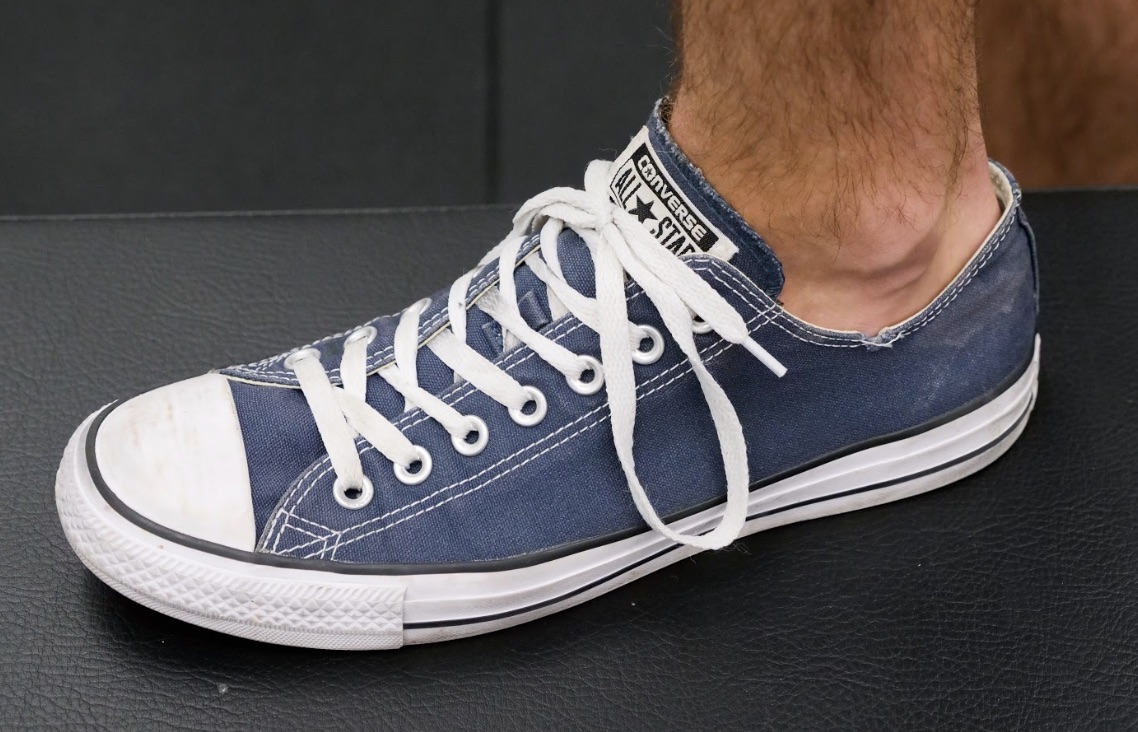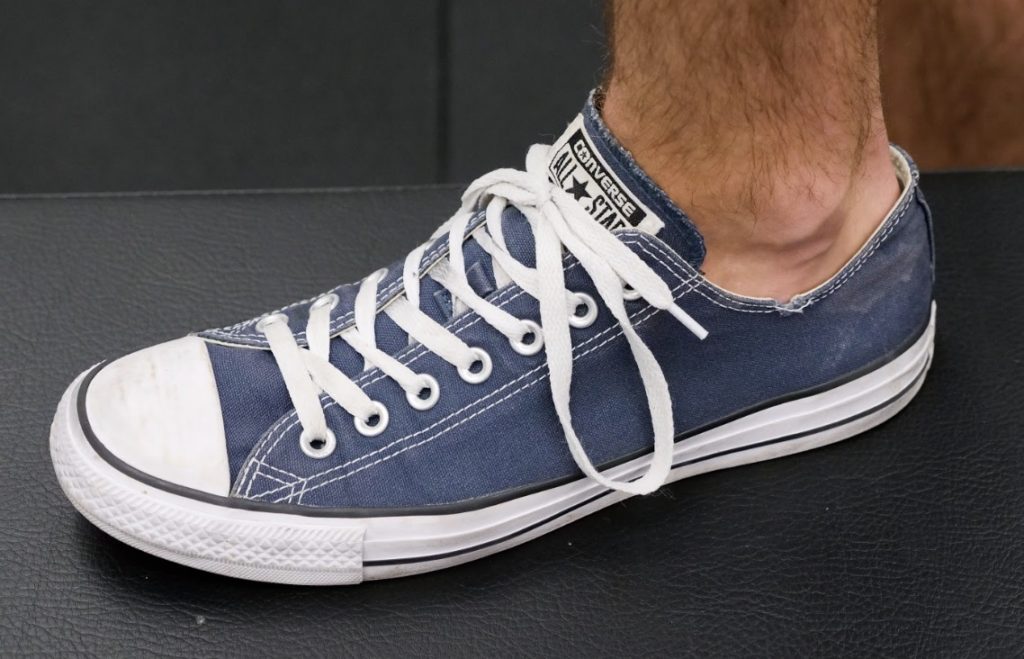 Don't get me wrong, overall, I'm happy with how long my Converse Chuck Taylors last. However, I want to make it very known that these shoes might not last you years if you're using them consistently for lifting and day-to-day wear. Then again, you do see stories about Converse Chuck Taylors lasting YEARS, so maybe I'm just an unlucky anomaly?
Price
Pretty Fair
The standard price for a pair of Converse Chuck Taylors (low-top) comes out to about $50.00 USD. Some pairs that have a bit more customization or limited quantity will be a bit more, but if you're buying them for that reason, then that should be expected. High-top models will generally be $55.00 USD for your standard pair.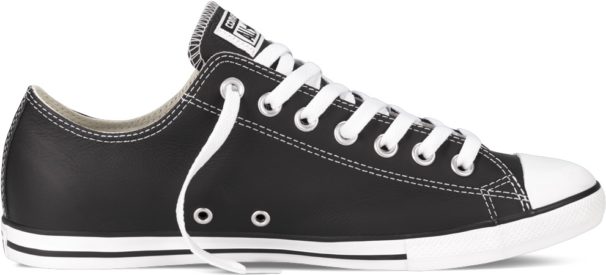 The Converse Chuck Taylor offers a flat and firm outsole, which is perfect for the powerlifting athlete. 
Wrapping Up
All-in-all, if you're a powerlifter or recreational lifter in need of a flat and firm outsole, then the Converse Chuck Taylor is a safe bet. It's a relatively inexpensive and has been used for years in the gym to support heavy lifts, and that has to say something, right? My only real gripe with the Converse Chuck Taylors is their long-term longevity, but that's a small price to pay when they cost half of what most normal training shoes do.