We receive free products and receive commissions through our links. See
disclosures page
.
The term jump rope might conjure images of young kids playing on the sidewalk. But for an increasing number of adults, jumping rope is a key component to an overall fitness routine. Boxers have sworn by jumping rope for decades, and in recent years this simple but effective cardio work has caught on with non-fighters as well.
Like any good cardio workout, jumping rope can improve cardiovascular health and stamina while burning calories. Because of the particular skills required to jump rope effectively, it can also boost your coordination and potentially help prevent some foot and ankle injuries. There are a ton of jump rope options on the market, and shopping for one can be overwhelming. Before you click purchase on any, take a look at some of the items we compared, and pay attention to some distinguishing features.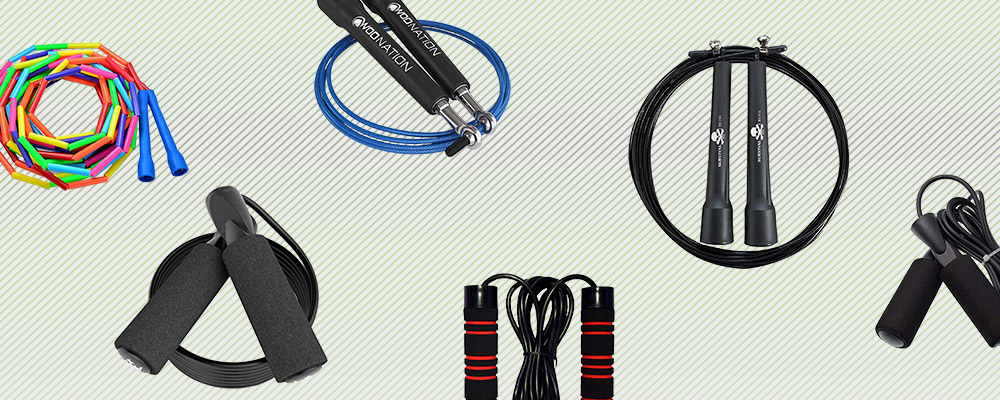 Best Bundle: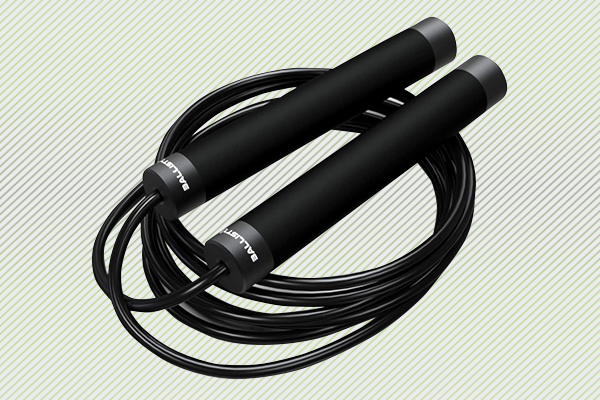 Double the ropes for better training variety.
Pros:
Includes two ropes with your purchase: a lighter one for speed work and double unders, and a heavier one for tougher conditioning work.
The product comes in three colors.
It's durable: the ropes won't kink, splinter, or snap, and the handles are made of steel.
Cons:
The ball bearing is recessed inside the handle, which some find hinders the rope's range of motion to a slight degree.
It's hard to switch out ropes in the same workout.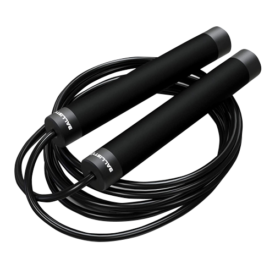 This bundle comes with two ropes: a lighter one for speed work and a heavier one for max conditioning. Equipped with steel handles with anti-slip glip, both ropes are made with a robust cable to provide better durability. Both are designed with 360 degree ball bearings for faster speeds.
Best Adjustable: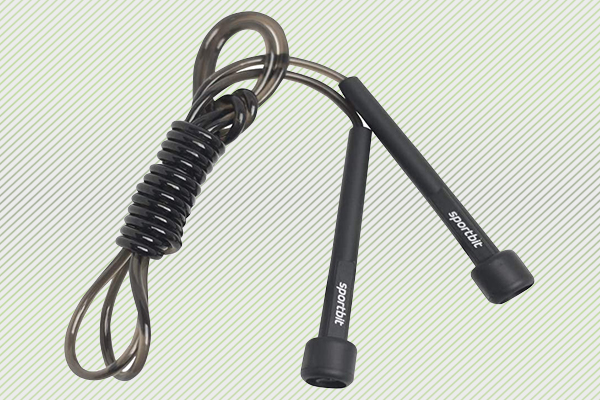 One size fits all.
Pros:
This jump rope comes with 10 feet of cable, making it adjustable to practically any height.
Every buyer receives a free e-book with workouts and tips to get the most out of your purchase.
The handles are slightly weighted to provide control with the rope spin.
Cons:
Some say the rope can develop "kinks" with time.
This may not be the best rope for advanced manoeuvers, like cross overs.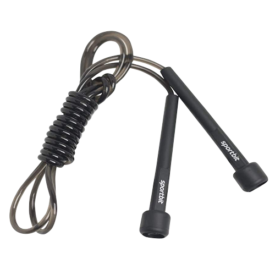 This easily adjustable rope is suitable for any height. It is designed with enough weight to offer a feel for the rope potentially allowing for more control and less whip. The thin handles allow for a variety of grips to match the pace of the athlete.
Editors' Choice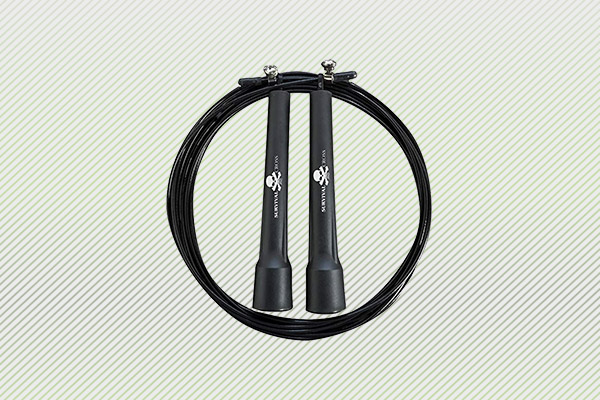 Adjustable handles.
Pros:
Survival and Cross Jump Rope comes with 5" plastic handles.

The 10 foot long cable can be adjusted to suit your own height. If you wind up with excess rope, the manufacturer recommends snipping it off. 

Each kit comes with extra hardware in case you need to make any adjustments to the handle.

Paired with a downloadable manual to help you work up from singles to double-unders and more. 

Price-wise, this is available at a very reasonable rate.
Cons:
A few reviewers noted that since the rope is essentially wire with a thin layer of plastic, it smarts quite a bit if you happen to catch yourself in the shin.
Survival and Cross Jump Rope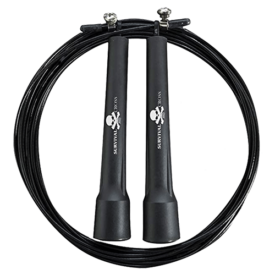 Survival and Cross Jump Rope
Folks looking for a solidly built jump rope available at a reasonable price may want to check out this offering. Designed to work with beginners and advanced athletes alike, this 10 ft. long jump rope comes with a downloadable manual to help you get the most out of your workouts. 
Contender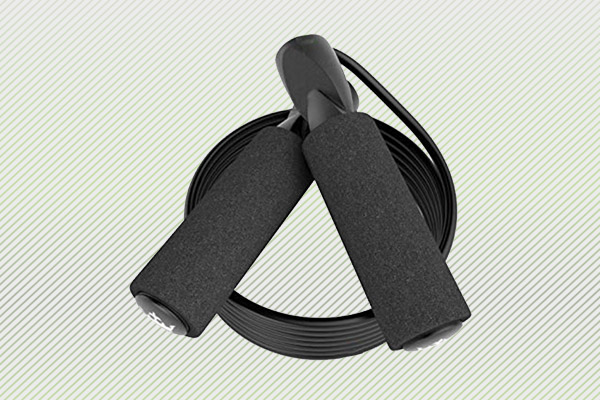 Whip fast, sturdy cord.
Pros:
Adjustable, reaching a maximum length of 9'4".

Equipped with easy grip foam handles designed to keep your hands comfortable while working out. 

The King Athletic jump rope has what they call "Infinity" ball bearings designed to help get the rope around as quickly as you can manage.

The nylon PVC cord is built to be sturdy and should stand up to a bit of a beating. 
Cons:
Some reviewers noted that this jump rope feels quite light. While folks using it purely for speed workouts may not mind this, others could find this lack of weight to be a bit of a detractor.

Because of the design of the handles, these are not super compatible for double-unders.

A few complaints out there about the seller sending quite a bit of follow-up email after purchase, so you may want to update those spam filters on your email.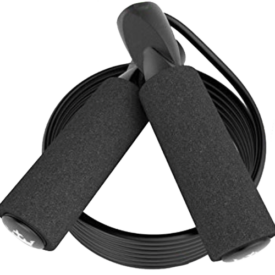 Folks looking for jump rope guidance may want to check out the this speed rope. In addition to a very solid jump rope, this package comes with videos and an eBook with workouts designed to help you get the most out of your workout.
Best for Speed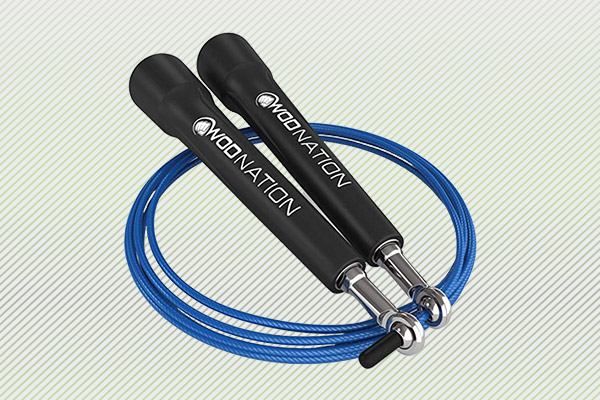 Great for functional fitness.
Pros:
WOD Nation's cable ropes come in the package at 10' long. The company claims they are easy to adjust to your size with a simple snip from a wire cutter. 

Each order comes with two ropes and a carrying bag, making this a pretty solid bundle. 

WOD Nation includes a 100% lifetime guarantee. 

Available in 9 different colors, it's possible to find a jump rope that matches your workout style. 
Cons:
Though the jump rope itself is designed to be cut, once you've snipped the cord there's obviously no way to re-lengthen it.
WOD Nation Speed Jump Rope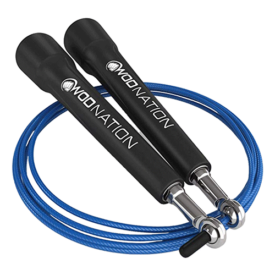 WOD Nation Speed Jump Rope
Available in 9 different colors, this jump rope is catered to CrossFit athletes looking to bolster their jump rope skills. Complete with two ropes and a carrying pouch, this is a pretty solid bundle.
Best Value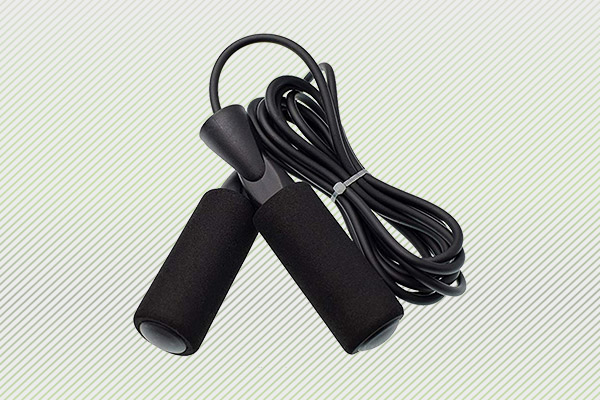 Inexpensive with soft handles.
Pros:
Equipped with 5.3" comfortable foam handles.

Made from PVC, the rope comes at 9'8" in length, and can be adjusted by pulling off the cap on the handles and yanking excess rope through. 

As far as affordability goes, XYLsports has one of the most reasonably priced fitness jump ropes available on the market. 
Cons:
The max length of this rope is 9'8" which may limit its use for some folks on the tallest end of the spectrum.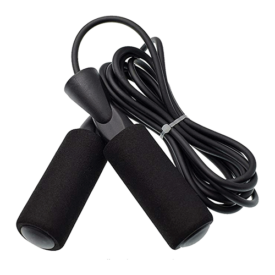 This solid jump rope is available at one of the cheapest prices on the market. Equipped with foam handles, this jump rope is designed for folks of all skill levels to utilize. 
Best Weighted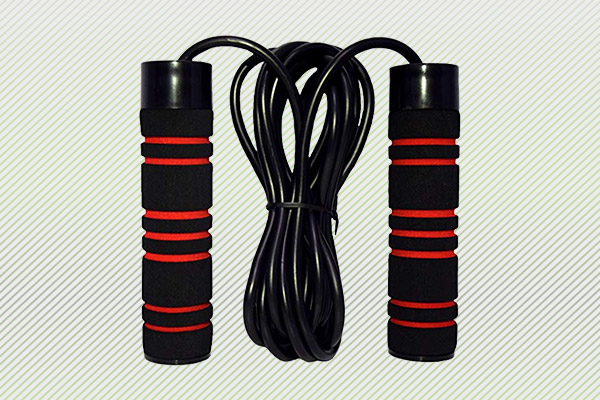 Tangle-free.
Pros:
Memory foam handles make for a comfortable grip. 

6mm rope is designed to ensure a tangle-free operation while offering a durable product.

Each handle is weighted. This, combined with the heft of the rope itself, is intended to give you a more intense burn than traditional speed ropes. 

Rope delivered at 10 feet in length and adjustable down from there. 
Cons:
Because of the added weight and design of the handles, this is not a great tool for double-unders. 

Bulk of the weight is in the handles as opposed to the rope itself, which may take some getting used to.
This weighted jump rope is designed to add some heft to your jump rope workout while still allowing for speed. With removable weights in the handles, this fitness tool checks in at just over a pound.
Heaviest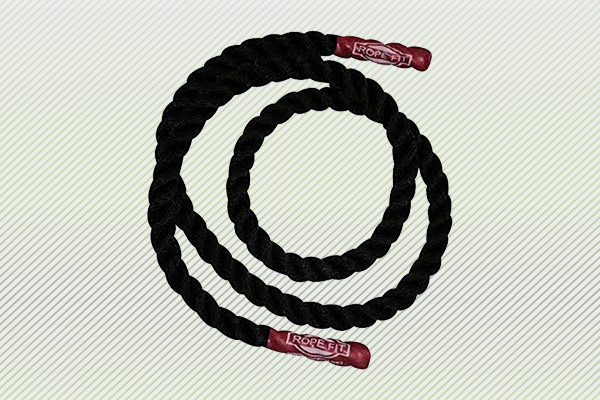 For serious conditioning.
Pros:
Advocates of weighted jump ropes claim that they provide a more strenuous workouts than lighter jump ropes, even strengthening and increasing flexibility in shoulders.

Available in four sizes, ranging from four pounds at 9 feet long to 8 pounds at 10 feet long. 

Made with a poly dacron rope designed to endure while not damaging floor mats. 
Cons:
From a price perspective, this heavy jump rope is a bit pricier than other models. 

There's no dedicated handles to this rope. Instead there's a thick piece of tape on the ends. Some reviewers indicated that using the rope without gloves was not very pleasant. 

Length is not adjustable.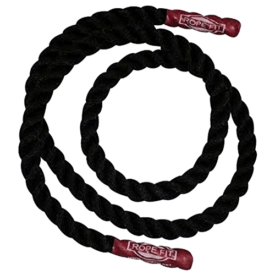 For folks looking to preference burning calories over increasing speed, the this heavy jump rope may be a worthwhile investment. Weighing in between 4 and 8 pounds, this is a much sturdier, heavier jump rope than what's commonly found at gyms.
Best Beginners' Double Dutch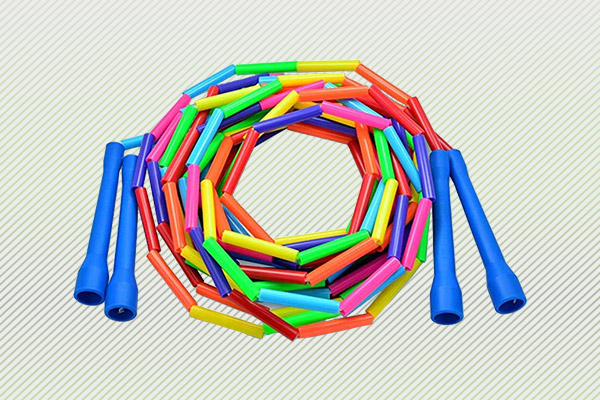 A bundle of fun.
Pros:
Available in a variety of colors.

Each rope is covered by a variety of beads, intended to give it an even distribution of weight. 

At 14' long, these ropes are long enough to fit multiple jumpers in the middle at the same time. 
Cons:
Aside from double dutch, these ropes are not super versatile. 

The plastic beads are a bit loud against the concrete, so make sure you're extra nice to your neighbors.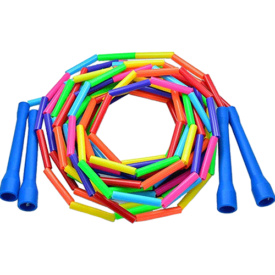 Double dutch jump rope is one of the coolest and most impressive kids activities you'll ever see. This bundle offers a pair of classic 14' long ropes that are perfect for kids or teenagers practicing double dutch. 
Methodology
Jumping rope is an increasingly popular way to mix up your cardio routine and burn some calories. There's a wide variety of ropes available on the market, ranging from super light and speedy to durable and heavy. In comparing fitness jump ropes, there's a few key things to consider.
Length
If you've ever tried jumping rope with a rope that's too long or too short, you know how frustrating of an experience that can be. While many of the ropes on this list are adjustable, you'll want to take care to note that the upper limit of length is long enough to accommodate your height.
Adjustability
Many jumping ropes offer the opportunity for customizing the length of the rope to match your height. However, some ropes require you to cut the actual rope in order to adjust it, while others allow you to go back and forth between lengths. If you're planning to share the rope with others, you may want to opt for a more flexible option.
Bundle
While some manufacturers only include the jump rope itself in their packaging, others include additional add-ons such as a carrying bag or replacement hardware.
Type of Handle
The most common types of jump rope handles are either plastic or foam grip. Take into account that if you're using this as a fitness tool, you'll be working up a good sweat, which may impact your grip. If you opt for a hard plastic handle, try to find one that flares out like bell-bottom pants at the end, so that it doesn't slip from a slick hand too easily.
Additionally, pay attention to the manner in which the cord connects to the handle. Some models will connect with a ball bearing that enables the cord to swing at a 90° angle, which helps for folks focused on speed work or double unders.
Material
For speed ropes, the most common varieties available are either PVC or cable, usually coated with nylon. Cable ropes are built to last a bit longer, while PVC options tend to be a bit cheaper. Weighted ropes are sometimes made with a thicker, more durable type of actual rope.
What Are You Using It For?
Ultimately, your choice in jump rope is going to be heavily impacted by how you intend to use it. Folks who compete in CrossFit may want to pick a jump rope that's optimized for speed to help get those double unders. Look for a jump rope with lightweight handles that attach to the cord at a 90° angle.
If you're looking simple for casual cardio work, you may opt for a model that has a more comfortable grip.
And if you're looking for something to really burn a load of calories, a weighted rope may do the trick.
BarBend Tips
If you plan to trim your rope to adjust it to a proper height, make sure you measure it while wearing the sneakers you intend to wear while using the rope.
Start slow. You may be tempted to jump full speed ahead into a jump rope workout. Try to exercise some restraint and work your way up, jumping for a few more minutes each day.
This is not so much a tip as it is a fact: double-unders take practice! Don't be discouraged if you're not nailing them within your first few sessions.
Jump ropes have moved from the realm of kids toys to full-fledged fitness tools. If you're getting tired of the same old cardio routine, it might be worth giving jump roping a go!