Mass gainers can indeed be really useful for gaining muscle and even minimizing fat gain. If you've ever had difficulty gaining muscle, you probably know that, well, nobody thinks "struggling to eat enough" is a valid complaint, but it is! Gaining weight deliberately and methodically can be as much of a challenge as losing weight. Indeed, there's a lot more work to do when you're eating an extraordinary number of calories.
For many of us, it was only a matter of time until we start looking to mass gainer supplements. They may seem strange at first glance, sure — can you really drink hundreds and hundreds of calories without any ill effects? We've taken a close look at some of the biggest hitters in the industry, and we've landed on some solid options.
Best Mass Gainers
Editor's note: The content on BarBend is meant to be informative in nature, but it shouldn't take the place of advice and/or supervision from a medical professional. The opinions and articles on this site are not intended to diagnose, prevent, and/or treat health problems. Speak with your physician if you have any concerns or before beginning any new workout regimen.
[Related: The Real Pros and Cons of Mass Gainers]
Best Overall
To take the top spot, we wanted a product that's simple, effective, and tasty. It's surprisingly hard to find a mass gainer with all three qualities, but Transparent Labs has pulled it off. It has a protein-to-carb ratio of one-to-two.
Transparent Labs Mass Gainer
The actual calorie and macronutrient content of mass gainers vary wildly, and there's a lot of debate as to whether or not a one-to-one ratio of protein to carbs is best or if you should go as high as one-to-four or one-to-five. Most industry leaders lean closer to one-to-two, and Transparent Labs has gone that route while having many extra benefits up its sleeve.
Transparent Labs Mass Gainer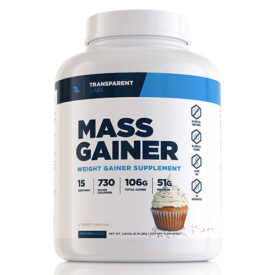 Transparent Labs Mass Gainer
With nothing artificial, whey from New Zealand, a good amount of fiber, and little sugar, this mass gainer will satisfy most athletes. It's a clean mass gainer that focuses on simplicity over added bells and whistles.
It's got 740 calories per serving with 53 grams of protein, 109 grams of carbs, eight grams of fiber, 15 grams of sugar, and 12 grams of fat. That's more fat and fiber than you typically see in products like this, and with sought after, all-natural ingredients like grass-fed whey concentrate, coconut milk powder, and MCT oils, this is considerably more robust than some of the competing maltodextrin-plus-whey products on the market.
Who Should Buy Transparent Labs Mass Gainer
Anyone who wants all-natural supplements that are naturally flavored and sweetened.
People who prefer grass-fed whey.
Folks who prefer a dose of fiber with their mass gainer.
Who Shouldn't Buy Transparent Labs Mass Gainer
Those who want a lot of vitamins and minerals with their mass gainer.
Athletes who need ease in with a lower calorie-per-serving mass gainer.
Transparent Labs' Mass Gainer is simple, effective, and doesn't have many bells and whistles. But it digests well, provides fiber, it's tasty, and it's a good source of calories. Additionally, the price tag is pretty on par for the market, so it's a reasonable deal all around for 15 servings per tub.
[Related: Could Baking Soda Be The Best Workout Supplement You've Never Tried?]
Best Digesting Mass Gainer
Whether you have pre-existing digestive issues or not, an extra 800 calories always have the potential to cause stomach distress. We think this formula is the best for folks concerned with digestion.
Transparent Labs Mass Gainer
There's no getting around it — ingesting an extra 53 grams of protein, 114 grams of carbs, and 14 grams of fat may not sit well with everyone. Transparent Labs, however, produces their formula without dyes, fillers, and extra artificial ingredients. It's sweetened naturally using stevia and monk fruit and is sourced from sweet potatoes, tapioca, and oats.
10% off
Transparent Labs Mass Gainer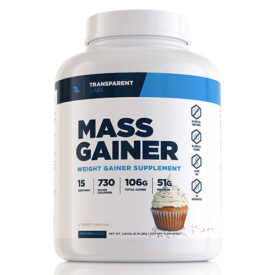 Transparent Labs Mass Gainer
High on protein, low on fat, and containing no artificial ingredients, this clean mass gainer should sit well in almost anyone's stomach. Use code BARBEND10 for 10% off. 
Who Should Buy Transparent Labs Mass Gainer
Those who want an easily digested mass gainer.
Athletes trying to keep their sugar intake low.
People who want a mass gainer that is made from natural food sources.
Who Shouldn't Buy Transparent Labs Mass Gainer
Anyone who wants a less caloric mass gainer.
Those who are working with a tighter budget.
There's nothing fancy here, but that's the point. Whether you want to replace a meal, fuel up post-workout, or add more calories to your daily intake, Transparent Labs' formula is simple and that's exactly what makes it easy to digest.
[Related: The Best Types Of Supplements For Performance, Weight Loss, And Health]
Best Natural Mass Gainer
Muscle Feast's mass gainer uses only grass-fed cows, is free from artificial hormones, is certified kosher, and gluten-free. It has a protein-to-carb ratio of nearly one-to-two, packing 101 grams of carbohydrates and 46 grams of protein per five-scoop serving. Additionally, it is free of GMOs, antibiotics, and soy.
Legion Atlas
A big emphasis with Muscle Feast is the digestion rate: instead of whey and simple carbs, it offers a combination of whey and casein (casein digests far more slowly), and much of the carbohydrate count comes from the high-glycemic waxy maize. This "real food" angle will definitely satisfy many athletes who prefer more "natural" sounding ingredients. It provides a lot of resistant starch associated with a range of health benefits like improved insulin sensitivity. (1)(2)
Muscle Feast Ultimate Weight Gainer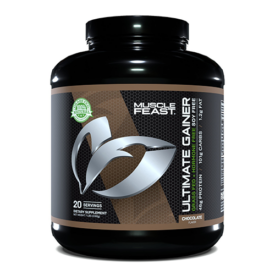 Muscle Feast Ultimate Weight Gainer
This mass gainer comes in a seven-pound tub in either vanilla, chocolate, or unflavored. Each five-scoop serving packs 600 calories comprised of 101 grams of carbohydrates and 46 grams of protein.
Who Should Buy Legion Atlas
People who like whole food-based products — most of the carbs come from waxy maize.
Anyone who wants a product that doesn't use factory farming.
Athletes who like to minimize artificial flavors and sweeteners.
Who Shouldn't Buy Legion Atlas
People who want lower calorie-per-serving mass gainers — this has 600 per five-scoop serving.
Muscle Feast does a lot of things right in their process producing this mass gainer before it makes it to your cabinet. The standards and treatment of the cattle can't go without mention and the volume of calories per serving is good despite needing five scoops. With seven-pound tubs, the price tag is quite good for those on a budget and there is even an unflavored option available.
Highest Carb Mass Gainer
If you're on a mass gaining diet, you may have been surprised at how hard it can be to meet your carbohydrate requirements. Really high-calorie diets often require at least three or four grams of carbs for every gram of protein consumed. Since many like to put the majority of their carbs post-workout, this could be a perfect fit. It has a protein-to-carb ratio of one-to-five.
Less Naked Mass
Maybe you're wary of artificial ingredients, or soy, or gum, or conventionally raised dairy. Less Naked Mass may be the product for you. They're best known for their rigid adherence to "natural" whey: it's grass-fed, it's made without acids, without heat, without bleach, without growth hormone. The ingredients list is straightforward: organic tapioca maltodextrin, whey protein concentrate, micellar casein, organic coconut sugar, organic cacao powder. The casein means it may release amino acids (BCAAs and EAAs) into the bloodstream over a longer period of time than regular whey, and it may make it a bit more filling as well.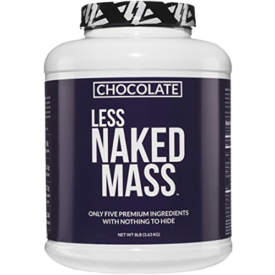 A very high carb mass gainer ideal for folks who are wary of artificial ingredients.
Who Should Buy Less Naked Mass
People who want all-natural ingredients.
Those looking for an inexpensive product on a per calorie basis.
Anyone looking for an extremely caloric mass gainer.
Who Shouldn't Buy Less Naked Mass
Those who want to avoid added coconut sugar.
Folks who don't want a massive increase in carbohydrate intake.
People who want nutrients added into their mass gainer.
One upside could be a downside for you depending on your goals: it has 50 grams of protein for 251 grams of carbs, making for an unusual one-to-five ratio that some may find extreme. But if fitting in enough carbs is your biggest challenge and it doesn't bother you that there aren't a whole of micronutrients here, this may be helpful.
Best Flavor Variety Mass Gainer
IF you're going to slamming mass gainer, you want to ensure it tastes great. Optimum Nutrition's mass gainer comes in three simple bust distinctly tasty flavors — Vanilla, Chocolate, and Strawberry.
Optimum Nutrition Serious Mass
You're unlikely to experience nutrient deficiencies with Serious Mass as part of your diet. One 1,250-calorie serving contains 100 percent of the recommended daily intake of most vitamins and minerals, plus 50 percent of your daily Vitamin D, which is important for testosterone but very easy to miss in the standard American diet. (3)
It does have a one-to-five ratio of protein to carbs, with practically all of the carbohydrates coming from maltodextrin, which some may not love, but this is still an interesting addition to the industry.
Optimum Nutrition Serious Mass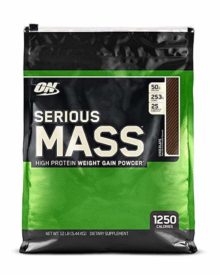 Optimum Nutrition Serious Mass
Very inexpensive and full of vitamins and minerals, Serious Mass can fill nutritional needs and calorie goals.
Who Should Buy Optimum Nutrition Serious Mass
Anyone working on a budget.
Folks who want a heavy dose of over a dozen nutrients in addition to the macros from their mass gainers.
Who Shouldn't Buy Optimum Nutrition Serious Mass
Those who need a closer protein-to-carb ratio (or a lower carb count).
Anyone who doesn't enjoy the taste of maltodextrin or artificial flavors or sweeteners.
Our first stop when looking for effective supplements is Optimum Nutrition, and this tasty, nutritious, and inexpensive supplement is a worthy addition to their product line. The carb count is on the higher end of the market than other options, but that will only deter those actively avoiding that. Otherwise, this high-calorie mass gainer and delicious flavors will only help you pack on muscle.
Best Oat-Based Mass Gainer
If you frequent bodybuilding message boards, it's not uncommon to find people who deride the idea of mass gainers asking, "Why buy powder when you can make oatmeal shakes and ditch all those weird filler ingredients?" As it happens, Muscle Feast has done just that.
Muscle Feast Whole Oat Powder
This is just powdered oatmeal, and it has a pretty muscle mass-friendly macro split: 450 calories delivers roughly 21 grams of protein, 81 grams of carbs, and 12 grams of fat with 12 grams of fiber (about half your daily intake).
Many people don't know that oats deliver an extremely high-quality protein — not quite as high as whey, but it has a more complete amino acid profile than rice and is rich in essential amino acids to help stimulate muscle protein synthesis. It's got a great protein to carb ratio for mass. It's jam-packed with phytonutrients and healthful forms of carbohydrates like beta-glucan, which may help with immunity and lower the risk of heart disease. (4)(5)
The only real downside, when used as a mass gainer, is the flavor is a tad dull, and all that fiber might be a bit filling, even when powdered into flour. But hey, it saves on prep time, and it's certainly all-natural.
Muscle Feast Whole Oat Powder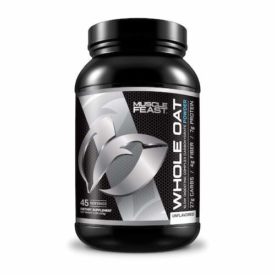 Muscle Feast Whole Oat Powder
As a source of super high quality protein and nutrients, plus a mass-friendly 1:4 ratio of protein to carbs, this could be a hit with those looking for more "natural" alternatives.
Who Should Buy Muscle Feast Whole Oat Powder
Anyone who wants an ultra-simple one-ingredient mass gainer.
Folks who don't like the idea of "processed" foods or artificial ingredients.
Athletes who want a lot of naturally occurring micronutrients in their supplements.
Who Shouldn't Buy Muscle Feast Whole Oat Powder
Those not yet accustomed to consuming large amounts of fiber.
Anyone who can't stand a bland mass gainer.
Muscle Feast's product is simple and not for those who like complex shakes. It's just oats, after all. You might want to consider mixing this with milk or cocoa powder or powdered peanut butter (or all three!). Oats are phenomenally healthy, and it just makes sense to have a quick-to-mix oat shake post-workout, especially if you're trying to get more whole foods in your diet.
[Related: Intermittent Fasting 101: A Guide To Benefits, Muscle Gain, And More]
How We Decided Our Picks
Mass gainers are a particularly tricky supplementation area, as the consumer's desires can be surprisingly varied: are they looking to save money on calories, add to their nutrient intake, find a tasty way to gain mass? We tried a lot — a lot — of mass gainers and tried to weigh the following criteria when assessing their worth.
Cost Per Calorie
If we're looking at a protein powder, we'll judge the value based on cents per gram of protein, but mass gainers are more about the calories. The options we've covered vary from 25 to 85 cents per 100 calories, and yes, how much value the product is actually offering depends on the rest of these categories.
Protein to Carb Ratio
This one's individual. Some want a hit of protein and carbs after a workout; some want a hit of protein and many carbs after a workout. Ratios vary from one-to-one to one-to-five. We put the ratio up at the top of each pick, so you know what you're looking at.
Sweeteners
The research overwhelmingly indicates that the number of artificial sweeteners and flavors you'll find in a serving or two of a whey supplement most likely have a negative effect on your body. If you'd rather not chance it, we indicated whether or not a mass gainer contains these ingredients.
Micronutrients
That's vitamins and minerals. Some prefer a hit of nutrients with their mass gainers; for others, it's not a priority. That's why we have a category for the most nutritious. It doesn't necessarily make it the "best" pick, but it might make it the best pick for you.
The Pros and Cons of Mass Gainers
So can you add a bunch of liquid, powdery calories to your diet without any issues? The useful thing about mass gainers is that they typically make it really easy to add a ton of not-all-that-filling calories to your diet.
The main issue with mass gainers is that it's very easy to overestimate your calorie requirements when you decide to add mass. Biochemist Trevor Kashey, Ph.D. told BarBend:
"Gaining muscle comes down to protein plus calories plus progressive overload. On paper, there are no downsides. In reality, very few people measure their calories accurately (…) if the idea is to gain weight, it's fine. If the idea is to gain muscle, then it can be misleading."
In short, provided you're meeting your intake of micronutrients, it's not a huge deal for body composition whether you make up a sizable number of your calories from mass gainers. The rub is that you need to have an excellent idea of how many calories you should be consuming to gain the kind of mass you want.
We won't pretend that everybody wants only to gain raw muscle — plenty of strength athletes want to make weight and be strong, body fat be damned. Certainly, the goal of gaining muscle with minimal body fat is ubiquitous. Most experts agree that a fifth to a half of a pound of muscle per week is about as fast as you can hope to gain. Work out your calorie and macro needs based on your height, weight, body fat, and activity level (dietitians and sports nutritionists are great for helping with this) and use mass gainers judiciously. If you do, these can be beneficial weapons in your arsenal.
[Related: Nutrition For Bulking: 10 Tips For Intelligent Muscle Gain]
4 Steps To Take Before Buying a Mass Gainer
This is one of the most easily misunderstood and misused categories of supplements, so read on before clicking the "buy" button.
1. Watch Your Calories Closely
A lot of people think, "I want to gain mass, so I'll drink a mass gainer." OK, but what kind of calorie surplus is it putting you into? Experts tend to agree that you're unlikely to gain more than a quarter to half a percent of your body mass in muscle per week. That's maybe an extra 200 calories over your daily calorie burn — any more than that, and it probably won't be the kind of bulk you want to gain.
2. Pair Your Diet With the Right Workouts
If you want to gain muscle mass, jogging a few times a week likely won't produce the physique you're after. Heavy compound lifts and plenty of higher-rep hypertrophy-focused workouts are the order of the day. Find a well-planned, properly periodized program to accompany you on your muscle-building journey.
3. Don't Forget Your Micronutrients
People tend to get in a frenzy for more and more calories, no matter where they come from. This is called a "dirty bulk" — plenty of ice cream, forget the broccoli because it's too filling. Though, your vitamins and minerals are fundamental to your muscle gain plan: magnesium in veggies helps with recovery, Vitamin D helps with hormonal health, and so on. Hit your recommended daily intake of all your nutrients.
4. Get a Lot of Sleep
Half of the classic bodybuilding movie Pumping Iron is Arnold Schwarzenegger taking naps. Sleep helps the body produce testosterone, growth hormone and reduce catabolic hormones like cortisol. It's an incredibly important piece of the puzzle.
[Related: The Lifter's Guide To Magnesium: What This Nutrient Does For Strength]
Wrapping Up
Strategically using the best mass gainers, when implemented with a good understanding of your calorie and micronutrient needs, can reduce the stress of a high-calorie diet and get your body to where you want it to be. We won't say they're necessary for everyone and anyone who wants to pack on muscle, but in a world where everybody has a zillion commitments, we're all for making muscle a little easier.
Frequently Asked Questions
What's the best mass gainer supplement?
Legion Atlas is a superior mass gainer because in addition to a good ratio of protein to carbs, it contains a wide variety of vitamins and phytonutrients. Much of carb content is from oat flour and potato (as opposed to straight sugar), it has no artificial ingredients, and it delivers a lot of ingredients to smooth digestion as well, like probiotic bacteria and digestive enzymes.
Do mass gainers make you fat?
If you're sticking to your calorie goal, exercising right, getting the right amount of macronutrients (protein, carbs, and fat), and you're not falling short in your daily doses of vitamins and minerals, then mass gainers can help you to add muscle and minimize fat gain. Simply adding a lot of calories without monitoring your intake isn't the right way to go about muscle gain, but if your calories are dialed in then mass gainers alone won't cause issues. Most people have trouble gaining mass without gaining any fat, but if you gain fat, it won't be because of the supplements. (It'll be because your calories and total energy expenditure aren't perfectly synced.)
Do mass gainers have side effects?
The main potential side effect of mass gainers is digestive issues: bloating, gassiness, and other signs of an upset stomach. This isn't to say mass gainers will cause these issues when used responsibly, rather that haphazardly consuming a lot more calories than the body is used to can tax the digestive system. To minimize these issues, only eat an average of 200 calories over your daily calorie burn, eat the right amount of fiber, and consider supplementing with digestive enzymes and probiotics.
References
1. Birt DF, et al. Resistant starch: promise for improving human health. Adv Nutr. 2013 Nov 6;4(6):587-601.
2. Maki KC, et al. Resistant starch from high-amylose maize increases insulin sensitivity in overweight and obese men. J Nutr. 2012 Apr;142(4):717-23.
3. Pilz S, et al. Effect of vitamin D supplementation on testosterone levels in men. Horm Metab Res. 2011 Mar;43(3):223-5.
4. Akramiene D, et al. Effects of beta-glucans on the immune system. Medicina (Kaunas). 2007;43(8):597-606.
5. Sima, P et al. β-glucans and cholesterol (Review). Int J Mol Med. 2018 Apr; 41(4): 1799–1808.
6. Kalman DS, et al. A prospective, randomized, double-blind, placebo-controlled parallel-group dual site trial to evaluate the effects of a Bacillus coagulans-based product on functional intestinal gas symptoms. BMC Gastroenterol. 2009 Nov 18;9:85.
7. Jäger R, et al. Probiotic Bacillus coagulans GBI-30, 6086 reduces exercise-induced muscle damage and increases recovery. PeerJ. 2016 Jul 21;4:e2276.
8. Jensen GS, et al. GanedenBC30 cell wall and metabolites: anti-inflammatory and immune-modulating effects in vitro. BMC Immunol. 2010 Mar 24;11:15.