Naked Nutrition is a Florida-based nutritional supplement company and per their name, they're pretty well known for stripped back products. That doesn't just mean they eschew artificial flavors and sweeteners, the company is also committed to processing their products in the most "natural" way possible, meaning you're getting whey with no acids, no bleach, no growth hormone, no soy — there's very little to argue with in the ingredients list.
In Less Naked Mass, a few flavorings have been offered to make the product easier to swallow. But unlike other "natural" products, Naked Nutrition won't even put any stevia in their products, instead electing for coconut sugar. There's not a huge difference between sugar and coconut sugar but hey, it has a couple of extra minerals.
Let's take a closer look at their signature mass gainer.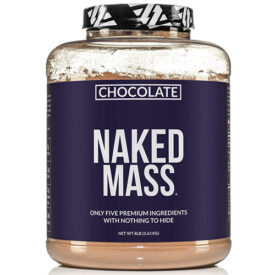 Naked Nutrition's whey is grass-fed and it's made without acids, heat, bleach, or growth hormone. Other ingredients include organic tapioca maltodextrin, whey protein concentrate, micellar casein, organic coconut sugar, and organic cacao powder.
Less Naked Mass Nutrition
One serving is pretty large: 333 grams, totaling 1,360 calories.
In that you'll get 50 grams of protein, 251 grams of carbs (12 grams of fiber and 58 grams of sugar) and 15 grams of fat (9 grams of saturated fat).
There's also 25 percent of the RDI of cholesterol and 7 percent of your daily sodium, both pretty low given the calories.
There's a decent amount of micronutrients here for something with no added vitamins and minerals: 43 percent of your calcium, about 25 percent of your potassium and phosphorus, and a huge 52 percent of your daily magnesium.
[See where Less Naked Mass landed on our list of the 7 best mass gainers on the market!]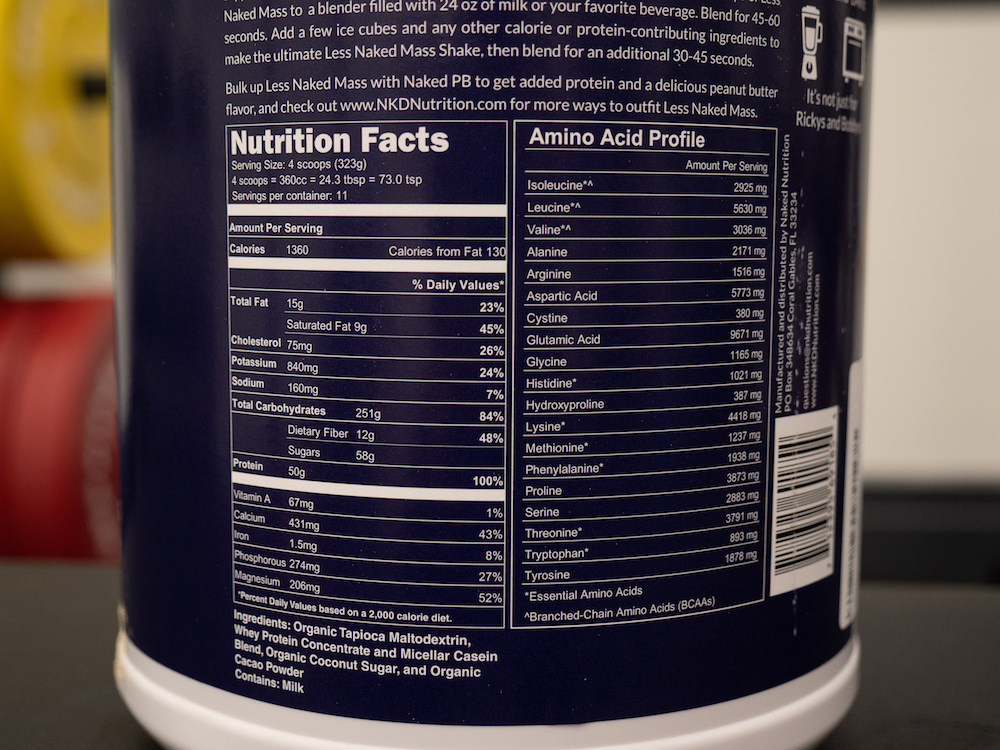 Less Naked Mass Ingredients
Here's a pretty short list: organic tapioca maltodextrin, whey protein concentrate, micellar casein, organic coconut sugar, organic cacao powder. No bells or whistles here.
Less Naked Mass Benefits and Effectiveness
I've seen mass gainers with more sugar than this and when you take into account that it's about a fifth of all the carbs you're consuming, it's not so bad. But with health-conscious folks often of the mind that sugar should be restricted, it's possible that you won't love that sugar count. (We're not saying the sugar is a negative, just that there are people out there who may view it that way.)
But there are plenty of pros, here. The maltodextrin comes from tapioca, as opposed to wheat or corn, so the product is gluten free as well as soy free, non-GMO, and of course, free from any artificial ingredients. It's relatively low in fat and sodium for the calorie count. The whey is also grass fed, which could have some health benefits.
The downsides? There aren't a ton of vitamins or minerals. Plenty of mass gainers add them in to move the product a little closer to a meal replacement shake but Naked Nutrition, as is their M.O., opted to keep things simpler.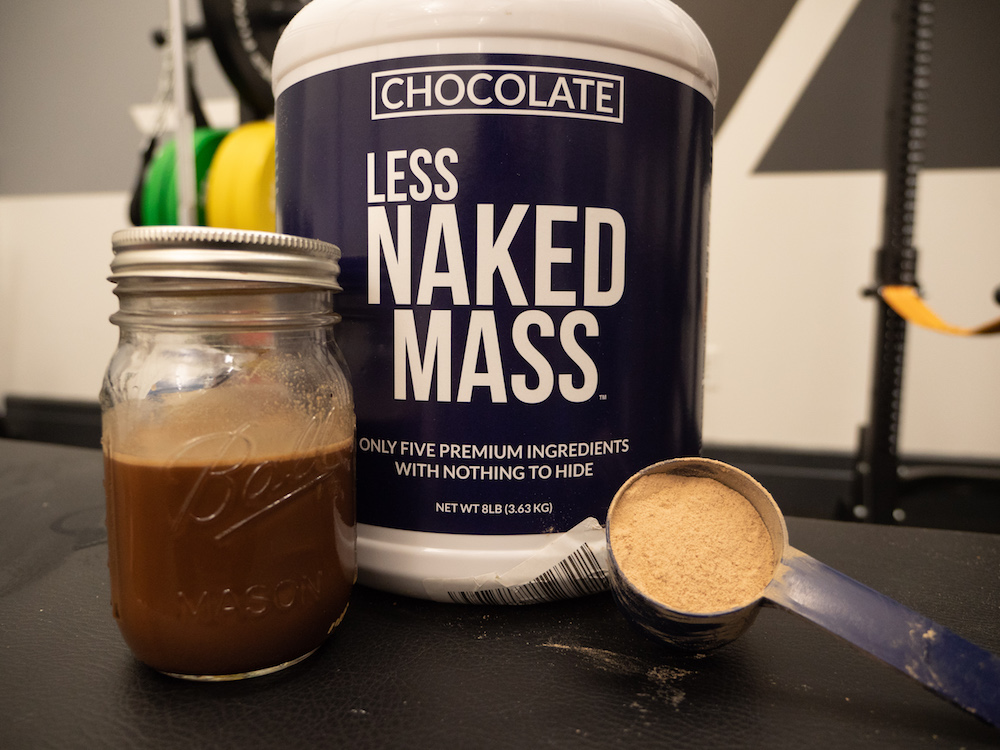 The other potential downside is the fact that it has a 1:5 ratio of protein to carbs. Most mass gainers out there keep the ratio closer to somewhere between 1:2 and 1:4 and while we're not saying extra carbs are necessarily a bad idea, it may make this product a little less versatile for calorie intakes that are on the lower end.
Less Naked Mass Price
The price can vary, but right now you can pick up a big 8-pound tub for between $60 an $70. One tub has 11 servings, so that comes to $5.90 per serving or 43 cents per 100 calories. Note that you can subscribe to regular shipments and get a discount of about 5 percent.
At first I was surprised, because the whey is clearly expensive to produce but this isn't that expensive for a mass gainer. Most competitors are about 40 cents per 100 calories as well.
Then I realized this is because unlike most mass gainers, it has a 1:5 ratio of protein to carbs, which helps to keep the cost down.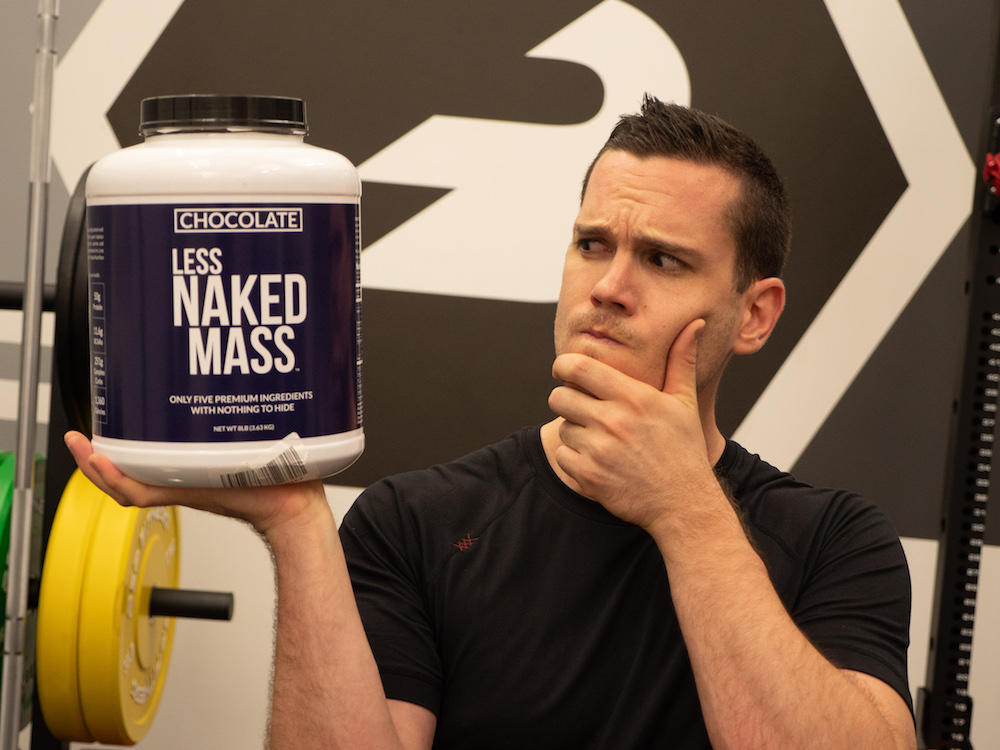 Less Naked Mass Taste
I was pretty happy with the taste. Don't expect a milk chocolate flavor or even anything all that sweet — this is a rich, earthy, dark cocoa flavor instead. The coconut sugar gives it a hint of honey so it is a step above your standard whey + cocoa flavor, just don't expect to taste a candy bar.
It didn't mix all that well, but I can't be too unhappy about that because the instructions to specify that the powder should be mixed with a blender. But since most people don't walk around with a blender on hand, the mixability might be an issue.
The Takeaway
If you're of the mind that your products and particularly your mass gainers should be as stripped back as possible, Less Naked Mass should make you pretty happy. It does have more sugar and less protein than some competitors but if that's the kind of supplement you're after — scoffing piles and piles of carbs can get tiresome, after all — then this may well be up your alley.