Shopping for the perfect sports bra can feel overwhelming with the number of brands, styles, and fits available on the internet. The good news is that we're here to support you in more ways than one. We looked at different fits and sizing options, padding vs. no padding, and even considered all kinds of material, strapping, underwire, and more. 
Just like most clothing items, a sports bra is very much dependent on size and preference, so please keep in mind that what fits best for me, may not be the right fit for you. Now, let's go over five of our favorite sports bras!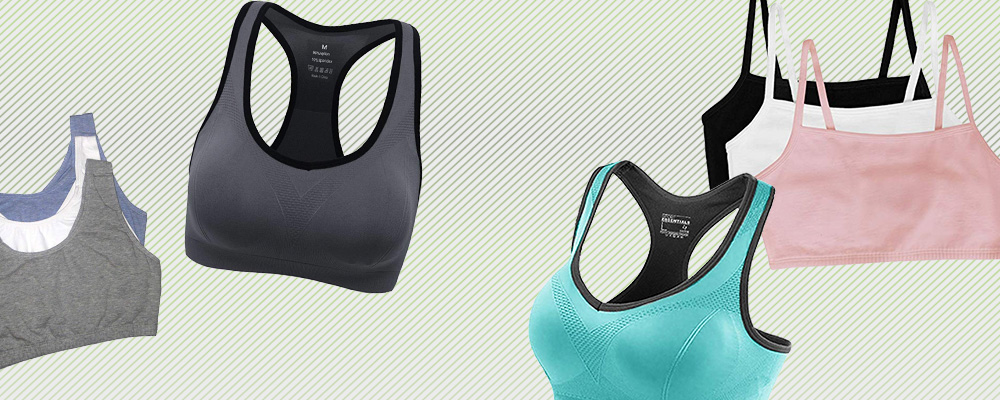 Best Value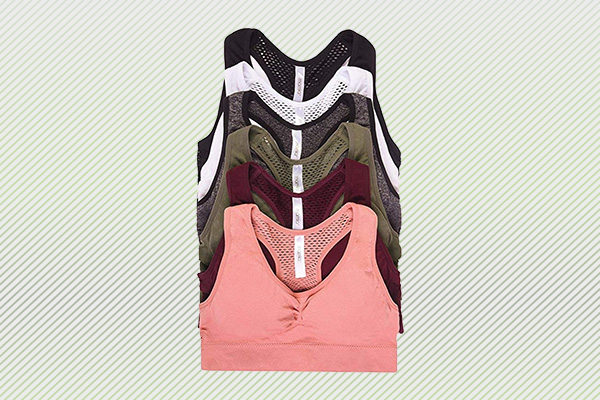 Sofra Women's 6-Pack Sports Bras
This sports bra is sold in a bundle of six, with various colors and patterns. Some of the colors are various shades of pink, purple, and blue, and the pattern offered is multicolored lines. For a pack of six sports bras, this is a serious steal as far as pricing goes. 
Pros:
Comfort. This sports bra is made out of 90% nylon and 10% spandex meaning it is comfortable, stretchy, and fits securely. 
Design. This bra has a racerback, but also goes the extra mile in having a unique stitching to it. While the purpose of a racerback is for added support, this bra's back has lots of breathable holes in it to be both stylish and functional. 
Versatile. This bra does include light padding, however the padding is easily removable depending on preference. 
Cons: 
Sizing. This bra comes in just one size. Because it is made from nylon and spandex it is easy to stretch and has a good amount of flexibility to it, although just being one size does mean it may not be the right fit for all.
Packaging. While one of these sports bras might be good to have and worth the risk of it not fitting perfectly, the six included may not be worth the investment if there is any hesitation on the sizing not working out. 
Best Active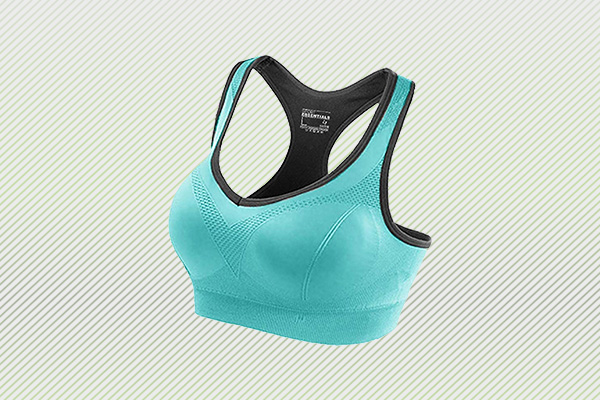 FITTIN Racerback Sports Bra
The FITTIN Racerback Sports Bra is designed to get moving in. It is designed with a seamless padding and high impact support for the toughest of workouts. The racerback offers a nice tight fit for support, and the padding is removable.
Pros:
Support. This sports bra is clasp-free and is extra supportive with its wide shoulder straps and racerback. The bra is stretchy, but also has a soft elastic band to keep everything snug without any pinching. 
Design. The scoop in the front is a nice touch and gives the sports bra a nice flare without compromising support and comfort. The racerback is also designed uniquely with a hole that makes the bra super breathable.
Versatile. This bra comes with pads, however they are easily removable which makes this a steal for someone who prefers extra support or someone who doesn't.
Cons:
Cleaning. It is recommended that this product is hand washed. This may be something to consider if doing one load of laundry a week is a preferred method. 
Packing. This product is purchasable as a single, but also is available in bundles of four. With the different packaging options the prices will also vary.
Best Casual
Fruit Of The Loom Women's Cotton Pullover Sport Bra 3-Pack
The Fruit of The Loom Women's Cotton Pullover Sports Bra 3-Pack is comfortable, affordable, and is perfect for a casual sports bra option. It is a simple design with thin straps and is made from 95% cotton and 5% spandex. This bra isn't made for any strenuous activity, but as for a snug and comfortable everyday bra, this one does the trick.
Pros:
Versatility. This bra can easily be worn under a dress shirt, on its own, or to a low impact fitness class. The thin straps give it a simple appearance that can easily be worn on several occasions.
Comfort. The cotton is soft and because it doesn't have any padding or harsh straps, it is a bra that could be worn all day.
Color. This 3-Pack is offered in different colors, from darker hues to lighter ones. One package for example includes black, white, and red hot. 
Cons:
Support. This bra is comfortable to wear all day, but wouldn't be our first to throw on for a high intensity workout. It has limited support and the thin straps don't give it much security. 
Material. While the cotton material is soft, it is not meant to get wet. This sports bra requires a hand wash, but if taking on a sweatier workout take note that this bra isn't moisture resistant. 
Best Comfort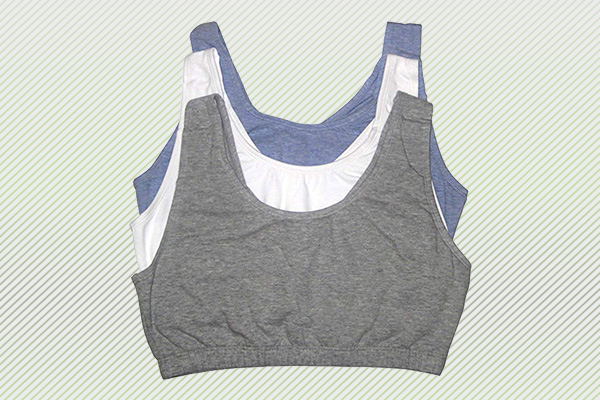 Fruit of The Loom Women's Built-Up Sports Bra 3-Pack
The Fruit of The Loom Women's Built-Up Sports Bra 3-Pack is not designed for high-impact workouts, but will surely be a comfortable fit. These bras are made out of 95% cotton and 5% Lycra spandex and do not have any padding. These bras are adaptable for all kinds of looks whether that be the base of a casual look or for a layer of support for a workout.
Pros:
Comfort. This sports bra has a simple design without any underwire and feels soft with its primary cotton material. This is the kind of sports bra that we wouldn't be bothered sleeping in because of its lightweight feel and no padding. 
Strapping. The built-up sports bra differs from this products' other designs because of the wide straps and added support. The design of wide straps and a higher neck provide extra support. 
Design. The simple design makes this bra a solid choice to wear underneath almost anything. The grey color won't peek through any shirts and because of the wide strapping and no padding this bra is a minimal no-fuss layer. 
Cons:
Support. Without padding and being just 5% spandex, this sports bra may not be the perfect fit for someone looking for extra support. 
Material. The cotton material isn't friendly for any sweaty workouts. Just like a cotton shirt, it will soak up moisture and has a tendency of feeling heavy once wet. 
Editor's Choice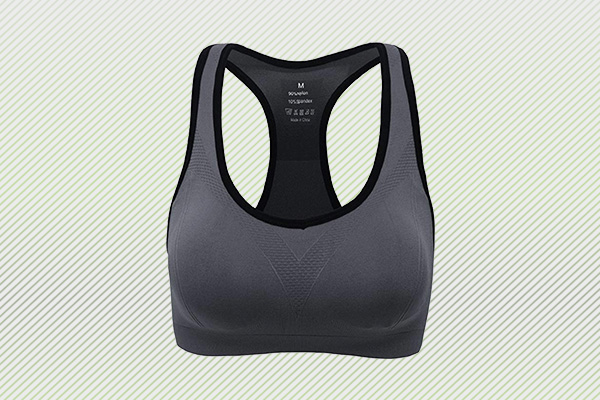 MIRITY Women Raceback Sports Bra
The MIRITY Women Raceback Sports Bra is a comfortable, pull-over sports bra that stands out from the rest with its secure racerback style and removable pads. We really liked that this bra is 90% Nylon and 10% Spandex because it made for a soft and stretchy fit that also felt breathable. 
Pros: 
Material. This sports bra was made almost entirely out of nylon which provides for a comfortable fit during activity. This bra is easy to put on, stretchy enough to feel supportive, and the wide straps add even more security. 
Support. The racerback was designed to strategically provide extra support and keep the air-flowing from various angles. The sports bra also has an elastic hem and extra wide straps which makes this bra one of the most supportive we've tested. This also means that this sports bra can be used for all kinds of athletic activities from running to yoga, and even more rigorous HIIT workouts. 
Personal. Some people prefer pads, others don't. And we really liked that this sports bra has removable pads which gives the option to keep or go without. This bra also doesn't have any give once the pads are removed, which shows quality in the product. 
Cons:
Sizing. This sports bra isn't just one size fits all, so make sure to pay attention to the size chart provided because it is accurate with its size matching. 
Colors. This two-pack only includes a black and grey sports bra. There are other packs and products that have more fun with color, but for a simple and functional look these work. 
How We Picked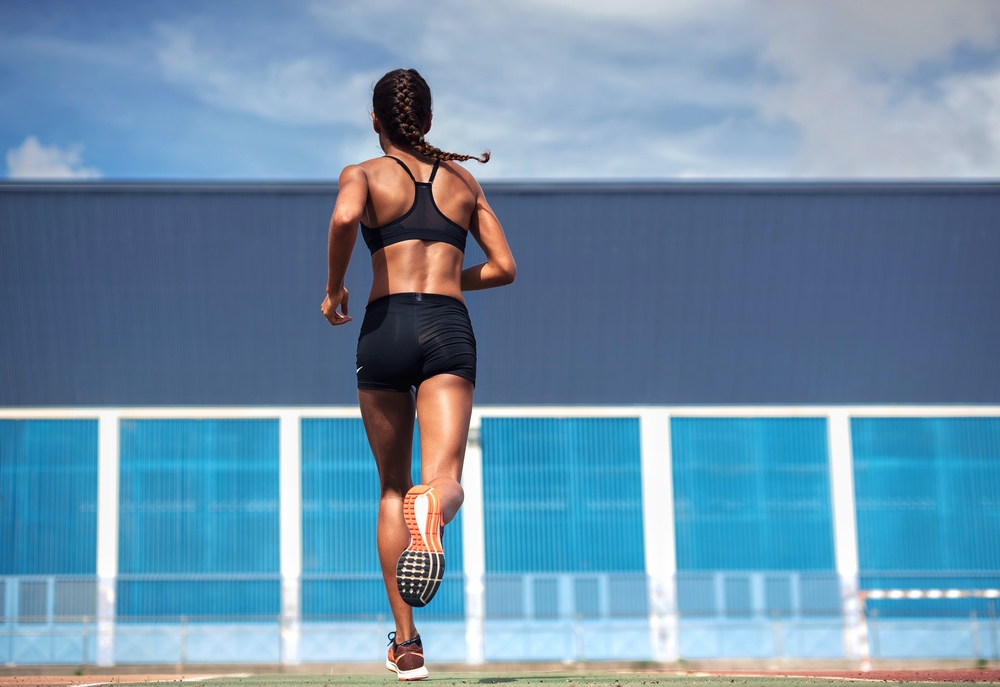 Now that we've gone over five of our favorite sports bras on the internet, I am going to walk you through how we selected the products. It was important to weigh several factors when shopping for the best sports bras, but first I want to hone in on a lot of this has to do with individual preference. All bodies are different, so what straps and padding may feel right for me, may not do it for you. So please consider this when I take you through our methodology. 
Fit. Considering the word sport is in the product, we did our best to pick bras that can support various activities. 

Comfort. There should be a certain level of tightness and pressure in order to get the maximum support out of a sports bra. We tried sports bras with different materials like nylon and cotton and considered a number of sports bras that have removable padding which gives the person wearing it the freedom to choose what is more comfortable. 

Design. The design of a sports bra has a lot to do with preference, so we considered various designs from padding to no padding, thin straps to thick straps, low cut to straight cut to provide a lot of options. 

Price. Depending on the brand, or sportswear company, the prices of sports bras will vary. We looked at a lot of different makers and brands and selected sports bras that were affordable and also a few that came in packs of three and more. 

Versatility. Finding a sports bra that is comfortable enough to wear to the gym, but also throw on under a T-shirt to wear throughout the day is what makes the product so popular. So we looked at bras that had a simple design and were made with a material that would be pleasant to wear all day.

Support. Considering the word sport is in the product, we did our best to pick bras that can support various activities. We looked at material, and how the design prioritizes support in racerback details and strap thickness. 
BarBend Tips
At BarBend, although only a select few of us wear sports bras, we work with athletes everyday that are looking for the perfect bra to wear during tough workouts, or even just a stylish top to throw on after a gym session. Consider these tips to help you in your sports bra shopping process. 
Not one size fits all. Although we did choose one sports bra that comes in one size, it is important to try on all kinds of sports bras before investing. We all have different preferences when it comes to material, fit, and design, so the best way to know what you like is to try on all different types.

Purpose. Depending on what kind of workout or workouts you do, will have everything to do with the right sports bra. Certain low impact exercises that aren't particularly sweaty may be perfect for a cotton sports bra. But, if you are a runner or planning on jumping around a lot, consider materials like nylon and spandex for more support.

Play. A lot of these products are adjustable and come with removable pads, so be eager, ask questions, and play around with them. If you're not sure whether you like extra padding or not, what better way to find out than to try a workout once with them in and once without the pads. Either way, the removable option on a lot of these products are encouraging the buyer to figure out what fits best. 

Material. Sports bras come in lots of different materials, and if you are someone who has a sensitivity to particular fabrics, make sure to consider this before purchasing. While a lot of the products are made from nylon and spandex for the best stretch and support, there are quite a few on the market that are made from cotton because of the soft feel and simple look. 
Wrapping Up
We've made it! Now that I've gone over five of our favorite sports bras on the internet, it is your turn to figure out what fits. We hope that by now you're feeling secure enough to get shopping!