Whether you're powerlifting, balancing on a beam, or holding on for dear life off the side of a mountain, lifting chalk provides the much-needed grip security so many athletes desire.
Commonly used during long or heavy training sessions, athletes use chalk to enhance their grip, whether they're lifting a barbell or gripping gymnastic rings or kettlebells. Chalk also absorbs sweat and prevents slippage, which may help you avoid an injury or hand tear.
One issue with chalk though is that it can be very messy, and not every gym allows it. Also, there are particular chalks that are considered more suitable for lifting and others that might function better for something like rock climbing. We reviewed the best lifting chalks that can serve both lifters and outdoor adventurers.
The Best Lifting Chalks
Best Lifting Chalk Overall
Easy to use, affordable, and high quality, Z Athletic Chalks Balls give athletes from weightlifters to gymnasts exactly what they need in lifting chalk no matter their type of training.
Z ATHLETIC Chalk Balls
These chalks balls are very discreet, ranging from one to three ounces and small enough to fit in the palm of your hand. The shape provides an easy squeeze application and the ball's drawstring allows users to easily open the ball to add new chalk whenever they're running low. These features make Z Athletic Chalk Balls the least likely to make a mess and the most likely to keep gym owners happy. Athletes also enjoy the silky texture the balls provide as it avoids hands from drying out.
Who Should Buy Z ATHLETIC Chalk Balls
Athletes who train indoors or outdoors as it is easy to carry and travel with.

Those who want a natural product.

Convenience doesn't upstage price as these chalk balls are also the more affordable option on the market.
Who Shouldn't Buy Z ATHLETIC Chalk Balls
If you want a less silky texture.

If you need a larger quantity of chalk.
With just one grab, Z Athletic Chalk Balls provide coverage, grip security, and handiness convenient enough for any athlete.
Best Lifting Chalk for Group Training
This bucket of lifting chalk delivers both size and antibacterial features that benefit many group activities.
Primo Chalk
Coming in a one- and a five-pound bucket, this pick provides a substantial amount of lifting chalk, making it a great choice for group workouts. Its magnesium carbonate is sustainably sourced and is combined with not only five essential oils but also Epsom salt which helps Primo Chalk act as a natural antibacterial. This formula also conditions hands and better prevents skin from tearing.
Who Should Buy Primo Chalk
Group trainers and gym owners.

Trusted by both the NFL and NCAA this is a great choice for sports teams.

If you want your chalk to last a long time.
Who Shouldn't Buy Primo Chalk
Athletes on the go or in need of a more compact option.

If you're looking for chalk that is just magnesium carbonate and unscented. The essential oils create a noticeable floral scent.

If you're looking for chalk at a lower price point.
Primo Chalk might be a little on the more expensive side but it's a great investment given its size and antibacterial features for group activities.
Best Lifting Chalk for Convenience
If your lifestyle and training keep you mobile, you'll need lifting chalk you can easily travel with. Liquid chalk might be the answer.
Fire Team Fit Liquid Chalk
Fire Team Fit Liquid Chalk comes in a 50 milliliters travel size bottle and is available in a 250ml size making it portable and an easy alternative to keep in your gym bag. With just a dime-sized squeeze, this long-lasting anti-sweat chalk is efficient as it dries in just 10 seconds and keeps athletes from needing to reapply. This formula also contains sanitizing properties to keep you and your hands germ-free.
Who Should Buy Fire Team Fit Liquid Chalk
Competitors such as weightlifters, and obstacles course racers.

Frequent flyers and travelers.

If you prefer a liquid over a chalk block or bucket.
Who Shouldn't Buy Fire Team Fit Liquid Chalk
Not the best for outdoor activities as the liquid may solidify in colder temperatures.
This lifting chalk is great for athletes that want a convenient option to travel with. It secures grip on equipment without the mess of traditional chalk blocks.
Best Long-Lasting Lifting Chalk
A one and done product, this liquid chalk lasts throughout prolonged heavy lifting and taxing sweat sessions.
SPORTMEDIQ Pro Grade Liquid Chalk
With just a few drops, this liquid creates a layer of chalk that is so concentrated you'll feel like you're wearing lifting gloves. The thick coating provides lifters certainty that the chalk won't wear off as they transition from different sets and weights. It is recommended to wash hands first before applying this liquid chalk for even better results.
Best Long-Lasting Chalk
SPORTMEDIQ Pro Grade Liquid Chalk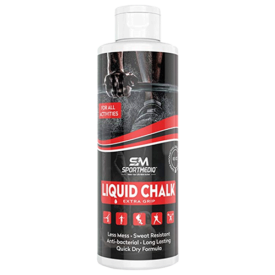 SPORTMEDIQ Pro Grade Liquid Chalk
SPORTMEDIQ Pro Grade Liquid Chalk is made with a top grade mess-free formula that can dry within 25 seconds after application. Its antibacterial feature also provides a light fragrance.
Who Should Buy SPORTMEDIQ Pro Grade Liquid Chalk
If your training consists of long sessions.

Bowlers looking for chalk that won't wear off throughout the consistent hold and release of bowling balls.
Who Shouldn't Buy SPORTMEDIQ Pro Grade Liquid Chalk
This chalk really sticks so don't buy if you don't want to have to wash your hands just to get it off.

This chalk may get flaky once dried so it might not be the best mess-free option.
A little goes a long way with SPORTMEDIQ Pro Grade Liquid Chalk. A small application is all it takes for this chalk to last throughout sessions.
Best Lifting Chalk for Outdoor Activities
For outdoor adventurers, lifting chalk that is easily accessible and handy is key to avoid interruption of activity.
321 STRONG Refillable Chalk Ball
This chalk ball is a useful option for many outdoor activities. With its 100% cotton sock material, the loose chalk transfers easily from the bag to your hands making it reliable for climbers wanting a quick touch up while gripping the side of a mountain. Furthermore, this drawstring bag can be attached to a harness or a belt for reachable function.
Who Should Buy 321 Strong Refillable Chalk Ball
If you're into outdoor activities such as rock-climbing and wood chopping.

Cyclists biking long distances.
Who Shouldn't Buy 321 Strong Refillable Chalk Ball
Not ideal for gyms as the loose chalk consistency can be quite messy.

If you participate in extreme sports since the bag may be susceptible to tears.
The 321 Strong Refillable Chalk Ball's consistency might not be great for spaces that limit chalk use but it is a great selection for outdoor activities as it applies to your hands easily and is competent in size and weight.
What is Lifting Chalk?
All of the chalks in this list are made out of magnesium carbonate, which is standard for lifting chalks. This type breaks apart easier than your standard chalkboard chalk and sits in the ridges of the hands better.
During training, our hands and fingers are usually the first to sweat. Magnesium carbonate is an inorganic salt that acts as a drying agent so once your hands make contact with lifting chalk, moisture is absorbed, and grip control increases. Its composition also withstands hot and humid weather.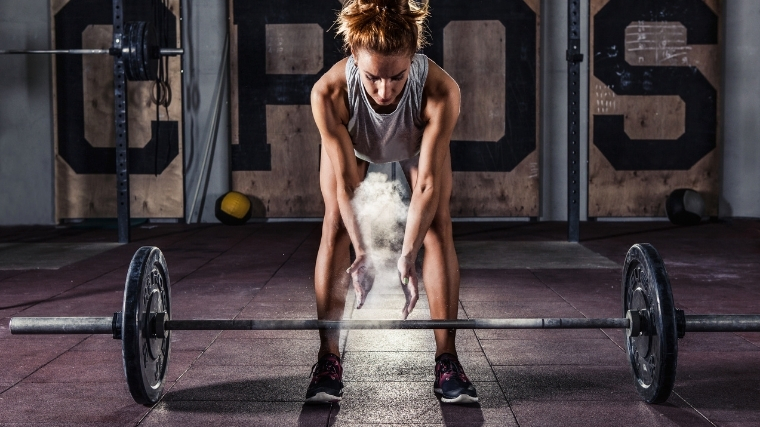 Lifting chalk is beneficial for athletes for many reasons. Chalk can help prevent skin injuries such as tears, calluses, and blisters but it also decreases the chance of muscle strains as it assists athletes to secure the proper hold for lifts and deters equipment from dropping.
With the added grip control, strength athletes and lifters also benefit from using chalk as they can train for longer periods of time and can confidently challenge themselves to lift heavier.
Lifting Chalk vs Climbing Chalk Differences
Lifting chalk serves the purpose of improving grip and keeping hands sweat-free. Because of this, chalk used for these functionalities is primarily composed of the same main ingredient of magnesium carbonate. While some brands mix in moisturizing additives or sanitizing solutions, it is crucial for chalk used for lifting, climbing, and gymnastics to be predominantly magnesium carbonate. Generally speaking there really isn't a difference between lifting chalk, climbing chalk, and gymnastics chalk.
If there is a difference it relies mostly on your personal preference and the chalk's state of matter. For instance, if you tend to have drier hands, liquid chalk might not be the best option as many brands include ethanol or isopropyl alcohol. The combination of alcohol acts as another drying agent which is great for keeping your grip but will only dehydrate and irritate dry hands even further.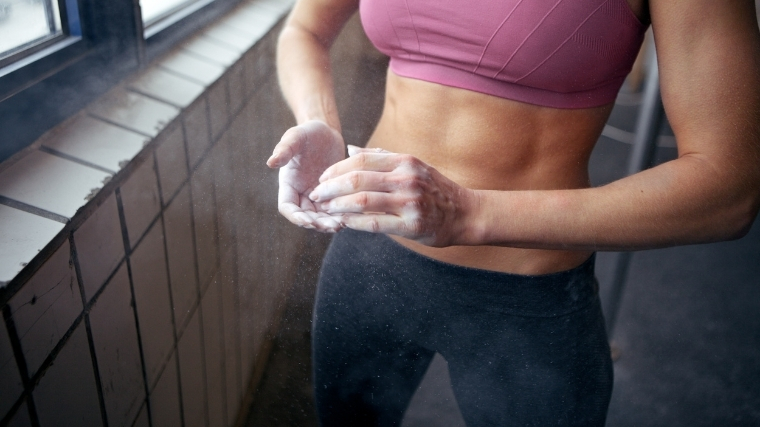 It is also important to factor in where the chalk is being utilized. For example, if you're indoors a very fine powdery chalk might not be your go-to as it's messier and leaves residue behind. You might gravitate towards buying block chalk as it is more compressed and easier to clean off mats and equipment.
Lifting chalk is by and large the same across the board. The difference depends on preference and where the chalk is being used.
How We Decide The Best
Again, since most lifting chalk is primarily made of magnesium carbonate, much more consideration was given to the convenience of the chalk type and how it matched the needs of the athletes using them when it came to selecting the best.
Mess
For the sake of this round-up, comparisons were made to see how messy chalks were relative to one another. Aspects such as transportability and overall mess were evaluated to decide which chalks would be better for certain demographics. If you train in a gym that does not permit the use of traditional chalk, then liquid chalk is often the best bet. Granted, you'll still have to be mindful of its use to avoid making a mess.
Convenience
Another factor considered besides how easy the chalk could be transported was the size and preferred use of the product. Larger quantities or blocks would be better for public gyms, home gyms, and multiple lifters that need chalk regularly compared to a smaller chalk ball or liquid chalk that would run out quickly.
Final Word
In the gym, there aren't many things that can provide as much grip security on equipment as fast as chalk can. Lifting chalk is a great tool for promoting overall grip control on lifting equipment. Before investing in chalk though, it's a good idea to check in with your gym first to see if they allow its use. From there you'll find the best lifting chalk that is just right for you and your training.